Unlock this article, live events, and more with a subscription!
Get Started
Already a subscriber? Log In
Brandon Sorensen was a crucial member of the Iowa Hawkeyes, a four-time All-American at 149 pounds for the Black & Gold. It's only fitting that his cancer went into remission a little over a week before Iowa was crowned 149 U.
His fight with acute lymphoblastic leukemia is likely not over, but it's staring down something similar to what his opponents saw across from them for four years. Sorensen was one of the best 49-pounders of his generation, and the wrestling community rallied around him with their support of his GoFundMe and #SorensenStrong bandanas.
The Series So Far: 125U | 133U | 141U | 157U
The Hawkeyes have dominated this series thus far, winning the title of 125 U, finishing second at 133 and third at 141. If you've missed it to this point, we're examining the best schools at each weight since the weight classes changed to their current form in 1999, using 21 years of NCAA tournament data to compile team points accrued, as well as sprinkling in some of the seeds for this year.
Seven different wrestlers have competed for the Hawkeyes at this weight since 1999, six of whom placed. Brent Metcalf was the standard-bearer, with 68 career points at the national tournament and a Hodge Trophy during his three years in Iowa City. Sorensen was behind him with 61 points and was the second four-year starter after Ty Eustice.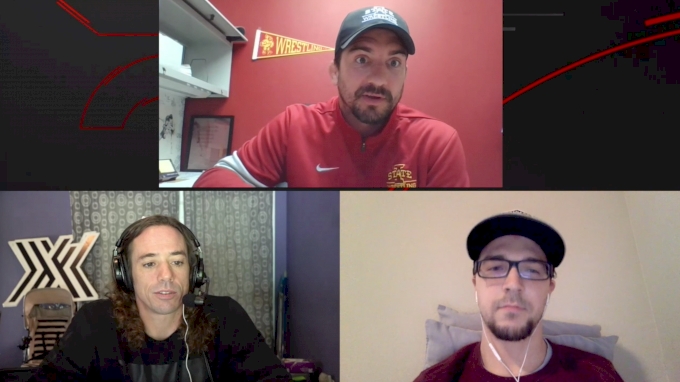 Unlock this video, live events, and more with a subscription!
Get Started
Already a subscriber? Log In
Mike Zadick placed all three years at this weight with 35 career points, and Eustice qualified four times, totaling 29 points with a finals appearance in 2006. TJ Williams started it all with a title in 1999, and of course the other bookend was the one seed entering Minneapolis after finishing eighth a year ago.
Let's take a look at the qualifier numbers since the weights changed, and you can add one for all below but Oklahoma and Edinboro.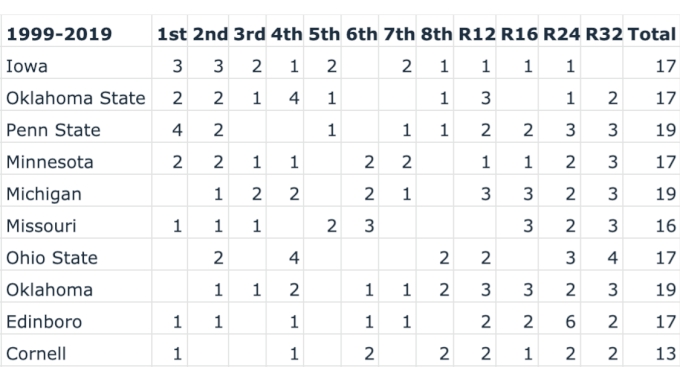 There was an excellent battle for second place that would've probably changed hands back this year had the NCAA tournament happened. Oklahoma State comes out ahead of Penn State in placement points because they had two more All-Americans but the Nittany Lions beat the Cowboys once you factor in bonus points.
Zain Retherford's three-year annihilation of the 149lb weight class pushed them over the top and also made up for Bubba Jenkins going 0-2 as the two seed in 2009, a year after he made the finals opposite Metcalf. Zain closed out his career on a 95-match winning streak with two Hodge Trophies and 81.5 points at NCAAs.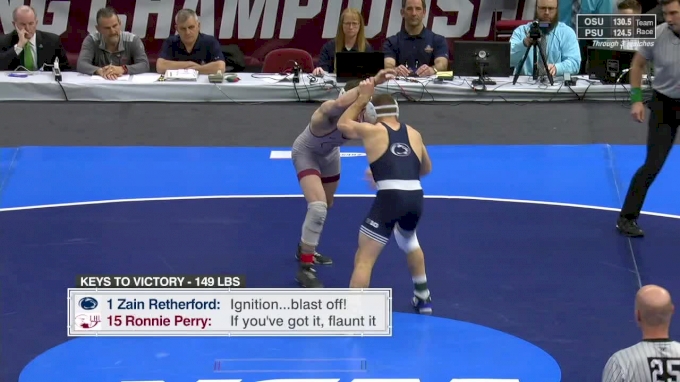 Unlock this video, live events, and more with a subscription!
Get Started
Already a subscriber? Log In
Then there's Molinaro, who spent his last three years at 149 and is now an assistant at Arizona State. His seed matched his finish every year: fifth in 2010, a finals appearance in 2011 and finally getting his national title in 2012. Biff Walizer and James English were unseeded AAs for PSU as well.
Oklahoma State has very strong numbers: 17 qualifiers with 11 All-Americans and four finals appearances that resulted in two national titles. Both of those titles came from one seeds: Zack Esposito won as a junior in 2005 and then helped coach Jordan Oliver to the 149lb crown in 2013. They had six other athletes get on the podium, but also had a few high seeds that failed to.
That includes Reggie Wright being the 1 seed in 2001 but losing in the bloodround, as well as Jamal Parks losing in the round of 12 as the second seed in 2012. Antony Collica entered 2017 NCAAs as the two seed, but went just 1-2 while battling a concussion, and Kaden Gfeller also was hurt last year and went 0-2. Not to mention Josh Kindig wrestling with a torn hamstring the year after he made the finals.
So when looking at the various AAs plus the season as a whole when examining seeds, not to mention that Boo Lewallen was the five seed this year and Jarod Verkleeren the 19 seed, you can certainly make the case that OSU is the second best at 149.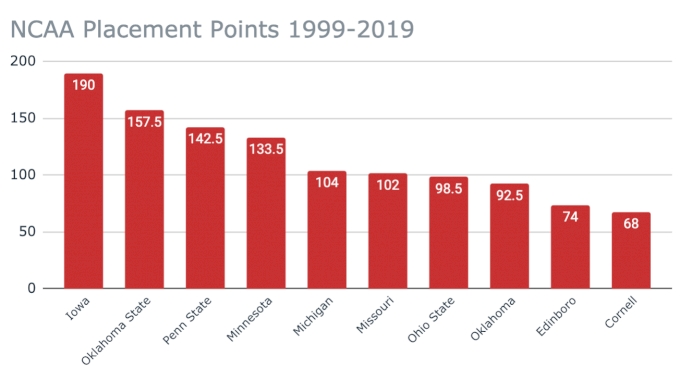 Coming in fourth after an extremely strong first decade of the weight is Minnesota. The golden age of the Gophers, in which the program won its first three titles, was always marked by a strong middleweight. J Rob kept Jared Lawrence in state, following up a seventh-place finish from Troy Marr with the four-time AA Lawrence, who coaches at Pinnacle and has sent several studs to wrestle for the U of M.
Then came the injury-plagued career of Dustin Schlatter. He took just one loss as a true freshman (which he avenged) and won the national title as the one seed. The next year his only loss came in the NCAA semis to eventual champ Gregor Gillespie. Although he fell short of his goal that year, he helped Minnesota win their most recent team title.
The wheels came off a bit his junior year, and even though he was seeded second he only placed seventh. After that came a redshirt year in which he made the world team, and then he returned as a senior up a weight but failed to place. Schlatter is currently the Minnesota Storm freestyle coach and shared the incredible story of his career with our own Mark Bader earlier this year.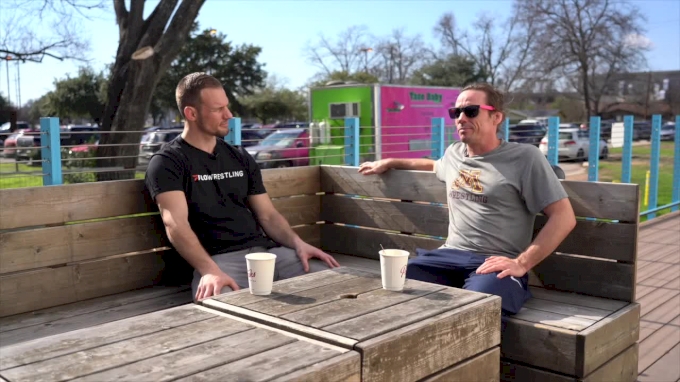 Unlock this video, live events, and more with a subscription!
Get Started
Already a subscriber? Log In
Another close battle for fifth happened between another four schools: Ohio State, Michigan, Missouri, and Oklahoma. The Buckeyes came ahead by three over the Wolverines, who were in turn 3.5 ahead of Missouri, while the Tigers were 1.5 ahead of Oklahoma. Ohio State likely would have held onto their lead this year as Sammy Sasso came in to the tournament as the three seed and had wins over all three guys he lost to during the season.
Each school tied in All-Americans with eight each, and incredibly the Tigers have put seven straight on the podium, with returning AA Brock Mauller seeded fourth this year. Michigan hadn't had a placer at this weight since 2016 when Alec Pantaleo finished fifth, and this year Kanen Storr was the 10 seed. Micah Jordan was in the finals for tOSU last year and the Sooners' most recent placer was Kendric Maple in 2014.
Lance Palmer was the only four-year starter for Ohio State, and placed all four seasons. He totaled 58.5 team points at NCAAs, making the finals as a senior and earning a win over Brent Metcalf in the Big Ten finals. Palmer recently joined the Bader Show to discuss his college career and life in MMA, where he has twice won the million-dollar prize for being the featherweight champ of the Professional Fighters League.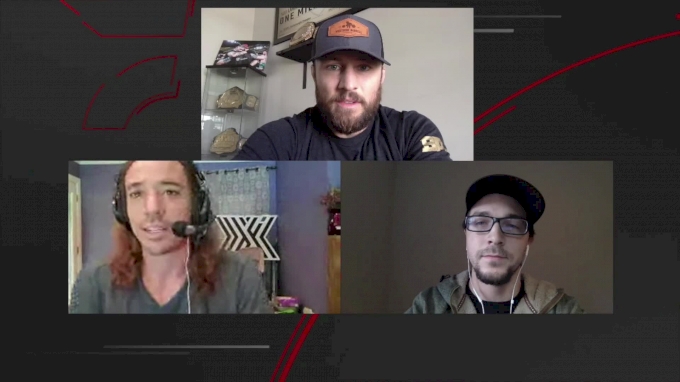 Unlock this video, live events, and more with a subscription!
Get Started
Already a subscriber? Log In
Six different men have been an AA at this weight during their time in Ann Arbor: Mike Kulczycki, Ryan Churella, Eric Tannenbaum, Josh Churella, Eric Grajales, and Pantaleo. Compare that to the five out of Columbia: Jeremy Spate, Drake Houdashelt, Lavion Mayes, Grant Leeth, and Mauller. Houdashelt won a title and was twice the one seed, while Mayes fell in the finals to Zain. Churella has been the only finalist for Michigan.
Oklahoma put five on the podium: current Virginia Tech assistant Jared Frayer, Northwestern head coach Matt Storniolo, both of whom placed twice, plus Jeff Ecklof in 2004, Kyle Terry in 2010, and Maple in 2014. Frayer was their only finalist and joined Davion Jeffries as four-year starters.
Top 8 Teams at 149lbs
Iowa - 223.5
Penn State - 186.5
Oklahoma State - 184
Minnesota - 155
Ohio State - 125.5
Michigan - 122.5
Missouri - 119
Oklahoma - 117.5
Key Scorers for Iowa
Mike Zadick (2000-02): 7, 3, 7
Brent Metcalf (2008-10): 1, 2, 1
Brandon Sorensen (2015-18): 4, 2, 3, 5
Key Scorers for Penn State
Bubba Jenkins (2008-09): 2, DNP
Frank Molinaro (2010-12): 5, 2, 1
Zain Retherford (2016-18): 1, 1, 1
Key Scorers for Oklahoma State
Reggie Wright (1999-01): 4, 4, R12
Zack Esposito (2004-06): 2, 1, 3
Jordan Oliver (2013): 1