Unlock this article, live events, and more with a subscription!
Get Started
Already a subscriber? Log In
Which school has been the best at each weight class since they changed to their current form in 1999? That simple question spurred out latest series, today answering who is the greatest at 141 pounds.
Ohio State edged Oklahoma last time we looked at this, but they flip spots this time around. Back then we were examining 15 years' worth of data (2002-16) but now we are using every NCAA tournament since the weights changed.
The Series So Far: 125U | 133U | 149U | 157U
This weight seems a little more balanced than the others, with the top team only getting into the 230s as opposed to the 270s for 125 and 133 in terms of total points scored at the national championships. That being said, only seven schools have won titles at 141 as compared to 11 programs that have won at 133 and eight teams that have had 125lb champs.
It's also reflected in the qualifier totals, where no school has qualified 20 or more times of the 21 tournaments that happened. Let's review those numbers for the best teams below, and shoutout to Andrew Spey for his exhaustive archive of NCAA qualifier and placement data.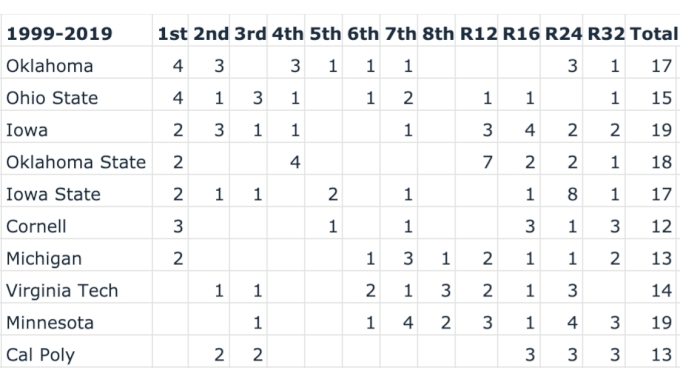 Michael Lightner is an institution at Oklahoma, having served as an assistant coach there for the past 11 seasons. But he was also a star for the Sooners, a four-time All-American whose last three years coincided with the first three years of 141's existence. He finished second twice before winning it as a senior, totaling 61 career points.
After Lightner's graduation came one year of Nate Parker, who placed fifth despite coming into NCAAs unseeded. While Parker started for the 2001-02 season, another future four-time All-American was redshirting. That was Teyon Ware, now an assistant with Wyoming. Ware won titles as a freshman and junior, finishing sixth as a sophomore and making the finals as a senior. Ware accounted for 73.5 team points during his time in Norman.
The last great run by the Sooners was 2010-13, when Zack Bailey placed fourth and seventh, followed by Kendric Maple getting fourth and then winning a title as a junior. Most recently, Dom Demas took fourth last year and was the five seed entering Minneapolis.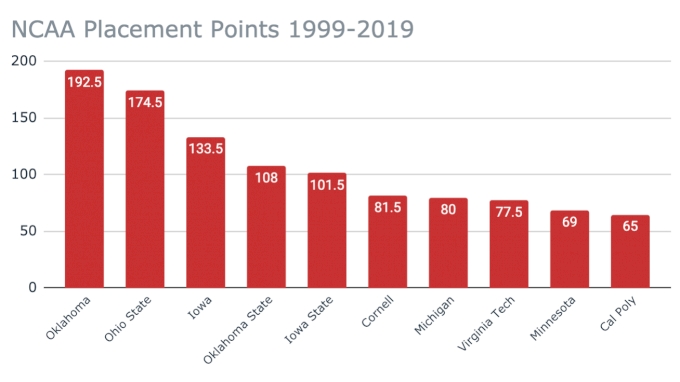 Oklahoma takes the title over Ohio State, so let's compare their resumes real quick. Over the past 21 years, each has had four national champs, with the Buckeyes putting five in the finals and the Sooners having seven finalists. In terms of All-Americans, OU holds a 13-12 edge over tOSU and they also had 17 qualifiers as compared to the 15 out of Columbus.
Five of Ohio State's six All-Americans placed more than once at 141, with the exception of Reece Humphrey, who spent the majority of his college career at 133. Two-time national champ and current assistant J Jaggers led the way with 54.5 points at NCAAs, followed by 2016 world champ Logan Stieber, who put up 52.5 team points at the national tournament.
Logan's younger brother Hunter was also a two-time AA at 141, as was Stanford transfer Joey McKenna. The latter was third as a junior and made the finals as a senior on the 2018 team that scored the 15th-most team points ever at NCAAs. Robert Sessley was on the podium in 2001 and 2002. Micah Jordan was the six seed in 2016 and although he did not place that year, he was an AA at different weights his other three seasons. Lastly there's Luke Pletcher, who made the bloodround as a true freshman and was the top seed heading into this year's tournament.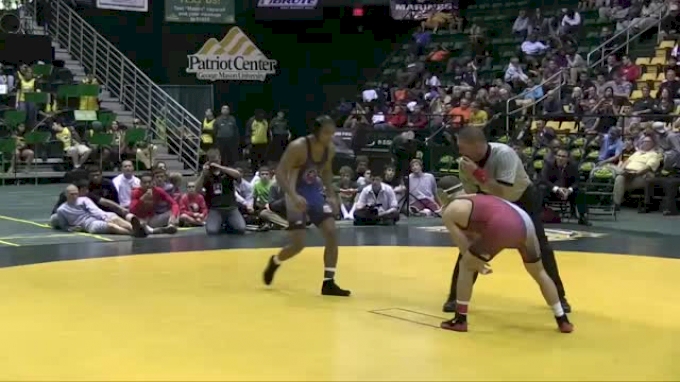 Create a free account to unlock this video!
Get Started
Already a subscriber? Log In
Iowa's had two national champs at 141: current Northern Iowa head coach Doug Schwab won the first title in 1999, and then Cliff Moore won as a five seed five years later. Schwab made the finals in 2001, losing to Lightner, and Montell Marion wrestled on Saturday night in 2010 and 2012.
Marion was the last AA for Iowa at this weight, with Mark Ballweg and Max Murin both making the Round of 12; Murin was seeded seventh this year. Schwab finished with 61.5 career points and Marion had 47.5 points at NCAAs, outplacing his seed every time.
Oklahoma State had three different wrestlers place fourth, the last of which was Dean Heil who also won their only two titles at this weight. The Cowboys qualified 18 times, with a third of those times finishing with them on the podium. Aside from Heil and his 54.5 points at nationals, their next highest scorer was Nathan Morgan with 30 points in two years at 141.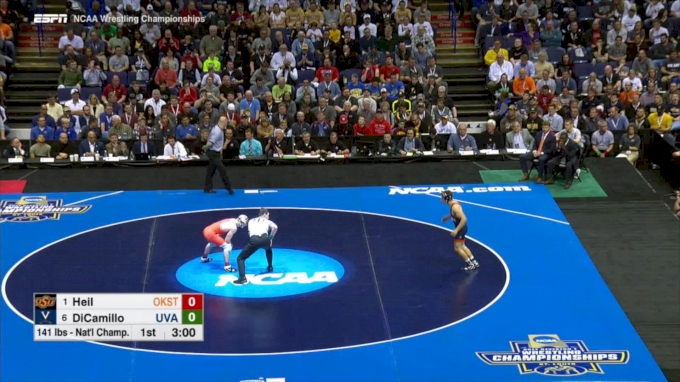 Unlock this video, live events, and more with a subscription!
Get Started
Already a subscriber? Log In
In fourth place on this list is Iowa State, with two national champs in Aaron Holker and Nate Gallick. Ware and Gallick met back-to-back years in the NCAA finals in what was an incredible Big 12 rivalry. Nate's brother Nick was also a two-time AA for the Cyclones.
Closing out this list are Michigan and Cornell. The Wolverines have had four placers at 141: Damion Logan twice, Josh Churella once, Kellen Russell three times, and Stephen Dutton once. Russell won two titles, beating Montell Marion in the finals in what was both of their senior years.
Cornell won three titles, two from Yianni Diakomihalis and one from Kyle Dake. Mike Nevinger finished on the podium in both 2012 and 2013 for the Big Red. Diakomihalis and Dake won their first titles as true freshmen, with Yianni beating Heil and Bryce Meredith along the way. Meredith was Heil's opponent for his first title and was coached by Ware. His second title came against Joey McKenna, who was the latest great for the Buckeyes.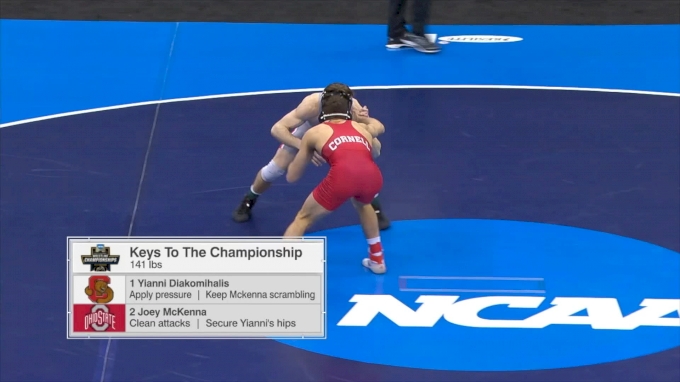 Unlock this video, live events, and more with a subscription!
Get Started
Already a subscriber? Log In
Below are the total team points for the seven teams that have won NCAA crowns at this weight.
Top 7 Teams at 141lbs
Oklahoma - 233.5
Ohio State - 213
Iowa - 169.5
Oklahoma State - 133.5
Iowa State - 123.5
Michigan - 100
Cornell - 99.5
Key Scorers for Oklahoma
Michael Lightner (1999-01): 2, 2, 1
Teyon Ware (2003-06): 1, 6, 1, 2
Kendric Maple (2012-13): 4, 1
Key Scorers for Ohio State
J Jaggers (2007-09): 7, 1, 1
Logan Stieber (2014-15): 1, 1
Joey McKenna (2018-19): 3, 2
Key Scorers for Iowa
Doug Schwab (1999-01): 1, 3, 2
Cliff Moore (2004): 1
Montell Marion (2010-12): 2, 4, 2