Logan Stieber is one of the greatest college wrestlers of all time, and he lifts Ohio State to the title of 141 U.

FloWrestling's series to find the best schools at each of the 10 weight classes continues today with the last lightweight or first middleweight, depending upon how you look at it. So far this week, we've unveiled the schools that hold the mantles of 125 U and 133 U. The data and graphs were compiled by our good friend Andrew Spey, aka @JaroslavWrestle.

The idea here is show which schools have been the best over the past 15 years (2002-16) at the same weights. After the 2017-2018 season, there will be a full 20 years of information that dates to the start of the weight class changes in 1999, and this series can be revisited.

Starting off with the qualifiers to the national tournament, it becomes painfully obvious to see there is a great deal more parity than at the first two weight classes.


141: NCAA Qualifiers by School (2002-16)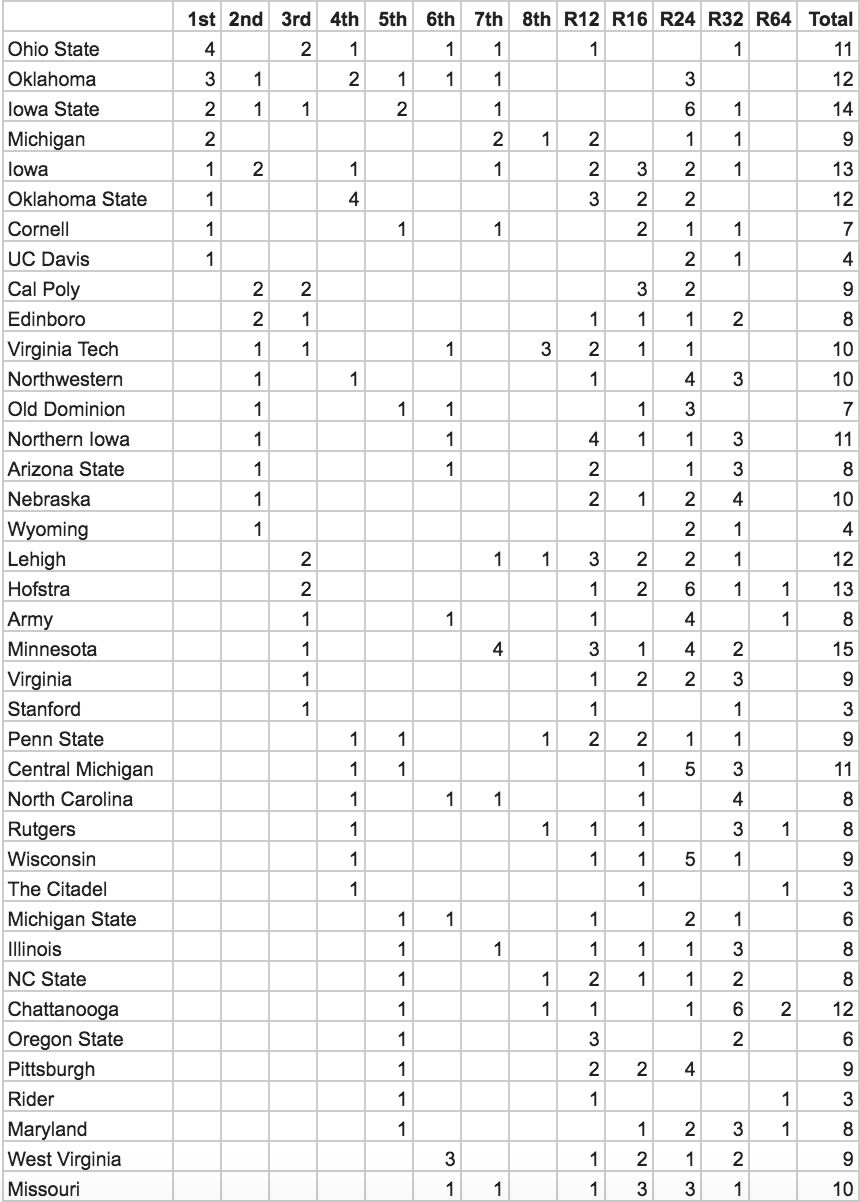 Minnesota did an excellent job of getting guys to the third weekend in March and is the only school to qualify every year. However, the Gophers managed "just" five All-Americans. While that means they had a number of tremendous wrestlers, it is not enough to hold the "141 U" belt.
Just below Minnesota in qualification numbers is Iowa State, which only missed out during the 2013 season. The Cyclones end up with seven All-American placings from just three athletes, all of them coming before the 2010 NCAA tournament. Aaron Holker started off the period reviewed with a national title and a seventh-place finish, followed immediately by three-time AA Nate Gallick, another national champion. Nate's younger brother, Nick, wound up fifth and third in the 2008 and 2009 seasons, respectively.
The other two schools with 13 or more qualifications were the ever-present Iowa Hawkeyes but also Hofstra. Year after year, the Pride wrestler wearing the 141 singlet makes it to March. Iowa's 141 national champion during this span was Cliff Moore, as well as two finals appearances from Montell Marion. They headline the group of five AA finishes from the Hawkeyes in those 15 years.
141: Points by School (2002-16)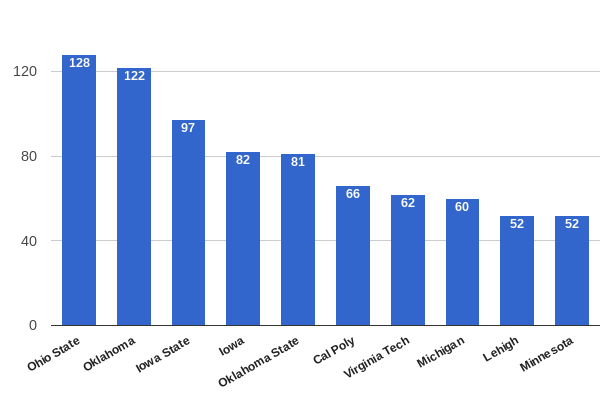 Spey used the following system to break down the points here: 18 pts for first place; 16 pts for second; 13 pts for third; 12 pts for fourth; 10 pts for fifth; nine pts for sixth; six pts for seventh; five pts for eighth; three pts for making the round of 12; two pts for making the round of 16; and one pt for making
the round of 24.
It is star power that gets the job done here. The Buckeyes' production at 141 falls on the backs of Logan Stieber, J Jaggers, Hunter Stieber, and Reece Humphrey. Between 2007-15, Ohio had eight podium finishes in those nine years, four of which were NCAA titles. Add in a fourth-place spot by Robert Sessley in 2002, and the wrestlers in Columbus, Ohio, just edge out the boys in Norman, Oklahoma.
One of the most dynamic 141s this century is Teyon Ware, so it shouldn't be a surprise the former Oklahoma wrestler is a huge factor in this race. The four-time AA and two-time champion was undoubtably a force during his time with the Sooners. Adding to the list of gold medals is 2013 champion Kendric Maple, who replaced two-time AA Zack Bailey. The Sooners beat Ohio State in terms of qualifiers (12-11) and tied the Buckeyes with nine All-Americans, with the slight edge coming in the finals and third-place matches.
Fans may be surprised to see Cal Poly wind up sixth, but it had more than just Boris Novachkov. Cedric Haymon was third in 2002, and Chad Mendes was runner-up in 2008. Meanwhile, Novachkov finished seventh, second, and third overall during the 2010-2012 tournaments.
Virginia Tech finds its way to the seven hole as the Hokies seem to do a great job continually sneaking out that final AA place. Virginia Tech had four straight AAs, with Solomon Chisko's sixth-place finish and Zach Neibert's eighth-place finish sandwiched around Devin Carter's second- and third-place finishes. A team like Michigan ends up in top 10 having only qualified nine times, thanks to the excellent career of Kellen Russell.
Looking forward, only one guy in the top seven of the
141 preseason rankings
is in the top-10 list of schools above, reinforcing the parity at this weight. Oklahoma State's Dean Heil is the defending champion and holds the top spot as a junior, which could bump them into the top three in a couple years. With Kaden Gfeller coming in as a projected 141, the Cowboys could be on the up-and-up at this weight in the near future. With Tommy Thorn and Mitch McKee in the Minnesota room, the Gophers' streak of qualifying seems safe for the next few years.
Top-10 Teams at 141lbs
1)
Ohio State
2)
Oklahoma
3)
Iowa State
4)
Iowa
5)
Oklahoma State
6)
Cal Poly
7)
Virginia Tech
8)
Michigan
9)
Lehigh
10)
Minnesota

Top Scorers for Ohio St.
J Jaggers (07-09): 7th, 1st, 1st
Hunter Stieber (12-13): 6th, 3rd
Logan Stieber (14-15): 1st, 1st
Top Scorers for Oklahoma
Teyon Ware (03-06):1st, 6th, 1st, 2nd
Zack Bailey (10-11): 4th, 7th
Kendric Maple (12-13): 4th, 1st
Top Scorers for Iowa St.
Aaron Holker (02-03): 1st, 7th
Nate Gallick (04-06): 4th, 2nd, 1st
Nick Gallick (08-09): 5th, 3rd
Popular Right Now:

125U
|
133U
FRL 155:
Audio
|
Video
IMar Eyes World Title
Pat Downey Tweeting And Talking Only Gets You So Far
Non-Olympic Weight Budget
Hunter Stieber Added To Oklahoma Coaching Staff


Get all of the hype!
Sign up for the FloWrestling newsletter for instant access to: breaking news, live events, results, rankings, archived matches and more!