Ranking The Best Hodge Seasons Of All Time
Ranking The Best Hodge Seasons Of All Time
FloWrestling ranks the seasons of every single Hodge Trophy winner since the award's inception in 1995.
Mar 28, 2020
by Wrestling Nomad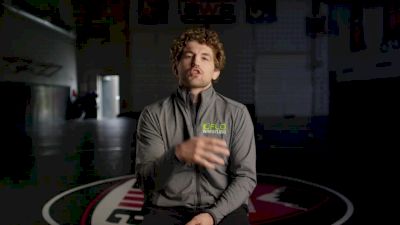 Unlock this video, live events, and more with a subscription!
Get Started
Already a subscriber? Log In
Unlock this article, live events, and more with a subscription!
Get Started
Already a subscriber? Log In
For the first time in the 26-year history of the Hodge Trophy it will be awarded without the benefit of knowing the final results of the NCAA championships. It's the first time since World War II that the national tournament has been canceled.
This year's winner is set to be announced on Monday, March 30th, so before that we wanted to take on the Herculean task of ranking the seasons of the previous Hodge winners. I did not include Nick Ackerman, though his 2001 season deserved the recognition it earned at the time.
So we're going to count these down from 25 to 1, and do it to the best of our abilities. Wrestling is not known for its record-keeping so I did my best to get as accurate stats as possible. If you see anything inaccurate or missing in here, please let us know.
Thank you to the various media guides of the schools represented, as well as the articles published by WIN commemorating each trophy winner. Alex Steen was also crucial in the writing of this for providing the stats of several winners.
Without further ado, the greatest Hodge seasons of all-time, ranked!
#25 - Emmett Wilson, Montana State Northern (2004)
Call it Division I bias, but we're starting off with the NAIA guy. Wilson was 50-0 with 24 pins this year, and if you're wondering how a non D1 wrestler won the Hodge, well it was a pretty damn impressive season. Drawing heavily from the April 2004 WIN article, Wilson won CKLV, Midlands and the NWCA All-Star Classic. He finished ahead of that year's 197lb NCAA champ Damion Hahn at CKLV and the runner-up Ryan Fulsaas at Midlands. Add that to wins over the guys who finished third, fourth, sixth and seventh, and you've got a Hodge campaign.
He finished ahead of Greg Jones and Matt Gentry for the award. Gentry was undefeated against college competition (he fell to post-grad Chris Bono 8-7 in the Midlands semis), but only had six pins, three techs and four majors between his 41-0 record. Greg Jones, a junior who won his second title, missed a good part of the year with a shoulder injury and went 26-0 with six pins. Virginia senior Scott Moore (now the head coach at Lock Haven) looked to be the favorite, but lost in the NCAA semis and finished 51-1 with 34 pins.
#24 - Eric Larkin, Arizona State (2003)
A competitive race in 2003 was won by the senior Larkin, who went 34-0 with 20 bonus point wins (11 pins, two techs, seven majors). The four-time All-American went 4-3-2-1 for his career at three different weights, winning OW at CKLV, Pac-10s and NCAAs this year. He beat out Illinois senior Matt Lackey, who went 38-0 and like Larkin finished his career 3-2-1, as well as sophomores Steve Mocco of Oklahoma State and Travis Lee of Cornell. Mocco went 34-0 with 15 pins and may have had a case to win it in his final season in Iowa City.
#23 - Kerry McCoy, Penn State (1997)
With five Hodge winners in the last eight years, you might think the Penn State run of dominance began with Cael's teams. But it was actually McCoy who won PSU's first Hodge, claiming the third edition of the award. He went 41-0 as a senior with 27 bonus point wins (11 pins, four techs and 12 majors). McCoy would go on to be a two-time Olympian and the subject of our 2014 FloFilm Injustice.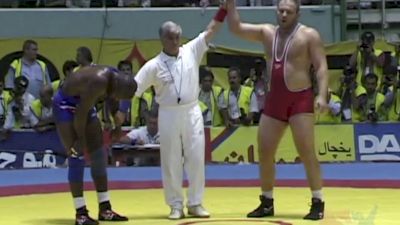 #22 - Brent Metcalf, Iowa (2008)
The only guy to win the Hodge with an official, collegiate loss on his ledger. Yes, Jordan Burroughs called him the "scariest man on Resilite" and he won what is unquestionably one of the toughest brackets of all-time that year at 149. He also led Iowa to its first team title since 2000 and justified the year sacrificed by the Virginia Tech five, but his numbers don't hold up well among his Hodge peers.
The last Hawkeye to win the award, he went 39-1 with 12 pins, seven techs, and nine majors. He was pinned by Darrion Caldwell in a November dual, but would go on to win outstanding wrestler at both Big Tens and NCAAs. His 4.25 dominance score is relatively low by Hodge standards, as is his 70% bonus rate. But, there was only one other undefeated wrestler that year in Keith Gavin, and the other one-loss wrestlers weren't anywhere near as dominant as Metcalf. It was actually the lowest dominance score and bonus rate of his career, as well as the season where he scored the fewest pins.
#21 - Les Gutches, Oregon State (1996)
Gutches was a finalist for the first Hodge in 95, but lost out to TJ Jaworsky. His senior year was better (36-0 with eight pins, 11 techs, and 10 majors) but he was stupid good in winning the 177lb title his last two seasons in college. A total of 69-0 with 12 pins, 26 techs, and 20 majors, giving up only one takedown in two years. According to Alex Steen, "He beat 6 of the top 12 wrestlers at 190 including eventual national champ John Kading of Oklahoma."
#20 - Mark Ironside, Iowa (1998)
Before we get started, the two-time national champ is trying to keep the wrestling community in Iowa together during these times of pandemic.
The first Hawkeye to win the Hodge, he kept the Black & Gold train rolling after Dan Gable retired from coaching. We couldn't find exact stats for him, but we do know he had a 40% pin rate (14 in 35 matches). Much of the information on his final two seasons comes from the WIN article, including these stats: 67 straight wins to end his career, 27 of which were pins, 17 major decisions and eight tech falls. But the best part of that article was this incredible gem from Tom Brands:
"He's driven to destroy and to dominate his opponents. He lives when he wins and dies when he loses. To me, that's the definition of wrestling."
#19 - Logan Stieber, Ohio State (2015)
I've asked this before, but does anyone think Logan lost more than 10 folkstyle matches in his whole life? Because I don't. He's a four-time NCAA champ so we probably shouldn't underrate him, but it's easy to forget just how incredible he was, and he deservedly got his Hodge in his senior year, the crowing individual achievement on top of leading the Buckeyes to their first-ever team title. He had 10 pins, eight techs, and four majors in 29 matches for a 4.72 dominance score and 76% bonus rate. It may have been his least impressive season statistically, but he was instrumental in making Ohio State into what they are today.
#18 - Alex Dieringer, Oklahoma State (2016)
This was definitely a career accomplishment award. Ringer finished 3-1-1-1 at NCAAs, with a 133-4 record and ending on an 82-match winning streak. To be fair, he was far better than everyone he faced and I distinctly remember scoffing anytime anyone suggested Ringer might get upset that year. He pinned 36% of his opponents, had an 81.8% bonus rate and a 4.76 dominance score. But had it not been Zain's first or Ringer's third title, Retherford would have won it. The Nittany Lion had a dominance score of 5, had a better pin and finish rate than Ringer, plus bonused more often. The thought at the time was, Ringer couldn't get it in 2015 because of Logan and Zain still had two years left.
#17 - Jordan Burroughs, Nebraska (2011)
The 2011 Hodge race may have been the best of all-time, and it was Burroughs who came out on top. That wasn't terribly controversial and of course ages well with Burroughs international results, but it's worth discussing the other four undefeated wrestlers who were finalists. Jordan Oliver finished second with a 38% pin rate and 4.8 dominance score. Anthony Robles was third because he only had two pins, but he teched 2/3 of his opponents! And beat the defending NCAA champ in the national finals. Jon Reader had a 73% bonus rate and Kellen Russell won his first title.
Burroughs stats are thrown off a little by four forfeits/defaults, but he had six pins, 14 techs, nine majors, and three decisions. One of those decisions was against defending NCAA champ Andrew Howe in the Midlands finals. Howe would of course be JB's opponent later that year in the World Team Trials finals before Jordan won his first world title. He would also face Howe in the 2012 and 2016 Olympic Trials finals.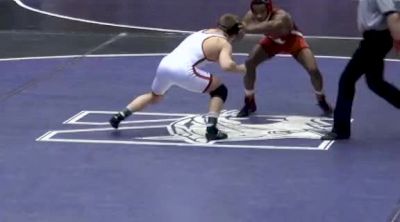 #16 - Cael Sanderson, Iowa State (2000)
The first (and to this point only) sophomore to win the award, the Cael legend was already being clearly established. Even two decades ago and as a sophomore upperweight, Cael was mollywhopping people in a way that's difficult to fathom. He had 10 pins and 15 techs for a nearly 66% finish rate, bonused at an 84% clip and a ho-hum 4.76 dominance score. Only Nolf, Zain, and Logan have had better sophomore years in the Hodge Era than Cael.
#15 - Steve Mocco, Oklahoma State (2005)
There's an argument to be made that this should be Mocco's second Hodge, and he became the rival of the following year's Hodge runner-up in Cole Konrad. The reason I have him ahead of Ironside, Ringer, Burroughs, and Cael is the pin rate: 17 in 37 matches (46%). He was the most feared man in wrestling, a prodigy who was the best high school recruit of all-time to that point, and maybe still is honestly. To win the Hodge, he beat out three-time national champ Greg Jones, one of the most underrated college wrestlers ever. This list is also a great excuse to rewatch our 2016 FloFilm on the New Jersey legend, simply titled MOCCO.
#14 - Jayson Ness, Minnesota (2010)
This was one of the hardest seasons to rank. He was seconds away from losing in the NCAA finals to future Olympian Dan Dennis, but his comeback against the Hawkeye was his "Hodge Moment." He only had 19 bonus point wins in 31 matches, but every single one of them were pins! This is a pinner's award, and he's got the sixth highest pin rate of any Hodge winner. He won over Jake Varner, a four-time NCAA finalist who won his second career title and had a 4.35 dominance score that came from 21 bonus point wins in 31 matches. This is easily the season that will have the most variance among fans who try to do a list of their own.
#13 - Kyle Dake, Cornell (2013)
There was clearly a career aspect to Dake winning in 2013, but the year itself was still remarkable. Becoming the first man to win NCAA titles at four different weights and the first to win four national championships without a redshirt year, he finished his career 137-4 and ended on a 79-match winning streak. As for his season, he went 37-0 with 18 pins and 28 bonus point wins, but most importantly he defeated David Taylor three times. First at the NWCA All-Star Classic in the "Match of the Century," then in the Southern Scuffle finals thanks to the standing reversal, and finally for the NCAA title.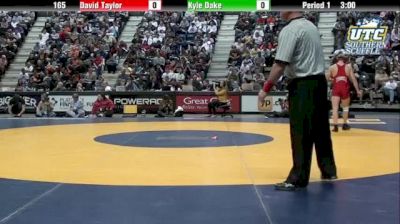 Unlock this video, live events, and more with a subscription!
Get Started
Already a subscriber? Log In
A little on the guys he beat out to win this award. Finishing second was Ed Ruth, the 184lb champ with 12 pins and 27 bonus point wins in 33 matches. Then there was Jordan Oliver, who was also runner-up in 2011. Oliver didn't give up a takedown en route to the 149lb crown, finishing 38-0 bumping up two weights with 17 pins, a 4.82 dominance score and an 84.2% bonus rate (both higher than either Ruth or Dake's numbers).
Lastly there was Logan Stieber in fourth, who was actually the most dominant this year by a fairly wide margin. He won his second straight title at 133, going 26-0 (plus one forfeit) with 23 bonus point wins. He had a 54% pin rate and an 80.8% finish rate, plus a 5.23 dominance score. It is second only to Nolf's 2017 season in terms of years that did not end with a Hodge. I think missing five matches hurt him, but of his three decisions, two were to Tony Ramos (who won NCAAs the next year) and one was to Nathan McCormick, who he majored earlier in the year. Stieber would of course get his Hodge a few years later though.
#12 - Jake Herbert, Northwestern (2009)
A banner year for the greatest wrestler in Northwestern history, and it was made all the easier because of Darrion Caldwell's win over Brent Metcalf in the NCAA finals. The four-time All-American finished on a 66-match winning streak, won the Jesse Owens award for Big Ten male athlete of the year and was the OW at Midlands. He had an 82% bonus rate, pinned in 15 of his 34 matches and did not give up a takedown all year. But I must point out, Metcalf had a better dominance score (4.94 to 4.82), as well as a higher pin rate and finish rate. Herbert would ultimately go on to make the world team at 84kg and wound up with a silver medal at the world championships that September in Herning, Denmark
#11 - Cael Sanderson, Iowa State (2001)
Another remarkable season from the best to ever do it. The comparisons to Dan Gable were inevitable as he finished this season 119-0 for his career, one better than the Cyclone legend. No one at 184 would stand between him and a third national title, rolling through the year with 18 pins, eight techs, and 10 majors. Three of his four decisions were against Daniel Cormier, one of the few guys who kept Cael looking somewhat mortal. He also made the senior world team, but when the championships got postponed due to 9/11 he decided not to wrestle and conceded the spot to Brandon Eggum, someone he was 5-0 against in college. Eggum was the silver medalist that year.
#10 - TJ Jaworsky, North Carolina (1995)
The very first winner of the Hodge Trophy. We don't have exact stats for Jaworsky, but we know he won his third straight title at 134 and had 24 pins. His official record was 38-0, though he did lose in overtime in the Midlands finals to Cary Kolat who was not on a college roster at the time. His 31 bonus point wins amounted to an 81.6% bonus rate, nothing crazy by Hodge standards, but he pinned over 63% of the guys he faced this year! That's the third-highest pin rate of anyone on this list.
#9 - David Taylor, Penn State (2014)
We're about to see a run by Nittany Lions here, as our next four on this list all wrestled for PSU in the last decade. Taylor's sophomore and senior years were virtually identical and he ran away with the Hodge both times. The 2014 version went 34-0 with 16 pins, eight techs and eight majors, bonusing at just over a 94% clip. He was the only undefeated wrestler that year, as fellow Hodge finalists Logan Stieber, Ed Ruth, and Chris Perry all suffered a loss. His dominance score was 5.11, just a hair lower than the 5.16 he had earned as a sophomore.
#8 - David Taylor, Penn State (2012)
It's a matter of preference which Taylor season you fancy, and I think you could even argue him as high as sixth on this list. I hold the sophomore iteration in slightly higher regard for a few reasons. First, the finish rate (techs + pins) was higher in 2012, looking at 75% vs 70.6% two years later. Second, he combined for 55 team points at Big Tens and NCAAs verse 50.5 in 2014. Third, he faced better competition for the award in 2012, as there were three other undefeated wrestlers (Ed Ruth, Kyle Dake, and Frank Molinaro), and Ruth's year was statistically better than some of the seasons at the bottom of this list.
His 2012 national tournament was a masterpiece, pinning his first four opponents before teching Brandon Hatchett 22-7 in the finals. Hatchett had been one of Taylor's two decision wins on the year, but he had basically a perfect tournament and nearly became the first person since Howard Harris in 1980 to pin his way through nationals.
#7 - Zain Retherford, Penn State (2018)
You're not going to get too much of an argument from me if you want to put either of Taylor's two years ahead of Zain's senior season. There's no question if you rely on bonus rate, as Zain had four decisions in 30 matches (86.67%) vs two decisions each against 32 and 34 matches for Taylor. But the Hodge is a pinner's award, and Zain pinned 17 out of 30 this year. That was good for a pin 56.67% of the time, higher than David's 15 falls in 32 matches (46.875%) as a sophomore or 16 in 34 (47.06%) his senior year. DT became the third man to win multiple Hodge trophies, and four years later Zain joined the club. One last note, Retherford ended his career on a 95-match winning streak.
#6 - Bo Nickal, Penn State (2019)
A fitting finale to a hall of fame career by Nickal. He ended on a 68-match winning streak, claiming his third NCAA title in four finals appearances. This whole senior year was between him and Nolf until Nickal separated himself at the end, with his "Hodge Moment" being when he pinned Kollin Moore in the dual. Nolf had an 86.6% bonus rate and a dominance score over 5, but couldn't keep pace with Nickal. He made a laughingstock of the 197lb weight class, pinning 18 guys in 30 matches, bonusing 90% of his foes, earning a dominance score of 5.2 and ending matches in an average of just over four minutes and five seconds.
#5 - Ben Askren, Missouri (2006)
Somehow it was easier to find Askren's exact junior year stats than his senior year ones. He had 54 falls over his final two seasons, 25 as a junior and 29 as a senior. He went 45-0, with an injury default and a forfeit thrown on top of his nine techs, five majors, and four decisions. That gives him a 5.28 dominance score, 90.7% bonus rate and ending just over 79% of his matches early. Perhaps most impressively he majored Jake Herbert in the NCAA finals, who would go on to win the Hodge in 2009.
I don't think enough people remember how good Cole Konrad was from that same time period, either. Steve Mocco, who we mentioned above, was Konrad's nemesis early on. But Konrad knocked off the reigning Hodge winner three times this season, including an emphatic pin at National Duals. The Gopher legend won his final 76 matches in a Minnesota singlet and won the Jesse Owens award for Big Ten male athlete of the year in 2007. He went 41-0 as a junior with 16 pins and 35-0 with 13 pins as a senior, including one in the NCAA finals. Konrad claimed Big Ten wrestler of the year honors both times.
#4 - Stephen Neal, CSU Bakersfield (1999)
Before he won three Super Bowl rings playing offensive line for the New England Patriots, Stephen Neal was one of the best wrestlers in the world. He lost in the 1997 NCAA finals to Kerry McCoy, who as we covered earlier won the Hodge that year. The next year he went 39-0 with 13 pins en route to his first national title, pinning one-third of his opponents. Then in 1999 he went on one of the greatest one-year runs we've ever seen.
He went 44-0 with an astounding 31 falls! Even if every other match that year was a decision, which we know for a fact it wasn't we just can't get hard numbers on his techs and majors, his dominance score is still a staggering 5.11, so it is more likely in the 5.2-5.3 range. Then, he made the US freestyle team, winning a Pan Am Games title before claiming gold at and winning outstanding wrestler at the world championships. His old nemesis Kerry McCoy beat him out for the Olympic spot in 2000, sending him into football, but my goodness was his 1999 season one for the ages.
#3 - Ben Askren, Missouri (2007)
It was difficult tracking down exact numbers, but from what I could find he had the third-highest dominance score of anyone since 1995, bonused over 90% of his foes and pinned 69% of the guys he faced. How insane is it to pin over 2/3 of the people you wrestle? Including in that were 23 first period falls, and an epic run at trying to beat Dan Gable's NCAA record of 25 consecutive pins. He only made it to 19, and had an insane 18 in a row in the first period.
In the NCAA finals he controlled Keith Gavin (one of three wins over Gavin that year), who would go undefeated and be the Hodge runner-up the following year. It was a tour de force, especially considering Cole Konrad put up an amazing fight. Their final two years, they were unquestionably the best two wrestlers in college. Askren's junior and senior seasons ultimately led to us making The Funk FloFilm and pretty much revolutionized college wrestling as we know it.
#2 Zain Retherford, Penn State (2017)
It's fitting that only a Cael coached wrestler could come close to Cael's magnum opus. I was 11 when Cael took a chainsaw to the 197lb weight class in his senior year at Iowa State, and unless you're Bobby Douglas you'll have a hard time finding video of many of his matches. So for all intents and purposes, Zain's junior season was the best we've ever actually seen. Not to mention he was fending off Jason Nolf all year, who if Zain did not exist would probably be on this list at #5 or 6. Nolf's numbers: 27-0 with 14 pins, eight techs, three majors, and two decisions (9-4 and 8-2 over Michael Kemerer) for a dominance score of 5.26 and a historically relevant finish rate of 81.5% (techs + pins).
Back to Zain: He wrestled 27 matches that year, 24 of them were techs or pins. No one besides Cael has ever had a tech/pin rate that high (88.9%), and his dominance score of 5.44 is just a hair below Cael's, plus he had the 2-1 win over Collica and the tiebreaker two war with Brandon Sorensen. You know that Sorensen match, the one where the Carver Gods tried to get him to pay his tax. This is the single greatest season I've ever personally witnessed. He would go on to make his first world team that spring, as well.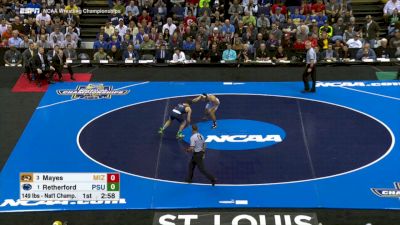 Unlock this video, live events, and more with a subscription!
Get Started
Already a subscriber? Log In
#1 Cael Sanderson, Iowa State (2002)
No surprise that the greatest college wrestler of all-time also has the most insane Hodge season ever. Here's what we could find for his senior year: 41 matches, one of which was the NWCA All-Star Classic, and another against a graduated opponent in Lee Fullhart in the Midlands finals, plus two forfeits. But in 37 actual contested matches, he had 23 pins, 11 techs, and three majors for a mind-blowing 5.46 dominance score and 100% bonus rate. When it comes to college wrestling, there's Cael, and then there's everyone else.