Final Hodge Report And Rankings
Final Hodge Report And Rankings
The NCAA's have a way of paring this list down, don't they? With the dust settled, we are left with only 4 undefeated wrestlers: Nahshon Garrett, Zain Rethe
Mar 22, 2016
by Christian Pyles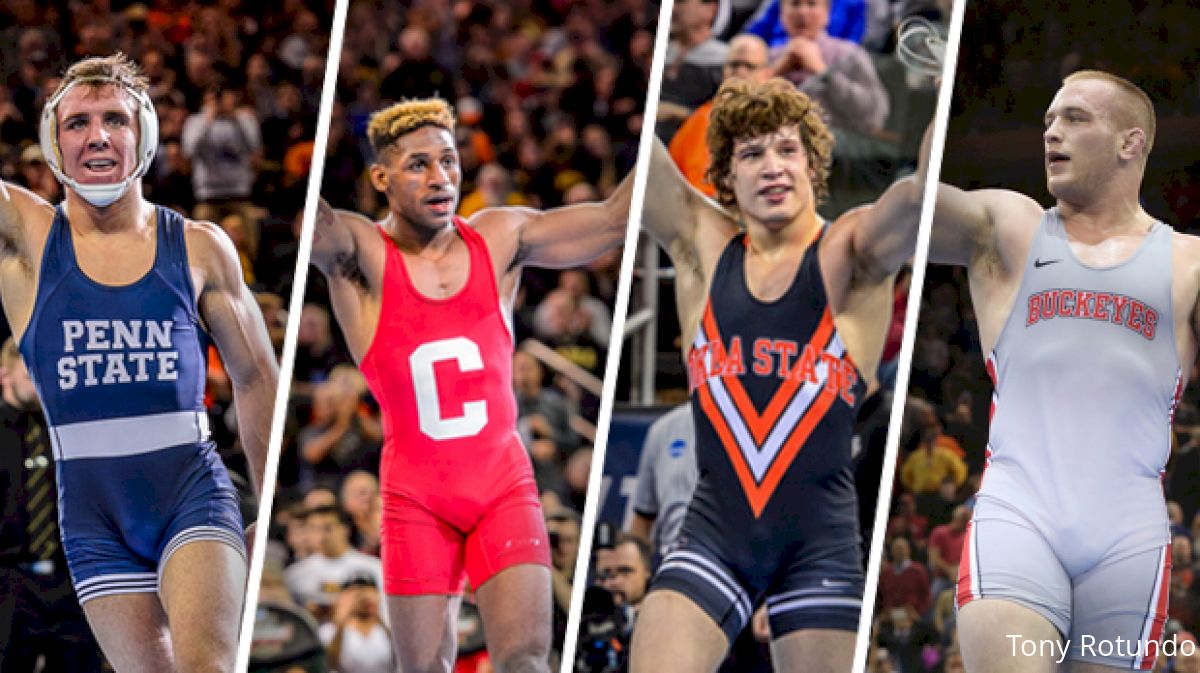 The NCAA's have a way of paring this list down, don't they?

With the dust settled, we are left with only 4 undefeated wrestlers: Nahshon Garrett, Zain Retherford, Alex Dieringer and Kyle Snyder.

No 1-loss wrestlers will be considered, so our final four has been determined. Let's get to the numbers.



Nahshon Garrett, Cornell: 37-0

70% Bonus Rate - 11 falls, 7 techs, 7 majors, 1 win by injury default
8 All American Wins: Cody Brewer (decision), Cody Brewer (pin), Cory Clark (decision), Earl Hall (decision), Mason Beckman (major), Mason Beckman (decision), Eric Montoya (major), Jordan Conaway (major)
All American Bonus Percentage: 50%

The Case For Nahshon: Garrett is right up there in nearly every category. Not only did he beat a returning NCAA Champion in Cody Brewer twice, he did so in dominant fashion on both occasions. One stat that may wind up being irrelevant—but that I find incredibly interesting—is that up until Nahshon's NCAA finals match (which was made close more so because of officiating than because of Cory Clark), Nahshon did not have a match come within even TWO points.

That's a boast no other contender can make. Nobody even made Nahshon sweat this year.

The Case Against Nahshon: His bonus numbers were great, but not up with Dieringer, Snyder and Retherford. Pins are a listed criteria and he comes in third out of four.



Alex Dieringer, Oklahoma State: 33-0

81% Bonus Rate - 12 falls, 7 techs, 8 majors
4 All American Wins: Isaac Jordan (decision), Daniel Lewis (major), Jim Wilson (major), Daniel Lewis (decision)
All American Bonus Percentage: 50%

The Case For Alex: Dieringer came into this year the consensus favorite. He did his part this year to put himself in position to win it. He had a very high bonus rate and the second most points of anyone on this list. Dieringer trumps everyone to the nth degree in terms of credentials. The 3 time champ lost only one match at NCAA's in 4 years, an OT loss to eventual champ Derek St. John.

Additionally, Dieringer finished his career with an incredible 83 match win streak.

The Case Against Alex: He faced a relatively weak schedule this year, having only defeated 4 All Americans. Kyle Snyder in 11 matches faced an equal amount of AA's and those were far more credentialed guys as well. When you consider Alex only faced 4 All American's this would seem to indicate a higher opportunity for bonus points. So despite facing far weaker competition than Retherford, Zain out-produced him in the bonus department.



Zain Retherford, Penn State: 34-0

88% Bonus Rate - 15 falls, 8 techs, 7 majors
10 All American Wins: BJ Clagon (decision), Evan Henderson (tech), Jason Tsirtsis (major), Alec Pantaleo (fall), Anthony Collica (decision), Alec Pantaleo (fall), Brandon Sorensen (decision), Justin Oliver (fall), Alec Pantaleo (fall), Brandon Sorensen (major)
All American Bonus Percentage: 70%

The Case For Zain: In terms of in season measurables, there's really no comparison. He pinned more than everyone, he bonused at a far higher rate and he faced much better competition than everyone. At the NCAA's he had one of the most prolific point scoring tournaments since David Taylor went pin, pin, pin, tech. Zain went tech, pin, pin, pin, major. He also notched the most wins over All Americans at 10 as well as the highest AA bonus percentage.

Zain can't compete with Ringer's credentials. Nobody can. That said, in his two years of college competition, Zain unquestionably has the best win of anyone: Logan Stieber. Logan lost to nobody his last three years outside of his loss to Zain his Junior year. That is definitely something. He also majored an NCAA Champion this year in Jason Tsirtsis.

The Case Against Zain: Essentially the only argument you can make against him is that he doesn't have a lot of previous accolades. Zain placed 5th as a True Freshman (Losing to Stieber and Port only). In this way, the criteria is a bit punitive towards younger competitors (though it has had Freshman/Sophomores win in the past).



Kyle Snyder, Ohio State: 11-0

72% Bonus Rate - 1 fall, 5 techs, 2 majors
4 All American Wins: Adam Coon (decision), Amarveer Dhesi (major), Ty Walz (decision), Nick Gwiazdowski (decision)
All American Bonus Percentage: 25%

The Case For Kyle: Kyle Snyder scored an average of 18.6 points per match (not counting the bout he won by fall). He scored 20+ points in 6 different matches. That is an incomparable statistic. Nobody has anything close, except perhaps the New England Patriots or Steph Curry. He beat a 2 time NCAA Champion in the process as well.

In terms of previous accomplishments, I am curious how they will weigh his Freestyle success. He also faced the best competition, going up a weight and seeking out a heavyweight legend in Nick Gwiazdowski. If that's a factor, he obviously has the best credentials. But since this is a college award, I'm not 100% sure that it does. Having a bonus rate that high for a heavyweight is very impressive as well. Inherently, they bonus at a lesser rate. That wasn't really the case for Kyle coming in with a higher rate than Nahshon.

The Case Against Kyle: 11 matches. That ain't much. It's really a very odd circumstance. If you stat Kyle out for the duration of the entire season, I'm not sure there's a chance he's beaten. I am not super comfortable with a guy wrestling such a shortened season winning it. However, if there was ever a case where it was warranted it's for Kyle. His time off the D1 mat was spent overseas wrestling at the toughest tournaments in the World: Yarygin and Medved.



Criteria Breakdown:

Below you'll find the 7 Hodge Criteria as well as my rankings for who best represented themselves in this particular criteria. I then averaged out their rankings and came up with a final Hodge pecking order. The rankings for these criteria are partially my opinion (past credentials, quality of competition, Sportsmanship, Heart) and partially are facts (pins, dominance, record).

1. Record (4 Way Tie, maybe penalize Snyder for only 11 matches)
2. Number of pins (Retherford, Dieringer, Garrett, Snyder)
3. Dominance (Retherford, Dieringer, Garrett, Snyder)
4. Past Credentials (Dieringer, Snyder, Garrett, Retherford)
5. Quality of Competition (Snyder, Garrett, Retherford, Dieringer)
6. Sportsmanship/Citizenship (4 Way Tie)
7. Heart (4 Way Tie)

Retherford Average Rank: 1.71
Dieringer Average Rank: 1.71
Garrett Average Rank: 2
Snyder Average Rank: 2.7

It's pretty crazy to see Zain and Dieringer exactly tied. What hurt Zain in this is that he is behind everyone in past credentials. What hurt Dieringer is his quality of competition. These are two criterias that are largely out of the wrestlers control. Dieringer didn't miss any time and Oklahoma State wrestles a tough schedule. He can't help there wasn't as many hammers for him to face. Zain can't help he's only a Sophomore, either.

Personally, if I had a vote, I think it goes to Retherford. I view this as an in-season award. He was the best wrestler for this year by every measurement. His ability to bonus and pinfall at the rate he did against the toughest competition is aligned with the spirit of the award as I have come to understand it.

This is all just splitting hairs. Every wrestler here is amazing and largely without a blemish. Dieringer's career and history would make him an incredibly deserving winner as well.

Fret not, Hodge Committee, you can't go wrong this year!