Over the next several days, FloWrestling is breaking down the best schools at each weight class over the past 15 years. On Monday, Cornell came out on top as "125 U." Today, we are taking an in-depth look at the 133-pound weight class to determine which school deserves the title of "133 U."

As expected, only a few schools were vying for control of the top spot. It came down to three schools used to contending for team trophies: Minnesota, Iowa, and Oklahoma State.

Let's start with the qualifiers from 2002-16, which should always be the first goal of any wrestler. I again want to thank Andrew Spey, aka @JaroslavWrestle, for helping to put this data together.


NCAA Qualifiers & Finishes (2002-16)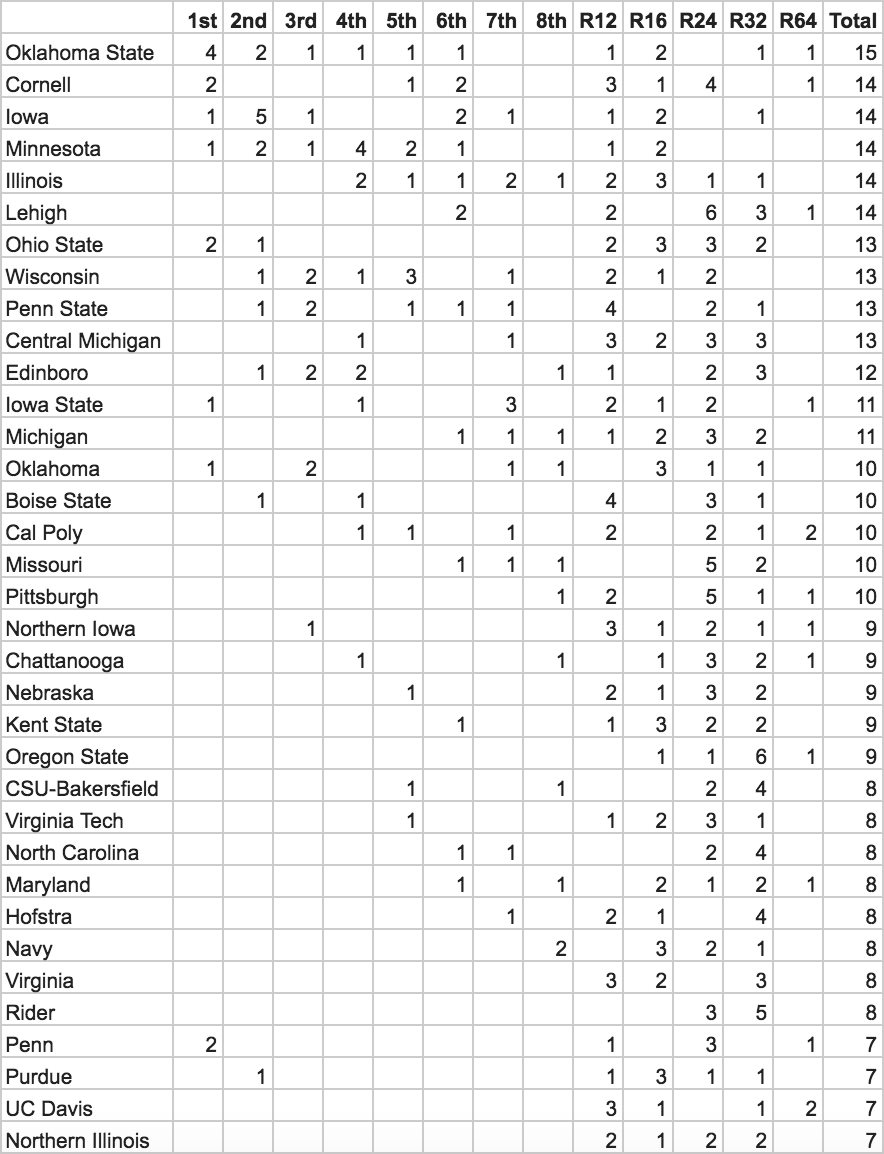 Only one school was able to qualify a wrestler in all 15 years at this weight, which certainly helps it lay claim to the title of 133 U.
The breakdown of qualifiers paints a good picture as to which schools have been able to consistently get their guys to peak in March. If you re-order them slightly, you also end up with our top-10 schools at 133 pounds.
Both Iowa and Oklahoma State placed six wrestler in the finals, but the only time they met up was the 2008 finals in St. Louis -- won by former OSU wrestler and current North Carolina head coach Coleman Scott. Before he won an Olympic medal and started running UNC, Scott was one of many in a long line of excellent 133s for the Cowboys.
Over half of the Cowboys' 133s ended up placing in the top four, with two-thirds of them finishing sixth or better, which is what pushes them over the top. Minnesota ends up with the same ratio in the top six, with the Gophers finishing in 4th place four times, giving them a slight advantage over Iowa.
Minnesota put half as many in the finals as Iowa and Oklahoma State, however, they end up with the most All-Americans. Between 2002-16, the Gophers had six 133-pounders. Five of them ended up with 11 AA placings between them, though oddly enough one of those was not 2007, the year they last won an NCAA team title.
Top 10 Teams at 133 (2002-16)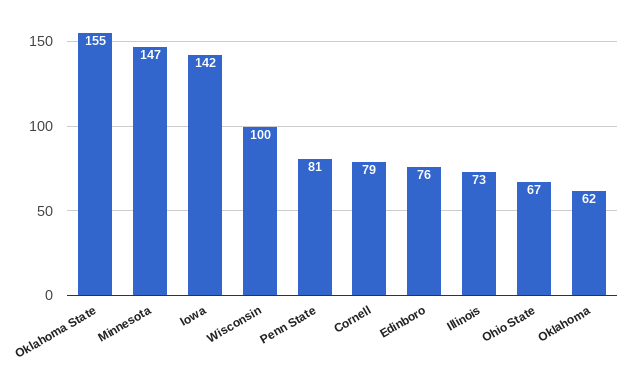 Spey used the following system to break down the points here: 18 pts for first place; 16 pts for second; 13 pts for third; 12 pts for fourth; 10 pts for fifth; nine pts for sixth; six pts for seventh; five pts for eighth; three pts for making the round of 12; two pts for making the round of 16; and one pt for making the round of 24. The scoring at NCAAs done by each qualified athlete prior to 2010 is not available.
The top-three schools have not seen each other at all in the past three NCAA tournaments. The last meeting between them was Tony Ramos' 6-1 win over Jon Morrison in the 2013 quarterfinals.
Ramos is a big part of why Iowa is one of the best schools at this weight, as he placed third, second, and first after his sophomore year for the Hawkeyes. He used to battle with Jordan Oliver, who was the Cowboys' last 133-pound champion. Oliver wrestled three times as a 133 at NCAAs, going fourth, first, and second as he replaced Scott. For the Gophers, their last national champion was Jayson Ness. He moved up from being a 125 his first two years to place third and then win in dramatic fashion at the 2010 NCAA tournament in Omaha, Nebraska.
Looking at recent results, Minnesota did not qualify at this weight last year after a run of four straight All-American finishes. The Gophers also do not have anyone ranked heading into this year. Oklahoma State has gone three years without someone placing at the big show, though Kaid Brock showed a flash of greatness with his pin of Oklahoma's Cody Brewer -- the 2015 NCAA national champion -- in last season's dual. Gary Wayne Harding was the starter in 2015 and 2016, so it will be up to Harding or Brock to bring the Cowboys back to the heights they are used to seeing.
Meanwhile, Iowa has gone five straight years with a guy in the top three on the podium, including four straight in the finals. Cory Clark holds pole position in our
133 rankings
heading into the 2016-17 season, with Spencer Lee and/or Gavin Teasdale waiting in the wings. At this time, there is every reason to believe that the Hawkeyes will end up on top of the heap when looking back after the 2018 NCAA tournament (20 years since the weight changes) and 2023 NCAAs (Lee/Teasdale/another possible future recruit).
The school which ends up in fourth is Wisconsin, which is one of only two schools to have a guy place four times at this weight during the time period we examined. Tyler Graff went fifth, fifth, DNW, third, and second during his career for the Badgers. But Wisconsin also saw Tom Clum (2005, 2006) place twice, as well as Kevin Black in 2002 and Bradley Taylor at the 2015 NCAA tournament. Those eight All-Americans put them behind Minnesota with 11 and Iowa/Oklahoma St with 10 AAs.
Along with Graff, Brewer is the only other four-time AA at this weight since the 2002 season. He is the primary reason for the Sooners being a top-10 school here.
Although Penn State rounds out the top-five schools, much of that comes prior to the Cael Sanderson era. Guys like Josh Moore and Jake Strayer laid the foundation for someone the likes of Jordan Conaway.
Cornell had Nahshon Garrett. Edinboro featured AJ Schopp. Illinois fans remember Jimmy Kennedy, and Ohio State is the home of Logan Stieber. These are some of the marquee names in the rest of the top-10 schools.
Top-10 Teams at 133lbs
1)
Oklahoma State
2)
Minnesota
3)
Iowa
4)
Wisconsin
5)
Penn State
6)
Cornell
7)
Edinboro
8)
Illinois
9)
Ohio State
10)
Oklahoma


Key Scorers For Oklahoma St.
Johnny Thompson (02-04): 1st, 1st, 3rd
Coleman Scott (07-08): 2nd, 1st
Jordan Oliver (10-12): 4th, 1st, 2nd
Key Scorers for Minnesota
Ryan Lewis (02-03): 2nd, 2nd
Mack Reiter (05-08): 4th, 4th, DNP, 5th
Jayson Ness (09-10): 3rd, 1st
Chris Dardanes: (12-15): 4th, 6th, DNW, 4th
Key Scorers for Iowa
Cliff Moore (02-03): 6th, 6th
Dan Dennis (09-10): 7th, 2nd
Tony Ramos (11-14): DNP, 3rd, 2nd, 1st
Cory Clark (15-16): 2nd, 2nd


Popular Right Now:

Mocco Kicks Opponent, Gets Suspended, Then Is Nearly DQ'd At NCAA's

Which school is 125U?
Chamizo pinned in Bundesliga
IMar wants to win a world title
John Smith comes out of retirement
Austin Gomez needed to get tired


Get all of the hype!
Sign up for the FloWrestling newsletter for instant access to: breaking news, live events, results, rankings, archived matches and more!