Create a free account to unlock this article!
Get Started
Already a subscriber? Log In
We're right in the the thick of college football season, which means there are constant arguments about team rankings and the Heisman Trophy. Passionate fan bases also like to have larger historical arguments based on which institutions produce the best players at certain positions. For example, Penn State has a group of people that supports it as "Linebacker U." With that in mind, we at FloWrestling thought, why not examine this from the perspective of each of the 10 weight classes?
The impetus for this series came when Christian Pyles was releasing his
125 rankings
and uttered on FloWrestling Radio Live that Iowa was "Lightweight U" with Thomas Gilman currently ranked at the top. So I called up my good friend Andrew Spey, aka
@JaroslavWrestle
, to help me suss this out for every weight.
We went with some pretty simple criteria here: a tally of each program's national qualifiers -- because you can't place if you don't qualify -- and All-American placings. The chart below shows that Cornell is the only school to send a guy to NCAAs at 125 in each of the past 15 seasons.
NCAA Qualifiers & Finishes (2002-16)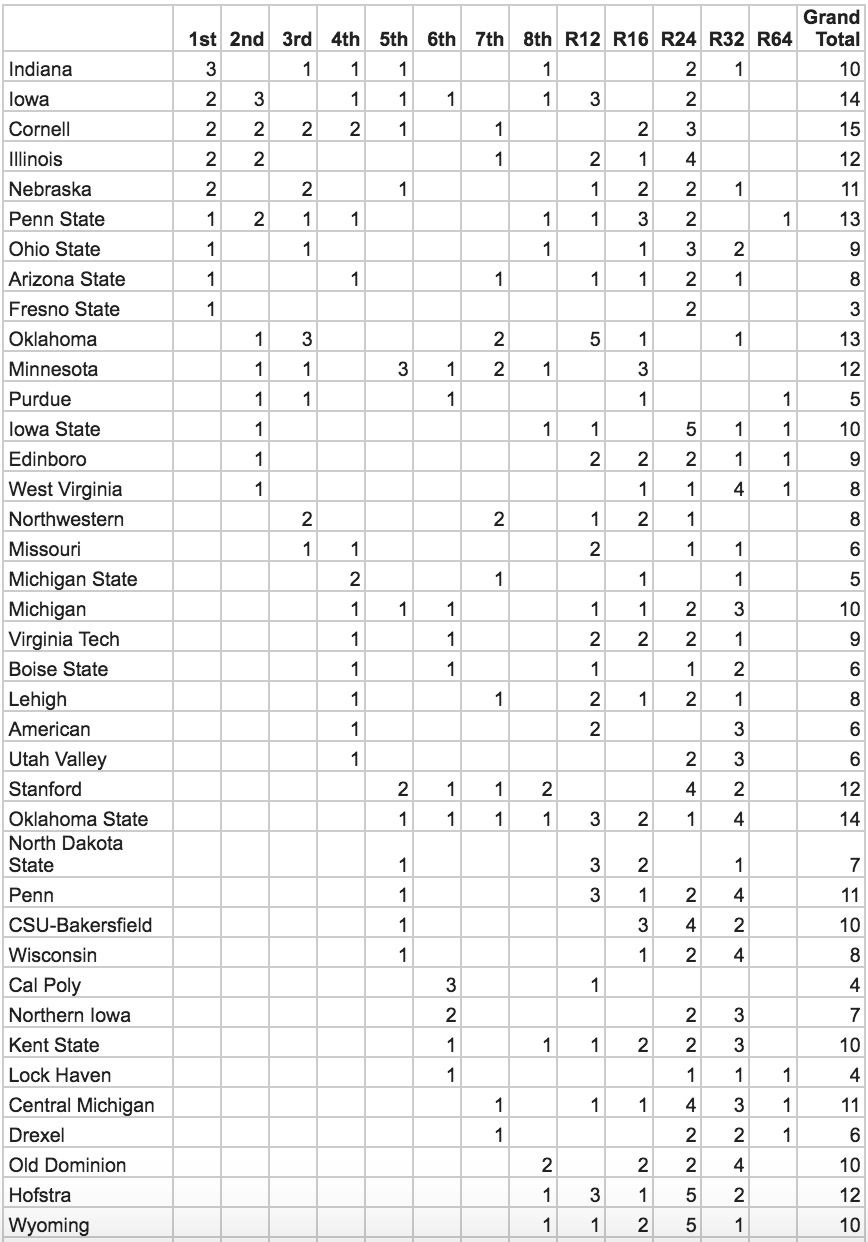 Immediately jumping out is that Indiana ends up with the most champions at this weight from the time period we examined (2002-2016). The Hoosiers were carried by Joe Dubuque and Angel Escobedo from 2004-10 and end up being a top-10 school at 125 no matter which way you slice it. Indiana's current 125 is Elijah Oliver, who carries a No. 15 ranking into this season and i likely candidate to give IU their 11th national qualifier over the past 16 years.
Iowa's claim to Lightweight U is buoyed by the Hawkeyes' five finals berths, which includes Matt McDonough's three straight trips to wrestle on Saturday night in March. The Hawkeyes' other two trips to the finals represent the bookends of our study, as Luke Eustice was second in 2002 and top-ranked Gilman won silver this past season.
Even with Iowa placing a wrestler in a third of the finals over the past 15 years, Cornell still takes our top spot as "125 U."
The Big Red are the only program to qualify a wrestler each year to NCAAs -- Iowa missed in 2005 and Oklahoma State in 2004 -- and Cornell has an edge in total All-Americans.
What carries the Big Red is their top-four placings on the podium. More than half (eight) of their qualifiers ended up in the top four, which at the team level would be the equivalent of a team trophy. Throw in a fifth-place finish from Nahshon Garrett in 2015 and Cornell ends up with 60 percent of its 125s placing in the top five.
NCAA Wins on Point Scale (2002-16)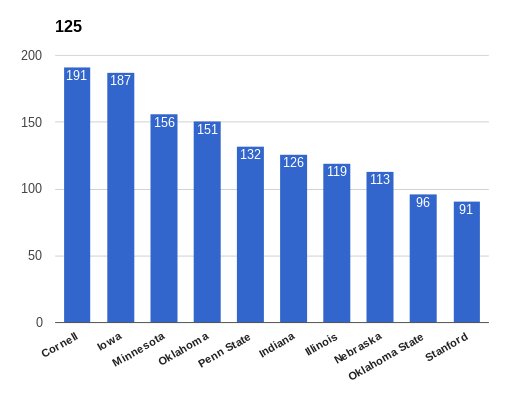 Here is a chart put together by Andrew Spey to illustrate the placings of schools, which also factors in making the rounds of 12, 16 and 24. Essentially, to get a point here, you have to win a match at NCAAs. Per Spey, "this is using a straight line point system for finish. 20, 19, 18, 17, 16, 15, 14, 13, 9, 5, 1, 0 for 1st-8th, R12, R16, R24." This is partially to standardize the value of each weight, because while no two weights are created equally, they all give out the same number of All-Americans every year. Additionally, we do not have access to the formal scoring for each NCAA qualifier prior to the 2010 season.
Using Oklahoma State as an example for the scoring structure Spey developed, the Cowboys had one fifth-place finish (16 pts), one sixth place (15 pts), one seventh (14 pts), one eighth (13 pts), three in the round of 12 (27 pts), two in the round of 16 (10 pts), and one in the round of 24 (1 pt). As you can see, the value comes out to 96 points.
Looking purely at a raw number of All-Americans, regardless of final placement, Cornell leads the pack with 10 placements, followed by Iowa and Minnesota with nine apiece. Indiana comes in next with seven, edging Penn State and Oklahoma at six each. The last schools with more than five AAs at 125 over the past 15 years include Illinois and Nebraska, which both have five.
On an individual level, a few 125s stand out over this time period who carried the torch for their respective schools. Nico Megaludis had the lowest "golf score" in terms of AA placement, as he went second place, second, third, first. The Nittany Lions end up as a top-five school in our study, with Megaludis' title last year as their only finish atop the podium. For Cornell, the Big Red were led by Troy Nickerson and his final placements of second, third, first, and fourth. As mentioned above, McDonough made three straight finals en route to a first, second, first, DNP career. Minnesota showcased four-time AA Zach Sanders, who had finishes of sixth place, fifth, fifth, and third.
It will be very interesting to re-evaluate this again after the 2018 season, as that will mark the end of a 20-year period which coincided with the change in weight classes implemented in the 1998-99 season. It would also be valuable to take another look following the 2023 NCAA championships, to see if blue-chip recruits Spencer Lee and Gavin Teasdale, along with current star Gilman, push Iowa back on top of Cornell as "125 U." Right now, however, the Cornell Big Red unquestionably hold the title as the best school for 125-pound wrestlers.
Top-10 Teams at 125lbs
1)
Cornell
2)
Iowa
3)
Minnesota
4)
Oklahoma
5)
Penn St
6)
Indiana
7)
Illinois
8)
Nebraska
9)
Oklahoma St
10)
Stanford


Key Scorers For Cornell
Travis Lee (02-03): 7th, 1st
Troy Nickerson (06-10): 2nd, 3rd, 1st, DNW, 4th
Nahshon Garrett (13-15): 3rd, 2nd, 5th
Key Scorers for Iowa
Charlie Falck (07-09): 8th, 6th, DNP
Matt McDonough (10-13): 1st, 2nd, 1st, DNP
Thomas Gilman (15-16): 4th, 2nd
Key Scorers for Minnesota
Zach Sanders (09-12): 6th, 5th, 5th, 3rd
Jayson Ness (07-08): 5th, 2nd
Bobbe Lowe (03-05): 8th, DNP, 7th
Tuesday, we will be bringing you the best of the best schools at 133 pounds.
Popular Right Now:

Mocco Kicks Opponent, Gets Suspended, Then Is Nearly DQ'd At NCAA's

MOCCO:
Episode 1
|
Episode 2
NCAA Team Race +All Weight Predictions

Austin Gomez Leaves No Doubt Against Alex Thomsen

Senior Big Board Updated!

Hammers Headed To Bill Farrell
Mantanona to Oklahoma
Ethan Smith to Iowa St


Get all of the hype!
Sign up for the FloWrestling newsletter for instant access to: breaking news, live events, results, rankings, archived matches and more!