197 U: Gophers & Cyclones Are Neck & Neck
197 U: Gophers & Cyclones Are Neck & Neck
FloWrestling uses 21 years of NCAA tournament data to examine which schools have been the best at 197-pounds since the weight classes changed in 1999.
Jun 30, 2020
by Andrew Spey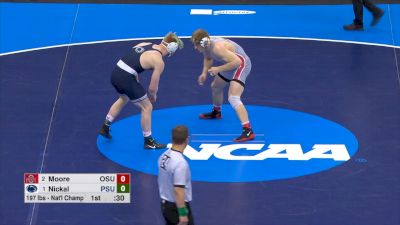 Unlock this video, live events, and more with a subscription!
Get Started
Already a subscriber? Log In
Unlock this article, live events, and more with a subscription!
Get Started
Already a subscriber? Log In
If you watch college football, you've heard the arguments about which programs consistently produce the finest players at each position — "Tailback U," "Linebacker U," "DB U" — and of course it's fun to argue but difficult to ultimately make those determinations. In wrestling, though, the most meritocratic of sports, we have the ability to actually determine the best school at each weight class!
The Series So Far: 125U | 133U | 141U | 149U | 157U | 165 U | 174 U | 184 U |
We did this experiment once before, back in 2017. The first iteration was 125 U, and boy did it fire up the Hawkeye fans. I'm not sure they'll be mad this time around, but it was fun to take a look at the champs, All-Americans, and qualifiers at each weight from the prior 15 years. The original plan was to update it after the 2018 season and do a 20-year version for each weight, but it never quite happened.
So what better time than a quarantine to dust off this concept and, now that we've got the time, use data from every year since the weights changed to their current form? Three years ago Spey and I used 15 because we wanted a round number and planned on making it a persistent series every five years. Once again Spey dove into his NCAA data archive to help us figure out which teams to focus on for each weight.
Watch J'den Cox beat Morgan McIntosh in the NCAA finals.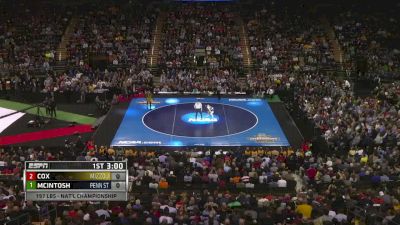 Unlock this video, live events, and more with a subscription!
Get Started
Already a subscriber? Log In
Let's start off with the basic data: Which schools are we going to be looking at in this article? The following schools not only qualified often, but repeatedly put their 125-pounders on the podium at the NCAA tournament.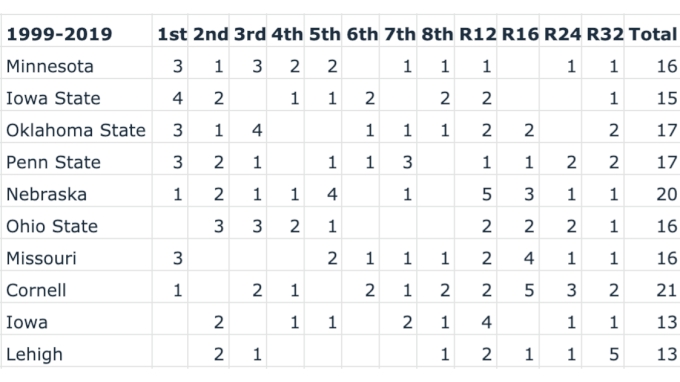 Iowa State actually leads the way with the most NCAA champions (3), individual NCAA titles (4), and All-Americans (8). However, Minnesota tops the chart with as they were the only school to have five wrestlers earn All-Americans status at least twice and two of those wrestlers were three-time All-Americans. Oklahoma State and Penn State each had wrestlers earn a total of three NCAA titles and the Cowboys actually had eight All-Americans to tie Iowa State for the most.
Before we get into placement points, let's talk about who some of those champs and finalists were for the schools at the top. Tim Hartung got the Gophers off to a fast start with a title in 1999 and Damion Hahn kept things rolling when he moved up to 197 and won back-to-back titles in 2003 and 2004. As I mentioned above, the Gophers were the only school in this time period to have five different wrestlers earn All-American honors multiple times.
As I mentioned above, the Cyclones were tied for the most individual NCAA champions and total NCAA titles as Cael Sanderson, Jake Varner (twice), and Kyven Gadson returned to Ames as NCAA champions. Iowa State also had NCAA finalists in Kurt Backes and Zach Thompson.
Watch Kyven Gadson beat Kyle Snyder in the NCAA finals.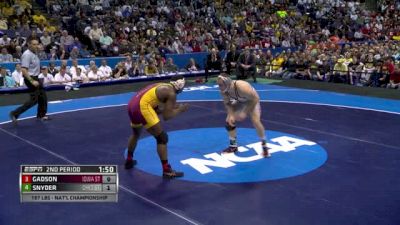 No team won more individual NCAA titles than Penn State in the last decade and three of those titles came at 197 when Phil Davis, Quentin Wright, and Bo Nickal won NCAA titles. Three-time All-American Morgan McIntosh all added a runner-up finish.
Oklahoma State was tied with Big 12 rival Iowa State for the most All-Americans and also claimed three NCAA titles as Jake Rosholt brought two home to Stillwater and Mark Munoz added another. Clayton Foster was an NCAA finalist and Mark Munoz, Blake Rosholt, Muhammed Lawal, Cayle Byers, and Preston Weigel all turned in third-place performances respectively.
Ohio State had the most finalists without a champion. Three different wrestlers — Nick Heflin, Kyle Snyder, and Kollin Moore — made NCAA finals appearances.
Missouri and Cornell each had one champion. J'den Cox won three NCAA titles and was a four-time All-American while Cam Simaz was also a four-time All-American and ended his career with a national title. Iowa and Lehigh each had two NCAA finals appearances. Jon Trenge made two NCAA finals losing to legends Cael Sanderson and Damion Hahn and the Hawkeyes finals appearances came from Lee Fullhart and Ryan Fulsaas.
Interestingly enough, three Olympic medalists, Cael Sanderson, Jake Varner, and J'den Cox won NCAA titles at this weight since 1999. That doesn't even include world and Olympic champion Kyle Snyder and U23 world champion Bo Nickal. Also of note, Willie Miklus was the only wrestler to earn All-American honors for two different schools. The new Michigan State assistant earned his way onto the award for Missouri and Iowa State.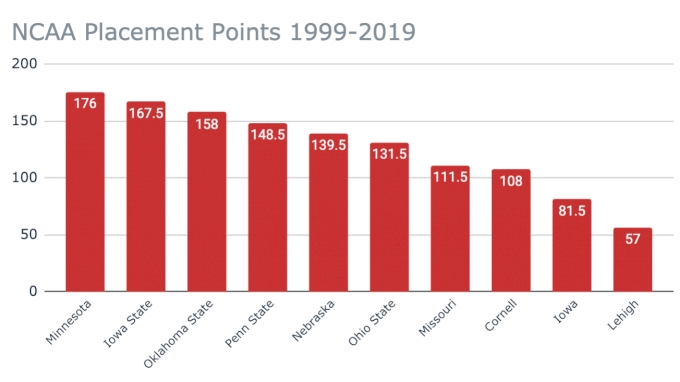 Top 10 Teams At 197
1. Minnesota
2. Iowa State
3. Oklahoma State
4. Penn State
5. Nebraska
6. Ohio State
7. Missouri
8. Cornell
9. Iowa
10. Lehigh


Key Scorers for Minnesota
Damion Hahn (03-4): 1st, 1st
Tim Hartung (1999): 1st
Scott Schiller (13-15): 5th, 3rd, 4th
Sonny Yohn (10-12); 8th, 7th, 5th
Key Scorers for Iowa State
Jake Varner (09-10): 1st, 1st
Kyven Gadson (13-15): 6th, 4th, 1st
Cael Sanderson (2002): 1st


Key Scorers for Oklahoma State
Jake Rosholt (05-06): 1st, 1st
Mark Munoz (00-01): 3rd, 1st
Preston Weigel (2017, 2019): 6th, 3rd