Unlock this article, live events, and more with a subscription!
Get Started
Already a subscriber? Log In
Most college duals start at 125 pounds, so 165 comes out after halftime, kicking off the back half of the lineup. What school has historically produced the best guys to start out the second half?
We're using 21 years of NCAA tournament data to determine what school is "165 U" and the answer isn't very surprising. The weights changed to their current form in 1999, so that's the data set we'll be reviewing.
The Series So Far: 125U | 133U | 141U | 149U | 157U
The answer today is the same that it was three years ago when we ran 15 years' worth of numbers: Oklahoma State. Although runner-up Wisconsin made up some ground when adding in Donny Pritzlaff and Evan Wick, they still finished a distant second.
The qualifier data is staggering, with the Cowboys putting a 165 at the national tournament every year. That's six more than the Badgers, eight more than Penn State, and four more than the Cyclones.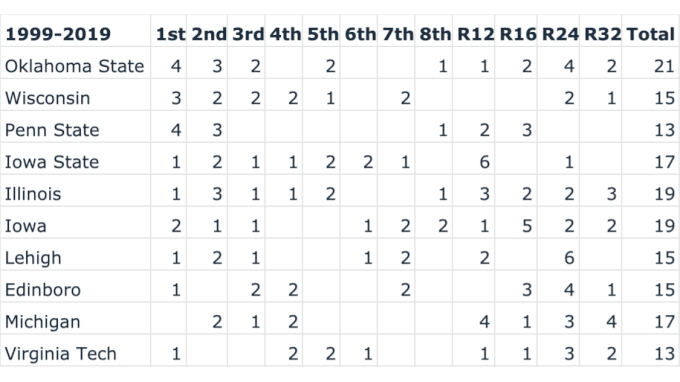 While the Nittany Lions can match OSU in terms of champs and finalists, they beat them out pretty much everywhere else. Those four titles came from two men: Hodge Trophy winner Alex Dieringer in 2015 and 2016 and Johny Hendricks in 2005 and 2006.
Unfortunately, Flo started at the tail end of Hendricks' college career, so there are limited videos on the site of him. But he was an all-time villain, something he touches on at the tail end of the interview below. He never had an undefeated season, going 27-4 as a sophomore and 29-1 as a junior when he won his titles. Although he entered the 2007 NCAA championship match undefeated, he fell to his rival Mark Perry, which became a large part of the Driven FloFilm about Perry.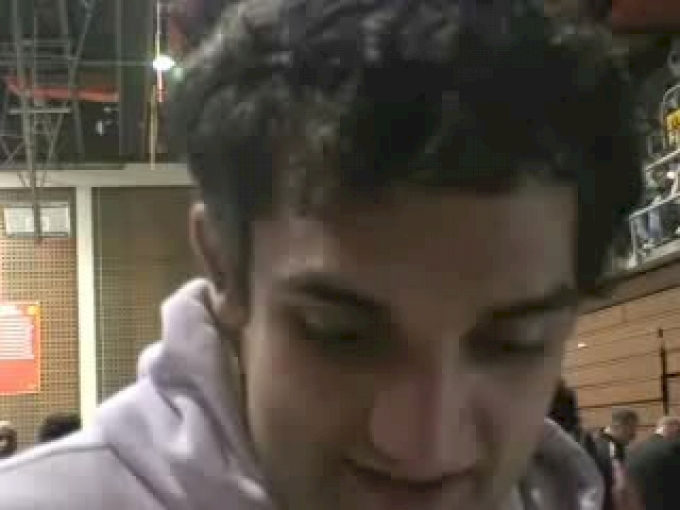 Create a free account to unlock this video!
Get Started
Already a subscriber? Log In
Tyrone Lewis was a three-time All-American at this weight (3, 5, 2), Tyler Caldwell finished third and second, and Chandler Rogers placed twice for the Cowboys. Ringer won titles in both of his years at the weight, taking out Isaac Jordan in 2016 in what was the only finals meeting between our top two teams.
Jordan had an excellent career, finishing seventh, second, and fourth at this weight, but he's still behind Donny Pritzlaff and Andrew Howe. Pritzlaff, now the associate head coach at Rutgers, went fifth then won back-to-back titles in the first three years of the weight's existence. He battled Joe Heskett of Iowa State twice in the finals, and the Cyclones are fourth on this list. Watch him break down his 2006 world bronze medal match below.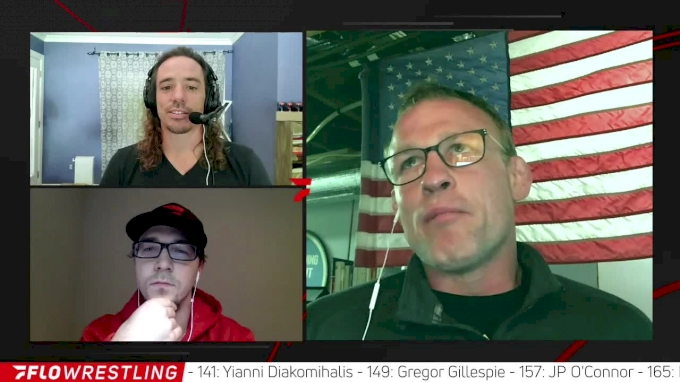 Unlock this video, live events, and more with a subscription!
Get Started
Already a subscriber? Log In
Andrew Howe has also entered the coaching realm, working at Northwestern for the past several years. We've got some great insights in his career in these two interviews HERE and HERE, as well as his recent appearance on the Bader Show. Howe finished out his career in Oklahoma after Prtizlaff left to coach at Michigan, but before that had a run of second, first, third in which he was the top seed the year he won and the two seed the other years, winning Big Tens each time. He went 30-5 as a true freshman, 37-0 his national title year, and 27-3 as a junior when he was battling a knee injury the last two months of the season.
Most recently in Madison they've had Evan Wick, who was third as a freshman and fourth as a sophomore. He walked into this year's NCAAs as the four seed and has one year of eligibility left. Ben Jordan placed seventh for the Badgers in 2012, giving them an astonishing 12 AAs out of 15 qualifiers. Obviously missing out on six years isn't ideal, but 80% of the guys who make the tournament placing is extremely impressive.
There was a good bit of separation between first and second, and second and third, but Penn State and Iowa State were neck and neck for bronze. The Cyclones dominated early, having eight placements in the first 11 years of the weight, while the Nittany Lions have put seven in the finals over the past decade, and Vincenzo Joseph was seeded second for the national tournament this year.
While PSU had Don Vecchio place eighth in 2002, they also didn't qualify six times between 1999 and 2007 and totaled just 11 points in that time. But once Cael got there, Dan Vallimont made the finals, Taylor went 1-2-1 with a pair of Hodge Trophies and Vincenzo Joseph upset Isaiah Martinez not once but twice. Check out this video of DT's last college match.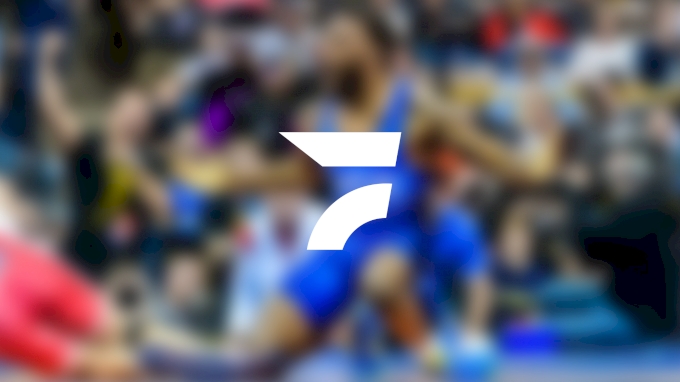 Unlock this video, live events, and more with a subscription!
Get Started
Already a subscriber? Log In
My heart goes out to a guy like Cenzo, who never got his chance to become a four-time finalist and/or three-time champ. He'll be criminally underrated as history goes on because he was never a one seed, never won Big Tens and never had an undefeated season, not to mention he was teammates with the likes of Nolf, Nickal, and Zain. But for those of us who watched Cenzo, we'll always remember his fearlessness, how difficult he was to score on, the level of his inside trip and how he and Mark Hall put the team on his back this year as they tried to win five in a row.
From 1999 through 2010, ISU qualified every year, had one guy go 1-2, and everyone else either finished R12 or better. Considering most 165lb national champs didn't spend all four years there, Joe Heskett has to be considered one of the very best guys. He's second behind Taylor in career NCAA points at the weight, went 3-2-2-1 and made the 2007 world team. He's been battling health issues lately so the whole community is praying for him and hoping he pulls through.
After Heskett, Nick Passolano was a Top-8 seed three times but never placed. Then came Travis Paulson, who made the bloodround and was sixth and fifth. Lastly came Jon Reader with a seventh-place finish, a fourth-place finish, and then went round of 12 as the four seed. That last one spurred him to bump to 174, where he ultimately went undefeated and was a Hodge finalist.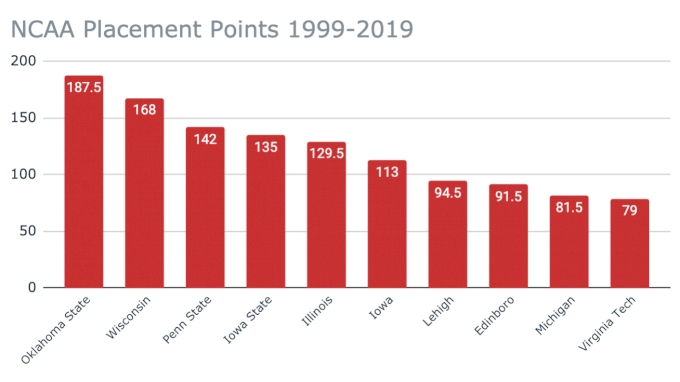 Iowa and Illinois weren't close to being trophy teams at 165, but they were back-and-forth about being number five. Had this year's tournament happened though, the Hawkeyes would have almost definitely opened up a gap over the Illini thanks to Alex Marinelli.
Both teams had one guy win a title, with Matt Lackey ascending to the mountain top in 2003 while Mark Perry went back-to-back to close out his career in 2007 and 2008. Perry also made the finals in 2005 as a freshman, while Lackey went to the finals in 2002. Isaiah Martinez also wrestled on Saturday night his junior and senior year.
In total, five guys have placed nine times at this weight coming out of Champaign, and only missed out on two years of qualifying. Similarly, five guys donning the Black & Gold have placed nine times in 19 times qualifying. Matt Lackey was the best for Illinois going 3-2-1 and Mark Perry went 2-1-1 with a one year stint up at 174 in between.
Top 6 Teams at 165lbs
Oklahoma State - 241.5
Wisconsin - 196.5
Penn State - 178
Iowa State - 175
Iowa - 139
Illinois - 137
Key Scorers for Oklahoma State
Tyrone Lewis (2002-04): 3, 5, 2
Johny Hendricks (2005-07): 1, 1, 2
Tyler Caldwell (2013-14): 3, 2
Alex Dieringer (2015-16): 1, 1
Key Scorers for Wisconsin
Donny Pritzlaff (1999-01): 5, 1, 1
Andrew Howe (2009-11): 2, 1 ,3
Isaac Jordan (2015-17): 7, 2 ,4
Evan Wick (2018-20): 3, 4, [8 seed]
Key Scorers for Penn State
David Taylor (2012-14): 1, 2 ,1
Vincenzo Joseph (2017-20): 1, 1, 2, [2 seed]
Key Scorers for Iowa State
Joe Heskett (1999-02): 3, 2, 2, 1
Travis Paulson (2005-07): R12, 6, 5
Jon Reader (2008-10): 7, 4, R12
Michael Moreno (2013-15): 6, 5, R12