Heavyweight U: The Big Fellas Thrive At Minnesota
Heavyweight U: The Big Fellas Thrive At Minnesota
FloWrestling uses 21 years of NCAA tournament data to examine which schools have been the best at heavyweight since the weight classes changed in 1999.
Jun 29, 2020
by Andrew Spey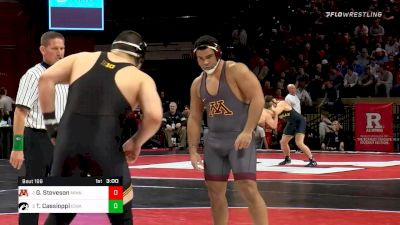 Unlock this article, live events, and more with a subscription!
Get Started
Already a subscriber? Log In
No other weight class gets its own name. You can be a lightweight or a middleweight, but that just narrows it down to a few possibilities. Only the big guys get an appellation all to their own. And the university that has does the best at producing prodigious pugilists should come as a surprise to exactly no one.
The Series So Far: 125U | 133U | 141U | 149U | 157U | 165U
Since 1999, no school has been as consistent as Minnesota at heavyweight. The Land of 10,000 Lakes? More like the Land of 10,000 Pounds, am I right?
Minnesota was the top dog when we looked at data from 2002 to 2016 a few years ago. Today, we're looking at results from 1999 on, and just as before, Minnesota reigns supreme. No school produces more champions, finalists, or All-Americans at 285 pounds as the Golden Gophers. Only once in the last 22 did Minnesota fail to qualify a heavyweight for the national championships.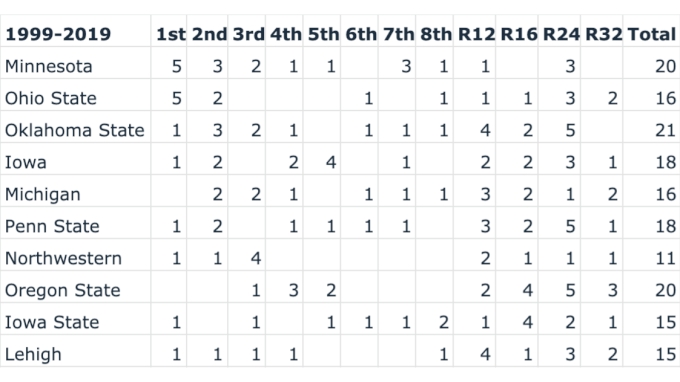 The cavalcade of heavyweight stars that have wrestled in Minneapolis is staggering. Brock Lesner kicks off the current golden era of Minnesota heavyweights, having made the finals in 1999 and winning a title in 2000. Cole Conrad added two more titles and four top-four finishes soon after Lesner graduated. Like Conrad, Tony Nelson was a two-time champ, four-time All-American.
Presently, Gable Steveson, still with two years of eligibility left, looks to carry on the Gopher tradition. Steveson placed third as a true freshman in 2019 and received the #1 seed at the 2020 tournament.
Garrett Lowney and Michael Kroells additionally added a combined five All-American honors to the Minnesota trophy case.
Though it's a freestyle match, it's hard to more perfectly encapsulate how great Minnesota has been at heavyweight than the 2018 World Team Trials Challenge Tournament finals, where Tony Nelson just barely held off a teenaged Gable Steveson, in Rochester, Minnesota.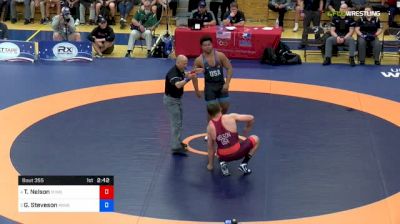 Unlock this video, live events, and more with a subscription!
Get Started
Already a subscriber? Log In
Ohio State comes the closest to competing with Minnesota's success at heavyweight. The Buckeyes matched their Big Ten rivals when it comes to champs, courtesy of a brace of titles from Tommy Rowlands at the beginning of the millennium and a trio of titles from Kyle Snyder more recently.
However, only two other Buckeye heavies earned All-American honors in the last 22 years, Kirk Nail in 2006 and JD Bergman in 2008, which was not enough to eclipse to Minnesota behemoths.
Ohio State can lay claim to the most dramatic heavyweight victory in NCAA history (probably), when Kyle Snyder defeated Nick Gwiazdowski in overtime in 2015.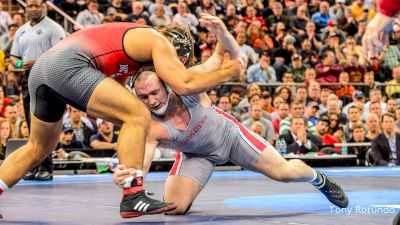 Unlock this video, live events, and more with a subscription!
Get Started
Already a subscriber? Log In
The next two best heavyweight-producing teams happen to also be the two schools the great Steve Mocco split time at. The gargantuan New Jerseyan Mocco started his career at Iowa, winning a title for the Hawkeyes in 2003 after a runner-up finish in 2002. Mocco returned to collegiate action after a year of deferred eligibility in an orange and black singlet. Mocco then duplicated his success at Oklahoma State, only in reverse order, winning a title for the Cowboys in 2005 before then finishing second in 2006.
Mocco recently spoke with our very own Mark Bader about wrestling on both sides of this historic rivalry.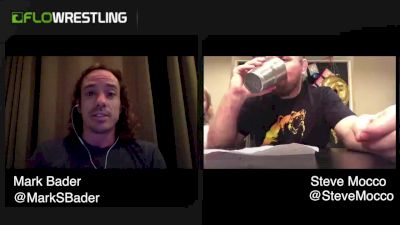 Unlock this video, live events, and more with a subscription!
Get Started
Already a subscriber? Log In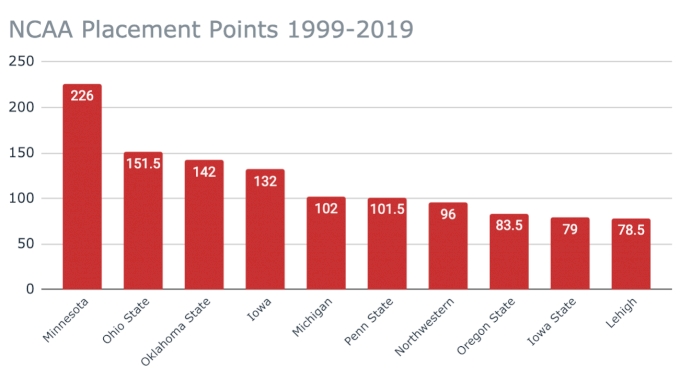 Adding up heavyweight placement points by team from 1999 to 2019 makes Minnesota's dominance of the division crystal clear. Minnesota would likely have extended their lead over their peers had Gable Steveson gotten a chance to earn the Gophers their first 285-pound champ since 2012.
Ohio State, Oklahoma State, and Iowa make up the next tier. No surprise there as they have been three of the best teams since 1999.
Michigan checks in at #5. Their most successful heavyweight since 1999 would be the three-style threat, Adam Coon, although Greg Wagner would be a close second, having earned three All-American honors in the mid-2000s.
Kerry McCoy graduated before our analysis begins, but Anthony Cassar's title in 2019 certainly counts, and helps Penn State reach the #6 spot. Dustin Fox and Mike McMullan did most of the point scoring for Northwestern, while Oregon State had Amar Dhesi do the heavy lifting. David Zabriskie and Zach Rey both won NCAA titles, helping Iowa State and Lehigh respectively make the top 10.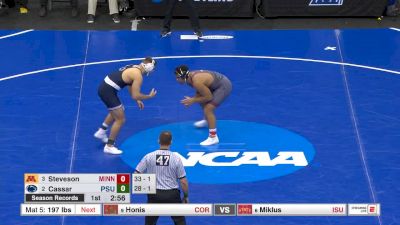 Unlock this video, live events, and more with a subscription!
Get Started
Already a subscriber? Log In
Top 10 Teams at 285lbs
Minnesota
Ohio State
Oklahoma State
Iowa
Michigan
Penn State
Northwestern
Oregon State
Iowa State
Lehigh
Key Scorers for Minnesota (AA placements)
Brock Lesner (2, 1)
Garrett Lowney (3, 5)
Cole Conrad (4, 2, 1, 1)
Tony Nelson (7, 1, 1, 2)
Michael Kroells (8, 7, 7)
Gable Steveson (3)
Key Scorers for Ohio State (AA placements)
Tommy Rowlands (2, 1, 6, 1)
Kirk Nail (8)
JD Bergman (2)
Kyle Snyder (1, 1, 1)
Key Scorers for Oklahoma State (AA placements)
Willie Gruenwald (7)
Steve Mocco (1, 2)
Jared Rosholt (4, 3, 2)
Alan Gelogaev (3)
Austin Marsden (8, 6)
Derek White (2)
Key Scorers for Iowa (AA placements)
Wes Hand (2)
Steve Mocco (2, 1)
Matt Fields (5)
Dan Erekson (4, 7)
Bobby Telford (5, 4, 5)
Sam Stoll (5)