2022 NCAA Championships Watch Party
Suriano - Arujau Collision Course: 2022 125-Pound NCAA Championship Preview
Suriano - Arujau Collision Course: 2022 125-Pound NCAA Championship Preview
#1 and #2 appear to be on a collision course to the finals, but check out this preview and predictions to see how things can get chaotic after that.
Mar 14, 2022
by JD Rader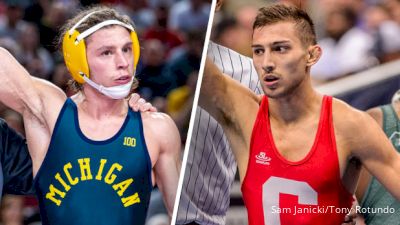 Unlock this video, live events, and more with a subscription!
Get Started
Already a subscriber? Log In
NCAA week is finally here! The lightest weight class in Detroit also has the potential to be one of the most chaotic. Take my predictions with a grain of salt considering now that I have put them on wax, they're almost sure to not come true. However, the info in the preview will always be true, so feel free to take it in salt-free!
The rest of the weight classes, which I encourage you to read, can be found in the links below.
Brackets | Rankings | Additional Previews: 133, 141, 149, 157, 165, 174, 184, 197, 285
Favorites
#1 Nick Suriano, Michigan
#2 Vito Arujau, Cornell
Michigan's Nick Suriano was a heavy odds-on-favorite to win this bracket heading into conference weekend. However, after watching the way Vito Arujau picked apart #3 Princeton's Patrick Glory, a new contender emerged. The way Arujau won surprised a lot of people considering he suffered an 11-9 loss to Glory in a dual just last month.
While Vito will be seeking his first NCAA title, Suriano is going for #2. The Michigan senior won the 133 lbs 2019 NCAA title while competing for Rutgers.
While I believe the majority of fans will be picking Suriano to win due to the previous accolades and unblemished record, Arujau has the last win over Suriano. While trying to qualify for the Olympic Trials, the two met in the 2019 Senior Nationals quarterfinals. Suriano got the first takedown before Arujau was able to win get the last takedown and win by criteria.
Watch Arujau and Suriano's 2019 Senior Nationals match below.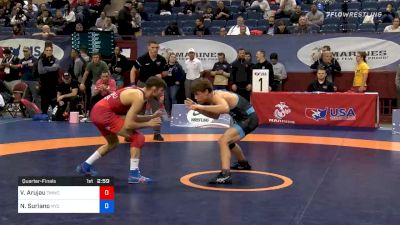 Contenders
#3 Patrick Glory, Princeton
#4 Brandon Courtney, Arizona State
It might not be fair to write off Patrick Glory. Prior to his EIWA final with Arujau, there was real discussion about him vs Suriano and who would win the title. After all, Glory did beat Arujau earlier in the year and had the last win over him at 2020 EIWAs. As the #2 and #3 seeds, that will be a potential rubber match in the semifinals. It is hard to unsee the last match vs Arujau where Glory almost got tech falled, however.
In addition to Arujau Glory also has a win over Bradon Courtney this season. As a returning finalist from last year with a 21-1 record, Courtney is a clear and unanimous fourth seed. The 21 wins haven't come without a couple of tests for the Sun Devil this season. Courtney had close one-point matches with #12 Brandon Kaylor and Michigan backup Jack Medley.
One advantage that Courtney might have over most of this field at NCAAs is familiarity with Suriano. While never on the ASU roster, Suriano used to train in Tempe with the Sunkist Kids. The two could meet in the semifinals.
Watch Brandon Courtney discuss a potential match with Nick Suriano below.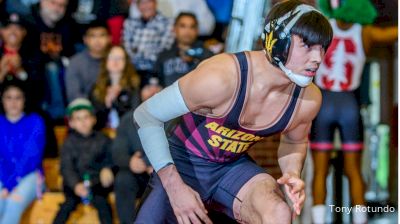 Unlock this video, live events, and more with a subscription!
Get Started
Already a subscriber? Log In
Sleepers and Landmines
#12 Brandon Kaylor, Oregon State
#19 Sam Latona, Virginia Tech
#21 Kysen Terukina, Iowa State
125 is an interesting weight. It's almost hard to call anyone a sleeper or landmine with the instability and unpredictability of the top-20 seeds. They pretty much all can, and have, beaten each other. For goodness sakes, the 24-seed, Sam Latona, took 6th place last year! I don't have Latona making the podium this year, but he clearly has the capability.
I think Brandon Kaylor flies under the radar because Oregon State doesn't get a lot of eyes on them. The kid wrestles hard, though. I would not be surprised if he pulls off an upset or two.
I don't love Kysen Terukina's draw. And after a great first half of the season, Terukina has struggled in the second half. However, that Terukina that beat Brody Teske, Killian Cardinale, and Trevor Mastrogiovanni is in there somewhere. If Terukina can channel that version of himself, watch out.
Predictions
1st - Nick Suriano, Michigan
2nd - Vito Arujau, Cornell
3rd - Patrick Glory, Princeton
4th - Brandon Courtney, Arizona State
5th - Michael DeAugustino, Northwestern
6th - Killian Cardinale, West Virginia
7th - Patrick McKee, Minnesota
8th - Drew Hildebrandt, Penn State
R12 - Brody Teske, Northern Iowa
R12 - Eric Barnett, Wisconsin
R12 - Malik Heinselman, Ohio State
R12 - Brandon Kaylor, Oregon State
I'm taking Suriano over Vito in the final with about 52% confidence. Vito is more dynamic offensively, but I think Suriano's reattacks are too good. The Michigan man moved to Ann Arbor to do win one thing: win a title. And he's going to do just that.
Michael DeAugustino is my most "out-there" pick. I've got him making it past Trevor Mastrogiovanni, but falling to Arujau in quarters, setting up a run on the backside until he falls to Courtney in the consi semis.
Patrick McKee is notoriously hot and cold, but got hot on the backside at NCAAs last year and I think he can do it again.