2022 NCAA Championships Watch Party
Complete Chaos: 2022 197-Pound NCAA Championship Preview
Complete Chaos: 2022 197-Pound NCAA Championship Preview
Who will come out on top of the crazy 197-pound bracket? We break it down in our 2022 NCAA Championship preview.
Mar 14, 2022
by Kyle Klingman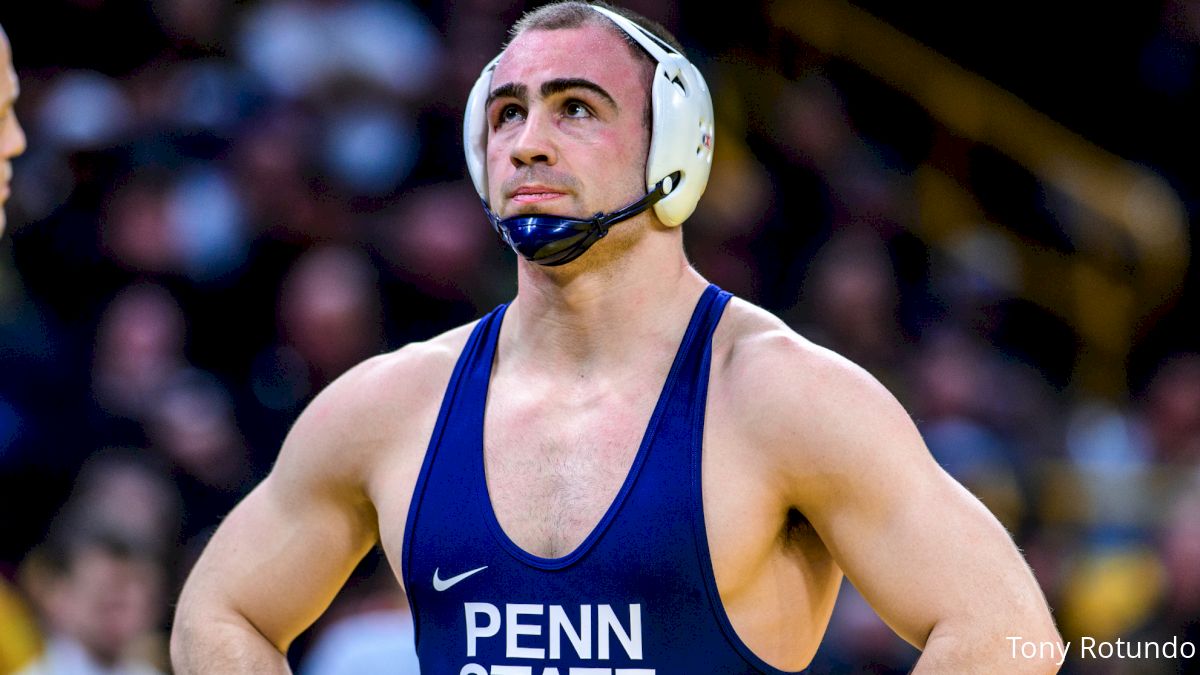 Unlock this article, live events, and more with a subscription!
Get Started
Already a subscriber? Log In
Brackets | Rankings | Additional Previews: 125, 133, 141, 149, 157, 165, 174, 184, 285
Bracket Breakdown
This bracket is so unpredictable and so chaotic that there is no clear-cut favorite. Almost everyone has a legitimate chance to make the podium so this is the weight you will want to watch for upsets — if you can call them that.
Returning champion AJ Ferrari of Oklahoma State was injured in a car accident earlier this year and is out for the season. Olympic bronze medalist Myles Amine of Michigan placed third in 2021 but moved down to 184 pounds. That leaves the door wide open for a new champion.
Penn State's Max Dean has had the best season thus far. He reached the 184-pound finals for Cornell in 2019 and has looked good as a Nittany Lion. His lone loss this season is to Michigan State's Cameron Caffey — but he avenged that loss at the B1G Championships.
Michigan's Patrick Brucki is on the same side of the bracket as Dean but a possible match wouldn't happen until the semifinals. Dean defeated Brucki, 6-4 SV, in the dual but there will be more at stake this time around with a team title on the line.
Nebraska's Eric Schultz has four appearances at the NCAA Championships but has never reached the round of 12. He has wrestled well of late with a nice list of significant wins during the season. North Carolina State's Mike Macchiavello won this weight in 2018 after never reaching the podium in previous years. Can Schultz do the same for the Cornhuskers?
Iowa's Jacob Warner placed fourth at the NCAA Championships last season and will be a factor again this year. His losses are to Dean, Brucki, Schultz, and Yonger Bastida of Iowa State. Warner typically keeps it close, which makes him a factor whenever he steps on the mat.
Nino Bonaccorsi of Pitt reached the finals in 2021 but has three losses on the season, but he is a tough out.
Wyoming's Stephen Buchana has quietly put together a nice season for the Cowboys. Ferrari defeated him earlier this season and he was pinned in a dual by North Dakota State's Owen Pentz. He placed eighth last season and should climb the ladder this year.
Oklahoma's Jake Woodley was an All-American last year but has eight losses on the season. Missouri's Rocky Elam won a Junior World title in 2021 and was an All-American last year — and he has five losses this season.
It's the same story for virtually every wrestler in the bracket. Everyone has a good record with only a handful of losses throughout the season.
Attempting to pick this weight doesn't seem fair since it's so even from top to bottom. Be sure you're paying attention to the first round. Things are going to get messy. All predictions will likely be wrong.
2021 Results
1st — AJ Ferrari of Oklahoma State
2nd — Nino Bonaccorsi of Pittsburgh
3rd — Myles Amine of Michigan
4th — Jacob Warner of Iowa
5th — Rocky Elam of Missouri
6th — Jake Woodley of Oklahoma
7th — Michael Beard of Penn State
8th — Stephen Buchanan of Wyoming
Favorites
None
Contenders
#1 Max Dean (18-1), Penn State
#2 Stephen Buchanan (23-2), Wyoming
#3 Eric Schultz (16-2), Nebraska
#4 Patrick Brucki (20-6), Michigan
#5 Nino Bonaccorsi (15-3), Pittsburgh
#6 Jacob Warner (17-5), Iowa
#7 Rocky Elam (19-5), Missouri
#8 Lou Deprez (26-3), Binghamton
#9 Cameron Caffey (26-7), Michigan State
#10 Yonger Bastida (19-5), Iowa State
#11 Thomas Penola (22-7), Purdue
#12 Tanner Sloan (20-5), South Dakota State
#13 Jake Woodley (23-8), Oklahoma
#14 Greg Bulsak ( 22-6), Rutgers
#15 Isaac Trumble (17-4), North Carolina State
#16 Kordell Norfleet (14-3), Arizona State
#17 Jay Aiello (13-3), Virginia
#18 Luke Stout (20-5), Princeton
Sleepers and Landmines
The entire bracket
Predictions
1) Eric Schultz (Nebraska)
2) Patrick Brucki (Michigan)
3) Max Dean (Penn State)
4) Stephen Buchanan (Wyoming)
5) Jacob Warner (Iowa)
6) Nino Bonaccorsi (Pittsburgh)
7) Jake Woodley (Oklahoma)
8) Cameron Caffey (Michigan State)
R12) Rocky Elam (Missouri)
R12) Kordell Norfleet (Arizona State)
R12) Lou Deprez (Binghamton)
R12) Younger Bastida (Iowa State)