2022 NCAA Championships Watch Party
Starr-Power: 2022 174-Pound NCAA Championship Preview
Starr-Power: 2022 174-Pound NCAA Championship Preview
Penn State's Carter Starocci looks to lock up NCAA title #2. We break down his bracket in our 2022 174-pound NCAA Championship preview.
Mar 13, 2022
by Andrew Spey
Unlock this article, live events, and more with a subscription!
Get Started
Already a subscriber? Log In
It's a bracket bonanza as we approach the greatest meat head convention of the year. It's the NCAA D1 Wrestling Championship and its rules so very much!
Don't forget to click on the links below to read the previews of all the other weight classes, blogged by my esteemed collegiate.
Brackets | Rankings | Additional Previews: 125, 133, 141, 149, 157, 165, 184, 197, 285
Favorites
#1 Carter Starocci, Penn State
Nothing is etched in stone, but Carter Starocci has emerged as one of the stronger favorites to win a national title this year, which would be a repeat of Starocci's 2021 achievement.
Watch highlights of Starocci winning his first NCAA title as a freshman in 2021: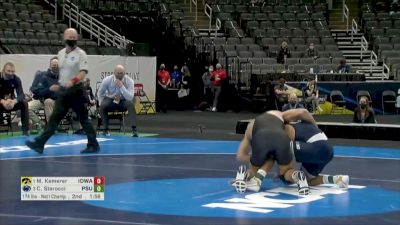 Unlock this video, live events, and more with a subscription!
Get Started
Already a subscriber? Log In
Starocci is a perfect 18-0 on the season and won two-thirds of his bouts by bonus. The Pennsylvanian native has had close matches this season, including an overtime win over Michael Kemerer and two 3-2 decisions over both Logan Massa and Chris Foca, all during the regular season.
Starocci widened his margin of victory over Massa when he saw him again in the Big Ten finals, winning 5-1. Additionally, Kemerer and Foca both had to medically forfeit matches at their respective conference championships and may not be at 100% strength in Detroit.
Mekhi Lewis, the #2 seed, looks to be Starocci's chief competition, but Mekhi has been slightly less dominant and had more close matches this season. Not that Mekhi doesn't know a thing or two about beating defending champs from Penn State at NCAAs, but the odds are still in Starocci's favor to collect title #2.
Contenders
#2 Mekhi Lewis, Virginia Tech
#3 Logan Massa, Michigan
#4 Hayden Hidley, North Carolina State
#5 Michael Kemerer, Iowa
#6 Dustin Plott, Oklahoma State
#7 Ethan Smith, Ohio State
#8 Michael O'Malley, Drexel
#9 Mikey Labriola, Nebraska
#10 Clay Lautt, North Carolina
Our list of contenders can be broken down into two tiers, with Lewis, Massa, Hidlay, and Kemerer representing the seasoned vets who have trophey cases overflowing with medals representing the top tier, and with the next five seeds being not quite as credentialed but still very dangerous in the second tier.
The big question mark is how healthy Michael Kemerer is, as he's the last person to defeat Carter Staoricc (last year at Big Tens), and the opponent who gave Starocci the toughest match of this season (a 2-1 loss in tiebreakers). Now in his seventh collegiate season, Kemerer will need to plum new reservoirs of courage to make one last run at an elusive national title from the #5 seed, in which he will likely have to defeat Hayden Hidley and Starocci just to make it to the finals.
Watch Kemerer defeat #6 seed Dustin Plott at Bout at the Ballpark: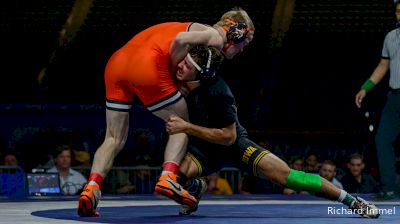 Unlock this video, live events, and more with a subscription!
Get Started
Already a subscriber? Log In
Mekhi Lewis' path on his quest for a second national title will not be as difficult on paper, as he is on the other half of the bracket and won't have to face Hidlay until the finals. Hidlay beat Lewis at the end of the regular season, 3-1 in sudden victory.
That doesn't mean Lewis' path will be easy (there are, of course, no easy paths to an NCAA title). Logan Massa looms large as the #3 seed. Like Kemerer, Massa is in his seventh season of collegiate wrestling. Massa has looked outstanding this season, only dropping two bouts, both to Starocci.
Hidlay may be up two weight classes from where he made the NCAA finals back in 2018 and where he placed fifth in 2021, but he's shown he's got the horsepower to hang with the best of 174, as evidenced by his aforementioned victory over Lewis. He did, however, fall to Lautt in the regular season, hence Lautt's inclusion as a contender.
Dustin Plott and Ethan Smith earned their high seeds by dint of their solid season. Smith is looking to improve on his fifth-place finish from 2021, while Plott is trying to climb atop the podium for the first time after failing to earn All-American honors last year as a true freshman (incidentally eliminated in the consolation rounds by Clay Lautt).
Mickey O'Malley will be looking to 'test the tournament's gangster', which will likely involve grabbing double overhooks and trying to go feet-to-back moves.
Watch a highly entertaining bout between O'Malley and Gerrit Nijenhuis from the start of the season: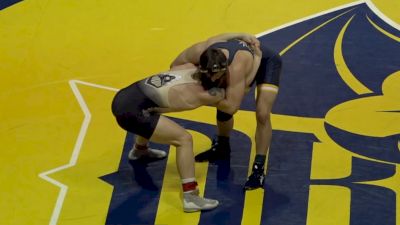 Unlock this video, live events, and more with a subscription!
Get Started
Already a subscriber? Log In
Finally, Mikey Labrolia got harshly punished by the seeding formula, many would say too harshly, receiving the #9 seed, though he is ranked seventh. It would be the height of foolishness to count out last year's third-place finisher from contention.
Sleepers and Landmines
#24 Joel Devine, Iowa State
#25 Gerrit Nijenhuis, Purdue
#26 Tyler Eischens, Stanford
Devine has beaten Nijenhuis, who has beaten Labriola, who has beaten Kemerer, who is the last human to defeat Starocci in folkstyle, so by the transitive property we can see how these wrestlers would be considered landmines. No one is looking forward to meeting them in the center of the mat in Detroit.
Pac-12 champ Tyler Eischens looks to be one of the leaders of the new era of Stanford wrestling, a program that was brought back from the brink after a cowardly and shameful decision by the school's administrators to shutter the program that was wisely reversed thanks to the heroic works of many.
Spey's Spredictions
1) Carter Starocci, PSU
2) Mekhi Lewis, VT
3) Hayden Hidley, NCSU
4) Mikey Labriola, Nebraska
5) Logan Massa, Michigan
6) Ethan Smith, tOSU
7) Peyton Mocco, Mizzou
8) Michael Kemerer, Iowa
R12) Clay Lautt, UNC
R12) Dustin Plott, OKST
R12) Cade DeVos, SDSU
R12) Mikey O'Malley, Drexel
Iowa fans should take solace in the fact that last time I predicted a Hawkeye to underperform at NCAAs due to a potential injury, I was made to look foolish by Cory Clark, who won the whole dang thing after I picked him to finish seventh. If history is any guide, Kemerer will go on to make me look even more foolish. Frankly, I'd love for it to happen.
Moving on with my picks, I think Starocci and Lewis give us the finals match we are all hype to see, with Starocci winning and staying on pace to become one of the all-time greats.
I think Labriola defies his seed and battles his way to the third place-bout, where Hidlay caps off an incredible career win. Though falling short of a title, Hidlay's career is still insanely impressive nonetheless.
I'm penciling in Plott and O'Malley to finish below their seeds, not because I don't want to see them succeed, but because I have Labriola over O'Malley and Mocco over Plott, both in the second round. Mocco would be reversing a result from Big 12s, making it one of my riskier predictions, and another instance where I could be made to look foolish, which would be absolutely fine with me.
That's about the extent of the risks I'm willing to take in my bracket, as it's mostly chalk elsehwere. We'll get to see just how foolish these picks are very soon!