2022 NCAA Championships Watch Party
Battle-Tested: 2022 133-Pound NCAA Championship Preview
Battle-Tested: 2022 133-Pound NCAA Championship Preview
Will Penn State's Roman Bravo-Young repeat? We break down the 133-pound bracket in our 2022 NCAA Championship preview.
Mar 14, 2022
by Kyle Klingman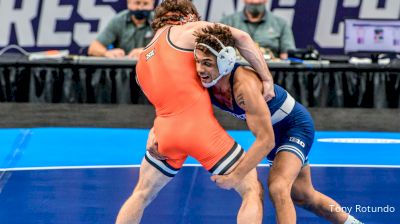 Unlock this video, live events, and more with a subscription!
Get Started
Already a subscriber? Log In
Unlock this article, live events, and more with a subscription!
Get Started
Already a subscriber? Log In
Brackets | Rankings | Additional Previews: 125, 141, 149, 157, 165, 174, 184, 197, 285
Bracket Breakdown
This is a two-person race for the 133-pound title. A win by anyone other than Penn State's Roman Bravo-Young or Oklahoma State's Daton Fix would be a storyline of the tournament.
These two faced off in last year's NCAA tournament finals with Bravo-Young picking up a 4-2 win in sudden victory. Both are undefeated on the season and both are high-octane wrestlers with diverse skill sets. Fix is coming off a silver medal performance at the 2021 World Championships, so he is primed for a title after finishing second in 2019 and 2021.
Iowa's Austin DeSanto has every opportunity to play spoiler here. He enters as the five seed but that might be too low given his body of work. He has three losses on the season: two to Bravo-Young and one to Fix. And they were all within two points. The Hawkeye star has a motor, which makes him a dangerous match-up no matter who he faces. Bravo-Young is on his side of the bracket so he'd likely have to get by him in the semis and Fix in the finals if it plays out that way.
Michael McGee of Arizona State has all the tools to place high — and he should if you evaluate what he's done this season. McGee has an 8-7 win over #3 Korbin Myers of Virginia Tech and a 10-0 win over Michigan's Dylan Ragusin. The Sun Devil star lost early in the season to Wyoming's Job Greenwood, 8-7, and lost to Bravo-Young, 6-2. Other than that, he's a had solid year and is someone who can make noise.
Myers placed fourth last season and only has the loss to McGee. He has two wins over Pittsburgh's Micky Phillippi this season and is 4-3 for his college career. Phillippi has a win over Fix, but that was back in 2019 and much has changed since then. Phillippi has never reached the podium after qualifying for nationals four times with two Round of 12 finishes. Is this his year to reach the podium?
Michigan's Dylan Ragusin is wrestling for himself and for his team. The Wolverines are in the thick of the team race so Ragusin's points will make a difference. Ragusin is in the same quad as McGee and the same half as Fix. He'd have to beat both to reach the finals where he could face Bravo-Young. This is not an easy path, but he has plenty of motivation to stay alive if he gets bumped to the consolation bracket.
Look out for Lucas Byrd of Illinois. He survived a tough B10 schedule and came out with a 21-3 record. He has a 3-1 SV loss to Ragusin, a 4-3 loss to DeSanto, and an early-season 3-1 SV loss to Oklahoma's Anthony Madrigal. The Illini star also has a 5-2 win over Ragusin along with victories against Phillippi, Chris Cannon (Northwestern), and RayVon Foley (Michigan State)
The rest of the bracket is up for grabs. Northwestern's Chris Cannon is a returning place winner with five losses on the season — but all five losses were to the best wrestlers in the bracket: Ragusin twice, DeSanto, Byrd, and Michigan State's RayVon Foley.
Look for B1G wrestlers to do well here. They faced each other numerous times during the season and they are battle-tested to survive one of the toughest brackets at this year's NCAA Championships.
2021 Results
1st - Roman Bravo-Young of Penn State
2nd - Daton Fix] of Oklahoma State
3rd - Austin DeSanto of Iowa
4th - Korbin Myers of Virginia Tech
5th - Lucas Byrd of Illinois
6th - Michael McGee of Arizona State
7th - Chris Cannon of Northwestern
8th Place - Louie Hayes of Virginia
Favorites
#1 Roman Bravo-Young (17-0), Penn State
#2 Daton Fix (21-0), Oklahoma State
Contenders
#3 Michael McGee (21-2), Arizona State
#4 Korbin Myers (18-1), Virginia Tech
#5 Austin DeSanto (15-3), Iowa
#6 Dylan Ragusin (21-6) Michigan
#7 Lucas Byrd (21-3), Illinois
#8 RayVon Foley (28-4), Michigan State
#9 Michael Colaiocco (21-2), Penn
#10 Chris Cannon (16-5), Northwestern
Sleepers and Landmines
#12 Micky Phillippi (15-6), Pittsburgh
#14 Kyle Biscoglia (19-7), Northern Iowa
#23 Anthony Madrigal (12-10), Oklahoma
#24 Ramazan Attasauov (16-8), Iowa State
Predictions
1) Roman Bravo-Young (Penn State)
2) Daton Fix (Oklahoma State)
3) Austin DeSanto (Iowa)
4) Michael McGee (Arizona State)
5) Lucas Byrd (Illinois)
6) Korbin Meyers (Virginia Tech)
7) Micky Phillippi (Pittsburgh)
8) Chris Cannon (Northwestern)
R12) Michael Colaiocco (Penn)
R12) RayVon Foley (Michigan State)
R12) Dylan Ragusin (Michigan)
R12) Kyle Biscoglia (Northern Iowa)