2021 Senior World Championships
World Championships Match Notes: Day 8
World Championships Match Notes: Day 8
All the action from Oslo coming to you in real time, as it happens. It's the 2021 UWW Senior World Championships!
Oct 9, 2021
by Andrew Spey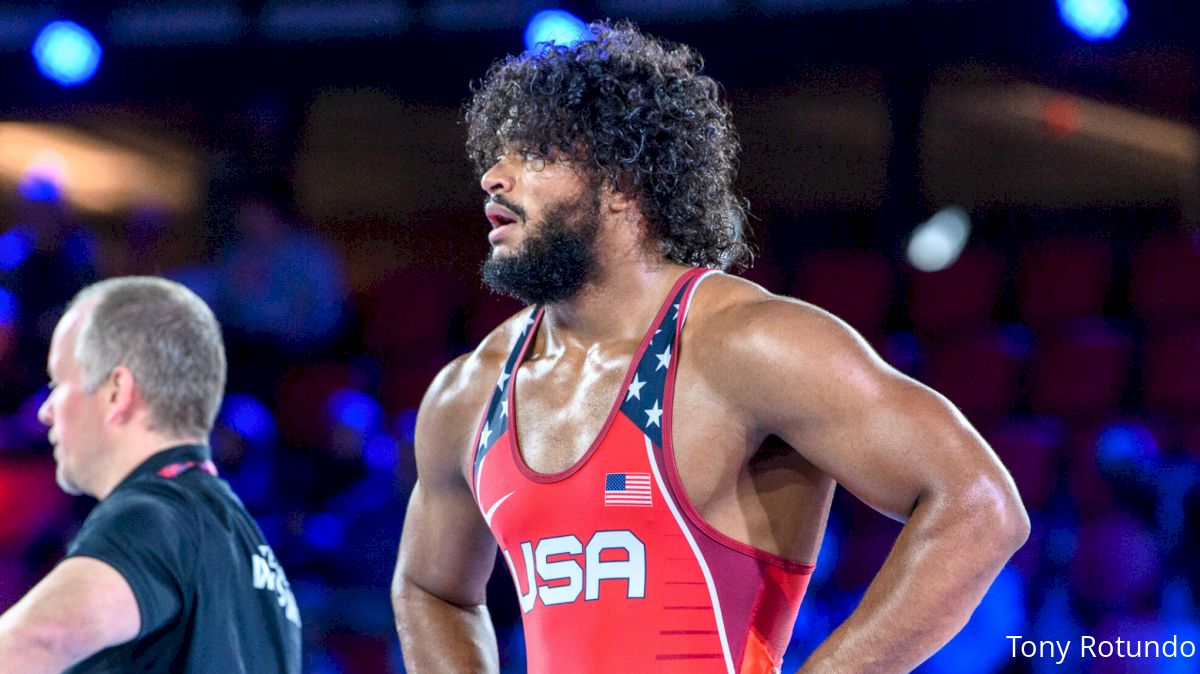 Unlock this article, live events, and more with a subscription!
Get Started
Already a subscriber? Log In
Our final full day of Greco-Roman wrestling is here in Oslo! Sam Jones, Peyton Omania and Alan Vera will get things going this morning at 63, 67 & 87kg respectively. We'll also see G'Angelo Hancock wrestle for a bronze medal in the afternoon at 97 kilos.
Here are the bout order and mat assignments for the last three Americans to start their gold-medal quests.
#WrestleOslo Worlds start again in 1 hour. U.S. mat assignments in Greco-Roman

Mat A
Bout 2: Sam Jones (USA) v. Deniz Menekse (GER)
Bout 3: Peyton Omania (USA) v Hasrat Jafarov (AZE)
Bout 6: Alan Vera (USA) v Turpan Bisultanov (DEN)

Live @FloWrestling

— USA Wrestling (@USAWrestling) October 9, 2021
And here are the old blogs, each one more perfect than the last.
Day 1 | Day 2 | Day 3 | Day 4 | Day 5 | Day 6 | Day 7
And this is Day 8. Also, these are the brackets.
All three of our Americans will get things going on Mat A within the first 6 matches of the day, which is convenient for anyone watching at home (no need for the quad-laser view) but not so great when you're in the upper deck on the other side of the arena. NOT that I'm complaining.
Also, certified sports nut the King of Norway is here. As such, the security has been ratcheted up a notch or two. So that's kinda fun.
63kg Round of 32: Sam Jones, USA vs Deniz Menekse, GER
1st period: Wild Man Sam and his dreads is the first Amerian to take the mat. Menekse was holding his own in the center but Jones gets the first point and gets a turn on top. Jones gets the lift, walks Menekse to the boundary and hits a back arch. No exposure but two points for a correct throw. Jones leads 3-0, less than a minute remaining in the period. Jones almost has another takedown on the edge but it's waived off. Not entirely sure why. Period ends, Sam still in the lead.
2nd period: Lots of shoving but no scores so Menekse gets a passivity point and Jones will be put down in par terre. Menekse goes reverse lock, no it looks like an assassin. Uh oh. There's the fall. That happened quickly. Dang.
Menekse pins Jones, 4:14
---
67kg Round of 32: Peyton Omania, USA vs Hasrat Jafarov, AZE
1st period: Jafarov looks like he's got some size on Omania, who gets put down after a minute and 22 seconds of wrestle. Jafarov with the 1-0 lead as we start par terre. He lifts Omania, instead of a back arch he plows Omania forward into the mat and gets four. Another left and a suplex for another four. Omania's corner is going to challenge those, hopefully either one is a two-point move or its game over. Challenge lost, Omania loses by tech.
Jafarov techs Omania, 10-0.
---
Two quick losses for Team USA. Not a great start, but there's hope for the repechage for both Jones and Omania.
And while the Americans were wrestled we got to witness two Norwegian matches, both victories, much to the delight of the arena and his Royal Highness the King.
Jafarov will have the winner of Duhoon of India and Vetsch of Switzerland. Duhoon Vetsch sounds like that Rammstein song, FYI. Menekse has Dalkhani of Iran in his next bout.
Duhoon wins. We'll need Jafarov to beat him to keep Omania's bronze medal hopes alive.
87kg Round of 32: Alan Vera, USA vs Turpan Bisultanov
1st: We turn to recent Cuban transfer, Alan Vera, to try and reverse the current Greco tide for Team USA. Vera goes down first. Bisultanov has all day to work. Get's a gut wrench. Goes for another lift and throw, Vera doesn't expose. He does force a step out though. And now two for fleeing? I don't understand that? Should just be 4-0 Bisultanov but the fleeing call makes it 6-0 and Vera goes back down in par terre. There's another turn and it's an 8-0 tech fall. Wow. Not ideal.
Maybe that was a leg foul for two that I missed instead of a fleeing. Didn't see it either way but also Vera's corner didn't challenge it and I don't know what kind of difference it would've made. Frustrating loss.
Bisultanov techs Vera, 8-0
---
About as bad as you could script it today for the American Greco squad. I don't think there's a high probability of any of these guys making the finals either. And as I type that, Dalkhani techs Menekse, 9-0. and Jones is eliminated from the tournament.
Bisultanov, who does not have a Danish name but has only wrestled for the Danish federation, as far as I can tell, wrestles Taheri of Iran next. Jafarov has Duhoon of India. Jafarov hammers Duhoon to advance to the quarters and Bisultanov wins a near-run 1-1 victory over Taheri so Omania and Vera are still alive for bronze!
Unfortunately for Omania, Jafarov ran into the buzzdaw that is Tokyo Olympic champ Garaei of Iran and he gets tech-falled out of the building, 10-0.
Bisultanov goes off on Shahinyan of Armenia! First-period pinfall in dramatic fashion! Denmark keeps Vera in the tournament for at least one more round!
Vera will have to wait until after the semifinals to see if Bisultanov advances to the finals before he will know if he wrestles tomorrow. After the semis we'll have the medal matches including G'Angleo Hancock's match against Oehler of Germany, who advanced to the bronze medal match after being Saveta of Ukraine.
And Bisultanov's Cinderella run comes to an end in the semis, as does Alan Vera's tournament. Some entertaining flurries, crazy defense and a takedown for Datunishvili, and that not a whole lot else. Team USA's last match in Norway will be G'Angelo's bronze medal match.
97kg: Bronze Medal Match: G'Angelo Hancock, USA vs Peter Oehler, GER
This would be the first world (or Olympic) medal in Greco for the USA since Adam Coon won a silver in Budapest at 130kg.
We now have four matches to wrestle before G'Angleo takes the main stage.
1st period: Oehler's been on the senior level for nearly a decade but has yet to notch a senior level world medal, so it'll be the first for whoever wins. G'Angelo appears to be taking more ground, at least that what it looks like to me, and the refs agree, awarding him a passivity point and a shot on top in par terre. Hancock gets Oehler lifted but not enough and can't work the turn so we go back to neutral, Hancock leads 1-0. In short time Hancock is driven to the boundary but pivots in time and snaps Oehler all the way to the mat, covering for two and staking himself a 3-0 lead before the break.
2nd period: Arm drag for Hancock and he's got Oehler back. Oehler tries to turn into G'Angelo and he's thundered to the mat! That'll be four and maybe the fall! Or not, Oehler is off his back but signaling that he's hurt. Hancock rolls him over one more time before the ref blows the whistle. Trainers come out and immediately apply cold spray. Hopefully that helps. Points haven't gone on the board yet but they just showed the replay and Oehler's foot got stuck on the mat and turned 180 degrees backward when he got chucked to the ground so I don't know if he's coming back to finish the match. Crowd let out a collective yelp when they saw that one.
It should at least be 7-0, or 9-0 with that last turn, but it doesn't matter because Oehler is done. He stands up to applause but shakes G'Angelo's hand and limps off the mat. Bronze medal for the Olympic Kidd! G'Angelo Hancock will be on the podium and America has a Greco medalist!
Hancock defats Oehler via injury default.
---
Not the way anyone wants to win but we wrap up the Oslo World Championships on a positive note. Very happy for G'Angelo and the work he's put into the sport.
Team USA will finish the event with 15 medals. That kicks ass, imo. Five of each color.
What a sprint it's been, from trying to get back to competition after Covid to the Olympic Team Trials, to Tokyo to Norway. Now our senior-level athletes will get a chance to let their bodies rest as 2022 World Team hopefuls prepare to dethrone them.
It's been fun blogging for y'all. Hope you enjoyed it. Sorry for the typos and see you in Belgrade!