2021 Senior World Championships
World Championships Match Notes: Day 4
World Championships Match Notes: Day 4
All the action from Oslo coming to you in real time, as it happens. It's the 2021 UWW Senior World Championships!
Oct 5, 2021
by Andrew Spey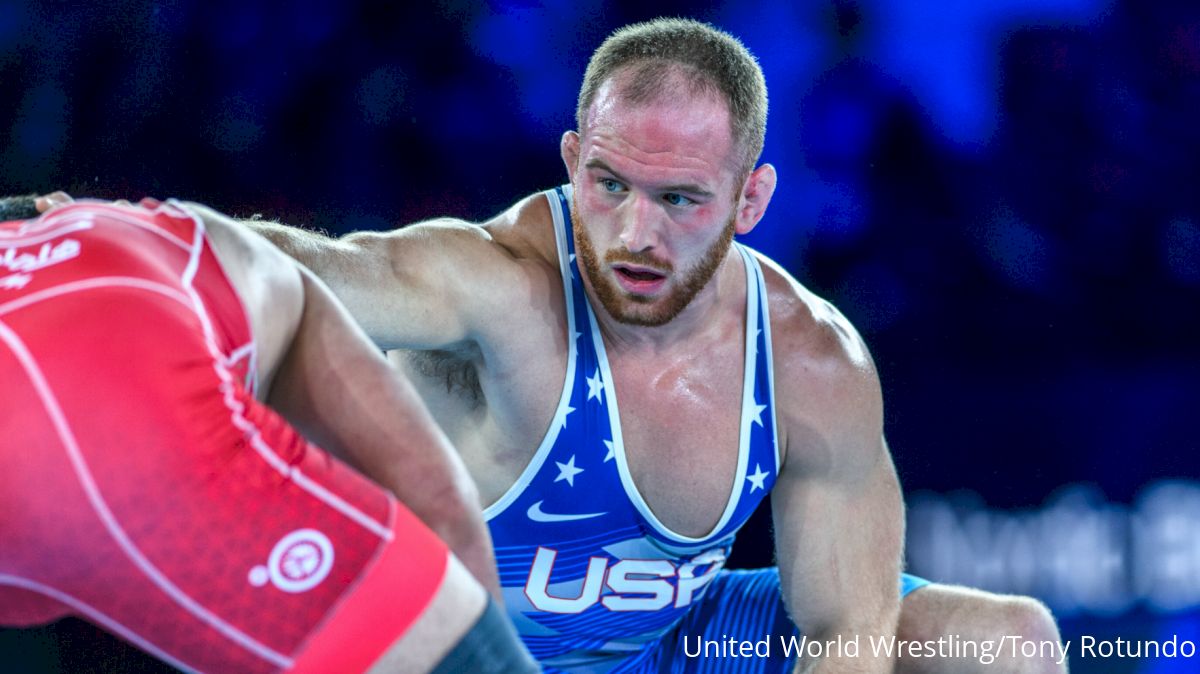 Unlock this article, live events, and more with a subscription!
Get Started
Already a subscriber? Log In
Tonight, we decide the men's freestle team title in most dramatic fashion with Sadulaev vs Snyder Part IV. Kalya Miracle also wrestles for gold as we crown our first two women's champs of the event.
But before all that, we kick off four more women's weights. Yes it's a glorious morning for wrestling here in Oslo.
The bout board is here, brackets are inside FloArena, Facebook and Instagram are back online. Let us party.
Mat assignments for the five Americans wrestling this session are below. Jenna Burkert is in the repechage of 55kg, whereas as Amy Fearnside at 53, Forrest Molinari at 65, Sarah Hildebrant at 50, and Adeline Gray at 76kg will be starting their tournaments in the prelims.
#WrestleOslo Worlds U.S. wrestlers mat assignments

Mst A
Bout 2: Jenna Burkert v Ana (ROM)

Mat C
Bout 12: Amy Fearnside v. Krawczyk (POL)

Mat D
Bout 3: Forrest Molinari v Tuvshinjargal (MGL)
Bout 5: Sarah Hildebrandt v Yashchuk (UKR)
Bout 10: Adeline Gray v Ozbege (TUR)

— USA Wrestling (@USAWrestling) October 5, 2021
55kg Repechage: Jenna Burkert, USA vs Andreea Ana, ROU
1st period: A win here and Jenna will have a bronze medal match against Pinki of India. Ana wrestled Hemmer of Germany very tough though, and Hemmer knocked Jenna out in her first match. No scores after one minute. Burkert controlling the ties and moving Ana all over the mat. Romania goes on the activity clock. Point for Burkert. Then Jenna gets poked in the eye and we get a stoppage. Burkert needed a lengthy break for her eye but now we're back in business. Short time and Jenna gets a snap-down go-behind. She looks good, very physical. Leads 3-0 at the break.
2nd period: Jenna starts the next period like she wrestled the first, taking ground, moving Ana around at will. Neither wrestler taking much in the way of shots. I think Jenna dropped to a knee once or twice. Burkert drives Ana out of bounds and it's 4-0. One minute to go, Jenna in command of the match. Burkert snaps Ana who turns it into a half shot but nothing comes of it. 3 seconds to go after restart. Blast double from Ana. That was perilously close to a feet to back but Burkert bellies out and gets the win. She'll wrestle India for bronze!
Burkert defeats Ana, 4-2
---
65kg Round of 32: Forrest Molinari, USA vs Enkhjin Tuvshinjargal
1st period: Molinari controlling the action. Has a front headlock position in short offense, no scores. Mongolia on the clock. Point for Molinari. More short offense, Molinari changing direction, back and forth. At last the go-behind to make it 3-0. Arm bar time. Mongolia starts to turn. There's two. And there's the fall! With just 10 seconds left in the period!
Forrest has Kudaeva of Russia next. Kudaeva beat Bhateri of India 8-0 in her first round match.
Molinari pins Tuvshinjargal, 2:53
---
50kg Round of 16: Sarah Hildebrandt, USA vs Bohdana Kokozei, UKR
1st: Hildebrandt earned the number one seed thanks to her Olympic bronze and the fact that no other Tokyo medalist entered the tournament. Throw-by to a single for Sarah, she gets the takedown. Hildebrandt locks up the lace and goes to work. Four turns later and that's all she wrote. Hildebrandt with the first-period tech fall!
Hildebrant will wrestle Germany in her quarterfinal bout, who squeaked out a victory over Moldova.
Hildebrandt techs Kokozei, 10-0
---
Forrest is in one of the bigger brackets of the women's division, maybe the biggest, so she's actually in the hole already for match number two before Adeline or Amy can take the mat.
There's a lot of competitors here in Oslo that were also in Ufa for the Junior World Championships. One of the more electric performances in Ufa was Irina Ringaci of Moldova, who won the 65kg junior gold at 65kg. She won her first bout and advances to the quarters.
65kg Round of 16: Forrest Molinari, USA vs Dinara Kudaeva, RUS
1st period: Molinari immediately in a front headlock position in short offense. One minute and no scores but it's been Molinari's ties so far. Kudaeva rips a headlock hip toss but Molinari lands on her side, doesn't expose, recovers and we get a restart. Kudaev on the lock. Molinari scores a point. Then a step out for the 2-0 lead. Throw-by single for a takedown, transition to a lace, two more turns before they go out of bounds and it's an 8-0 lead at the break.
2nd period: Molinari cruising, gets a go behind and you can put it in the books! Molinari into the quarters!
Great start to the day for Team USA!
Molinari techs Kudaeva, 10-0
---
Forrest gets the winner of Larroque of France and Rizhko of Ukraine. Larroque has great age-level success but hasn't broken through on the senior level yet. She wins in the final seconds against Rizhko, though has been favoring a leg that has a fairly sizable bandage on the knee.
Andreasyan of Armenia and Elahi of Iran are in a 70kg repechage match right now. If Andreasdayn wins it'll knock Iran out of contention for a team title. Andreasyan takes a 2-0 lead into the second, then whips Elahi over for two more. Then a flurry and it's two more for each. 6-2 with a minute to go, Armenia still leads. Two points for Iran with 25 seconds to go. Step out with 12 seconds to go. Final sprint. Andreasyan holds on to win! The Iranian fans did not show up today as they have no women's wrestling and they weren't there to give Elahi the extra boost he needed.
76kg Round of 16: Adeline Gray, USA vs Aysegul Ozbege, TUR
1st period: Adeleine Gray takes the mat on her first step to add more hardware to her collection of world and Olympic medals. She makes short work of Turkey. I mean I'm typing out her name when she takes Ozbege down and I'm typing Ozbege's name when she turns her and gets the pin. No sweat for the Olympic silver medalist and five-time world champ!
Gray will Kiran of India, who defeats Kim of South Korea in her first round bout.
Gray pins Ozbege, 1:28
---
53kg Round of 16: Amy Fearnside, USA vs Katarzyna Krawczyk, POL
1st period: Krawczyk hits an armspin that does just enough to get an exposure and an early four-point lead. That's a tough way to start. Fearnside stays busy for the rest of the period but can't get through Krawczyk's defenses. Fearnside goes down 4-0 at the break.
2nd period: Krawczyk is deadly with that armspin. She hits it again and Fearnside goes head-over-heels. In the ensuing scramble they wrestle back to neutral and Krawczyk doubles Fearnside out of bounds. They award the two and that plus the other armspin makes a 10-0 tech. Fearnside takes the first American loss of the day but you have to feel good about her chances of being pulled back into repechage.
Krawczyk techs Fearnside, 10-0.
---
Quarters will start soon as this session is flying by.
50kg Quarterfinals: Sarah Hildebrandt, USA vs Lisa Ersel, GER
1st period: Front headlock from neutral to a throw-by and Hildebrandt scores first. Ersel vary wary of the lace, for good reasons, and fights off the lock to get a restart. Sweep single and Hildebrandt picks up takedown number two for a 4-0 lead. No stopping the leglace this time and Sarah cyclones her off the mat! 10-0 tech and Hildebrandt is into the finals in under 90 seconds!
Hildebrandt techs Ersel, 10-0
---
Hildebrandt's opponent will be Sokolova of Russia, who also teched her opponent in the first period with a torrent of lace turns.
65kg Quarterfinals: Forrest Molinari, USA vs Koumba Larroque, FRA
1st period: No scores after 90 scenes and Larroque goes on the clock first. Molinari had the slight upper hand in controlling center. A warning for hair pulling and action resumes. Koumba can't score so Forrest gets the first point of the match. Now a warning for interlocking fingers for Forrest. We go to the break, still 1-0 Molinari.
2nd period: Larroque continues to work a Russian tie. Molinari yanks her arm free but she'll go on the clock as well. Larroque drops down on her legs and finishes for two. So wipe off the activity clock for Forrest but give two points and the lead to Koumba. 2 minutes to go. Another warning about fingers for Molinari. Larroque not biting on the head snaps. Larroque gets behind Molinari in neutral but settles for a step out. 3-1 with a minute to go. A takedown will do it for Molinari. Down on a single with 30 seconds. Time to work, needs to limp out. Larroque tries to funk out of it but Forrest catches her and gets an exposure. That'll work too! The final 10 seconds tick away in par terre. Forrest wins and advances on criteria!
Looks like Larroque didn't think she was losing. She's upset. No excuse for the poor sportmanship she's showing by not shaking Forrest's hand. Got a lot of growing up to do imo.
Molinari defeats Larroque on criteria, 3-3
---
Molinari has Morikawa of Japan next. Goes without saying that Japan is the favorite here, but don't count out Forrest!
76kg Quarterfinals: Adeline Gray, USA vs Kiran Kiran, IND
1st period: Not much in the way of action in the first two minutes. Kiran goes on the clock, it expires and Gray scores a point. Blast double from Adeline that scores a takedown, then a turn. 5-0 and Kiran is inching closer to a fall. With a leg and a half, or kind of a half, its something anyway, and there's the fall!
Gray pins Kirin, 2:34
---
Adeline's next opponent Hamza from Egypt, who defeated Japan's Matsuyuki of Japan. That's big for team race implications because, assuming Adeline beats Hamza, then Matsuyuki will be knocked out of medal contention will likely not score any points.
The final weight is 53kg and we need Krawczyk of Poland to beat Sweden's 2021 Junior World Champ Emma Malmgren. And Krawczyk takes care of business, ripping right through Malmgren and getting the fall when Malmgren goes for the desperation lat drop.
50kg Semifinals: Sarah Hildebrandt, USA vs Nadezhda Sokolova, RUS
1st period: Sarah the aggressor in the first minute. No scores after 90. Sokolova wrestling tough through. Hildebrandt goes on the clock. Don't agree with that but it happens. Sweep single for Sarah, she collects the two but not within the 30-second window so it's 2-1, Hildebrandt in the lead. Period ends.
2nd period: Still no shots from Sokolova. No problem though as Hildebrandt drops to another a single and gets two more. Locks up a lace! Just one turn before she loses it. 6-1, Sarah in command. 2 minutes to go. Sokolova starts to pick up the tempo, which means she takes her first shot of the match. Hildebrandt counters and gets a throw-by for two more. No turns, back to neutral, 8-1 with 48 seconds to go. Sokolova attacks, looks for a headlock, Hildebrandt counters again and picks up 2 more. A leg lace turn and that's all she wrote. Sarah Hildebrandt will wrestle for a gold medal tomorrow!
That makes three-straight techs for Hildebrandt, 10-0, 10-0 & 12-1. Last one should have been 10-0 but that's academic now.
Hildebrandt techs Sokolova, 12-1.
---
Hildebrandt's opponent will be Yoshimoto of Japan, who crushed the very tough Vuc of Romania 11-0.
Now we root for Poland to pull Fearnside back into the repechage at 53kg. Unfortunately, Krawczyk, who beat Amy in the round of 16, has Fujinami of Japan, who is very good. And it's a 10-0 tech for Fujinami and Fearnsides' tournament has come to an end. 53 is a monster weight class and Amy got a tough draw.
65kg Semifinals: Forrest Molinari, USA vs Miwa Morikawa, JPN
1st period: This is a pretty big match for the team race. A loss by Molinari won't put an end to it but it will make things much tougher for the red white and blue. No scores after a minute. Morikawa drops on a leg about 90 seconds into the period, runs the pike and Molinari goes down. 2-0 Japan. Bent leg turk for Morikawa but she's can't turn Forrest so we go back up. 1 minute left in the first. Morikawa in on another single leg but Molinari just barely keeps the whizzer in long enough to be saved by the bell.
2nd period: Molinari's turn to get in on a single leg. She limp arms through Morikawa's defenses, gets a step out. SHould have been fleeing but whatever. Morikawa in on a single, crotch lock for Molinari. Stalemate. Another shot by Morikawa, good defense by Molinari, until it's not, as Morikawa reattacks and gets two on the edge. 4-1, one minute to go. Molinari charging back, gets a step out. 4-2. Forrest will trail on criteria after another two. Molinari trying to force a step out, throw-by for Morikawa, 6-2. 22 seconds to go. Morikawa gets in on Molinari's legs and chews up all the clock. Japan to the finals.
Morikawa defeats Molinari, 6-4.
---
Molinari not happy with the result. Morikawa was just a step ahead with her technique and outwrestled her. Molinari will wrestle for bronze though, against either Belarus or Kazakhstan. Morikawa will be the heavy favorite against 2021 junior gold medalist Ringaci of Moldova in the finals.
76kg Semifinals: Adeline Gray, USA vs Samar Hamza, EGY
1st period: Hamza did the USA a favor by taking out Japan in her quarterfinal bout. A win by Gray will knock Japan out of medal contention at this weight. Hamza strikes first, driving Adeline out of bounds, 1-0 Egypt, lots of time left. Hamza pressures in again, this time Gray is ready and wrestles to a stalemate. Foot sweep from a russian tie doesn't land. Gray starts taking more ground. Passive for Hamza, then Gray gets a step out to even the score. Period ends, Gray leading by criteria.
2nd period: Hamza looks a little winded coming back to the center, Adeline shows no signs of slowing down. Double leg from Gray and she plants Hamza on her butt for four. Then come the gut wrenches. Two turns to make it 8-1. Another turn. One final turn and Hamza doesn't fight off her back so Gray squeezes for the pin. Adeline Gray into the finals! She'll wrestle for a potential sixth world gold and has locked up her ninth overall world or Olympic medal.
Gray pins Hamza, 3:59
---
Gray's opponent will be Epp Maee from Estonia, a country closely related to Finland that is Scandanavian-adjacent. Maee scores against Krygyzstan in the final seconds of the match to win a 3-3 nailbiter on criteria.
That'll do it for the prelims of 50, 53, 65 & 76kg in women's freestyle. They'll have repechage and medal matches tomorrow. Now, we wrap up the men's freestyle tournament with the 2 final weights and watch two sets of medal matches in women's freestyle.
Medal Matches
We will find out very soon if Snyder vs Sadulaev will decide the team race. Armenia's Andreasyan has Russia's Zherbaev for bronze in the first match of this last half of the second session. if Andreasdayn wins then the US will clinch first no matter what. Andreasyan puts up an admirable effort but Zherbaev is a cut above. The Buryatian wins 6-0 and Russia and the USA are now tied in points, 168 to 168. Winner of the 97kg gold medal finals will decide the tournament.
Bayramov of Azerbaijan vs Iakobishvili of Georgia in a battle of former Soviet Republics of the Caucasus Mountains for the other bronze medal match. It was decided in the final flurry, and which was reviewed in a challenge that was won by Georiga that changed the result of the match. Tough one for Bayramov. Iakobishvili adds a world bronze to his other world bronze and his 2017 world gold.
70kg Gold Medal Match: Ernazar Akmataliev, KGZ vs Magomedrasul Gadzhiev, POL
You have to root for Akmataliev to win. You cannot be a Gadzhiev fan. I won't allow it. Akmataliev is younger and does cool wrestling moves. Gadzhiev plods around and does nothing and used Turnibol. Neither guy does anything in the first period, I blame Gadzhiev. Akmataliev gets an activity clock point. Still not much action and Akamtaliev goes on the clock. Akmataliev not able to get to any offense and Gadzhiev gets the point - 1-1. Gadzhiev shows a small amount of offense and is able to get to a leg and force the step-out - Gadzhiev up 2-1. Akmataliev pressures forward hard but Gadzhiev hols position and holds onto the win. Poland has its first world champ in the Russian Magomedmurad Gadzhiev.
Hushtyn of Belarus has Zakariiev of Ukraine for the first bronze medal match at 97kg. That means Snyder is in the hole. Zak Attack was leading 2-1 when Hush got what looked like a step out but they called grounding which is a terrible rule so instead of leading on criteria with 20 seconds to go Hushman tried to force another step out and got chucked over Zak's shoulder and that's all she wrote. Hushtyn is denied a medal yet again and Zakariiev wins his first.
Mongolia's Ulziisaikahn taking on Iran's Goleij for the penultimate men's freestyle match of the tournament. Goleij definitely gave Snyder his toughest match of the tournament so far. The Iranian crowd not as big as the last few nights but there's a decent-sized contingent and they're making themselves heard. Goleij wins fairly easily, 10-0 with 1:43 left. Iran was already locked into third place in the team race but they still had an incredible tournament. Many wrestlers out-performed expectations.
97kg Gold Medal Match: Kyle Snyder, USA vs Abdulrashid Sadulaev, RUS
1st period: MAIN EVENT TIME. The team trophy is on the line. You know that. You know these guys. There is nothing more for me to say to hype up this match. It's a big deal and you freaking know it. Sadulaev trying to get his hands on tip of Snyder's head and work his snaps. Snyder took most of the shots at the Olympics, and Sadulaev ultimately scored the majority of his points off counters to them. No scores after 90 seconds. Snyder goes on the clock at 4:11. Could have flipped a coin to decide that one. Sadualev scores the first point. Snyder with some head fakes and quarter-shots in the closing seconds of the period. 1-0 Sadulaev leads at the break.
2nd period: Both guys should have a full tank of gas going into the final 3 minutes. Snyder seems to have the edge in stamina in the last bout, despite taking the loss. Snap down for Sadualev and he gets a chest wrap where he's so dangerous. Snyder peaks out, then avoids a step out and we're back in neutral. Half shot for Sadulaev and then Snyder goes on the clock again. 2 minutes to go. That's a tough call to make but hard to argue. Snyder gives up the second shot clock point. Then a short duck by Sadualev and he's behind Snyder in a flash. Brings him to the mat for a 4-0 lead. Cinches up a body lock and takes Snyder over in a gut wrench. It's 6-0 with 60 seconds left. Snyder picking up the pace but Sadulaev not slowing down either. 20 seconds, 10. That'll do it. Russia wins the team race.
Sadulaev defeats Snyder 6-0.
---
Kind of tough to appreciate Sadulaev's accomplishments after he just plunged a dagger into our hearts but he's now a two-time Olympic champ and five-time world champ. That's kind of absurd. He's in the mix for GOAT discussion and there's no sign that he's losing a step.
Anyway, there will be a time to put Sadulaev into context historically, just not know. That's all I feel like talking about him for now.
Time to watch two Americans wrestle for medals in the women's medal matches!
First, the other bronze medal match. Two names that are too long for me to look up and type but its Russia and Ukraine. Sorry, I'm still grumpy. Anyway, pretty good match. Nice pancake by Urkaine in the first. Russia battles back to tie it late in the second but still trailed via criteria. Ukraine iced it in the final seconds to win 10-8. Good just Ukraine.
55kg Bronze Medal Match: Jenna Burkert, USA vs Pinki, IND
1st period: Short offense front-head for Jenna. Gets a stalemate in the first minute. Then a step out in the next sequence around the 4:45 mark. Pinki goes on the activity clock after two minutes. Another point for Burkert. Periods ends with Jenna holding a 2-0 lead.
2nd period: Collar ties for the first minute, then Burkert drops to a single. She's pushing Pinki to the boundary as Pinki defends with a shin whizzer. Burkert's final effort get Pinki to step out of bounds and Jenna gets her third point. Finally a shot from Pinki, Burkert catches her, then methodically works around for two. It's 5-0, a minute to go. Another shot by Pinki, Burkert stops her and has a front headlock. Jenna slips and Pinki takes advantage for a go behind. 5-2, 30 seconds. Pinki shoots again. Nothing. 10 seconds. Jenna does it! She points to the sky. Emotional moment. Jenna was so close to making an Olympic team. She drops a weight class, makes the world team, and wins her first world media.
Gold medal match at 55 is between Japan and Germany. Sakurai of Japan is the huge favorite but we shall see. Hemmer has snatched victory from the jaws of defeat a couple of times already this tournament. Sukarai wins in a romp. Japan is just so dang good in women's wrestling. They churn out age-level medalists by the truck load and they almost all pan out. They are comparatively deeper than any other country at any other style by a large margin. Its kind of nuts.
Burkert defeats Pinki, 6-2
---
The anti-penultimate match of the night at 62kg is between Ozaki of Japan and Prokopevniuk of Ukraine. Ozaki wins in dominant fashion, 12-0. Many are saying she is the next big thing for Japan. Seeing as she is 18 years-old, has two cadet world gold and just won a senior world bronze, I would tend to agree.
Second-to-last match is Enkhbat of Mongolia and Nunes of Brazil, the two women Miracle beat on her way to the finals. Enkhbat holds off a hard-charging Nunes to take bronze, 7-6.
62kg Gold Medal Match: Kayla Miracle, USA vs Aisuluu Tynybekova, KGZ
1st period: Last match of the night! Tynebekova is a world champ and Olympic silver medalist but Miracle has been wrestling better than she ever has. Scoreless first period. Miracle goes on the clock first. Wasn't a lot of action by Tynybekova but she was arguably controlling the mat better so tough to complain too much about that. Miracle gives up the first point. Not much for the rest of the period and we hit the break, still 1-0.
2nd period: The action picks up in a big way after the whistle starts the second period. There's a flurry, furious action, a scramble ending with Miracle stretched out underneath with a single leg. Tynybekova gets a body lock and tips Miracle over for 2, but just barely. Miracle's corner challenges. It fails, 5-0 Tynebekova. Still a minute to go. Miracle shoots, stuffed. Time running out. Mirccale manages a step out in the literal final second. Actually no, somehow the refs miss the stepout and award Tynybekova a takedown on the go-behind. Meaningless point sbut frustrating to miss what looked like a pretty obvious point for Miracle.
Tynybekova defeats Miracle, 7-0.
---
Alas, Team USA misses out on two gold medals, but still collected three medals out of four weights tonight, and that's not bad. Not bad at all.
Gotta be honest, pretty drained right now. That was a wild sprint to the finish of the men's freestyle tournament.
Final team scores
Russia: 173
USA: 168
Iran: 162
Georgia 68
That's quite the gap between #3 and #4, and the tiniest of margins between the top 3. You can go back and forth all day about who was at the tournament, who wasn't, and what shoulda, coulda and woulda happen to change the final result.
But like I said, I'm exhausted and there will be plenty of time to do that later. Instead, I'll just wrap up day 4 with the cliche that the real winners were the fans, who got to witness an absolutely thrilling World Championships.
Sorry for the typos, see you tomorrow for a full day of women's wrestling. Helen, Maya, Tamyra and Kylie wrestle prelims, Sarah and Adeline wrestle for gold and Forrest gets a shot at bronze. Hell yeah.