2021 Senior World Championships
World Championship Match Notes: Day 1
World Championship Match Notes: Day 1
All the action from Oslo coming to you in real time, as it happens. It's the 2021 UWW Senior World Championships!
Oct 2, 2021
by Andrew Spey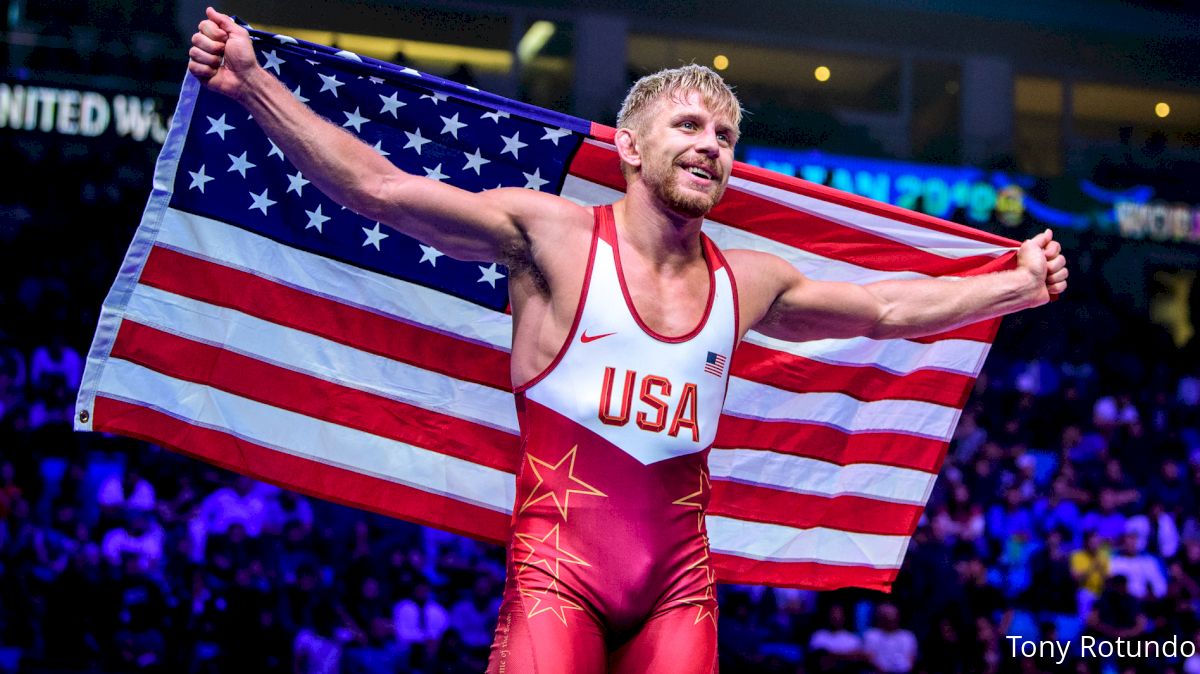 Unlock this article, live events, and more with a subscription!
Get Started
Already a subscriber? Log In
We're just about ready to get started on Dat 1 of the 2021 Senior World Championships in Oslo, Norway. We've got four incredible American freestyles taking the mats today. World and Olympic champ David Taylor at 86kg, junior world champ Daton Fix at 61kg, two-time world champ and Olympic bronze medalist Kyle Dake at 74kg, and two-time world medalist Nick Gwiazdowski at heavyweight.
Hell yeah.
The Jordal Amfi arena here is Oslo is first-class. Superb. My blogging perch is, less than ideal. But I'm not complaining. I am humbled and blessed to be here!
Blogging perch... exists. pic.twitter.com/1PHo93JpQL

— ÅNDRØW SPÆ (@SpeyWrestle) October 2, 2021
If you're looking for match order, click here. Brackets are here. And refer to this handy tweet for when the first Americans will be wrestling.
Get Ready! Session 1 match order

— FloWrestling (@FloWrestling) October 2, 2021
We've got some time before the Americans start gripping and ripping so until then we'll be keeping a running tally of the best non-American matches.
World champ Khetik Tsabolov, formerly of Russia by way of Ossetia, now representing Serbia and spelling his name Cabolov, wins by tech thanks to a quick takedown and lace over Rybicki of Poland to notch the first victory of the tournament.
Tsabolov's next match in the round of 16 at 74kg will be against the winner Phulka of Canada and Boston University's own Nestor Taffur of Colombia. That quarter of the bracket is on the same half of the bracket as Dake.
An athlete from Nepal entered the World Championships for the first time in history. Umarpashaev of Bulgaria, who is very good, allowed him to be on the mat for over a minute before ending the match. It was very sporting Umarpashaev.
Kuramagomedov of Hungary by way of Dagestan, who gave Burroughs a very tough match at 2019 Worlds, and has beaten Kasumov of Russia, lost in the first round to Ukraine's number 2, Tohuzov. I had considered Kuramagomedov a potential landmine for Dake in the top half of the 74kg bracket but he's since been cleared.
Michigan's Malik Amine of San Marino, Duke's Mitch Finesilver of Israel, and Boston University's Nestor Taffur of Colombia are all on the mat right now. Taffur dispatches the Canadian, Amine ekes out a win over Mexico (sorry NAFTA friends), but Finesilver loses to a very tough Nurikov of Belarus, who was completely gasses and took a couple of questionable injury time breaks.
Two medal contenders at 74kg finish matches, Timur Bizhoev of Russia blanks Yash of India. Avtandil Kentchadze of Georgia shuts out Cakici of Germany. Now Younes Emami of Iran takes the mat against Mongolia, which delights the large number of Iranian fans in attendance. Iran wrestling fans travel very well!
In NCAA heavyweight action, Campbell's Jere Heino of Finland loses to Poland while Maryland's Yousiff Hemida of Egypt defeats India to advance to the round of 16 and take on Khizriev of Russia.
61kg Round of 32: Daton Fix, USA vs Vangelov, BUL
1st period: Our first American take the mat. he drives Vangelov out of bounds but its ruled grounded. Vangelov correctly goes on the activity clock first. Fix lets the 30 seconds expire, then times a a nice hi-c that he cracks back for two. He leads 3-0 at the break.
2nd period: Fix comes out firing, snatching a single leg and finishing quickly to take a 5-0 lead. Back in neutral Fix counters a deep shot by Vangelov and runs the lead up to 7. 90 seconds to go. Vangelov tries to turn the heat up on Fix but the Cowboy's defense is too solid. With seconds to go Fix takes Vangelov to his back to win 11-0 as time expired.
Impressive work for Daton considering Vangelov just finished 5th at the Olympics and beat Gilman in 2019. Thank you Kozak for the info!
Fix techs Vangelov, 11-0. Advances to the round of 16
---
Iran's Imami won at 74kg, as did junior world champ Amouzad at 61kg, and let me tell you, the Iranian fans were thrilled.
Kenya sent a contingent for the first time since I'm not sure if ever. Their 61 kilogrammer took the mat against Turkey and was promptly thrown for 5 and then laced off the mat for an 11-0 tech. Still, it's cool that Keny is here. The more wrestling nations the better!
North Carolina's Ethan Ramos jumps out to a 7-2 lead over Ali of Bulgaria at 86kg. ANd DII Newman's Noel Torres is also on the mat against another Kenyan. Ramos and Torres both one.
Friev of Spain by way of Ossetia defeated Gocen of Turkey in an early round battle of 86kg medal contenders.
Geno Petriashvili takes the mat, which means Kyle Dake is in the hole. Geno tech-smashes 11-1.
Hemida back on the mat already, taking on Russia. Who are technically competing at the 'Russian Wrestling Federation' and can't display their flag because of IOC sanctions due to their state-sponsored doping campaign. But for the sake of simplicity whilst furiously blogging I'm going to just refer to them as Russia. Hemida puts up a good fight and scores a takedown but falls to Khizriev.
Amir Zare also on the mat, sending the Iranian fans into a frenzy. Dake on deck.
---
125kg Round of 16: Nick Gwiazdowski, USA vs Amar Dhesi, CAN
1st period: The Iranian fans distracted me and missed the first minute of this NC State vs Oregon State matchup. Gwiz get the first takedown and then gets another two before Dhesi responds with a takedown after a lengthy scramble.
2nd period: Gwiz keeps attacking as is his style. He converts a little ways into the second period to make it 6-2. Then counters an attack by Dhesi with about a minute left to make it 8-2. Dhesi doesn't stop shooting but Gwiz sprawls and kills the clock and will win after giving up one last step out.
Gwiazdowski defeats Dhesi, 8-3. Advances to the quarterfinals. Has Zare (IRI) next.
---
74kg Round of 16: Kyle Dake, USA vs Vasile Diacon, MDA
1st period: Might we see some dake bombs? Kyle is the heavy favorite. He scores first by walking Dacon out of bounds with double unders. Then a single leg for a takedown, then a gut wrench party as Dake goes both sides and wins 11-0. Total destruction, as expected.
Dake techs Dacon, 11-0. Advances to the quarterfinals.
---
Team USA undefeated through the first three bouts. David Taylor is up in four on mat A. Daton Fix is in the hole on mat C.
Living legend Taha Akgul takes the mat against Poland. Tsabolov has Taffur of BU and Colombia. Taimuraz 'Big Salk' Salkazanov vs Ali-Pasha Umarpashaev is a big R16 bout at 74kg. Big Salk takes it 3-0. World champs Akgul and Tsabolov both win as well.
Dake's next opponent will be decided on mat B between Turkey and Ukraine. And it'll be Eryilmaz of Turkey who will face Dake next.
Russia's Bizhoev ends Malik Amine's championship run, although there is a good chance Amine is pulled back into the repechage. Bizhoev takes on Big Salk next.
Kazakhstan's 61kg getting the cold spray treatment right now. It won't be enough though as he loses to Armenia's Harutyunuan.
Iranian vuvuzela is going full bore for Emami on mat D against Kaiponov of Kazakhstan. Emami wins, avenging an earlier loss to Kaiponov. Looked good. I credit the vuvuzela!
61kg Round of 16: Daton Fix, USA vs Arman Eloyan, FRA
1st period: About 20 seconds in Fix hits a slide-by for two, then does his best Kyle Dake impression, gut-wrenching Eloyan into oblivion in under a minute. Daton Fix is moving on to the quarters!
Fix techs Eloyan 10-0
---
Will have to check my stats but I believe USA, Russia, and Iran are all undefeated at the moment.
Fix's next opponent is being decided between Ravinder of India and Lomtadze of Georgia right now. Both very good. Mat A taking it's sweet time to finish up before the Magic Man gets called to the carpet. It's Ravinder with a nice win over 2019 world champ Lomtadze.
86kg Round of 16: David Taylor, USA vs Boris Makoev, SVK
1st period: David's first match since his historic Tokyo gold medal victory over Hassan Yazdani! Makoev has a world silver from 2017 but hasn't come close to equalling that performance since. No scores after a minute. DT taking ground and holding center though. Now Taylor shoots and gets a step out to draw first blood. Gets in deep on a single on the restart but Makoev wrestles back to neutral. Makoev goes on the activity clock with a minute to go in the first. Taylor lets the clock expire, picks up a point, then waits for the final seconds of the period before pouncing on a low single and finishing for two more. Leads 4-0.
2nd period: Quick step out for Taylor as he does not relent. He is relentless. Another takedown, Makoev getting worn down. Takedown and lace for David Taylor and that's all she wrote! Domination.
Taylor techs Makoev, 11-0. Advances to the quarterfinals.
---
Japan's Hasegawa takes out the young Amouzad of Iran and quiets the crowd. Iran's first loss of the day. The Iranians still sing and chant for Amouzad as he walks off the mat. A+ fans, IMO.
Ethan Ramos with a victory over Kim of South Korea and he's on to the quarterfinals. He'll get Yazdani the greatest once he defeats Dauletbekov of Kazakhstan. Yazdani taking the mat now and the crowd is predictably going wild. Yazdani wins 12-2, totally dominating after giving up an early takedown.
Friev of Spain ends Newman University's Noel Torres' championship run.
That's the last of the prelim matches. Quarterfinals are next! They'll hold the mats to go weight by weight for the next four matches.
125kg Quarterfinals: Nick Gwiazdowski, USA vs Amir Zare, IRI
1st period: Gwiz comes out of the gate with some heavy hands. Zare slaps in an underhook and gets a step out though Gwiz was fighting him and it was close. Iranian fans are getting after it as well. Looks like Gwiz slips or losing his balance and Zare takes him to his back. Gwiz avoids the pin but he's in a 5 point hole now. Another step out for Zare and it's a 6-0 lead still in the first. Zare gets rear-standing on Gwiz, then drops down to a single. Gwiz tries to roll backwards for a through but Zare is ready for him and counters for a feet-to-back. That'll be a first-period tech-fall for Zare and the first loss of the event for the USA.
Tough style match-up for Gwiz. Those Iranian underhooks make it tough to get to his high-volume shooter game plan.
Zare techs Gwiazdowski, 10-0.
---
Gwiz needs to hope Zare makes the finals to be pulled into the consolation bracket and have a shot at a bronze medal. Zare will wrestle either Khizriev or Akgul next. Akgul currently leads 3-0 in the second period. Akgul wins. USA will now doubly benefit from a Zare victory over Akgul, as it will both pull Gwiz into repechage and knock Khizriev out of medal contention.
Petriashvili will have Kazakhstan's Oleg Boltin in the other semifinal bout.
74kg Quarterfinal: Kyle Dake, USA, vs Fazli Eryilmaz, TUR
1st period: Eryilmaz gets thru Dake's head and hands defense but Dake does some nifty evasive maneuvers and gives up no points. We get a stoppage about a minute in. I think for blood, maybe Eryilmaz' ear. Now back in action with a bandage on Eryilmaz's head. Dake beat Eryilmaz 3-1 at the 2020 Pellicone. Eryilmaz goes on the clock first. 30 seconds later, Dake has the first point of the bout. Dake keeps the pressure on in short time, goes underhook to an ankle pick and gets two on the boundary as time expires.
2nd period: Dake leads 3-0. More Dake pressure. He gets a single, marching Eryilmaz to the edge. He'll settle for a step out, 4-0 lead. Dake chases Eryilmaz out of bounds for a caution and one to make it 5-0. Time will run out on the Turk and Kyle Dake is on to the semis!
Dake defeats Eryilmaz, 5-0
---
Kentchadze of Georgia handles Emami of Iran to make the semis on the bottom side. Kentchadze will wrestle Big Salk Salkazanov of Slovakia who scores with less than 2 seconds remaining to take out Russia's Bizhoev, which is massive for the team race.
And Dake's opponent will be Nurikov of Belarus, who also scored in the final seconds to eliminate Serbia's Tsabolov from gold medal contention. All four of the wrestlers in those two last-second bouts were either current or ex-Russians.
61kg Quarterfinal: Daton Fix, USA vs Ravinder, IND
1st period: Ravinder in on a single, Fix far ankle scramble and gets two. Then it's trap-arm gut time and Fix runs the score up to 8-0 in a little over a minute. Great start for Daton Duane! Low double for Fix and that'll do it. Daton Fix rolls into the semifinals with a full head of steam!
Fix techs Ravinder, 10-0
---
Fix will wrestle Harutyunyan of Armenia for a spot in the finals.
On the bottom-side of the bracket, Abasgadzhi Magomedov must have been practicing folkstyle because he used the famous folkstyle move known as a cradle to pin his opponent from Mongolia. Japan's Hasegawa stayed hot and defeated Grigorev of Poland by way of Russia, setting up a Japan v Russia semi opposite Fix vs Armenia.
86kg Quarterfinal: David Taylor, USA vs Akhmed Aibuev, FRA
1st period: It took all of 30 seconds for David Taylor to thoroughly annihilate Aibuev, doubling him to his back for four, then trap-arm tilting him for two more, then sticking him in another tilt for the pinslay.
Aibuev was born in Russia but he immigrated to France as a youth with his parents as Chechen refugees in the 90s. There are several prominent French wrestlers with similar backgrounds.
Taylor pins Aibuev, 0:29
---
Taylor's opponent in the semis will be Abakarov of Azerbaijan. Abakarov lost to Mekhi Lewis in the 2018 Junior World Championships but beat Aaron Brooks at 2019 Junior Worlds. More recently at the 2021 World Olympic Qualifier he lost to Boris Makoev, who Taylor thrashed earlier today.
The other side of the 86kg bracket went according to chalk, as Yazdani beat Ramos and Naifonov defeated Friev, setting up a repeat of the Tokyo Olympics.
That's it for this session. Opening Ceremonies start at 9:45AM ET (I think, double check though because I suck at time zones) and you DO NOT want to miss Norwegian Openin Ceremonies.
Semifinals at 10:30AM ET. See you in an hour or so!
Opening Ceremonies are wrapping up. Here's a small sample of what went down.
Scenes from the Oslo Opening Ceremonies pic.twitter.com/zO0Q14EYU9

— ÅNDRØW SPÆ (@SpeyWrestle) October 2, 2021
Semifinals
All matches are on mat B. We'll go from lighter to heavier weight class in the order you see below.
61kg: Daton Fix, USA vs Arsen Harutyunyan, ARM
1st period: Ten seconds in Daton goes inside trip and has the first takedown. Beast mode with the trap-arm gut and that's all she wrote! Daton Fix secures his place in the finals faster than I can type! Arutyunyan is not happy, pounding the mat multiple times in frustration. Understandable as that was total destructions.
Is this the best Daton Fix we have ever seen??? That took just 37 seconds. Fix has outscored his four opponents 41-0. If I could put emoji's here's I'd do the brain explode one.
Fix techs Harutyunyan, 10-0.
61kg: Toshihiro Hasegawa, JPN vs Abasgadzhi Magomedov, RUS
All Magomedov in the first period. He takes a 6-0 lead and looks firmly in command. The Iranian fans are all on Hasegawa's side though as they need him to win to bring Amouzad back into repechage. Hasegawa gets in a deep double but Magomedov is too stingy and counters for two of his own after a far ankle scramble. A quick turn later and that's it, 10-0 tech for Russia.
Magomedov has 2 pins and a 10-0 tech in his 3 matches and is also unscored upon. Looks like the two best guys in the bracket are going to meet in the finals. Doesn't get much better than USA vs Russia for Gold!
Magomedov techs Hasegawa, 10-0
---
74kg: Kyle Dake, USA vs Azamat Nurikov, BLR
1st period: Dake grabs a single, stretches Nurikov out and pounces for the first takedown. he then sinches up a gut wrench and goes to work. Par terre making a difference for the Americans! Three turns for Dake he takes an 8-0 lead. Back in neutral, Nurikov pretends to be poked in the eye so he can catch his breath for a bit. We go to the break, same score.
2nd period: Nurikov gets a single but can't bring Dake down to the mat. He keeps him hopping though and gets a step out for his troubles. Now it's starting to get chippy and both wrestlers are warned about their hands. Nurikov stays chippy and gives up a caution and one for a fairly blatant club to Dake's head. That'll be the final. No love lost between these two. It was all Dake though, minus a takedown. Nurikov will wrestle for bronze against either Turkey or Moldova, while Dake makes it two-for-two for team USA in this round so far.
Dake defeats Nurikov, 9-1.
74kg: Taimuraz Salkazanov, SVK vs Avtandil Kentchadze, GEO
Slow start, Kentchadze goes on the clock first, gives up a point to Big Salk. Each guy fires off an attack or two but nothing else on the scoreboard so the period ends, 1-0, Salk in the lead.
Nice level change by Salkazanov and he shoots Kentchadze out of bounds for another point. two minutes left, 2-0 lead for Salkazanov. Kentchadze goes on the activity clock again, which is surprising to me. 30 seconds later Salkazanov takes a 3-0 lead. Kentchadze turning up the heat but Salkazanov times a duck under perfectly and gets a takedown in short time to ice it. Big Salk into the finals to face Dake!
Although for team race purposes it would've been better for Kentchadze to win and eliminate Russia's Bizhoev from medal contention, I am personally more excited for a Dake to face Salkazanov than Kentchadze. For whatever that's worth.
---
86kg: David Taylor, USA vs Abubakr Abakarov, AZE
1st period: Taylor trying to make it three for three. He's a heavy favorite but Abakarov is very young and quite dangerous. Case in point, Abakarov matches Taylors physicality in the first minute of handfighting, then hits a nasty throw-by for the first takedown. Back in neutral Taylor gets in on a leg but in the scramble Abakarov avoids the takedown and sprawls for a stalemate. Same thing happens again and it's still 2-0 with less than a minute to go in the first. David drops to a single, fights through a whizzer, gets an armbar and rolls through for a turn, then slaps in a half nelson and crunches Abakarov up for the pin!
Abakarov has some momentum going but David turned things around on a dime and shut the door on any faint hopes of an upset in a hurry. Impressive stuff. Team USA gets three finalists in three weights! Not a bad way to start day 1!
Taylor pins Abakarov, 2:34
86kg: Artur Naifonov, RUS vs Hassan Yazdani, IRI
Yazdani roll-jumps on the mat and the Iranian fans are in a frenzy. Big match here for 'The Greatest' to get yet another crack at his kryptonite. Step out point from an underhook (what else?) for Yazdani. Beautiful scramble with a little less than a minute to go but no score for either guy. Then Yazdani picks up a single and plants Naifonov on his tuckus for a 3-0 lead late in the first.
Naifonov gets on his offense in the second, gets a go-behind takedown but Yazdani counters by picking a leg for an exposure as they go out of bounds. Yazdani comes charging back at him on a re-shot, nearly gets a takedown, settles for one more. 6-2. 90 seconds to go. Naifonov desperately trying to break through Yazdani's defenses but the Iranian won't allow it. Naifonov gives up another takedown in the closing seconds and Yazdani will win to set up DT vs Yaz part the fourth!
As many of you no doubt are aware, Taylor was victorious in parts one through three.
Yazdani defeats Naifonov, 8-2.
---
125kg: Geno Petriashvili, GEO vs Oleg Boltin, KAZ
Geno has has too much length and skill for Boltin. He's not afraid to shoot and two of the times he does he converts. Petriashvili leads 4-0. Gets another takedown in the second. He's so smooth changing direction after he gets his hands locked around a leg. 6-0 with 2 minutes to go. Sweep single, takedown, gut wrench, and that's all she wrote. Geno into the finals!
125kg: Amir Zare, IRI vs Taha Akgul, TUR
Last match of the day! A day that is just getting started for many of you. But it's half past five here in Oslo and after this we wrap it up and get ready for the first full day of wrestling when 8 men's freestyle weights will all be going at once.
We need Zare to beat Akgul to pull Gwiz back into repechage so we can watch 8 Americans tomorrow.
Akgul goes on the clock first. It's scoreless after 90 seconds. One point for Zare. Fierce handfighting, good snaps by Zare, but no more scores. Akgul holding his own and is down by just a point at the break.
Akgul gets point on the clock again, which is rare in these circumstances but I also believe the correct call. Taha gives up a second point and there's 90 seconds to go. Did Akgul rope-a-dope Zare? Does Zare have enough gas left in the tank to withstand Taha's sprint to the finish? They wrestle at the edge of the mat, limp arm for Zare and he scores two! Zare jogs back to the center with less than 30 to go. Taha can't make anything happen in short time and Amir Zare will add a 2021 world medal to his Olympic bronze!
That also means Gwiazdowski is back in the repechage! He'll have Belarus' Khramiankov first, then if he wins, a match against Akgul for a bronze. Important team points are on the line!
EIGHT AMERICANS WRESTLE TOMORROW.
Thomas Gilman, Jordan Burroughs, Yianni Diakomihalis and J'den Cox wrestle in the prelims, then hopefully the semifinals; Gwiz will be in the repechage and hopefully the bronze medal match; and Fix, Dake & Taylor wrestle for gold!
Hell yeah. Sorry for the typos. Great day for American wrestling. See you in the darkness of the early morning tomorrow!