2021 Senior World Championships
World Championship Match Notes: Day 3
World Championship Match Notes: Day 3
All the action from Oslo coming to you in real time, as it happens. It's the 2021 UWW Senior World Championships!
Oct 4, 2021
by Andrew Spey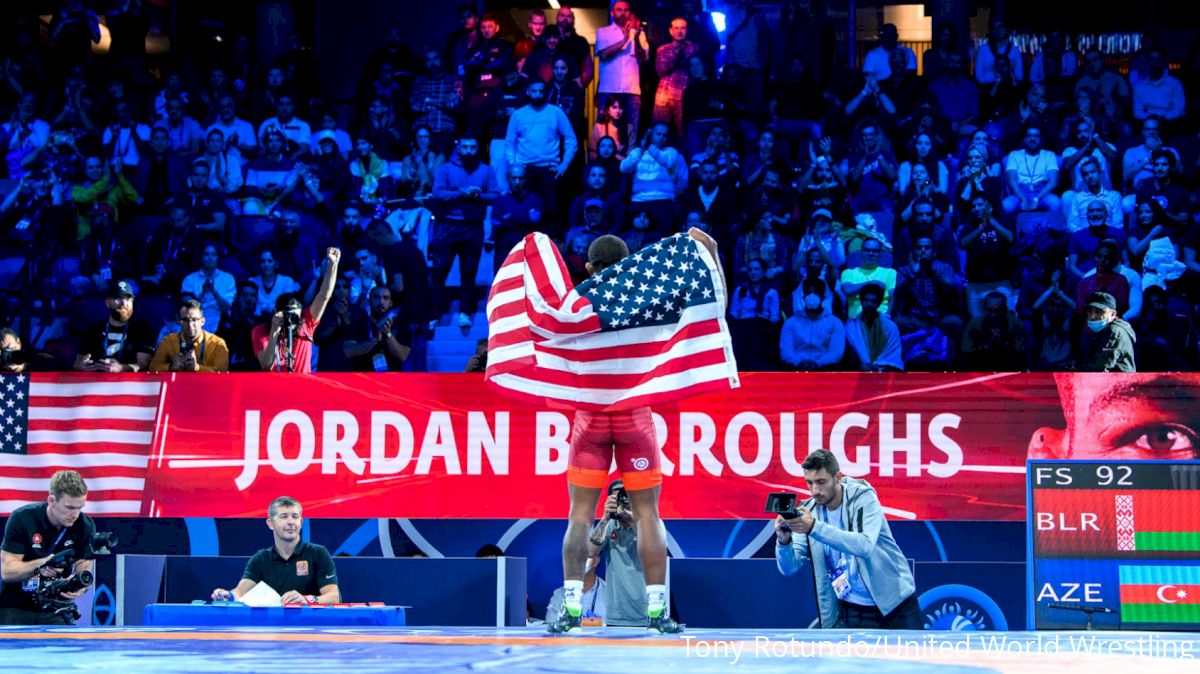 Unlock this article, live events, and more with a subscription!
Get Started
Already a subscriber? Log In
Good morning and happy monday! We're in Day 3 of the Oslo World Championships! That means the final two men's freestyle weights begin (70 & 97kg) as well as the first two women's freestyle weights (55 & 62kg). Plus we'll have the medal matches for four other men's freestyle weights (57, 65, 79 & 92kg).
I know it's the middle of the night for most everyone right now, but I can't recommend enough starting your day with a crisp autumn morning scooter ride. I feel maximally invigorated. Treat yourselves to a ride if you have the opportunity.
Here are the mat assignments for Jenna Burkert, Kayla Miracle. James Green, and Kyle Snyder:
#WrestleOslo U.S. mat assignments for Monday

Mat C
Bout 9 – Jenna Burkert vs. Nina Hemmer (GER)

Mat D
Bout 5 – James Green vs. Seungchul Lee (KOR)
Bout 9 – Kayla Miracle vs. Gantuya Enkhbat (MGL)
Bout 11 – Kyle Snyder vs. Nishan Randhawa (CAN) or Batzul Uluziisaikhan (MGL)

— USA Wrestling (@USAWrestling) October 4, 2021
We kick off the women's team race, in which we hope the Americans can close the gap on the dominant Japanese squad, while the men's freestyle team race approaches the final sprint to the finish.
Here's a lovely article from the great Jon Kozak about where things stand in the three-horse race between the USA, Iran and Russia, and what needs to happen for America to take home their first world team title since 2017.
We'll start with a round of repechage for 57, 65, 79 & 92 kilograms, then the first round of the four new weights, then the last repechage matches, then those four other weights will wrestle through the quarterfinals.
Early matches of note: Russia's 57kg Mutaliev teched North Macedonian by way of Siberia Egorov. He'll wrestle Horst Lehr of Germany for bronze. It would be great if Lehr would win and keep some precious points out of Russia's hands.
In the 65kg repechage, New Jersey's own Sebastian Rivera destroyed Austria. He wrestles Poland next. A win there and he'll wrestle Kyrgyzstan for bronze.
J'den's opponent in the bronze medal bout will be against Vlasov of Ukraine, who beat Mtsituri of Georgia. Georgia not having a very good tournament. Also Odikadze, also of Georgia, just lost to Goleij of Iran. So Iran still hasn't lost since day 1.
70kg Round 32: James Green, USA vs Seunchul Lee, South Korea
1st period: James takes ground, fires off a shot or two. Lee get's warned for passivity. There's another passivity so Lee goes on the clock. Green scores a point. A double from Green late in the first drives Lee to the boundary. Seatbelt whizzer, Green gets a step out. Leads 2-0.
2nd period: Green counters Lee's first decent attack with an ankle pick and puts two more on the board. Back in neutral and it's a freight train double to Lee's back for four. Then a gut wrench finishes the job. Nice start for Team USA!
Green techs Lee, 10-0.
---
Iran's Elahi won his first match at 70kg over Japan. So they are still undefeated since first session of Day 1.
62kg Round of 16: Kayla Miracle, USA vs Gantuya Enkbat, MGL
1st period: Gantuya Enkbat means "Steel-sunbeam Calm-strong" in Mongolian if anyone is wondering. Enkbat hits a pretty foot sweep to take Miracle to the mat. She then gets a day and a half to work on top and eventually gets a trap-arm gut turn. Back on their feet, Miracle gets in on a single leg and take Enkbat down. Clinches up an ankle lace and goes to work. She works for four turns, dragging Enkbat in-bounds multiple times to keep her in par-terre. Another single leg and a quick gut and Miracle gets the win! Great job coming back from an early deficit and the Americans are two-for-two to start day 3.
Miracle techs Enkhbat 14-4.
---
Early contender for best match of the day is Tynybekova of Kyrgyzstan vs Ozaki of Japan at 62. Tynybekova is a world champ and Olympic finalists whle Ozaki is a two-time cadet world champ and still just 18 years old. Worth a watch if you have the time.
55kg Round of 16 Jenna Burkert, USA vs Nina Hemmer, GER
1st period: Front headlock for Burkert is stalemated. Snap-down/throw-by go-behind for Hemmer plus a gut wrench and, like Miracle, Burkert goes down 4-0 early. Burkert answers with a step out. Burkert then with a nice snap down for two, goes for a gut but forces it and gets stepped over for two. Then in on a fireman's she gets countered for two more. It's 8-3 in this action-packed first period. Step out again for Burkert and it's a caution as well. 8-4 at the break.
2nd period: Down by four but definitely feels like Burkert has more in the tank. Yet Hemmer is wrestling like she's not tired and gets another takedown off Burkert's attack. Jenna can't clear ties and Hemmer trips for a feet to back. Takes a while to confirm but unfortunately, Burkert takes the first loss of the day for Team USA.
Hemmer techs Burkert. 14-4
---
97kg Round of 16: Kyle Snyder, USA vs Ulziisaikhan, MGL
1st period: Not a ton of activity. Mongolia on the clock. Point for Snyder. Two takedowns for Snyder and it's 5-0. Mongolia charges forward for a step out to get on the board before the break.
2nd period: It's 5-1, then 7-1 after another takedown. No backing down from Mongolia has he gets another step out, this time plus a caution. Mongolia tries for a fireman's, Snyder scrambles and scores two. Then a sweep single for a clean finish and Ulziisaikhan gets four on the board to Snyder's 9. Tries a gut and Snyder steps over for one, then picks up a turn of his own and it's 12-4. Snyder won't be denied one last takedown and chases down Mongolia for the 14-4 victory.
Snyder techs Ulziisaikhan, 14-4.
---
Sadulaev take the mat for the first time. Seabass also on the mat looking for a spot in the bronze medal match. Saddyman takes about 30 seconds to techfall his opponent. C-Bass was in a weird one with Beinkowski from Poland. After taking a 6-4 lead late in the match, Rivera sprawled on a single leg shot by Beinkowski and got pushed out of bounds. Somehow that was called fleeing the mat in par terre. Because fleeing was confirmed, and it was also grounded action, action resumes in par terre, with Beinkowski on top and Rivera on bottom. Rivera then got gutted for two more and lost 7-6.
The fleeing call seemed very incorrect to me. It was a sprawl and Rivera was pushing forward, not walking back. Needed to not get gutted there but the fleeing call is still suspect. But maybe I don't know what I'm talking about. Anyway, weird match.
Bahrain's Adam Batirov (the flag in Arena is Brunei's, not Bahrain's, but don't worry about that) is wrestling the young Bayramov of Azerbaijan. The winner will wrestle there winner of Green vs Germany. Bayramov wrestled in the Senior Euros, Junior Euros, the Olympics, Junior Worlds, and now Senior Worlds. Bayramov still has enough in the tank to beat Batirov, though most of the points were from shot clocks so not the most fun to watch.
70kg Round of 16: James Green, USA vs Shamil Ustaev, GER
1st period: Green taking most of the ground. No scores after 90 second, Ustaev goes on the activity clock. Perfectly timed attack as Green gets a low double to score just after the activity clock expired to get 1 and 2. he leads 3-0. Good attack by Green in short time but Ustaev dives for a far ankle and gets a stalemate. Period ends.
2nd period: Green reattacks, locks in a nearside cradle and flips Ustaev on to his back. He should have a pin but it's not called. 5-0. Green pours it on though, gets a fleeing call and a couple takedowns and secures the techfall! Lace Man looking nice.
He's got Bayramov next, who Keegan O'Toole pinned with a cradle in Ufa at the Junior Worlds.
Green techs Ustaev, 10-0
---
Elahi wins again at 70kg in the round of 16. Iran stays winning.
Quarterfinals popping off. They'll go in weight class order and hold the mats until all four bouts are done. 55kg, which is Burkert's weight. Need Hemmer of Germany to beat Ana of Romania to keep Jenna's medal hopes alive. Looked like Hemmer had the match-winning takedown as time expired but it wasn't awarded. Now for a lengthy review. So instead of a takedown they say illegal move, maybe a choke, on Ana. So Hemmer is on to the semifinals with a 3-2 win. Jenna is still alive.
62kg Quarterfinals: Kayla Miracle, USA vs Alina Kasabieva, RUS
1st period: Kasabieva just won a junior world championship in Ufa, beating Korina Blades 10-0 in the process. Miracle is well ahead of the still-cadet-eligibale Korina on the US ladder though, so don't read too much into that. Kayla is also a Junrio bronze medalist from 2016. In a seat-belt whizzer position, Miracle drives Kasabieva off the mat for the first point. Miracle has her misdirection working so gets in on a nice single, climbs up and finished for two. Down-block go-behind for two more, then a quick gut to make it 7-0 before the period ends.
2nd period: Miracle in on another single leg, but pauses at the wrong time and Kasabieva his a cut back to send Miracle to the mat and chips away at the lead. It's 7-2 with 2 minutes to go. Kasabieva on her offense, Miracle counters her to her back. In par terre though so just two points. 10-2, back in neutral, 90 seconds to go. Kasabieva tries to get crafty but Miracle too powerful and counters for two more, then breaks out some craftiness of her own, hitting a peterson to lock in the tech fall. Miracle rolls to the semis!
Kayla's opponent will be Nunes of Brazil, who Kayla beat this year at Pan-Ams 11-1.
Miracle techs Kasabieva, 13-2.
---
70kg Quarterfinals: James Green, USA vs Turan Bayramov, AZE
1st period: Quick step out for Green. Looked oddly easy but I'll credit James' technique for making it look that way. And returning the favor is Bayramov who hits a throw-by for a takedown, then a gut, to make it 4-1. We'll see how Green responds. James takes a lot of ground and hits a few snaps but no more action in the period. Still 4-1 for Bayramov.
2nd period; Nice flurry to start the period, both guys looking slick but no points. 2 minutes to go. Green has been in on Bayramov's legs but has yet to finish. Another shot, stalemate. 90 seconds. Passivity with 70 seconds on the clock. Pretty useless call. 45 seconds. Another shot, single leg, rubber knee for Bayramov is roking though and he slides out of danger and gets the go-behind for two. That's a dagger. Green finally gets in deep and drives Bayramov to the mat for four! They slide all the way off the mat and into the scorer's table. 6-5 with 10 seconds to go. Green still in this. But it is not meant to be. Green falls 6-5.
Bayramov defeats Green, 6-5.
---
And naturally, Elahi wins his match for Iran. Regret to inform that Team USA's team title chances have all but evaporated. OR ARE THEY??? After a super long review they say Akhmataliev won 8-8 on criteria. Wow. Wasn't watching long enough to tell what was going on but that's definitely good.
Will circle back on that team race thing. Got a Snyder match to blog in the meantime.
97kg Quarterfinal: Kyle Snyder, USA vs Magomedgadji Nurov, MKD
1st period: Snyder's opponent is from North Macedonia by way of Dagestan. That's also the county formerly known as the Former Yugoslavian Republic of Macedonia. Single leg takedown for Snyder to grab the early lead. Ankle pick turns into a single that gets Nurov hopping out of bounds for a 3-0 lead. We go to the break.
2nd period: Nurov finally shoots, and Snyder down blocks and gets the go-behind to make it 5-0. Now we get a lung time out for Nurov. Maybe some cold spray? Couldn't see if they applied any cold spray but we're back in action anyway. Two ankle picks in a row for Snyder and the second one results in a step out. Snyder drives Nurov out of bounds for one more to make it 7-0 with 47 seconds to go. Nurov very slow to get back to the center. Down block go-behind to make it 9-0. Nurov is spent. 26 seconds. Snyder attacks, Nurov gives up. Tech fall!
Snyder techs Nurov, 11-0
---
Sadualev beat Hushtyn of Belarus 9-4. He'll have Zakariiev of Ukraine, who defeated Karadeniz of Turkey.
Snyder will have Goleij of Iran in the semis, in what will be a crucial match for the team race. But basically, every match with anyone from USA, Russia or Iran is crucial. Pivotal even.
Back at 70kg, we will be rooting for Bayramov to beat Poland's Gadzhiev (the guy who stopped Jordan Oliver from qualifying the weight class for Tokyo). That will pull Green back into the repechage and give him a match with Batirov.
So that's Day 3 Session 1. Come back in three hours, or however many hours it is until semis start in Session 2 and watch Kayla and Kyle and wrestle and then Thomas, Jordan and J'den in the medal round.
Okay, semifinals are up!
70 kilos are up for first. We're rooting for Akmataliev of Krygyzstan to beat Zherbaev of Russia, although if Zherbaev wins it knocks Iran out of medal contention, so not the worst outcome. But also Ernazar Akmataliev rocks, so I root for him most times anyway.
We also very much want Azerbaijan's Bayromov to beat Poland's Gadzhiev to pull Green back into repechage.
Zherbaev is from Buryatia in Siberia, not that far from Krykyzstan, where Akmataliev is from. Their match starts off with a bang as Ernazar goes headlock hip toss for four but Zherbaev reverses for 1 and then turns Akmataliev twice to take the lead, 5-4. Akmataliev comes roaring back though, scoring a takedown and a couple of stepouts and eventually winning 9-5. Good job Ernazar!
Of course that pulls Iran back in and means they will score at least 10 points for 5th, but that couldn't be helped.
Gadhziev and Bayramov in a not-so-exciting 1-1 bout late in the second, both activity clock points. Bayramov was leading by criteria but then stepped out giving Gadhziev the the 2-1 lead. Then they put Bayramov on the clock again. But then Bayramov has what should be a two-point takedown but instead settled for one, but only after the activity clock expires. Then a yolo challenge and Bayramov blows it for both his country and ours. Great. Green's tournament is over. Gadzhiev wins on two shot clocks, a step out, and a meaningless challenge. Barf.
97kg Semifinal: Kyle Syder, USA vs Mojtaba Goleij, IRI
1st period: Pretty huge deal here, but as mentioned, every match with these federations at this point is huge. No scores after a minute. Snyder goes on the clock at 4:15, still no scores. Clock expires, point for Goleij. A few half shots from Snyder, then a burst of Goleij looking for a step out but Snyder circles and the period ends, 1-0 for Goleij.
2nd period: Snyder takes more ground and Goleij goes on the clock with 2:19 on the clock, still 1-0. Clock expires and Snyder takes the criteria lead, score is 1-1. Iranian fans picking up the horns, clapping and chanting. Goleij comes extremely close to scoring a step out but somehow Snyder stays in bounds. He does go on the clock again though, with a minute left. Snyder gets in on a single, he's close but can't finish. Miraculous defense by Goleij and now Snyder is down 2-1. 20 seconds to go. Tiptoeing the line, Snyder snaps, Goleij falters, Snyder covers for two! 3 seconds remain. Snyder takes it! The Iranian crowd is stunned but they admirably try to lift Goleij's spirits with more chanting as he lays carcassed on the mat.
Goodness, that was exhilarating.
Snyder defeats Goleij, 3-2.
---
Okay that's it for non-medal bouts for the men. Well, a few repechage matches as well, but that's it.
55kg women's bouts up now. Need Nina Hemmer to beat India's Pinki. Doing well so far as the German has a 4-0 lead in the first. But then a dresser dump for Pinki and Hemmer is in trouble. They only give Pinki 2 for that by Hemmer is on her back with over a minute to go. Wow they didn't call that fall. I am very much surprised. That's good though! Second period, Hemmer leads by 2. Now Pinki has the criteria lead 4-4. Make that 6-4. Hemmer will take the lead with a 2 point score, though. Keylock arm spin for four! That's big! Hemmer leads 8-6! And that's how she'll win it! Both wrestlers collapse after the match. Jenna's back in the game!
Japan and Russia are on the other mat. Japan wins. They usually do in women's wrestling!
62kg Semifinals: Kayla Miracle, USA vs Lais Nunes, BRA
1st period: Kayla's already beaten Nunes this year, 11-1 at the Pan-Am Championships back in May. Not that anyone is looking past this match! Action begins. Miracle very much the aggressor. Nunes trying to hold her own. Avoids giving up any points for the first 90 seconds but will go on the activity clock. Miracle gets her point, then attacks. Nunes fends her off. Period ends, Miracle with the 1-0 lead.
2nd period: Slow start to the second period. Eventually, Miracle level changes and drives Nunes out of bounds for another point. 90 seconds to go. Nunes picks up the pace. Leg sweep attempt has Kayla stumbling back she regains her balance quickly enough. Throw-by and Kayla chases Nunes down, gets a leg, and holds on as time expires. Kayla Miracle will be on her first senior-level podium! She's punched her ticket to the finals!
Miracle defeats Nunes, 2-0.
---
On the other mat, Tynybekova leads Ukraine 4-2 with zero seconds on the clock but Ukraine hits the yolo challenge button. Miracle will wrestle Tynybekova of Krygyzstan for gold.
A quick break and we wrestle for medals!
Medal Matches
We'll get two bronze medal matches before Gilman attempts to add a World Gold to his World Silver and Olympic bronze.
57kg Bronze: Mutaliev, RUS vs Lehr, GER
Mutaliev the big favorite but maybe not? Gilman just took a deep half and ankle pick to stick Mutaliev in the first period and Lehr has looked pretty solid. Lehr is also maybe the tallest 57kg at the tournament. Maybe ever. Maybe I should call the Guinness Book of World Records and tell them about Horst Lehr. Yeah, maybe not.
Obviously, we'd like Lehr to win here. Lehr scores a nice reattack double to take the 2-0 lead. But now I've blogged about it so he's basically jinxed 100%. Lehr in deep in the second but Mutaliev Houdini's himself out of danger. Mutaliev then gets a takedown. Heroic lace defense from Lehr as Mutaliev gets a year and a day on top. 2-2, Mutaliev by criteria with 2 minutes to go. Lehr answers with a takedown. And another to go up 6 to 2! Mutaliev picks up 2 to make it 6-4. 20 seconds to go. HORST LEHR. MY FAVORITE HORST OF THEM ALL.
Lehr defeats Mutaliev, 6-4.
57kg Bronze: Tsiutryn, BLR vs Atli, TUR
Atli was upset by Atri of Iran at the Olympics and was then beaten in Oslo by Sarlak, also of Iran. He should stop wrestling Iranians imo.
I can't tell you for sure where Tsuitryn is from but he is definitely a Russian transfer. I believe he, along with Skriabin, Andreev and maybe Bekrenev are from Siberia. Maybe Yakutia, but I'm not sure. Atli is from Aydin, Turkey. It's 1-1, a shot clock point apiece, with Atli on the clock again. Under a minute. Tsiutryn gets the 2-1 lead. Atli can't score. Not a great match, not gonna lie. Add a lost yolo challenge too.
Tsiutryn defeats Atli, 3-1.
57kg Gold: Thomas Gilman, USA vs Alireza Sarlak, IRI
1st period: No pressure but I'm pretty sure if Gilman loses the USA is eliminated from first place contention in the team race. Gilman getting physical early, setting the tone. The Iranian's have been imposing their will in most of their matches so it will be interesting to see how Sarlack responds to the street fighting style of Gilman. The ties have been Thomas' so no surprise when Sarlak goes on the clock first. Point for Gilman. One minute in the period. Single leg for Gilman, he finishes to make it 3-0.
2nd period: Gilman keeping his foot on the gas. Sarlak getting stuffed by Gilman's underhooks when he does try anything offensive. 2 minutes to go. Another for Gilman. He has Sarlak hopping. Great defense by Sarlak but Gilman gets tough and eventually runs the pike for two more. That's a sequence where Gilman doesn't always finish, or at least usually settles for one. Sarlak fire back with a quick takedown to take a bite out of that lead. Real pretty duck under that was. Then a step out and it's 5-3. Time running out. Gilman gets it done. THOMAS GILMAN WORLD CHAMPION.
Gilman defeats Sarlak, 5-3.
---
Oh yeah. That's what's up.
First world or Olympic gold at the highest weight since Henry Cejudo! I think anyway.
65kg Bronze: Osmonov, KGZ vs Bienkowski, POL
Osmonov won a fairly close one. Good job, Krygyzstan, a tiny, landlocked, mountainous country with little in the way of natural resources or wealth.
Osmonov defeats Bienkowski, 4-1.
65kg Bronze: Tumur Ochir, MLG vs Rohit, IND
Nice armspin by Tumur Ochir for an early 4 point lead. Rohit battles back. It's 6-4 with 30 seconds to go, Ochir still in the lead. Then with 20 seconds left Ochir pancakes Rohit and that's all she wrote! Pinslay for Mongolia!
Ochir pins Rohit, 5:47.
65kg Gold: Yazdani, IRI vs Shakiev, RUS
Russia and Iran wrestle in the finals at this weight and at 92. So whoever wins here we want to have lose in the 92kg finals. Considering Ghasempour is the favorite over Kurbanov we probably want Skahkiev to win here. I dunno tho, we're in a weird place with the team race right now.
LOL at that first scamble. Good luck scoring that. Shakhiev had some kind of peterson but the far arm and both he and Baby Yaz were rolling around thinking they were both scoring points. Eventually Shakhiev comes out on top, locks in a standing ankle lace and turns yaz enough times to get the tech. I feel like however they should have scored that opening exchange (and I have NO idea how they should have scored it) Shakhiev was going to get that tech once he had that standing lace, so whatevs.
Shakhiev techs Yazdani, 14-4
Two more matches before Jordan Ernest Burroughs takes the mat for yet another finals appearance against Iran. Burroughs beat Goudarzi in the 2011 Worlds and 2012 Olympic finals and Ezzatollah in the 2013 Worlds finals.
79kg Bronze: Valiev, RUS vs Yoshida, JPN
Valiev steamrolled Yoshida, as expected. Would be nice for Russia to lose there but that would have been a pretty shocking upset.
Valiev techs Yoshida, 11-0
79kg Bronze: Kentchadze, GEO vs Avagyan, ARM
From neighboring countries in the Caucasus. It's Nika Kentchadze that wins its thanks to a lead-pipe cinched leg lace. No coming back from that move once it was locked up.
Kentchadze techs Avagyan, 10-0
79kg Gold: Jordan Burroughs, USA vs Mohammad Nokhodi, IRI
1st period: The Iranian's name shows up as Nkhodilarimi in the UWW records but everyone in Instagram is calling him Nokhodi so that's what I'm going with. No need to waste time on all those extra letters imo. Nokhodi looks about 7 feet tall next to Burroughs as the whistle blows. Double from Burroughs but Nokhdi stops him with his heels on the edge. Restart. First passivity to Nokhodi, 4:56 on the clock. Blood stoppage for Iran. Now they both have head wraps. Nokhodi goes on the clock at 4:06. Another blast double but Nokhodi keeps his legs apart and planted and we stalemate. Activity point for Burroughs. Restart with 13 ticks left in the first. We go to the break.
2nd period: Burroughs with head fakes and level changes. A couple half shots, then the next one lands. Classic Burroughs double. 3-0 with 2:26 on the clock. Another stoppage for blood. 1:38 on the clock. Burroughs is deking, Nokhodi is dodging, and JB pounces and scores another vintage blast double. Nokhdi's plans of keeping his distance is not working. 45 seconds to go. Burroughs gets a caution and one for hands to the face. Didn't seem necessary t call that to me but I'm kind of biased. FInal 20 seconds. Still 5-1. JORDAN BURROUGHS WEARS THE CROWN AGAIN.
No doubt about that one. FIVE world titles and an Olympic Gold medal for the greatest of his generation. Jordan Burroughs kicks ass.
Burroughs defeats Nokhodi, 5-1.
---
And now I can exhale and feel comfortable letting everyone know that Burroughs has never lost to an Iranian in a senior-level wrestling match.
And we're not done yet! J'den wrestle for bronze after this next bout!
92kg Bronze: Mahamedov, BLR vs Nurmagomedov, AZE
Too lazy to confirm at the moment but I'm like 90% sure both of these guys are from Dagestan. I also refuse to use the Belarussian spelling of Mahamedov's name. Okay I checked and they are both from Dagestan. So Kurbanov, the Russian who made the finals from this side of the bracket. So 1-2-3 from that half of the draw, all Dagestani. Nurmagomedov won. 2-0. Not a great match. Not gonna blog anymore about it.
Nurmagomdov defeats Mahamedov, 2-0.
92kg Bronze: J'den Cox, USA vs Andrii Vlasov, UKR
1st period: Vlasov showing Cox a lot of respect by backing up constantly. The referee rewards Vlasov's respect by putting him on the activity clock. One point for Cox. Cox loses his balance and falls on his rear but Vlasov had been showing him so much respect he wasn't anywhere close enough to score any points. The respect thing is a joke about how little Vlasov is engaging with J'den is what I'm saying. Cox gets a step out just before time to make it a 2-0 lead.
2nd period: More respect from Vlasov. And he goes on the clock again. Vlasoc really doesn't want to get anywhere near J'den. Now 3-0 with the second activity clock. And I guess that's why Vlasov didn't want to get close to J'den. Cox grabs a single, allows Vlasoc to wriggle around for a bit, then rudely dumps him right on his back for four. On the restart J'den gets another takedown fairly quickly, then a gut wrench, and that's all she wrote! USA back to our winning ways! Great end to an excellent 2nd session!
Cox techs Vlasov 11-0.
---
I think we want Iran to win here but don't quote me if my team race math is wrong.
92kg Gold: Kamran Ghasempour, IRI vs Magomed Kurbanov, RUS
Pretty dope match not gonna lie. I watched from the photographer's pit much closer to the mat so I couldn't do any blogging, but check out the archive when you get a chance.
Ghasempour defeats Kurbanov, 8-4.
Ghasempour was always stuck behind Yazdani and would win Asians and what not but never got a crack at a world medal. Now's he got it. And more importantly, he stops Russia from scoring more points.
Don't ask me all the permutations but it's going to come down to Snyder vs Sadulaev again. Oh boy. I mean that both as in 'Oh boy let's go!' and 'Oh boy, here we go again.'
So you see, the two side of 'oh boy' on full display.
Anyway, it's 9PM, I've been in this arena for 12 hours and I'm done. Brain is shutting down. Today was a pretty solid day and this second session kicked ass. USA went undefeated, putting two (Kayla and Kyle) into the finals and then won two golds (Thomas and Jordan) and one bronze (J'den).
Hell yeah. Sorry for the typos, see you tomorrow!