2021 Senior World Championships
World Championship Match Notes: Day 2
World Championship Match Notes: Day 2
All the action from Oslo coming to you in real time, as it happens. It's the 2021 UWW Senior World Championships!
Oct 3, 2021
by Andrew Spey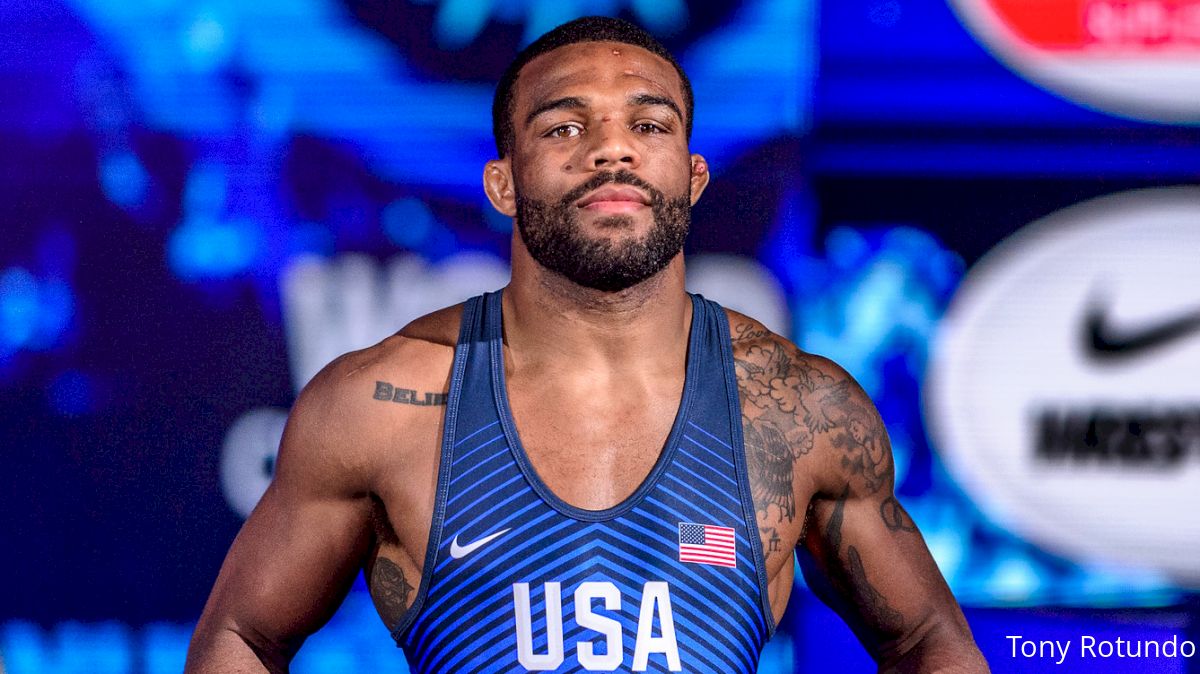 Unlock this article, live events, and more with a subscription!
Get Started
Already a subscriber? Log In
You think yesterday was exciting? Well prepare to double your turbo time as Team USA sends EIGHT Americans to the mats here in Oslo. That's twice as many as yesterday!
The reason we get to watch so many awesome men's freestyles is because the Day 1 squad absolutely killed it. Daton Fix, Kyle Dake and David Taylor all made the finals, so they are guaranteed a medal and will wrestle in the afternoon session. Nick Gwiazdowski made the quarters before losing to Amir Zare. The Iranian then beat Taha Akgul to make the finals, which pulled Gwiz back into the repechage. Nick will have a match against Belarus in this first session, then, if he wins, he'll wrestle in session two against Taha for a bronze.
That was yesterday. Today we get four new hammers, Thomas Gilman, Yianni Diakomihalis, Jordan Burroughs, and J'den Cox all wrestle in the preliminaries. If they make it to the semis they'll wrestle in session two, right before the medal matches that will include three, if not four, of their teammates.
Yes, we have a veritable smorgasbord of high caliber wrestling ahead of us.
Here's the bout board, here are the brackets, and here are the archives plus a whole lot more.
Below are the Team USA mat assignments.
Team USA Day 2 mat assignments!

Mat A #5 - J'den vs Dagvadorj (MGL)
Mat A #8 - Yianni vs Realbuto (ITA)
Mat A #11 - Gilman vs Mutaliev (RUS)

Mat D #1 - Gwiaz vs Khramiankou (BLR)
Mat D #8 - Jordan Burroughs vs Barmish (CAN)

— Christian Pyles (@CPyles8) October 3, 2021
Gwiz will be the first about on mat D. Let's get a live look at that mat about 10 minutes prior to scheduled start time, shall we?
Gwiz is about to take the mat right here. Hell yeah. pic.twitter.com/sG6hH1y182

— ÅNDRØW SPÆ (@SpeyWrestle) October 3, 2021
That's what's up.
125kg Repechage: Nick Gwiazdowski, USA vs Dzianis Khramiankov, BLR
1st period: Gwiz shoots first, as is his style. Nice scramble but no points, back in neutral. Once again, Gwiz gets in on a single but a chest wrap defense from Khramiankov allows him to evade the takedown. Gwiz in on another single, they're on the mat, Khramiankov rolls him through. What will be the call? Ref goes 2 Gwiz. Table and chair say four Belarus and one Gwiz. Donnie Vinson in the corner challenges. Looks like 2 for Belarus, 1 for Gwiz at worst but we shall see. Challnge won! 2-0 Gwiz. I think that's right, it was Nick's move all the way. On the restart another single, Khramiankov kicks free. It gets real physical with the hands in short time but no more scores. 2-0, Gwiz still leads at the break.
2nd period: No surprise, Gwiz in on another single, this time he cracks back and gets a fairly clean finish to take the 4-0 lead. 2 minutes to go. A scramble, no score, 1:17 left. Khramiankov being active with his hands appears to have no interest in shooting. 40 seconds. Gwiz warned for not engaging. He's doing a good job circling IMO, but a fair warning. Khramiankov charging ahead, low double by Gwiz, chest wrap from Khramiankov. Gwiz drives his feet and gets the takedown! That should ice it. 17 seconds to go. Nick gives up a step out, actually caution and one. Khramiankov gives up a leg, screams while trying for a chest wrap, gets nothing, Nick wins!
Huge for the team race as Gwiazdowksi goes form 8th place and four team points to a guaranteed 5th place and at least 10 points with a chance for third and 15 big points! Also four Americans will wrestle in the medal round this afternoon. Outstanding!
Gwiazdowski defeats Khramiankov, 6-1.
---
In other team race news, Russia's Timur Bizhoev gave up an early takedown to Bulgaria's Umarpashaev in the 74kg repechage, but came back to win anyway, so he will also score at least 10 points with a chance at 15. Dake, on the other hand, has guaranteed himself 20 with a chance for 25.
Wilkes University's Guesseppe Rea of Ecuador wins his first match at 57kg against Yemen.
92kg Round of 32: J'den Cox, USA vs Orgilokh Dagvadorj, MGL
1st period: J'den draws a Mongolian, who are also always dangerous, in his first match on his quest to claim a 3rd consecutive 92kg world gold. J'den lighting strike on a single leg, climbs up and finishes for two. A double leg from J'den, he gets Dagvadroj's back on the boundary, hits a suplex but a step out is called before he can get the throw to count. Another shot but Mongolia sprawls and action is grounded. Now a counter from Mongolia and J'den gives up a rare takedown. It's 3-2, about a minute left in the first period. Level change from J'den and he's behind Dagvadorj for two before he can react. 5-2, Cox leads. That's how the period ends.
2nd period: Another slick takedown from J'den to start the period, then two gut wrenches gives J'den a 11-2 lead. J'den operating at a higher level. Far too quick for Mongolia, J'den gets another takedown for the dominant 13-2 win. Impressive stuff from J'den!
Cox techs Dagvadorj, 13-2.
---
Amir "Baby Yaz" Yazdani won his first match at 65kg over Austria and the Iranian fars are going bonkers. Baby Yaz's opponent will be either Sacultan of Moldova or Rutger's own Sebastian Rivera of Puerto Rico. That match, like the Iranian fans, is absolutely bonkers. C-Bass wins a highly entertaining bout 14-9. Baby Yaz vs C-Bass in the round of 16 should be fire.
65kg Round of 32: Yianni Diakomihalis, USA vs Colin Realbuto, ITA
1st period: Northern Iowa's Colin Realbuto, ren against NCAA champ Yianni Diakomihalis in the first round of 65kg bracket. Yianni gets the first takedown after a brief flurry early in the first. Head in the belt buckles, hands behind the knees and Yianni drives Colin to the mat for another takedown. Another takedown right into an ankle lace and Yianni runs the score up to 8-0. Fakes and shots keep coming from Yianni and he finishes things off with 80 seconds left in the first period. Solid start by the Cornellian.
Yianni has a much tougher test against Armenian's 2020 Individual World Cup champ Vazgen Tevanyan next in the round of 16.
Diakomihalis techs Realbuto, 10-0
---
74kg Round of 32: Jordan Burroughs, USA vs Samuel Barmish, CAN
1st period: JB's first appearance in a world or Olympic bracket at 79kg. Rocky start as both wrestlers are warned twice about hands to the face in the first 10 seconds. Then it's back to business as usual as Burroughs hits a double or two. Then it's a double to Barmish's back and Burroughs gets four more. The Iranian fans in attendance give a cheer. They know Jordan very well and are showering him with respect. Burroughs gets two more takedowns and it's a quick tech. Now the Iranian fans are doing a 'JOR-DAN' chant. Very cool.
Burroughs techs Barmish, 10-0
---
57kg Round of 16: Thomas Gilman, USA vs Abubakar Mutaliev, RUS
1st period: Huge opportunity for the Olympic bronze medalist Thomas Gilman to do some real damage in the USA vs RUS team race. Gilman the aggressor to start, No surprises there. Now Gilman forces a step out for the early one point lead. Down in short offense, Gilman slaps in a half, he's trying to run it with an ankle. Gilman flips Mutaliev over! He's got him on his back. There's the fall! Thomas Gilman pinslays the Russian! MASSIVE.
Gilman pins Mutaliev, 1:23
---
No bonus points for pins and techs by man, that's a great win for the team race. Like, beyond outstanding.
Iran's Kamran Ghasempour on the mat right now. He figures to be J'den toughest obstacle on his quest for gold. J'den wrestles on the same mat next. The Iranian fans are going berserk, as expected.
86kg Round of 16: J'den Cox, USA vs Simone Iannattoni, ITA
1st period: A slow first minute, mostly collar ties. J'den forces Italy out of bounds and gets the first point. Not much else in the second period. Then another step out in the third minute of the period. 30 seconds left in the half. J'den fires off his first committed shot and he grabs a single leg, climbs up, and finishes for a 4-0 lead. Can't get any turns. And that's how the period ends.
2nd period: J'den maneuvers Iannattoni to the border, then changes levels and collects two more. He gets a quick trap-arm tip past 90 degrees for two more. Than another. And that's it, a 10-0 tech for J'den Cox and he continues to roll.
Cox techs Iannattoni, 10-0.
---
C-Bass vs Baby Yaz up. You know who the crowd in the arena is rooting for. They trade takedowns in the two minutes, C-Bass holding criteria for now. There's a flurry on the boundary that's ruled grounded, then Yaz hustles for a takedown as time expires to regain the lead. It's 4-2 going into the send period. A big double to a feat-to-back gives Yaz an 8-2 lead. Then an upper body tie Was 50/50 but looks like Yaz got the better of the exchange. Ref says 4, table and judge say 2. Rivera challenges. Scoreboard says 10-2. Rivera loses the challenge so it's 11-2 Yazdani leads. Yazdani gets a turn in the next flurry and he'll win 13-2.
65kg Round of 16: Yianni Diakomihalis, USA vs Vazgen Tevanyan, ARM
1st period: Two young wrestlers with age-level medals and explosive power at 65. Yianni takes the first couple committed shots but no scores. Intense scramble off a Yianni attack leads to a step-out point for Tevanyan a little over a minute into the match. Things slow down as Yianni starts being more selective with his shots and Tevanyan is just hunkering down in his stance. Tevanyan gets a passive warning. And we go to the break.
2nd period: Armenian being stingy, biding his time. And on a reshot he has a leg and chucks Yianni to his back. It was from the mat though so just two points. 3-0 just as we round the two-minute mark in the final stanza. Whizzer-seatbelt position and Tevanyan drops to a leg and gets a score in similar manner to his first. It's 5-0 as we tick over into our final minute of action. 20 seconds. Yianni having real problems getting to Tevanyan's legs now. Caution and 1 for fleeing by there's 13 seconds left. And Tevanyan takes out Yianni.
That's the first loss for Team USA today. Tevanyan has to beat Mongolia and then either Russia or Turkey to make the finals and get Yianni back in the repechage. Should also be worth noting that the top half of the bracket is far less perilous than the bottom half where Yianni was drawn.
Tevanyan defeats Diakomihalis, 5-1.
---
74kg Round of 16: Jordan Burroughs, USA vs Bolat Sakayev, KAZ
1st period: JB's on the mat but Sakayev is nowhere to be found. Kazakhstan gets their second call to the mat from the golden pipes of Bryan Hazard on the arena PA. The one and only Jason Bryant is sharing PA duties with Hazard here in Oslo. Sakayev gets his third and final call to the mat. And it's a forfeit. Jordan Burroughs gets his 201st win via walkover.
Very bizarre. Sakayev won his first match of the day but fails to take the mat for his second. Perhaps he was injured. Either way, JB to the quarters, where he'll get Radik Valiev of Russia. That'll be big.
Burroughs wins by forfeit.
---
We're moving on the quarterfinals now. They'll use all four mats for each weight and hold the mats between rounds. They'll go 57, 92, 65, then 79. So we'll get Gilman, then J'den, then root for Tevanyan, then Burroughs.
57kg Quarterfinals: Thomas Gilman, USA vs Vladimir Egorov, MKD
1st period: Egorov is a Russian transfer to Macedonia, originally from Yakutia, in the Siberian part of Russia. Gilman in the red, once again starts taking ground right off the whistle. Gilman moving Egorov around the mat, drops to a leg about 70 seconds into the match and scores the first points. 2-0 with 90 seconds left in the period. A step out with 4:09 on the clock gives Gilman a 3-0 lead. Another step out and it's 4-0. Snap down go-behind for a 6-0 lead. Make that 7-0 with another step out. Gilman overpowering Egorov who manages to last the period but it's 7-0 still for Gilman.
2nd period: Egorov getting pushed around the mat. But now Egorov gets a single leg and musters a step out. Then it's back to being overpowered as Gilman gets a go behind, slaps in an arm bar and cranks Egorov over for the tech fall! Gilman wasn't stopping though, he get working for the pin. Couldn't get the fall but it's academic. Gilman to the semis!
Gilman techs Egorov, 11-1.
---
Iran's Sarlak with a heroic come from behind win over Tsiutyrn of Belarus, 7-6. That sends the crowd into a frenzy and keeps Iran undefeated on the day. Sarlak will wrestle Turkey's very accomplished Atli in the semis.
Gilman's opponent will be the unheralded Horst Lehr of Germany, who got by what looks to be a fairly banged up Khashalov of Azerbaijan. It's been a tough tournament for Azerbaijan.
92kg Quarterfinals: J'den Cox, USA vs Jeremy Poirier, Canada
1st period: First period is a feeling out phase, not a lot of action. Then J'den decided to go and it's a clean double for J'den. Another attack and another score, this time off a single leg. Gut wrench makes it 6-0. Back to neutral. That's how the period ends, all Cox so far.
2nd period: Fancy footwork from J'den that eventually results in a double from J'den. I appreciate Poirier's efforts trying to keep up with J'den but the Missourian is on another level. One more take down seals the deal. J'den Cox to the semis!
Cos techs Poirier, 10-0
---
J'den opponent will be Iran's Ghasempour. That could be the defacto final as both of those wrestlers would be favored against anyone else in the bracket.
Russia's Kurbanov dominates Belarus' Mahamedov to make the semis on the top side. He'll take on Azerbaijan's Nurmagomedov, who got by a game Baranowski from Poland. All but Baranowski from that group are from Dagestan.
Now we root for Tevanyan to beat Mongolia, Poland to beat Baby Yaz, and Turkey to beat Russia.
And the first to fail in their mission is Kilicsallayan of Turkey, who gets smoked 10-0 by Shakiev. That dude is good. Next is Beinkowski of Poland, who puts up a decent fight but loses to Iran. Finally, Tevanyan wrestles like garbage, takes exactly zero shots, and loses 2-1. It was two shot clock points for Tumurochir and one caution for Tevanyan. Puke.
Yianni is eliminated from medal contention and will score at best 4 points for taking 9th. Iran has Krygyzstan in one semifinal. Russia has Mongolia in the other.
79kg Quarterfinals: Jordan Burroughs, USA vs Radik Valiev, RUS
1st period: USA vs Russia head-to-head, so you know it's important to the team race. Hands to the face warning on both. Burroughs grabs a leg. They scramble, out of bounds, grounded. Very close to a step out for Russia. And in fact, Russian head coach Tedeev wants a challenge. Seems a little early in the match for such a low stakes challenge but we'll see what the jury says. And it's two points for Valiev. No idea where that takedown came from. Okay then, back to neutral. 90 seconds into the bout, still 2-0 Valiev. Burroughs shoots from space, gets a step out. Valiev trying to stay as far away as possible. Burrough checking distance, setting up his level changes. Another shot from Burroughs, nothing. First real attack from Valiev and he drives Burroughs out for a 3-1 lead. Burroughs gets in another attack and step out with just a few seconds left in the period and it's 3-2 Valiev at the break.
2nd period: Valiev was third at 2021 Russian Nationals. He's from Ossetian and has some supporters in the stands waving Ossetian yellow, red and white flags. Two attacks from Burroughs, one step out point. It's 3-3, Valiev leading on criteria. 2 minutes left in the match. More action, goes out of bounds grounded. Burroughs fakes, gets Valiev swaying, another attack, another step out. Burroughs takes the lead. We'll see if stamina comes into play. And Burrughs catches Valiev peaking at the clock and it's a low last double that takes Valiev to his back. That's a crippling blow as Burroughs takes an 8-3 lead with less than a minute to go. Tedeev hits the challenge buzzer again. Half yolo/half lunger. Challenge lost, 9-3 JB leads. Now we get a stoppage to wrap Burroughs' bleeding head with 37 seconds left on the clock. Back in action, Valiev attacks, a long scramble eats up a lot of clock before stalemate. A step out with four seconds left gives Valiev 4 but Burroughs has 9. The Iranian fans count down the final 4 seconds in English! Love the respect from the Iranian fans. Jordan Burroughs gets international win number 202 and is in the semis!
Burroughs defeats Valiev, 9-4
Well that was a fun way to wrap up the session.
Here's the article where the team race will be continuously updated, for your viewing pleasure.
---
57kg Semifinals: Thomas Gilman, USA vs Horst Lehr, GER
1st period: Semifinals are underway and Germany's Horst Lehr comes out strong with a powerful double-leg just 20 seconds into the match. Gilman is pressuring forward hard but Lehr uses that pressure to counter with a step-out - Lehr up 3-0. Gilman continues to move forward and gets a takedown to make it 3-2. Gilman still moving Lehr around with an underhook but Lehr throws a headlock for 2, Gilman counters with a reversal and gut wrench to make it 5-5! A lot of action only 2 minutes into the match. Gilman marches Lehr out for a step-out to make it 6-5. Gilman continues to get to his underhooks and forces another step-out with 5 seconds left in the period to take a 7-5 lead into the break.
2nd period: After a wild first period, Gilman goes right back to underhooks and pressure. A stalemate. Then another step out and it's 8-3. Nope, whitepaddled. It's still 7-5. Horst just backing up though. Now Gilman on a single. Horst is fighting, Gilman works up though and converts. Then tips him over for two more. 11-5. 90 seconds to go. Horst trying to attack from neutral but he can't clear Gilman's head and hands. Gilman gets a down block go behind. 13-5 with a minute to go. Horst continues to battle. Gilman defending. Now a low double, and that's all she wrote! Gilman will wrestle for gold!
Gilman techs Horst, 15-5
---
Gilman's opponent will be Iran's Sarlak, who got a takedown and turn to beat Turkey's Atli with just 10 seconds left in the match. The very crowd is almost entirely Iranian at this point and they went bananas, as they do.
It's the two 65kg semifinals now. Yianni was eliminated from medal contention once Tevanyan from Armenia lost to Tumur Ochir, who's name means something like, 'Fights with the spirit of 10,000 diamond warriors', I think. We can still root forTumur to beat Shakhiev of Russia though to give the USA a boost in the team race.
We can also root for Osmonov of Kygyzstan to beat Amir 'Baby Yaz' Yazdani of Iran in the other 65kg semifinal for the same reasons. Although with the way this way has gone your best bet is to not get your hopes up.
And I hope you listened to me because both Tumurochir and Osmonov lost in heartbreaking fashion. Or you could Yazdani and Shakhiev won in spectacular fashion if you hate America.
79kg Semifinals: Jordan Burroughs, USA vs Ryuki Yoshida, JPN
1st period: Can't say I've done much scouting of the Japanese wrestler but I'm still not taking this match for granted. And we need a stoppage about 20 seconds in. Burroughs is stretching his calf, hopefully its just sore or a mild cramp. JB back to nuetral. Yoshida grabs a leg and drives Burroughs out of bounds. JB fought to keep it to a point and trails 1-0. After a weird break where both wrestlers stopped moving and stood in collar ties like statues, Burroughs answers with a good attack and drives Yoshida out for a point to take the lead on criteria, 1-1. Burroughs waiting for short time. And it's a vintage Burroughs double for two as time expires. Another perfectly timed blast from JB. Never gets old.
2nd period: Burroughs leads 3-1 with 3 minutes to go. Burroughs gets his fakes going. Now Yoshida has to react to JB or else take a shot that Burroughs can react to, which usually works to Jordan's advantage. Yoshida tries to shut down an attack at the boundary but Burroughs will not be denied his step out point. He picks Yoshida up off the mat for one final push in the sequence and extends his lead to 4-1. Burroughs continues to set a high pace with fakes and forces Yoshida to take a bad shot, Burroughs runs behind for 2 then works hard on top for a gut wrench and gets it for 2 more, Burrougsh leads 8-1 with just under a minute to go in the match. Yoshida takes another bad shot and Burroughs runs behind for 2 more - that'll do it! Burroughs back in the world final with a 10-1 win!
Iran continues to perform in the semi-finals as Mohammad Nokhodi wins 6-5 over Nika Kentchadze. Nokhodi was a junior world champion this year so the final against Burroughs will be experience vs youth!
Burroughs defeats Yoshida, 10-1
Burroughs opponent will be Iran, who apparently can't lose today.
---
92kg Semifinals: J'den Cox, USA vs Kamran Ghasempour, IRI
1st period: J'den Cox is taking on Kamran Ghasempour. This is Ghasempour's first time at senior worlds but he was a U23 world champ back in 2018 and defeated Artur Naifonov there. Ghasempour gets to a front headlock position and is able to get Cox into quadpod. J'den fights off the takedown in only ways J'den Cox can but eventually Ghasempour gets him down for 2 and takes the 2-0 lead. Pace slows toward the end of the period and Ghasempour stays ahead 2-0 going into the break.
2nd period: J'den coming out a little more active with a few fakes but Ghasempour ties up J'den. Ghasempour only holding position and gets put on the shot clock. Time runs out and J'den goes on the board with 2 minutes remaining - Cox trails 2-1. J'den attempts double but Ghasempour defends. Ghasempour able to reattack and get back into quadpod position. Cox defends but gets called for fleeing - caution and 1 - score now 3-1 in favor of Ghasempour. Scramble and J'den gets to the far ankle to earn the takedown with only 20 seconds left - it's 3-3 but J'den is down because of the caution. J'den working hard for a step out, shoots and drives but is unable to score and Ghasempour holds on to win on criteria - 3-3. That one hurts...
---
And I very much regret saying Iran can't lose. I apologize if I blogged that into existence.
I also thank Jon Kozak for filling in on the blog while my computer decided the semifinals were a great time to stop working. I got it working now though, which is great. Grand, wonderful. No yelling on the bus, let's watch some medal matches.
61 Kilograms
Bronze: Ravinder, IND vs Harutyunuan, ARM
Harutyunyan came out of the gate guns blazing and never took his foot off the gas (that's three cliches in one sentence in case you were wondering). 10-0 tech for the world medal! Now if only his countryman Tevanyan shared the same match stretgy. You know, to actually shoot and maybe score some offensive points.
Anyway, could win for Armenia. They are a tiny country with very limited resources. Also I don't think Ravinder's singlet was legal. It was all white with no red stripe on the back, just the red trim along the leg cuffs. But whatever, I don't care. What am I, the singlet police?
Bronze: Tumenbileg, MGL vs Hasegawa, JPN
Almost had a repeat of Rio when Tumenbileg's teammate Tumurochir lost to Shakhiev in the semis. Coach had to be ushered off the mat. Didn't get nude though. I repeat, we had no nude Mongolians.
Anyway, Hasegawa has been wrestling well and has an early lead. He also beat an Iranian this tournament, witch very few people can say they've done. Iran has six dang finalists. Chill out Iran, imo.
Hasegawa makes pours it on and reminds Tumenbileg that he is still just one-man-bileg to him. Japan gets the bronze with a 12-1 tech fall.
Gold: Daton Fix, USA vs Magomedov, RUS
1st period: Both these guys tech-mauled their way to the finals, so unless this is a major blow out, which I don't expect, we can safely say these were the two best guys in the bracket. A couple shots from both guys, then Magomedov gets in deep, but Fix somehow scrambles out of it. Oh no, they confer and Magomedov gets two points. I'm not sure why, maybe there was a turn in there? USA head coach BilL Zadick hits the challenge buzzer. It's still very early but this will be a big swing. Either 3-0 Russia or 0-0. Challenge won! No points. Good job everyone. Fix goes on the clock with 90 seconds left in the period. Clock expires, point for Magomedov. Fix right back in on a leg, drives Magomedov out, who's got a whizzer in. Limp arm by Daton, could be two with continuation but they rule it just a step out. Probably fair. Nice scramble as time expires and we got ourselves a ballgame. 1-1, Fix leads on criteria.
2nd period: Intense head fighting, Daton with a nice snap but can't get anything going. Magomedov controlling ties though so Fix is back on the clock. Americans are not going to be happy with that call but its not that surprising. Fix in on a single, clock expires, Magomedov gets an angle, locks around the crotch, looks for a turn, will end up with a takedown. Tough sequence for Daton he's down 4-1 with a minute to go. Daton goes to wheelhouse. Shrug to set up the inside trip. Doesn't land. Magomedov drops to a leg, chews up a ton of clock. 10 seconds to go. Magomedov will hold on for the win.
Daton the clear second-best wrestler in the bracket just missed a on a couple of key sequences and Magomedov left no room for error.
Magomedov defeats Fix, 4-1.
---
74 Kilograms
Bronze: Eryilmaz, TUR vs Nurikov, BLR
I refuse to type Nurikov's name as Nurykau, as UWW does because Belarus issued him a passport spelling his name phonetically according to their alphabet. And Nurikov loses 2-1 in a really boring match. There's a small group of flag-waving Turkish fans here, so I'm glad for them. Nurikov, a Belarussian by way of Dagestan, takes fifth at a world championship for the fourth time. Ouch.
Bronze: Bizhoev, RUS vs Kentchadze, GEO
Avtindal Kentchadze has a brother, Nika, who lost Iran in the 79kg semis. Bizhoev is Kabardin from Kabardino-Balkaria in Russia, right next Ossetia and not far from Dagestan. It would be great for the team race if Georgia won so by the way things have been going lately Bizhoev will win in the final seconds of this bout. And naturally, Kentchadze had the lead, gave it up, then barely failed to score the winning step out as time expired. Georgia challenges and I dunno, I didn't look and they lost anyway. Wadyagunnado.
Gold: Kyle Dake, USA vs Taimuraz Salkazanov, SVK
1st period: I'm a big fan of Big Salk but Team USA really needs Dake to get a win for morale. Things get going with heavy hands from both guys. Lots of big snaps. Dake digs an underhook and presses Salk to the edge. Salk doing everything he can to get a grounded call but Dake won't be denied and goes up 1-0. One minute to go in the period. Salkazanov picks up a passivity, then make his move, driving Dake out of bounds and over one of the sponsor tents. It's 1-1, Salk with the criteria lead. End of period.
2nd period: Dake picks up the action right off the whistle. Salk almost gets through Dake's defenses but Kyle wrestles out of danger. Still 1-1. Another big attack though from Salk and he gets another step pout. Dake slides down on a leg, then up to a bodylock. No Dake bomb but Salk gives it up and Dake takes the 3-2 lead. One minute to go, back in neutral. They stay in collar ties for most of the next 30 seconds. Then Dake finds an opening, picks Salk up and puts him down for two, then pounces on a gut wrench for another two! That was a massive sequence will likely put this out of reach for Salkazanov. Dake gives up a step out but that's it. Dake with a much needed victory for gold!
USA is the 74kg federation. Dake doing his lap with the American flag. Good stuff. The first US gold of Oslo!
Dake defeats Salkazanov 7-3.
---
Pretty weird moment at the 61kg medal ceremony. Abasgadzhi Magomedov of Russia took gold but because of the IOC punishments levied due to the state-sponsored doping program Russia ran for years, the Russian flag does not get raised and the anthem cannot be played. So instead the whole arena stood up will Tchaikovsky's Piano Concerto No. 1 was blasted out the house speakers.
Don't get me wrong, it's a fine piece of music, it's just odd that we all pretended that it was as important as the Russian anthem. But I guess Abasgadzhi earned his moment. Anyhow.
86 Kilograms
Bronze: Makoev, SVK vs Abakarov, AZE
These are the two guys Taylor thrashed on his way to the finals. Makoev is originally from Ossetia and now competes for Slovakia, just like Salkazanov. Don't know if they knew each other back in Russia. Pretty sure Abakarov is Dagestani but can't find out for sure at the moment. Abakarov lost to Mekhi Lewis and beat Aaron Brooks at two different Junior Worlds, which is an interesting factoid imo. Abakarov raced out to a 9-0 lead. Makoev battled back to make it a respectable 9-5, but Azerbaijan gets their first medal of the tournament. Oslo hasn't been too kind to the Azerbaijanis so far.
Bronze: Dauletbekov, KAZ vs Naifonov, RUS
Naifonov is the massive favorite here. Would be a major shock of he dropped this match. Yes I"m trying to jinx him. A not very exciting first period as Naifonov takes a 2-0 lead. He gets another point, I think it was 2 activity clock points and a step out, or maybe even three shot clocks, I dunno. Anyway, Naifonov won.
Now this place is going to really erupt. It's time for Taylor vs Yazdani IV.
Gold: David Taylor, USA vs Hassan Yazdani, IRI
1st period: Oh yeah, its loud in here. There's the somersault jump Yazdani likes to do. Okay, both guys pacing on the mat, waiting on a ref. There's he comes. And get start off like too rams butting horns. They're locked in over/unders. Yazdani gets the first step out. Two minutes in still 1-0, now another step out, 2-0. Taylor hasn't been able to get to his offense yet. He's been locked in these collar tie battles. Still 2-0 at the break.
2nd period: Throw-by from an underhook and Yazdani scores a takedown. It's 4-0, over two minutes to go though. Taylor finally on a single, has Yazdani hopping, Taylor loses balancing looking to kick out the back leg, somehow Yazdani gets on top and it's 6-0. Man. At last Taylor gets on the board, muscling up a takedown and making it 6-2. 47 seconds to go after a stalemate. 30 seconds. 15. Taylor desperation shot, countered. Time runs out. 6-2 is the final. Yazdani celebrates. The Iranian crowd has been sent to a higher plane of existence. They have transcended their mortal state. Yazdani has raptured several thousand wrestling fans in Oslo.
Yazdani defeats Taylor 6-2.
Crapola.
---
125 Kilograms
Bronze: Munkhtur, MLG vs Boltin, KAZ
Our first bronze. Gwiz vs Taha to follow. Munkhtur beats Oltin 5-3. Good for Mongolia.
Sorry, it's hard to stay on my blog-game after that match. Saving some strength for the last American match of the day.
Bronze: Nick Gwiazdowski, USA vs Taha Akgul, TUR
1st period: Akgul is a massive heavy. Like cuts to make 125 kilos (275 pounds). He's the favorite but I'm not writing Nick off, that's for sure. Gwiz shoots and gets his hand around a leg but Akgul is too big and sprawls for a go-behind takedown. He leads 2-0. Snatch single for Akgul and he drives Gwiz to the mat for two. Gets a trap-arm gut wrench at the edge for two more. Back to the center, 6-0 lead for Akgul. End of 1st period.
2nd period: Single leg for Gwiz, this time he's got an angle and doesn't let Tah sprawl on top of him. Gwiz chases down a one-legged Agku and collects his first two. Another shot from Gwiz but he gets buried underneath and action is stalemated. Another single leg, Nick tried to head wheel him the other way but that long frame is draped over top and we get another stalemate. Final minute. Another shot, another stalemate. 30 seconds. Akgul keeping Nick at bay. 10 seconds. Takedown with a couple seconds to go. Gwiz goes down swinging but Akgul got enough to win.
Akgul defeats Gwiazdowski, 6-4.
Last match of the evening. If Zare beats Geno I swear.
Gold: Petriashvili, GEO vs Zare, IRI
They trade takedowns in the first, Zare got the second one so he's got the criteria lead. Geno took about a dozen shots to zero from Zare. Oh wait, there goes Zare with a pushout in short time, so he leads outright 3-2.
C'mon Geno, don't do this.
Geno shoots soon after the second period whistle and Zare shoves back down to the mat for two more. He leads 5-2. Another push out makes it 6-2. 2 minutes to go. 7-2 with 30 seconds to go. Zare's gonna freaking do it. 9-2 with 10 to go. Oh man Geno. He shakes Zare's hand with 3 seconds to go.
Welp, the Iranians are partying in Oslo tonight. Truly the most insane day of wrestling by any country I've ever seen at a world championships.
I guess there's always the Russians in 2007. Still, Iran put 4 in the finals and won 2 gold medals and lost zero matches today. Absurd.
Team Score Update
Iran: 136
USA: 125
Russia: 103
USA didn't even do bad today. Not at all. Still feels like we got gut-punched.
But look: we got our first gold in the bag (hell yeah, Kyle Dake), we got TWO dudes in the finals (Gilman & Burroughs) tomorrow, ONE in the bronze medal match (J'den), and two more men's freestyles taking the mat, who happen to both be pretty dang good (Green and Snyder).
So rest up and prepare for the conclusion of the men's freestyle tournament and start of the women's tournament!
Sorry for the typos, see you tomorrow!