2021 Senior World Championships
World Championships Match Notes: Day 5
World Championships Match Notes: Day 5
All the action from Oslo coming to you in real time, as it happens. It's the 2021 UWW Senior World Championships!
Oct 6, 2021
by Andrew Spey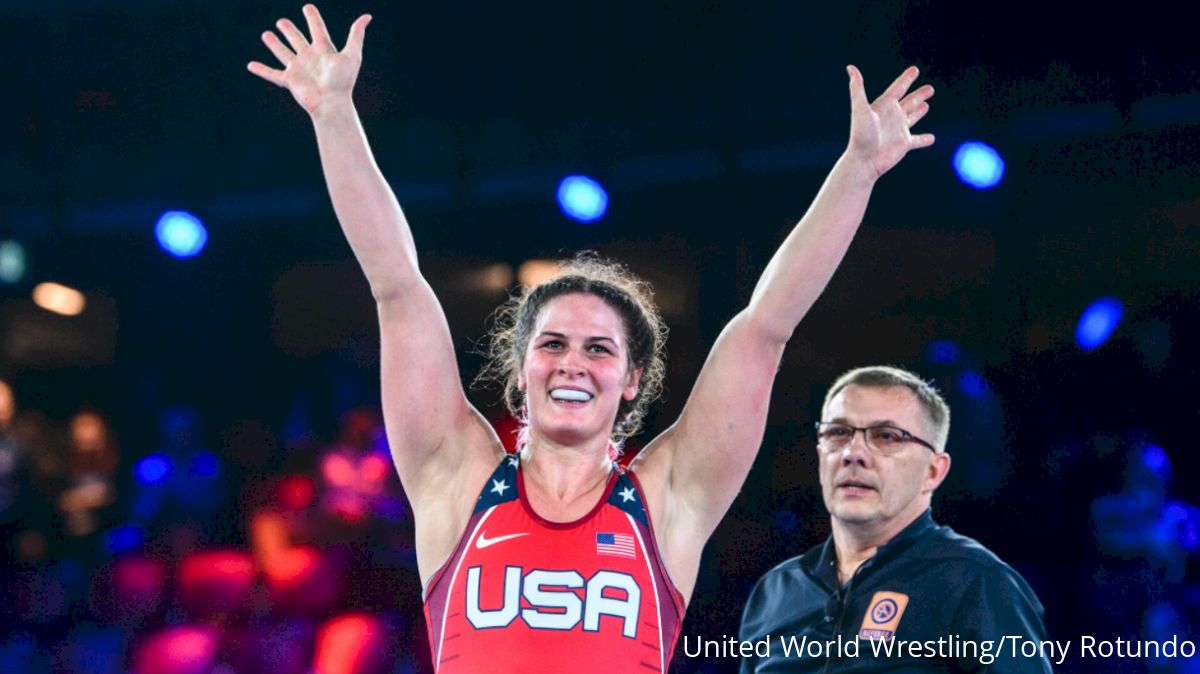 Unlock this article, live events, and more with a subscription!
Get Started
Already a subscriber? Log In
As the late, great Bon Jovi once said, we're half way there.
Pretty big day today. Four more weights begin this session, with two Olympic gold medalist repping the USA and two newcomers to the senior world team.
Mat assignments and bout order for Kylie Welker, Helen Maroulis, Maya Nelson, and Tamyra Mensah-Stock are below.
One hour until #WrestleOslo Worlds. @TeamUSA

Mat C
Bout 6: Kylie Welker v Buse Tosun (TUR)
Bout 7: Helen Maroulis v Jeannie Kessler (AUT)
Bout 10: Maya Nelson v Ebru Dagbasi (TUR)

Mat D
Bout 11: Tamyra Mensah Stock v. Ritu (IND) or Lavenchuk (UKR)

Women's wrestling all day

— USA Wrestling (@USAWrestling) October 6, 2021
Also the King of Norway will be here. He is a sports fanatic. I'm also told that he owns every kind of classic car.
Norway's best chance at medaling, Grace Bullen, wrestles today at 59kg.
Forrest Molinari made the semifinals so she's already sitting the in bronze medal match. Her opponent will be Maryia Mamashuk of Belarus, who pinned Kazakhstan in her repechage match.
Grace Bullen in a shoot-out with Morais from Canada. Solid contingent of Norwegian fans making their presence heard.
72kg Round of 16: Kylie Welker, USA vs Buse Cavusoglu, TUR
1st period: Cavusoglu is a U23 and senior world medalist so Welker is getting a baptism by fire for her first senior-level world championship match. Welker in on a single early but good defense by Cavusoglu to get a stalemate. Throw-by to single again for Welker and but once again stalemated. Cavusoglu on the clock, Welker scores the first point. Welker in on a single again but can't finish. She's taken literally every shot so far. Period end.
2nd period: Cavusoglu comes out swinging in the second and gets in the whizzer position again. Loves that overhook. Another attack from Cavusoglu, this time she finishes and takes the lead, 2-1. Cavusoglu in again, Kylie goes for a chest wrap rlol through but doesn't get all of it and is taken to her back. It's four for Turkey and a 6-1 lead. Welker looking for a double but Cavusoglu to ready for it. Welker gives up a takedown in the final seconds. Great experience and effort for a teenaged high school senior who has to do homework in her hotel room. Also a good chance Kylie gets brought back into the repechage.
Cavusoglu defats Welker, 8-1.
---
57kg Round of 16: Helen Maroulis, USA vs Jeannie Jessler, AUT
1st period: America's only two-time Olympic medalist in women's wrestling takes the mat. Kessler shows no deference to the veteran but Helen is unphased and pushes her out for the first point. Then a double leg for Helen makes it 3-0, a lace and Kessler is slow to belly out so Maroulis takes advantage. She climbs up, slaps in a half nelson and works for the fall. There's the pin!
Great start for the champ!
Maroulis pins Kessler, 2:33
---
59kg Round of 16: Maya Nelson, USA vs Ebru Dagbasi, TUR
1st period: Like Welker, Nelson is making her first senior-level worlds and draws a Turk in her first match. Not a lot of action in the first minute of the match. Nelson taking more ground, controlling the center of the mat, and as a result, Dagbasi goes on the clock first. Nelson is a 2017 junior world champ and has made a pair of U23 world teams but this is her first trip to the big stage. Point for Nelson She just misses shooting Dagbasi out a couple times but she's been able to move Dagbasi around at will.
2nd period: Still 1-0, Nelson taking shoots, taking ground, Dagbasi staying in bounds but now she goes on the clock for the second time. Very fair call, though I am admittedly biased. Another point for Nelson. Attack by Dagbasi, her first, great reattach by Nelson, she's in deep in a single. Can't finish though. Still 2-0, one minute to go. Nelson controlling ties, Dagbasi looking for a foot sweep, Nelson drives her out and gets a step out. That was an important point. 3-0, final 10 seconds. Dagbasi gives up but Nelson wrestles to the whistles and adds a feet to back double for four points to her total as time expires. One senior level worlds match, one big win!
Nelson defeats Dagbasi, 7-0.
---
Nelson is going to Belarus next, who just had a solid match with Azerbaijan to advance. That's going to be a tough one for Nelson but I'm looking forward to it.
68kg Quarterfinals: Tamyra Mensah-Stock, USA vs Anastasiia Lavrenchuk, UKR
1st period: Tamyra had a bye to the quarters. It helps to be the defending Olympic champ for stuff like that. Tamyra sweep to the left, collects a leg, switches to a double and gets the first takedown. Lavrenchuk could muster minimal resistance. Tamyra goes back to that shot a few more times but Lavernchuk has started to figure it out and stops the next 3 attacks. Tamyra gets in deep late in the period but runs out of time before she can get any more points.
2nd period: Tamyra once again shoots, she is the only one in the match doing that, and she finishes this one for her second takedown. Now Lavernchuk shoots a double and I can see why she was hesitant to do so because Tamyra counters for a go-behind and it's 6-0 with under 2 minutes to go. Sweep single from Lavernchuk, Tamyra sprawls, grabs and ankle, breaks the lock on her leg and gets two more. 8-0, 54 seconds to go. Handfighting for the rest of the match and Tamyra wins her first bout 8-0.
Mensah-Stock defeats Lavrenchuk, 8-0
---
Solid win for Tamyra, she'll have Miyaji of Japan next, who teched Lithuania 10-0 in 59 seconds in her quarterfinal bout. Tamyra's gold medal opponent in Tokyo, Blessing Oburududu of Nigeria falls in her quarterfinals bout to Velieva of Russia.
72kg quarterfinals are up now. Cavusoglu of Turkey is who we're rooting for to pull Welker back into the repechage and keep her medal hopes alive. And Cavusoglu delivers in about 30 seconds, taking Belarus to her back and getting the fall. Good job Cavusoglu.
57kg Quarterfinals: Helen Maroulis, USA vs Veronika Chumikova, RUS
1st period: Front headlock in neutral for Chumikova, and she maneuvers Maroulis out of bounds for the first point of the match. Now it's time for some vintage Helen foot sweeps and she gets the takes down. Then a wrist and armbar and Maroulis drives CHumikova over to her back! No fall, but maybe next time Chumikova won't be able to escape. We got to the break, Maroulis with a 4-1 lead.
2nd period: Chumikova getting the better of these ties, at least from the looks of things, but then Maroulis snatches a single leg and finishes clean for a 6-1 lead. Less than two minutes remaining. Maroulis in on another single, lengthy scramble that gets stalemated. Now a sweep single and Helen methodically climbs up for two more. 8-1 lead, less than a minute to go. Chumikova with heavy clubs. Gets a front headlock and tries to lat drop Helen but it wasn't there and Maroulis counters for two. Match ends in par terre and Helen Maroulis is guaranteed to wrestle for another world medal!
Maroulis defeats Chumikova, 10-1.
---
Helen will have Nanjo of Japan in her semifinal bout. No surprise to see a Japanese wrestler make it to the semifinals of a women's division.
59kg Quarterfinals: Maya Nelson, USA vs Krystsina Sazykina, BLR
1st period: A couple half shots but no scores after 60 seconds. Tough to make the call either way for the shot but Maya goes on it first. She gives up the point, but then counters Sazykina at the edge and scores a takedown. Period ends, Nelson leads 2-1.
2nd period: Not a lot of action. Nelson probably giving more ground than gaining. Lengthy sequence in short offense but no scores. 90 seconds to go. Now under a minute. Nelson has Sazykina on the boundary. Gets the step out with 52 seconds left on the clock. Belarus will challenge. Seemed pretty clear to me but I'm up here in the nose bleeds on the other side of the arena so we shall see. Replay on the jumbotron looks even more clear. So the challenge is lost and now Nelson has a 4-1 lead. Very costly challenge for Sazykina as Nelson can afford to give up a takedown. Not that she should! Nelson gives up a quick step out and it's 4-2. Now a takedown will do it for Belarus. Sazykina tries an arm spin, Nelson catches her and plants her flat on the mat. There's the fall! Nelson moves on to the semis!
Nelson pins Sazykina, 5:56
---
Three Americans will wrestle in the semis tonight! And they're all against Japan! If America is going to stay in this team race we're going to need to win at least two of them. It's a tall order but better to be in control of your destiny than have to rely on others!
That session went quick so we've got over a three-hour break. Make sure you keep an eye on the schedule and we'll see you back here for Maya, Helen, and Tamyra's semifinal match. We'll also root on Turkey in her semifnal bout to keep Kylie's medal hopes alive.
And then we'll watch the gold medal matches for Sarah and Adeline and the bronze medal match for Forrest.
Lots of American wrestling to enjoy!
Here are the mat assignments for Helen, Maya & Tamyra!
#WrestleOslo 25 minutes until Team USA takes the mat for today's women's freestyle semifinals. Watch on @FloWrestling.

First match on Mat C: Maroulis vs. Nanjo
Second match on Mat C: Nelson vs. Hanai
Third match on Mat B: Mensah-Stock vs. Miyaji

All opponents are from Japan.

— USA Wrestling (@USAWrestling) October 6, 2021
57kg Semifinals: Helen Maroulis, USA vs Sae Nanjo, JPN
1st period: Japan has no shortage of age-level world medalist to fill in even when Olympians like Risako Kawai, who beat Helen in the semis in Tokyo, decide not to compete in the world. As such, Nanjo is both a junior and U23 world champ from 2019. No scores in the first 90 seconds but Maroulis has been moving Nanjo around the mat in short offense and so Nanjo goes on the activity clock first. Helen gets the first point. Hi-c for Nanjo and she's got Marouli's back. Maroulis walks to the edge and Nanjo hits a trip and rolls Helen through the get four points. Nannjo shoots again but Maroulis counters for two. The period ends in par terre. Helen trails 4-3.
2nd period: Don't want to look ahead of this one but this is likely the de facto finals match as both of these wrestlers would be favored against whoever wins the other semifinal bout. Reattack from Maroulis and she chases down Nanjo for another takedown. Helen back in the lead, 5-4. 2 minutes to go. Clock ticks past the final minute as Helen level changes and drives Nanjo out of bounds. Ref asks for the step out point but chairman and table judge overrule with white paddles, still 5-4. 30 seconds. Nanjo in on a single, Helen gets a far ankle. They scramble. No score yet. Time ticking away. That's it, Helen holds on to win! Or does she? There is a challenge. Looks like a yolo button to me. Challenge lost. Make it official, Helen Maroulis is in the finals! She will come home from Oslo with a world medal!
Maroulis defeats Nannjo, 6-4.
---
India won her match against Ukraine in the other semifinal, so it'll be Helen vs Anshu for gold.
59kg Semifinals: Maya Nelson, USA vs Akie Hanai, JPN
1st period: Massive match for Nelson. Hanai is a 2019 junior world champ. Maya was a junior champ from 2017. Single leg from Hanai, she climbs up for two. Had an exposure but it was in par terre. Nelson lucky to just give up two, still a lot of time to work. Nelson on a single. She works her way up. Looks like two but they award caution and one instead. And like in the Sebastian Rivera match, they restart in par terre position, Nelson on top. No score so back to neutral, Hanai leading 2-1. Period ends.
2nd period: Great flurry about a minute into the second period. Great defense from Nelson to avoid the takedown. Action restarted after they go out of bounds but grounded. Nelson still trails by one. 90 seconds to go. Another flurry and Nelson gets pancakes to her back. Four offers, only two confirmed. That's a good break for Maya. She's down by 3 with a little less than a minute to go. Nelson fires off a double on the restart but gets stuffed. Nelson continues to attack but can't find an opening. Hanai reattacks off a desperation shot in the final 10 seconds. No score but that chews up the rest of the match. Nelson falls to Japan and will wrestle for bronze.
Hanai defeats Nelson, 4-1.
---
Good effort from Nelson. She was close. She'll wrestle either Kazakhstan or Mongolia tomorrow evening after their repechage match in the morning. Hanai pinned Kazakhstan and shut out Mongolia 6-0.
68kg Semifinals: Tamyra Mensah-Stock, USA vs Rin Miyaji, JPN
1st period: Miyaji is not as credentialed as Maroulis' or Nelson's opponents so hopefully Tamyra can get the USA another much-needed win against Japan. Oh man, that's no good. As I'm typing Tamyra shoots, gets stopped, Miyaji counters, locks up a cradle and pins Mensah-Stock.
Not ideal.
Miyaji pins Mensah-Stock, 0:21
---
Not often you see an Olympic gold medalist pinned like that. Miyaji took advantage of the opportunity and that's going to go a long way in putting Japan in an unassailable position when it comes to the team race.
Tamyra will wrestle for bronze against either Czechia or Lithuania.
Now we root for Turkey to make the finals against Kazakhstan to give Welker a shot at a medal. There's a small band of Turkish fans here with flags cheering on Cavusoglu in her quest to make the finals. Not as impressive as the Iranian fans but that's tough for anyone to replicate. Turkey had a 1-0 lead going into the second period but it was all Kazakhstan after that. Final score 13-2, Cavusoglu loses to Bakbergenova and Kylie Welker's tournament is over.
Medal Matches
Not the most fun way to start the session but we've got three medal matches with American women still to come.
We'll get two bronze medal matches at 50kg before we see our fourth consecutive USA vs Japan match as Sarah Hildebrandt goes for gold.
Dolgorjov of Mongolia looked amazing, winning a medal over savvy veteran Vuc of Romania. Likewise, Sokolova put a shellacking on Kokozei of Ukraine.
50kg Gold Medal Match: Sarah Hildebrandt, USA vs Remina Yoshimoto, JPN
1st period: Sarah's got a 2019 Junior Asian champ and a 2017 Cadet World champ. That's par for the course with Japan's women's team. Fierce handfighting in the first minute. Yoshimoto gets in on a deep shot but a crotch lock allows Hildebrandt to defend. Yoshimoto gets put on the clock, which is a bit surprising. Hildebrandt fights off another leg attack, and in fact, counters Yoshimoto for two in a slick knee pick (maybe, tough to see from my vantage). Wrist-snap throw-by doesn't land for Sarah. Yoshimoto's next leg attack does score to make it 3-2, Sarah still leads. Sarah gets in on a single leg but the period ends before any more scores.
2nd period: Great flurry after dueling shots, Sarah ends up stepping out of bounds so Yoshimoto takes the lead via criteria, score is 3-3. Hildebrandt goes for an outside trip, Yoshimoto ends up with a single leg, a scramble ensues, Yoshimoto gets an exposure to make it 5-3. Restart with 30 seconds on the clock. A takedown should do it for Sarah. She shoots in, another scramble, Yoshimoto stays tight on one of Sarah's legs. And time expires. Sarah comes up just short. Tough one. Otherwise entertaining though. Except for that final score part.
Yoshimoto defeats Hildebrandt, 5-3.
---
That's pretty much how it goes with Japan. Depth in women's wrestling like no other nation has in any style. No chill Japan and that's no cap.
53kg medal matches now. Amy Fearnside has a tough draw. She lost her first match to Poland, who then lost to Japan in the semis. In women's wrestling, if you've got Japan on your side of the bracket, losing to anyone but Japan usually means you miss out on wrestling for a medal.
Fearnside's vanquisher, Krawczyk, is taking on Valverde, Ecuador for Bronze. Krawczyk wins handily. Canada pinslays Ukraine in the other bronze medal match. Fearnside isn't going to score any team points in this bracket but with a different draw I think she could have definitely finished 5th or better.
Japan's 2018 Cadet World champ Fujinami teched her opponent in a couple minutes to win a senior gold. This is the women who couldn't make the Olympic team at 53kg because Tokyo gold medalist Mayu Mukaida was in her path.
No chill Japan, man.
One of Sweden's Mattsson sisters (specifically Malin) wins a bronze via forfeit. Which means it's time for Molinari's match!
65kg Bronze Medal Match: Forrest Molinari, USA vs Maryia Mamashuk, BLR
Mamashuk is a Rio silver medalist and more recently won the Yashar Dogu in 2019. She was unable to qualify for the Tokyo Games, but this will still be a very obstacle for Molinari in her quest for his first senior world hardware. Molinari took 5th at 2018 and 2019 worlds, which is something I'm guessing she's trying not to think about right now.
1st period: Nice double attempt by Mamashuk and even better job defending by Molinari. No scores after a minute. They trade shots, Molinari's was a bit better and she is rewarded with a takedown. 2-0 with 50 seconds left in the first. Swim to high-c but Molinari is ready and counters to make it her takedown and she's up 4-0. Beautiful whip over counter by Molinari and she scores another two right before the buzzer.
2nd period: Another good shot from Mamashuk, Molinari runs out of bounds and gives up a caution and one. Mamashuk keeps shooting but Molinari keeps feeding her hips. Another down block go-behind to make it 8-1. Repeat the same sequence and Molinari goes up by 9. One turn from a lace and Forrest Molinari breaks through to earn her first senior world medal!
Molinari techs Mamashuk, 12-1.
---
Gold medal bout at 65kg is fire. Japan's Morikawa is a 2019 Junior champ, Ringaci of Moldova is a 2021 Junior champ. There's been some crazy back and forth scrambles but it was RIngaci taking a leg over her head and whipping Morikawa to her back that gave her four massive points which allowed her to hang on and stop Japan's recent rampage. Ringaci wins 8-6 to become Moldova's first every women's freestyle world champ.
Moldova is a tiny, destitute, former Soviet Republic wedged between Romania and Ukraine. Nice to see them notch an achievement like this.
Egypt's Hamza has Kiran of India in the anti-penultimate match of the evening. Hamza takes in a near-un 2-1 victory. Nice to see Egypt get that one, their first ever senior world medal in women's wrestling.
And in the penultimate match is Kyrgyzstan's Medet Kyzy getting it done thanks to a leg lace to secure the tech fall over Osniach of Ukraine. Final score 12-1.
Now it's time to see what color medal Adeline Gray will add to already legendary collection!
76kg Gold Medal Match: Adeline Gray, USA vs Epp Maee, EST
Maee's been on the international scene for quite a few years. She started wrestling at age level world championships in 2009 and has recently been stepping up her game, winning the European Championships in 2021.
1st period: Arm drag from Maee, otherwise a lot of distance between the two. No scores in the first minute. Gray goes on the clock first. Could've flipped a coin so tough to get too mad at it. Maee scores the first point 30 seconds late. Gray starting to take more ground in the final minute of the period. Gray backing Maee up in short time, but Maee circles and reattacks. Maee takes Gray down out of bounds, its either two or one. Two is offered and confirmed but Gray implores Oregon State assistant coach Nate Engel to hit the challenge buzzer. Challenge lost and its 4-0, Maee in the lead.
2nd period: Maee takes a low single leg shot, Gray defends. Lengthy scramble but it's stalemated. Still 4-0. Two minutes remain. Gray turning up the intensity, drives Maee to the edge, then pancakes her to her back. SHe's out of bounds and the action started on Maee's knees so it's just two but some much needed points for Gray's comeback effort. Maee backing up and gets put on the clock with a minute left in the match. Without waiting for the aciticy clock Gray goes on the attack. She gets the takedown to lead on criteria! 30 seconds to go. Gut wrench takes Maee over! Gray wisely keeping Maee in danger to run out the clock. Maee can't belly out. Time running out. And there's the fall! Pinned in a tilt! Six-time world champ Adeline Gray!
Gray pins Maee, 5:58
---
Now that's how you end a day of wrestling! Big boost to the morale of Team USA thanks to the legendary Adeline Gray.
Japan is going to win this team title but America keeps gaining ground. Current scores
1. Japan, 186
2. USA, 135
3. Ukraine, 65
4. Kyrgyzstan, 60
5. India, 54
6. Russia, 49
7. Moldova, 45
8. Mongolia, 38
9. Bulgaria, 34
9. Germany, 34
Tomorrow we start the Greco bombs at 55 (Nowry), 72 (Smith), 77 (Porter), & 82kg (Provisor) and we get to watch Nelson and Mensah-Stock wrestles for bronzes and the great Helen Maroulis wrestle for gold.
Sorry for the typos, see you tomorrow for more wrestling action from Oslo!