2021 Senior World Championships
World Championships Match Notes: Day 6
World Championships Match Notes: Day 6
All the action from Oslo coming to you in real time, as it happens. It's the 2021 UWW Senior World Championships!
Oct 7, 2021
by Andrew Spey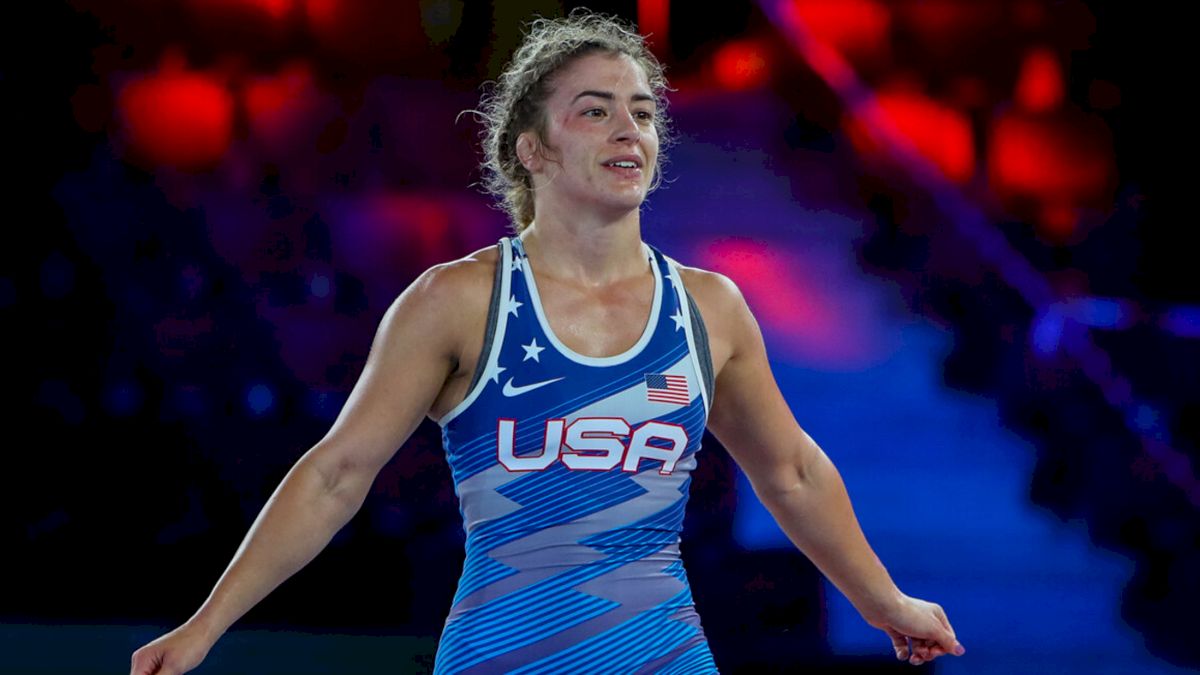 Unlock this article, live events, and more with a subscription!
Get Started
Already a subscriber? Log In
Let's start hucking bodies, tuckus over tea kettle! It's Greco time in Norway!
We've got four more Americans making their Oslo debut. Max Nowry at 55, Pat Smith at 72, Jesse Porter at 77, and Ben Provisor at 82kg all have their draws and will take the mat today.
Bout order and mat assignments below.
Greco-Roman starts TODAY at #WrestleOslo.

U.S. matches:
Mat A
Bout 19: Ben Provisor v Novak (CZE) or Mukai (JPN)

Mat C
Bout 3: Jesse Porter v Kourinnoi (SWE)
Bout 7: Pat Smith v Petic (MDA)

Mat D
Bout 12: Max Nowry v Abbaspourragani (IRI)

See it in an hour @FloWrestling

— USA Wrestling (@USAWrestling) October 7, 2021
No women in the repechage this sessions but Maya Nelson & Tamyra Mensah-Stock wrestle for bronze and the great Helen Maroulis wrestle for gold later this evening.
77kg Round of 32: Jesse Porter, USA vs Bogdan Kourinnoi, SWE
1st period: Sweden has a sizable contingent here in Jordal Amfi Arena cheering on Jesse's opponent. Slip on an arm spin by Porter. Now blood time as Jesse gets a head wrap. 4:49 on the clock. Porter gets put down and gives up the caution point. Sweden with all day to work. 30 seconds later Kurinnoi is still on top, picks Porter up and back arches. Porter doesn't expose but it's 2 for a correct throw. Porter trails 3-0. We go to the break.
2nd period: No more scores after 30 seconds in the final period and now Porter gets a point and a chance on top. Porter has Kourinnoi in the air, but can't get a could grip and we go back to neutral. 2 minutes to go, Porter trails 3-1. Porter's head wrap is giving him trouble and we get more blood time to fix him up. Bandage is removed and we get back to action. Final sprint, Porter coming hard. Can't get through Sweden's defenses. Porter falls in his first match.
Kourinnoi defeats Porter, 3-1.
---
72kg Round of 32: Pat Smith, USA vs Valentin Petic, MDA
1st period: The Honda Civic takes the mat against Petic. Smith goes down in par terre as Petic gets a point after a scoreless first 90 seconds. Strong par terre defense by Smith and we're back in neutral. Short offense and Smith gets a go-behind! He leads 2-1, 30 seconds in the period. Petic gets a body lock and take Smith to the mat with just 2 seconds left to regain the lead.
2nd period: Smith slaps in double under and moves Petic all over the mat. He loses the hold but Petic gets put down. That point gives Smith the lead in criteria. Smith loses his lock while trying to gut wrench and gives up a reversal. Petic with the lead again, 4-3. One minute to go. A step out will do it for Pat. 30 seconds. 10. Smith will fall in his first match of the tournament.
Petic defeats Smith, 4-3.
---
We drop two close ones, and the odds of getting pulled into repechage is not the start we wanted but there's lot of tournament to go still.
In non-American news, Norway gets their first win of the event in any style as Joergensen picks up a 3-1 win over Colombia to advance to the round of 16 at 72kg.
55kg Round of 16: Max Nowry, USA vs Sajjad Abbaspour, IRI
1st period: Nowry with an opportunity to change the momentum for Team USA. He loses his balance early but recovers and is back in neutral without giving up a point. Nowry picks up the first point and puts Abbaspour down in par terre. Max gets a trap arm and goes to work. There's a turn! Two more makes it 7-0! Abbaspour breaks free and scrambles around for a reversal. Back to neutral and it's 7-1. Iran gets a go behind, but Nowry has an arm. They hit the mat. Iran thinks he's got two for the takedown but its white paddles. Nowry keeps that arm and tips Abbaspour over for two more as time expires in the period. That'll make it 9-1 and an 8-point lead is all you need for a tech fall in Greco. Iran challenges and loses. Nowry advances to the quarterfinals!
Nowry techs Abbaspour, 10-1.
---
That's just what the doctor ordered! Max's next opponent will be Hakhoyan of Armenia, who defeated the #4 seed, Schmitt of Germany, in his first-round match.
More bad news though for Pat Smith and Jesse Porter as the wrestlers that beat them lost their next match, eliminating them from medal contention and end their tournaments after one match each.
82kg Round of 16: Ben Provisor, USA vs Satoki Mukai, JPN
Provisor has Mukai of Japan in his first bout. As the #2 seed, Provisor received a bye to the round of 16. Provisor is also one of the last matches of this round to take place. Afterward we'll get the quarterfinals and Max Nowry, and perhaps Ben as well!
1st period: It's a scoreless 90 seconds, Provisor gets put down first. Tough call to make, I was thinking Mukai would get hit but I'm admittedly biased. Then in par terre Provisor gets hit for a caution and 2. Fleeing the hold I guess? He was maybe crawling forward some but it didn't appear to reach the level of fleeing. Kinda confused by that call, as is Provisor's corner, which challenges. And the challenge is won! So who knows what the ref saw. It's 1-0 with one minute left in the period. Provisor has a front head locked up but Muaki slips free before any damage can be done. Period ends.
2nd period: Privosr shoving Mukai to the edge, neither steps out, although they both came close. Muaki with double overs, slides around to get his heels to the boundary and tries to throw. Provisor catches him and plants him for four! Or just two actually. Not sure why that would be just two but that's the score now, 2-1 Provisor. 1 minute to go. Ben will still hold criteria if he gives up a step out. Ref wanted to put Ben in par terre but it was white paddled thank goodness. 10 seconds to go. Provisor wins and advances to the quarters!
Provisor defeats Mukai, 2-1
---
Provisor's opponent will be Akbudak of Turkey, who demolished his last opponent from Hungary 11-0.
55kg Quarterfinals: Max Nowry, USA vs Norayr Hakhoyan, ARM
1st period: There's a couple of nice flurries to start the period but no points. Then an arm spin by Nowry and they award Armenia the two rather than give Max the slip call. Nowry's corner hit the challenge button. Challenge is lost and Nowry goes back to the mat, trailing 3-0. Hakhoyan has a gut locked up, Nowry fighting hard but gives up the turn. Nowry gets to his feet, locks around the chest, goes for the throw but it doesn't land and he's on his back. They give Hakhoyan four for that and Nowry can't challenge now even if he wanted. That's a tech fall.
Hakhoyan techs Nowry, 9-0.
---
Well that was unfortunate. Nowry was right there for the first couple minutes but then things spiraled out of control. Nowry will have to how that Hakhoyan beats Sefershaev in the semifinals to keep his bronze medal hopes alive. Sefershaev has several age level world medals and just won 2021 Euros so this will be a tall order for the Armenian.
82kg Quarterfinals: Ben Provisor, USA vs Burhan Akbudak, TUR
1st period: No scores after 90 seconds so Ben gets put down and Turkey gets a point. Ben gets hit by a caution and two again, this time confirmed and not challenged, so I guess whatever it was it was clear from matside because I couldn't tell what it was. 3-0 lead for Turkey. Provisor then gets lifted off the mat and brought down very rudely by Akbudak. It's ruled a five. Wow. So that's it, tech fall for Akbudak. Just like that. There's also a caution and two as Akbudak was going for a fall. Looked like Ben was pushing on Adkbudak's legs. Anyway, match is over.
Akbudak techs Provisor, 10-0
---
So no semifinalists for Team USA. Ben has to hope Akbudak wins his next match, which will be against Poshtam from Iran.
We will have three wrestlers in medal matches, including Helen Maroulis going for gold. Those matches are in four hours (6:00PM local time), so make sure to come back by then!
In the Greco semis, Hakhoyan drops an agonizingly close 3-2 decision to Emin Sefershaev of Russia to eliminate Nowry from medal contention.
Some better news at 82 kilos as Akbudak defats Poshtam of Iran 5-2. That puts Turkey in the finals and keeps Provisor's medal hopes alive. He'll wrestle the winner of Armenia and Hungary in the second repechage match in tomorrow's morning session.
Russia also lost for the first time in the Greco divisions in the 82kg semis. Akiev lost to Rafig Huseynov, a 2019 World silver medalist and a Tokyo bronze medalist.
Medal Matches
Two bronze medal matches before we watch the great Helen Maroulis try to add another world gold to her two other world golds (and two Olympic medals and two other world medals).
Japan came from behind to beat Russia in the first match. Mongolia holds off Ukraine in a wild 9-8 shootout.
57kg Gold Medal Match: Helen Maroulis, USA vs Anshu, IND
Anshu was in the same 57kg bracket as Helen in Tokyo but went 0-2 and failed to place. She did win the 2021 Asian Championships, however.
1st period: Snap-down for Anshu, she's trying to get the go behind but Helen fights her off for a hard-won stalemate. Maroulis with some foot sweep attempts in collar ties but it's not enough to avoid going on the clock. Maroulis takes a few shots but can't score before the clock expires and Anshu leads 1-0 with 50 seconds left in the period. Maroulis controls ties for the rest of the period. Anshu gets dinged for passivity but no other scores before the period ends.
2nd period: Maroulis working from a Russian tie, snaps down and goes behind to take the lead. Throws in an arm bar and goes to work. Gets the turn, looking for the fall... and there it is!
So much power from Helen. Once she got on top it was lights out for Anshu, shoulders were glued to the mat. Helen Maroulis is now a THREE-time world champion!
Maroulis pins Anshu, 3:59.
---
We go from one American medal match right into another as Maya Nelson looks to lock up a bronze on her first trip to a senior world championship.
59kg Bronze Medal Match: Maya Nelson, USA vs Shoovdor Baatarjav, MGL
Baatarjav took second at the Junior World Championships earlier this year in Ufa, Russia.
1st period: Snap-down into a headlock and short offense from Mongolia right off the bat. Nelson does a good job wrestling back to neutral, no score. We pause for blood, looks like Nelson's nose. Nelson shoots off the whistle and drives Baatarjav off the mat for a step out point, leads 1-0. Scramble goes out of bounds grounded, still 1-0, 90 seconds left in the period. Baatarjav comes close to a snap-down go-behind with about 30 seconds left but Nelson stays in neutral and hits a successful snap and go of her own to extend her lead to 3-0. Period ends with Nelson in good shape.
2nd period: Baatarjav with some extremely heavy hands to start the second period. Baatarjav in short offense with a front headlock. We get a stoppage, injury time for Nelson. Looks like her left shoulder is bothering her. Trainers are out attending to her. Still 3-0, 2:26 on the clock. Nelson's left shoulder is tapped up and getting a healthy dose of cold spray. Maya's walking it off now and heads back to the center.
She'll go down in par terre though, I guess because she was on the mat when the stoppage occurred. No scores yet tho. Back to neutral. Baatarjav takes a shot but is stuffed by Nelson. Back in short offense with a headlock is Baatarjav. They go out of bounds but Mongolia circles behind in time to get the continuation points, narrowing the lead to a single point. A snap-down at the boundary and Baatarjav gains the lead with another takedown. 4-3 with 1:16 on the clock. Maya digging deep. She shoots in but Baatarjav pulls her back to collar ties. 20 seconds to go. Nelson on a single leg, she's got time to finish but clock is ticking. She gets behind Baatarjav and reached for the other leg. She can only grab the hip and Baatarjav stays off the mat and avoid giving up the takedown. Nelson was so close but comes up just short in the bronze medal match.
Baatarjav defeats Nelson, 4-3.
---
Excruciatingly tough loss for Nelson but she clearly wrestled through a banged up wing. I have a feeling this isn't the last shot at a world medal we will see her wrestle for.
Tamyra is slated to go for bronze at 68kg after two more 59kg medal matches.
First, two-time Asian champ Sarita of India gets her first senior-level medal over Lindborg of Sweden, much to the dismay of the sizable contingent of Swede supporters in the stands.
Four-time Euro champ and 2018 World silver medalist Dudova of Bulgaria has the young 2019 junior World champ Hanai of Japan in the gold medal match. Dudova stakes herself a 6-0 lead and Hanai can only muster up four in her comeback attempt. Bulgaria wins gold in Oslo!
68kg Bronze Medal Match: Tamyra Mensah-Stock, USA vs Adela Hanzlickova, CZE
We'll have the medal ceremony for 57kg, which includes a stirring rendition of our national anthem with Helen Maroulis on the top podium.
1st period: Hanzlickova ceded some ground to Tamyra, then fires off a single and has the Olympic champ hopping. Hanzlickova gets a step out to score the first point of the match. Tamyra answers right back with a sweep single of her own. She Takes the Czech wrestler to the mat and gains the lead with 90 seconds left in the period. Down block go-behind and Tamyra adds two more, leads 4-1. Single leg for Hanzlickova gets stuffed and stalemated. Period ends, same score.
2nd period: Czechia trying to get back in the match but Tamyra is keeping her at bay. There's an attack one minute into the period and Tamyra get's another down-block go-behind. Almost sent her with a suplex when she had her back but Hanzlickova wisely bailed on the position. One minute to go. Another sweep single by Tamyra. When she commits to her attacks there's nothing Hanzlickova can do to stop her. 8-1 with 30 seconds to go. Counter for two more and it's 10-1. Hanzlickova goes for broke but she runs out of time. Tamyra Mensah-Stock rebounds from her shocking upset and will add a world bronze to her trophy case! Love to see that kind of fortitude after such a surprising semifinal result.
Mensah-Stock defeats Hanzlickova, 10-1.
---
Team USA will close out the final day of women's wrestling with a gold, a bronze and a fifth place finish. They'll collect two golds (Helen and Adeline), two silvers (Sarah and Kayla) and three bronzes (Jenna, Forrest & Tamyra). Seven medals and also a fifth and a tenth place for a total of 147 points. Japan is still going to win it but this is a historically excellent result for America.
Maroulis and Gray were the two gold medalists in 2015, and also both medaled in the 2012 and 2014 worlds and the Tokyo Olympics and have served as the backbone of the USA women's program for essentially the last decade.
Japan goes one and one in the final two gold medal matches of the women's tournament. They finish with nine total medals and four gold. USA and Kyrgyzstan both had two champs, while Bulgaria and Moldova each nabbed a single gold.
Below are the final team scores for women's wrestling in Oslo.
1) Japan, 196
2) USA, 147
3) Mongolia, 78
4) Ukraine, 73
5) India, 67
6) Kyrgyzstan, 65
7) Russia, 64
8) Bulgaria, 49
9) Canada, 47
10) Germany, 45
10) Moldova 45
Incidentally, if you add up both men's & women's freestyle team scores, America is number one.
Top-ten nations in the world at freestyle wrestling (final men's & women's team scores combined)

1. USA, 315pts
2. Russia, 237pts
3. Japan, 229pts
4. Iran, 162pts
5. Mongolia, 128pts
6. Ukraine, 110pts
7. Kyrgyzstan, 100pts
8 (tie). India & Turkey, 87pts
10. Belarus, 75pts

— Joe Gilpin (@JoeAtFanatics) October 7, 2021
That'll do it for day 6. Tomorrow is a full day of Greco, followed by another full day of Greco, followed by the final day and the closing ceremonies. Sorry for the typos, see you tomorrow!