2021 U23 World Championship
Cassioppi Powers His Way To Finals: U23 Worlds Day 6 Match Notes
Cassioppi Powers His Way To Finals: U23 Worlds Day 6 Match Notes
Get in real-time updates from the U23 World Championships as the 2nd half of the men's freestyle team starts their tournament.
Nov 6, 2021
by JD Rader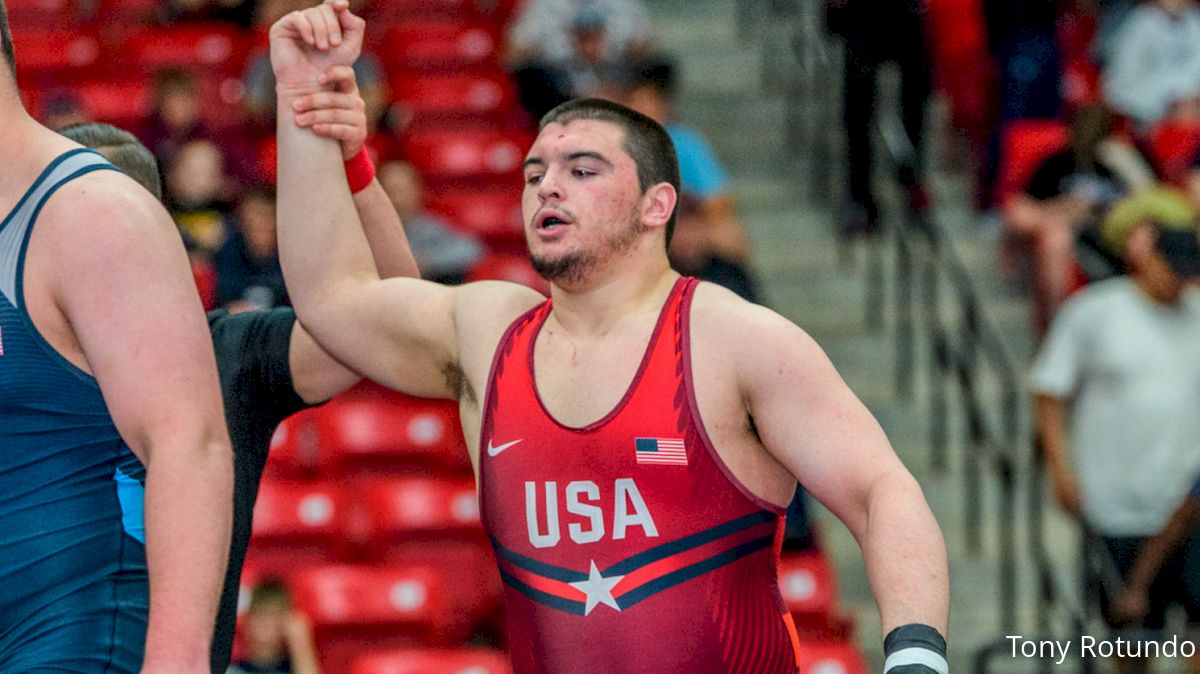 Day six in Belgrade. The second half of the men's freestyle team starts their tournament in the morning (Chris Cannon, Peyton Robb, Myles Wilson, Nino Bonaccorsi, and Anthony Cassioppi) while Jake Marsh wrestles in repechage. Jay Aiello will be wrestling for bronze in the afternoon.
If you need to get caught up, here are the previous days' blogs.
Day 1 | Day 2 | Day 3 | Day 4 | Day 5
Competition begins at 5:30 am Eastern Time with prelims and quarterfinals with semifinals beginning at 11:45 am and medal matches at 1 pm.
SCHEDULE | BRACKETS | MAT ASSIGNMENTS
Up first for Team USA will be Jake Marsh.
#WrestleBelgrade Match order:

1st on C: Marsh vs. Mamiauri (Georgia), repechage
5th on B: Wilson vs. Sadowski (Poland)
10th on B: Robb vs. Alharthi (Saudi Arabia)
17th on A: Cannon vs. Kokate (India)
21st on B: Cassioppi vs. Simonyan (Armenia)
23rd on C: Bonaccorsi vs. TBD

— USA Wrestling (@USAWrestling) November 6, 2021
Repechage (79 kg): Jake Marsh, USA vs Goga Mamiauri, GEO
1st period: Double leg from Mamiauri, who finishes quickly for 2. A step-in single adds two more points for Mamiauri a minute into the match. Post high c for Marsh, but some heavy hip pressure from Georgia nets a stalemate. Shot from Marsh, but Mamiauri is able to finish on a go behind. Post single for Marsh. He gets extended but holds on for a stalemate. 6-0 Mamiauri.
2nd period: Righty high crotch for Marsh, Mamiauri comes over the top. Marsh is able to get to the side, slip his leg over top and in, and get a takedown. Marsh keeps his legs in and after a long time by normal par terre standards, Georgia comes out the back, but as he is covering Marsh stands up. Mat judge didn't award anything, but side and table went 1 for Georgia. Dubuque challenges, but it is lost. Score no 8-2 with 1:48 left. Marsh hits a nice inside trip with 20 seconds to go, but only gets two and can't get a turn. Good effort from Marsh who originally wasn't even supposed to be on this team.
Mamiauri dec. Marsh, 8-4
---
R32 (86 kg): Myles Wilson, USA vs Cezary marek Sadowski, POL
1st period: High crotch for Sadowski 40 seconds in, but a good sprawl for Wilson leads to a stalemate. 1:30 in and Poland goes on the clock. Wilson scores the shot clock point. Low single attempt for Sadowski. He pulls it in as Wilson gets to a crotch lock. Two goes on the board for Poland before time expires. Now the officials are having a discussion as to what the score should be. And two points go on the board for Wilson! 3-0 Wilson.
2nd period: Poland doesn't realize the score is now 3-0 Wilson until 20 seconds into the period and tries to challenge, but the officials don't let him as too much time has passed. Passive is offered on Wilson halfway through, but not confirmed. Nice shot from Wilson and he finished, plus quickly transitions into a gut for two more. And that will do it.
Wilson dec. Sadowski, 7-0
---
R32 (74 kg): Peyton Robb, USA vs Hassan shaya Alharthi, KSA
1st period: Beautiful double leg for Robb. He picks Alharthi all the way up and cartwheels him down for four so hard/big that he goes off the mat and bumps the camera and they have to take a minute to reset it. Single leg for Saudi Arabia, but Robb easily defends and adds two gut wrenches for the tech in 51 seconds.
Robb tech fall Alharthi, 10-0
---
R32 (61 kg): Chris Cannon, USA vs Suraj Rajkumar Kokate, IND
1st: Single leg for Cannon one minute into the match. He adjusts his head to the outside and finishes from quad pod with a trap arm. After one trap arm, Cannon switches to a lace for another turn. India then tries to stand up and Cannon drops down to a double and goes feet to back for four and the tech!
Cannon tech fall Kokate, 10-0
---
R16 (86 kg): Myles Wilson, USA vs Mher Markosyan, ARM
1st period: Big lat drop on the edge for Armenia gives him a 4-0 lead 20 seconds in. Passive was offered on Markosyan 50 seconds in, but not confirmed. With under 10 seconds to go in the period Wilson locks up a body lock on the edge, but Markosyan grabs double overs and throws Wilson out of bounds. Wilson didn't expose, but I believe two points for proper throw is called. Coach Sammy Brooks challenges. Challenge lost, so one more point for Armenia. 7-0 Markosyan.
2nd period: Lefty single leg for Wilson and they go out of bounds on the finish. Caution and 1 is offered, but two points is confirmed. Wilson pressures into Armenia with a seatbelt/underhook and Armenia tries to throw Wilson again, but this time he ends up on his back! Wilson appears to have the fall. The mat official wants it, but it is not confirmed and finally Armenia gets off his back. Wilson has 50 seconds to score 4 points. Wilson can't breakthrough and that will do it.
Markosyan dec Wilson, 7-4
---
R16 (92 kg): Nino Bonaccorsi, USA vs Erhan Yaylaci, TUR
1st period: Yaylaci is on the board first with a step out. Bonaccorsi answers with a single leg to take the lead. Single leg for Nino. He's trying to elevate and come out the back door and after about 15 seconds, he's able to. High crotch to crackdown finish for Yaylaci puts him within one. Same high c, but this time Nino feels it and fends it off. 4-3 Bonaccorsi.
2nd period: Low double for Bonaccorsi and he keeps Yaylaci on his back for a while after finishing. Shot fro Turkey and he finishes out of bounds. Double leg for Turkey and he switches to one leg as the two go to crackdown position. And Yaylaci finishes the shot to take the lead with 43 seconds left. Single leg for Nino, but Yaylaci is too strong and a stalemate is called. 25 seconds left. Nino shoots, Yaylaci reattacks and looks like he's about to drive Nino out, but Nino throws him through and out of bounds. Two Nino was what the mat official awarded, but two Turkey is the call. USA challenges. Two Yaylaci is confirmed, so the score is now 10-6. One more takedown for Yaylaci as Nino tries something before time runs out makes the final 12-6.
Yaylaci dec Bonaccorsi, 12-6
---
R16(125 kg): Tony Cassioppi, USA vs Martin Simonyan, ARM
1st period: Heavy snap Cassioppi gives him a takedown 50 seconds in. Now two gut wrenches adds four more. Cassioppi locks up a over under lock and takes Simonyan down, but Simonyan rolls him through. 2 and 2. 8-2 Cassioppi.
2nd period: Cassioppi shoots across Armenia's body, which leads to an easy go behind. The two both have an over under body lock. Cassioppi feels the pressure from Simonyan on the edge and tries to throw, but goes to his back. 2 points for Armenia. Same position 15 seconds later, but this time Cassioppi tries a headlock and can't get it. 2 more points Armenia. Armenia keeps going to this body lock which is leading to scary situations for both teams. This time Cassioppi scores on the step out, although two was offered. Just after I type that, Armenia shoots a single leg off the whistle, which proves to be a mistake as Cassioppi defends, exposes, and then pins Armenia who was clearly very tired.
Cassioppi fall Simonyan
---
R16 (74 kg): Peyton Robb, USA vs Vasile Diacon, MDA
1st period: Beautiful boot scoot for Diacon at the 40-second mark. Robb pressures in from standing front head, looking for a step out, but Moldova pivots and scores two on an outside trip takedown. Great double leg to body lock to inside trip sequence for Robb gets him on the board. 4-2 Diacon.
2nd period: Double leg for Robb gives him the lead on criteria. Single leg now for Robb. Moldova drapes over the top and holds on for a stalemate. Single leg for Moldova and he brings it to his feet and finishes with a hard club across the head of Robb and pulling him down.
Diacon dec Robb, 6-4
---
R16(61 kg): Chris Cannon, USA vs Taiyrbek Zhumashbek uulu, KGZ
1st period: Nice single leg and with an explosive finish for Cannon 1:15 in. Then he adds a tough gut, that he had to stick with to make the score 4-0. Nice club single for Cannon, and then he gets his head across and a big finish, but KGZ doesn't explode, so just two. A good last-second head pinch from Zhumashbek, but somehow Cannon doesn't expose. 6-0 Cannon
2nd period: Double leg for Cannon, but KGZ stops Cannon and then kicks him through for two. Then he holds on to the legs and stands up to roll Cannon over his back again. Coach Howe challenges the initial two, wants two for Cannon. Challenge lost, one point for Zhumashbek. 6-5 Cannon with 1:40 to go. Single leg for KGZ, but a good sprawl for Cannon leads to him getting to Zhumashbek's legs and scoring. Challenge from the Kyrgyzstan corner. Challenge lost, 9-5 Cannon with 37 seconds to go. Nice underhook high c for Cannon. Chest wrap for Kyrgyzstan, who comes close to getting it, but Cannon avoids breaking the 90-degree plane. Great, tough match by Chris Cannon.
Cannon dec. Zhumashbek, 9-5
---
Quarterfinal (125 kg): Tony Cassioppi, USA vs Paris Karepi, ALB
1st period: Cassioppi scores on a go-behind to take a 2-0 lead a minute into the match. Cassioppi keeps the pace high and scores on two step outs for a 4-0 lead.
2nd period: Karepi gets put on the activity clock a minute into the period and Cassioppi picks up an additional point when Karepi doesn't score. Cassoppi shoots Karepi out of bounds for a step out to take a 6-0 lead—then a caution and one for a 7-0 lead. Cassioppi looks fresh and wins 7-0. He earns a spot in the semifinals.
Cassioppi dec. Karepi, 7-0
---
Quarterfinal (61 kg): Chris Cannon, USA vs Artur Chebodaev, RUS
1st period: Chebodaev scores first on a step out for a 1-0 lead then picks up a takedown later in the period for a 3-0 lead. Cannon makes a decent attempt to score at the end of the period but time ran out.
2nd period. Chebodaev begins with a takedown near the edge about a minute into the period to extend his lead to 5-0. Cannon hit a sweep single and nearly scored but Chebodaev kicked out and scores a takedown of his own a few seconds later for a 7-0 lead with 58 seconds remaining. That score holds and Chebodaev wins, 7-0
Chebodaev dec. Cannon, 7-0
---
Semifinals (125 kg): Tony Cassioppi, USA vs aipudin Magomedov, RUS
1st period: Magomedov has to take a break after getting poked in the eye two seconds into the match. A snatch single by Cassioppi results in one point on a step out. Cassioppi leads 1-0 at the break.
2nd period: Cassioppi starts the action by driving Magomedov out of bounds for a second step out and a 2-0 lead. Cassioppi picks up the third point off a caution and one. Cassioppi finishes off the match with a go-behind for a 5-0 win and a spot in the gold medal finals.
Cassioppi dec. Magomedov, 5-0
---
Bronze medal match (97 kg): Jay Aiello, USA vs Vasil Pauliushenka
1st period: Pauliuchenka placed on the activity clock with 1:20 to go in the period and Aiello picks up the first point when Pauliuchenka Pauliuchenka doesn't score. Pauliuchenka scores on a crotch lift off an Aiello shot then Aiello counters for two then a series of leg laces to go up 9-2 at the break.
2nd period: Aiello scores on a counter lift for a 13-2 technical superiority win and a bronze medal.
Aillelo technical superiority Pauliushenka, 13-2