2021 U23 World Championship
LIVE From Serbia: Day 2 U23 Worlds Match Notes
LIVE From Serbia: Day 2 U23 Worlds Match Notes
Get in-real-time live updates from the Greco-Roman action at the U23 World Championships in Belgrade, Serbia.
Nov 2, 2021
by JD Rader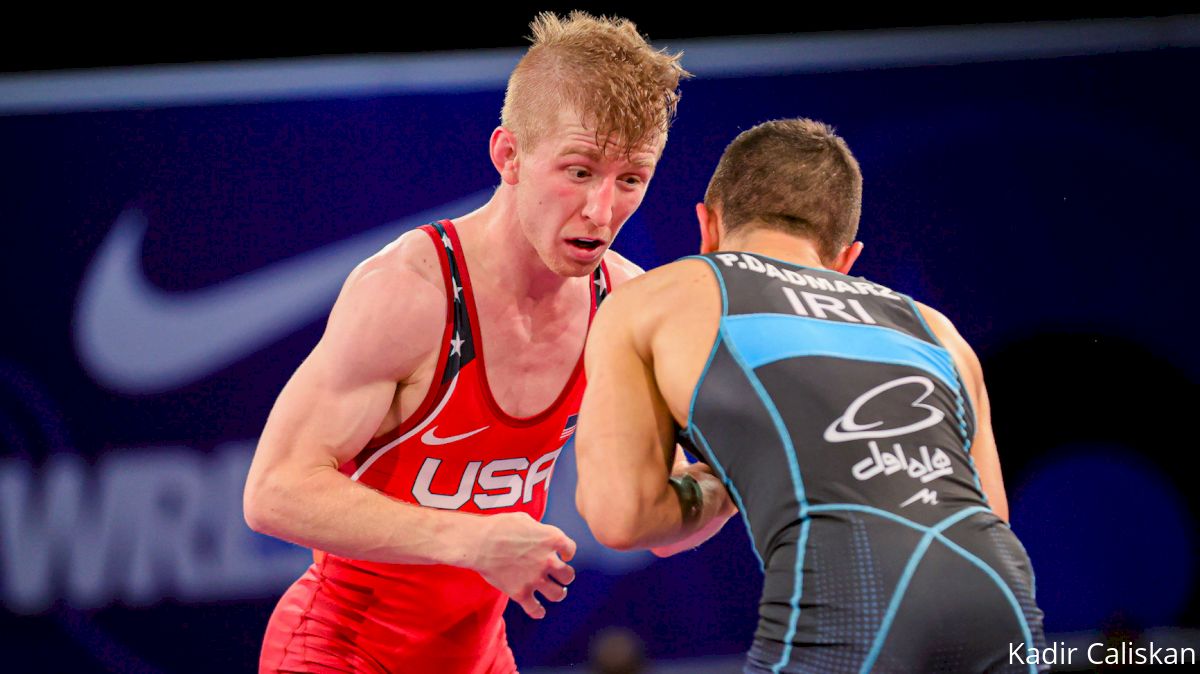 Day one's lone shining star for Team USA, Taylor LaMont, is back in action going for a bronze medal today. First, however, Dylan Gregerson, Alston Nutter, Nate Moore, Tommy Brackett, and Nick Boykin will get their tournaments underway with preliminaries - quarterfinals.
If you need to get caught up, here is yesterday's blog.
Competition begins at 5:30 am Eastern Time with prelims and quarterfinals with semifinals beginning at 11:45 am and medal matches at 1 pm.
SCHEDULE | BRACKETS | MAT ASSIGNMENTS
Up first for Tema USA will be Alston Nutter.
Day two of Greco-Roman at the U23 Worlds begins in about 40 minutes here in Serbia!

Alston Nutter 10th match on C (67 kg)
Nicholas Boykin 16th on A (97 kg)
Tommy Brackett 19th on B (82kg)
Dylan Gregerson 22nd on A (60 kg)
Nate Moore 36th on B (72 kg, quarters)#WrestleBelgrade

— USA Wrestling (@USAWrestling) November 2, 2021
Round of 32 (67 kg): Alston Nutter, USA vs Joni Khetsuriani, GEO
1st period: Immediately off of the whistle Nutter pressures forward and Georgia hits him with a beautiful arm throw for four. Nutter stands up, pressures in again, and the same arm throw is repeated. This time Nutter was right on the edge of landing in danger, so we'll get a challenge.
The call is overturned! Georgia still gets 2 for the proper throw, but Nutter still has life. Nutter comes close to scoring on a go behind from front headlock, but Georgia is able to square up as he stands up and push Nutter out. 7-0. With 44 seconds remaining in period #1 Khetsuriani completes the tech fall with a nice slide by off of Nutter's pressure
Khetsuriani tech Nutter, 9-0
---
Round of 32 (82 kg): Nicholas Boykin, USA vs Gerard Cyprian Kurniczak, POL
1st period: 1 minute in ad Poland is controlling center. 18 seconds later Boykin is called for passive. Kurniczak gets Boykin up in the air, but his lock breaks. Beautiful arm drag takedown for Boykin and he's on the board! Poland takes Boykin to the edge and Boykin steps out as he drops down to a knee. One official white paddled for what I assume was grounded, but 2 out of 3 confirm one point step out. Boykin leads on criteria at the break.
2nd period: After being locked in an over-under for about 30 seconds Boykin brings his hips to the party and picks up 4 points on a nice throw! Boykin tacks on another takedown and he's now just one takedown away from a tech! A nice throw attempt from Poland is countered by an even better head cartwheel from Boykin, no points. Kurniczak gets a questionable step out point while throwing himself to his back out of bounds. That'll do it.
Boykin dec. Kurniczak, 8-3
---
Round of 16 ( kg): Tommy Brackett, USA vs Mukhammadkodir Rasulov, UZB
One of the best wrestling names in the biz, Tommy Brackett, taking the mat now!
1st period: Brackett is keeping the pressure one, he clearly wants to push the pace. 1:15 in, Brackett has gone for two throws that have been ruled slip. Despite this, Brackett gives up the first passive. Rasulov goes for a gut wrench and Brackett is able to hop over and over for a reversal. He now leads 1-1.
2nd period: Brackett is really utilizing the slip rule. He's got two early in the period, bringing his match total to either 5 or 6 now. Although I don't agree with it, Brackett is once again put down on passive. Two gut wrenches makes the score 6-1. Brackett is confused and calling for a challenge. Coach Andy Bisek in the corner hits the bottom, but now Brackett is saying he doesn't want it. After a lengthy discussion with the official with whom I'm guessing does not speak English, the challenge is waived off and the two continue. Now Brackett is hit with a caution and two for hands to the face. Now it's Rasulov getting called for a caution and 2 for what I believe was interlocking the fingers.
Rasulov dec. Brackett, 8-3
---
Round of 16 (60 kg): Dylan Gregerson, USA vs Mehdi Seifollah Mohsen Nejad, IRI
1st period: Nejad gets behind Gregerson and throws him for 4, border lining on 5. A quick go behind transitioned right into a gut wrench give Nejad the tech just 1:04 into the match.
---
Round of 16 (97 kg): Nicholas Boykin, USA vs Artur Sargsian, RUS
1st period: The Russian comes out aggressive, attacking under hooks and for the most part moving Boykin around the mat. Sargsian takes Boykin to the edge and attempts an off-balance, but falls to the mat. The officials rule it a slip. Sargsian clearly didn't slip, but fell. Coach Lindland challenges, but the call is lost. Step out for Sargsian. Sargsian gets to a body lock, and Boykin bails to quad pod. Sarsgian goes for throw but falls to his butt out of bounds. The officials go caution and 2 for Sargsian. Immediately on the restart, Sargsian moves Boykin across the mat and gets a step out.
2nd period: Sargsian comes out aggressive again and hits a duck for 2. Sargsian locks up a body lock and throws Boykin for 4.
Sargsian tech Boykin, 11-0
---
Quarterfinal (72 kg): Nate Moore, USA vs Dris Hanpasaevic Ibaev, GER
Replacing Benji Peak, Nate Moore wasn't even supposed to be here and is now wrestling in the quarter finals thanks to a bye in the round of 16.
1st period: An early arm drag for Ibaev leads to takedown as the two go out of bounds. Moore responds by trying to get a push out from front headlock. As Moore pulls Ibaev down, he tries to drag his way out, so Moore attempts to front head pinch Ibaev through. However, Ibaev is able to hold Moore on his back for a couple seconds. It's called 4 for Ibaev, and we're going to get a challenge. I think this is a good challenge. 2 at the most for Ibaev, not 4. A good challenge indeed as they instead score it 2 and 2. However, that seems to have pissed the German off. He gets a go behind and locks Moore up and throws him for four.
Ibaev tech fall Moore, 12-2
---
Bronze Medal Match (55 kg): Taylor LaMont USA vs Nihad Guluzade, AZE
Time to bring home some hardware!
1st period: Not much happening for the first minute and a half, lot of time spent in the over-under and hand fight. LaMont gets put down first. Two lefty guts makes it 5-0 Azerbaijan.
2nd period: A nice arm drage for Guluzade gets him the takedown and an immediate transition to a gut finishes the match. Great tournament by Taylor LaMont just ran into two great opponents.
Guluzade tech LaMont, 9-0
---
Looking ahead tomorrow in repechage:
Nate Moore will face Erik Persson (SWE)
Nick Boykin will face Ondrej Dadak (CZE)
Dylan Gregerson will face Mukhammadkodir Yusupov (UZB)
Brackett and Nutter were eliminated.