2021 U23 World Championship
LIVE From Serbia: Day 3 U23 Worlds Match Notes
LIVE From Serbia: Day 3 U23 Worlds Match Notes
Get in real-time updates from the U23 World Championships as the women get started and Greco comes to a close.
Nov 3, 2021
by JD Rader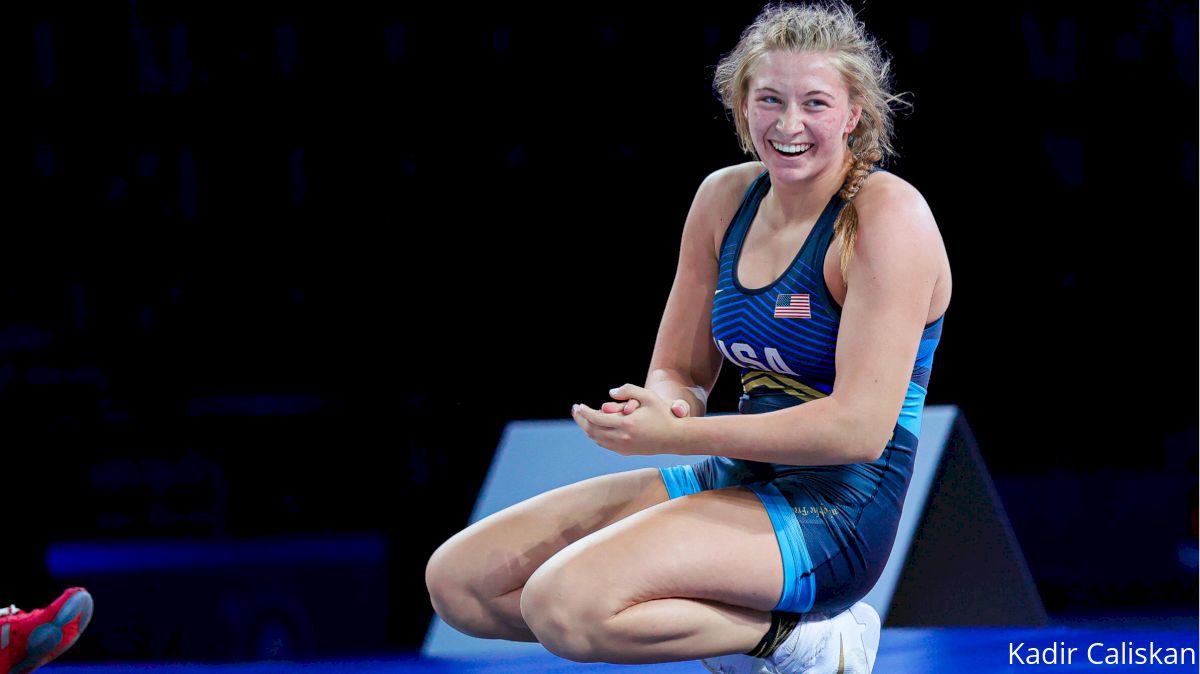 Day three in Belgrade: 3 Greco athletes remain alive in repechage (Dylan Gregerson, Nate Moore, and Nicholas Boykin) and the first half of the women's team (Emily Shilson, Alex Hedrick, Michaela Beck, Alyiva Fiske, Kylie Welker)kick things off. Should be a tremendous day!
If you need to get caught up, here are the previous days' blogs.
Competition begins at 5:30 am Eastern Time with prelims and quarterfinals with semifinals beginning at 11:45 am and medal matches at 1 pm.
SCHEDULE | BRACKETS | MAT ASSIGNMENTS
Up first for Team USA will be Dylan Gregerson.
#WrestleBelgrade Team USA Greco-Roman repechage bout order this morning:

1st match on A: Dylan Gregerson vs. Yusupov (UZB)
2nd match on A: Nate Moore vs. Persson (SWE)
4th match on B: Nick Boykin vs. Dadak (CZE)

Wrestling begins in about 90 minutes. Live on @FloWrestling.

— USA Wrestling (@USAWrestling) November 3, 2021
#WrestleBelgrade WFS Session 1 bouts:

5th on A: Shilson vs. Ersel (GER)
6th on A: Beck vs. Sazykina (BLR)
8th on C: Welker vs. Zakharchenko (RUS)
10th on A: Fiske vs. Bas (TUR)
17th on A: Hedrick vs. TBD

Wrestling begins at 10:30am local time, 5:30 eastern. Live @FloWrestling.

— USA Wrestling (@USAWrestling) November 3, 2021
GR Repechage (60 kg): Dylan Gregerson, USA vs Mukhammadkodir Yusupov, UZB
1st period: 1:21 in USA finally gets a first passive call to go their way! Gregerson isn't able to get a turn, but now leads 1-0. That's how the first period ends. Gregerson really looking for a two-on-one.
2nd period: Yusupov comes out aggressive and hits an arm throw several second into the period that nets him two points for a proper throw. Yusupov goes back to the same throw just a little while later but this time Gregerson exposes and Yusupov gets four. Yusupov transitions to a headlock and pins Gregerson 1:07 into the period.
Yusupov fall Gregerson
---
GR Repechage (72 kg): Nate Moore, USA vs Erik Arthur Persson, SWE
1st period: Moore comes out looking for a lat drop, but can't finish and Persson ends up on top 15 seconds in. An arm drag for Persson allows him to get an angle on Moore and push him out. Now Moore is called for passive and has to go underneath. Righty gut for Persson then he goes lefty, making the score 8-0, but Moore steps over and doesn't give up the tech because of continuation! It looked like he had Persson in trouble, but Persson rolls through and breaks the trap arm as well. With 21 seconds left Persson hits an over-under bock lock throw. Moore doesn't expose, but proper throw is called, making the score 10-0. Coach Nickerson challenges, but it is lost.
Persson tech Moore, 11-1
---
GR Repechage (97 kg): Nick Boykin, USA vs Ondrej Dadak, CZE
1st period: Boykin is called for passive first. Dadak hits a righty gut but Boykin avoids exposing. Dadak then stands up with the lock and throws Boykin. He didn't expose, but proper throw is called.
2nd period: Dadak is now called for passive, so Boykin gets his turn on top. Boykin tries to go reverse lock right off the whistle, but the officials don't approve. He goes back to it off of the start and gets a funky and creative turn where he kind of pried Dadak over with his leg, but Dadk ends up on top. Score now 4-3 Dadak. Time runs out and Boykin falls in the first round of repechage.
Dadak dec Boykin, 4-3
---
WFS R16 (50 kg): Emily Shilson, USA vs Lisa Ersel, GER
Women's freestyle time!
1st period: Beautiful low single for Shilson and she finishes out the back door. 1 minute in Ersel is called for passive. Another low single for Shilson to the same side. This time she's able to finish quickly by powerfully shooting in and straightening out Ersel's leg. A sucker drag for Shilson makes it 6-0. Trap arm for 8-0 and then a nice transition to a lace for a tech fall!
Shilson tech fall Ersel, 10-0
---
WFS R16 (59 kg): Michaela Beck, USA vs Krystsina Sazykina, BLR
1st period: Lefty single for Beck. She can't finish but gets Sazykina called for caution and 1 as they go out of bounds. The officials have a conference and the caution didn't stick, still 1-0. Another lefty single for Beck, but the position is stalemated with a whizzer by Belarus. Now Beck is called for passive. Same single leg for Michaela. She gets flattened out but holds on to the leg until stalemate is called. 1-0 Beck.
2nd period: 35 sedoncs in, Sazykina hits a slide by for a takedown as the officials are about to call Beck for her 2nd passive. Lefty single for Beck. She gets flattened out again and this time exposed for two. Belarus comes around on top, but can't get a turn. Arm spin attempt for Beck. She can't get it, but transitions to a single leg. The official lets them wrestle in the position for a long time as Beck kept improving slightly, but it eventually ends in a stalemate. Nice post double for Beck, but Sazykina counters for 2 on exposure in the final 10 seconds.
Sazykina dec Beck, 6-1
---
WFS R16 (76 kg): Kylie Welker, USA vs Evgeniia Zakharchenko, RUS
A big one here for Welker. This Russian won bronze at this tournament in 2019 and has two Junior World silvers as well. This might be Kylie's biggest challenge in the bracket.
1st period: 49 seconds in. Zakharchenko is called for passive. Welker staying on the outside and level changing a lot. Russia tries an arm throw on the edge, Welker defends, but Zakharchenko still gets one on the step out. Zakharchenko tries to go back to the arm spin, but slip is called. Nice single leg for Kylie. She gets behind, but Russia is able to turn around and grab ankles as time expires. 1-0 Zakharchenko.
2nd period: Sam single leg for Kylie. This time she finishes as the two go out of bounds. High crotch for Russia. Welker does the splits and locks in the crotch to get a stalemate. Step in single for Welker. From the feet, Zakharchenko hits a gator bacon-esque defense for four. Welker gets right back in on the leg and this time scores. Now transitions to the lace to regain the lead! 1 minute to go. Zakharchenko looking for an inside trip with short time, but Welker holds on in over under and wins! Great opening match for Kylie Welker!
Welker dec Zakharchenko, 6-5
---
WFS R16 (68 kg): Alyivia Fiske, USA vs Nesrin Bas, TUR
1st period: 1:10 in Fiske is called for passive. Righty single for Fiske, Bas defends and stands up in over under a step out is called. Coach Jordin Humphrey challenges. Good challenge the call is reversed. Fiske is called for passive again and goes on the clock. She tries for a stepout, but Bas pulls Fiske down to the mat with a whizzer and grounded is called. 1-0 Bas.
2nd period: 1 minute in and Bas gets her first passive. Now halfway through the period and Bas is going on the clock. Bas is unable to score and Fiske takes the lead on criteria. Double leg for Bas, Fiske defends so Bas defends to a Sadulaev type double overs role, but can't come through and Fiske gets the fall!
Fiske fall Bas
---
WFS Quarterfinal (50 kg): Emily Shilson, USA vs Stefania Claudia Priceputu, ROU
1st period: Shilson comes out shooting her single once again and transitions to a cradle. It's deep and she's got 2:35 to get the fall. And she does!
Shilson fall Priceputu
---
WFS Quarterfinal (76 kg): Kylie Welker, USA vs Kamile Gaucaite, LTU
1st period: 50 seconds in Lithuania is hit for passive. Gaucaite tries an arm spin, comes through and transitions to a single leg. Kylie locks up a cradle and gets the fall!
Welker fall Gaucaite
---
WFS Quarterfinal (55 kg): Alex Hedrick, USA vs Anju Anju, IND
1st period: 1:30 in and Hedrick is called for the first passive. 19 seconds later, she's hit again and goes on the clock. Nice righty club to a far knee pick for India gives Anju the first points. 2-0 Anju.
2nd period: Straight-on shot from India 10 seconds in and Hedrick backs out of bounds. Caution and 1. Go behind for Hedrick gets her on the board and a gut wrench for two more. Hedrick came close to another gut, but couldn't quite get it. She leads 4-3. Hedrick takes India to the edge and gets two more on a takedown. Anju responds with the same righty club to far knee pick, but this time pulls the leg up and dumps Hedrick to finish. India once again goes back to the far knee pick and drives Hedrick across the mat. Caution and 1 is called. Two points go on the board, so Humphrey challenges. The score is adjusted to 6-6 with 34 seconds remaining. India comes out frantically trying to get the knee pick, but then shoots a nice double. Picks Hedrick up, jumps to the side and exposes Hedrick for 4. Hedrick rolls through for two. Hedrick hits a crotch lock, but time expires.
Anju dec Hedrick, 11-8
---
WFS Quarterfinal (68 kg): Alyvia Fiske, USA vs Koumba Larroque, FRA
This is the girl that beat Tamyra Mensah-Stock at the 2018 Worlds. A win for Alyvia would be huge.
1st period: 45 seconds in Fiske is hit for passive. 20 seconds later Larroque hits a double on the edge for the first points. Larroque adds to more on another edge takedown. 4-0 Larroque.
2nd period: Fiske shoots a single 50 seconds in, but Larroque counters with a go behind. She can't finish but gets one on the step out. Larroque hits a double leg and drives Fiske out for another step out. Far ankle pick from a two on one for Larroque extends her lead to 8-0. A big feet to back double leg for Larroque finishes it.
Larroque tech Fiske, 12-0
---
There will be a break now with women's semis starting at 11:45 am Eastern. Shilson will have Sarra Hamdi of Tunisia and Welker will have Aiperi Medet Kyzy of Kyrgyzstan. Greco medal matches will follow, but no Americans will be in action.
---
WFS Semifinal (50 kg): Emily Shilson, USA vs Sarra Hamdi, TUN
Emily Shilson's opponent didn't come to the mat. Shilson did and looked surprised when the girl didn't come. Not sure exactly what happened.
---
WFS Semifinal (76 kg): Kylie Welker, USA vs Aiperi Medet Kyzy, KGZ
Yet another tough one for Kylie. This time it's Olympic fifth and World bronze.
1st: period Kyzy looks for a go behind, but Welker is able to hold on for a stalemate with a whizzer. Lefty sweep single for Kyle. She gets behind, but this time Kyzy holds on for the stalemate. Kylie called for passive. Kylie tries to pull Kyzy down with a two on one, but Kyzy arm drags out and takes Welker down. Kyzy looks for a lace, but can't get it. Kylie shoots a single leg quickly off the restart, but it's stalemated. 2-0 Kyzy.
2nd period: Kyzy uses two on one to arm drag to attack the body and eventually take Welker down. Head club to sweep single for Kylie, but Kyzy defends and scores. Now 6-0 with 1:41 left. Welker has been shaking out her left arm during each break in the action in this period. I'm wondering if she hurt it a bit. Welker shoots a high crotch to Kyzy's right leg. Kyzy sprawls, crossfaces, and scores. Blast double from Kylie off of the whistle, Kyzy reshoots Welker out of bounds with 5 seconds left.
Kyzy is good. Kylie just had nothing for her. You need to finish quick on an opponent like that.
Kyzy dec. Welker, 8-0
---
That does it for day three. Emily Shilson advances to the finals where she'll have Shivani Pawar of India. Kylie Welker will wrestle for bronze. Alyvia Fiske is still alive in repechage and will wrestle Monika, also of India.