2021 U23 World Championship
Aiello Alive For Bronze: Day 5 U23 Worlds Match Notes
Aiello Alive For Bronze: Day 5 U23 Worlds Match Notes
Get in real-time updates from the U23 World Championships as men's freestyle action starts and Kayla Marano wrestles for bronze.
Nov 5, 2021
by JD Rader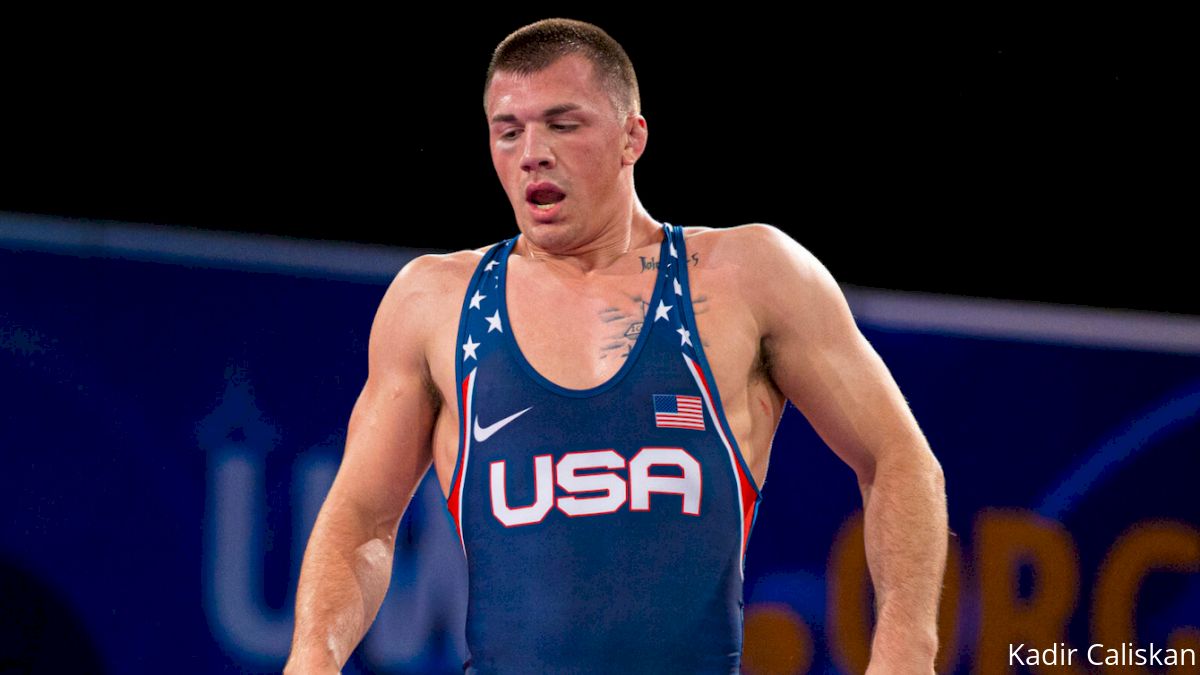 Day five in Belgrade. Men's freestyle starts with Patrick Glory, Dom Demas, Brock Mauller, Jake Marsh, and Jay Aiello wrestling for Team USA. UNI's colin Realbuto will also be representing Team Italy. Later in the day Kayla Marano will wrestle for a bronze medal.
If you need to get caught up, here are the previous days' blogs.
Competition begins at 5:30 am Eastern Time with prelims and quarterfinals with semifinals beginning at 11:45 am and medal matches at 1 pm.
SCHEDULE | BRACKETS | MAT ASSIGNMENTS
Up first for Team USA will be Dom Demas.
Men's freestyle match order for this morning...

8th match on A: Demas vs. Badri (MAR)
14th on B: Mauller vs. Budak (TUR)
18th on B: Glory vs. Mohammadnezhadjavan (IRI)
20th on C: Aiello vs. Akturk (TUR)
22nd on B: Marsh vs. Sari (TUR)

— USA Wrestling (@USAWrestling) November 5, 2021
R32 (65 kg): Dom Demas, USA vs Abdelwahad Badri, MAR
Dom Demas receives a forfiet. Sounds like his opponent did not make weight.
---
R32 (70 kg): Brock Mauller, USA vs Cuneyt Budak, TUR
1st period: 45 seconds in Mauller hits a nice arm drag and gets behind to score the first points. Turkey answers with a single leg that Mauller fights off for a bit, but eventually gives up. A righty gut give Budak the lead outright. 4-2 Budak.
2nd period: 1 minute in. Lots of handfight, but no real shots. Los single for Budak. Mauller kicks out while pivoting and comes behind Budak to take the lead 4-4. POWERFUL los single from Budak sits Mauller down and he scores with 20 seconds. Then Budak transitions to the lace and adds 4 more on two laces as time expires.
Budak dec. Mauller, 10-4
---
R16 (57 kg): Pat Glory, USA vs Ahmad Masoud Mohammadnezhadjavan, IRI
1st period: Arm drag to a go behind for Glory gets him on the board. Wasn't able to finish the takedown, but got the stepout 50 seconds in. The Iranian is unsurprisingly attacking Glory with a seatbelt, undertook. High crotch for Glory. He finishes by switching off to the double. A lace makes the score 5-0.
2nd period: Glory tries to go back to the same high crocth, but gets extended too much and the Iranian is able to arm drag Glory and get an angle to the leg. At the last second, however, Glory gets a head pinch for his two and Iran only gets one for covering on top. Double leg for Iran. Glory tries to get an underhook and through Iran through, but goes to his back and gives up four. As Coach Dubuque is challenging Glory hits a beautiful double leg and finishes quickly. Dubuque and Glory wave off the challenge as he's up 9-5 now. Duck under for Glory extended his lead to 11-5 with 1 minute to go. Single leg for Iran right into two guts gives Iran the lead 11-11. Post high crotch for Glory, he has to switch to a single and can't get it.
Mohammadnezhadjavan dec 11-11
---
R16 (97 kg): Jay Aiello, USA vs Feyzullah Akturk, TUR
1st period: 1 minute in Turkey is warned for hands to the face. Double leg from Akturk, but Aiello defends and they go out of bounds grounded. 2 minutes in Turkey goes on the clock. Akturk doesn't make an attempt and Aiello gets a point. Righty high c for Aiello, but time runs out. 1-0 Aiello.
2nd period: 1 minute in and now Aiello goes on the clock. A beautiful sweep single for Aiello gives him a takedown and eliminates the shot clock. Turkey shoots a high c in the center and drives Aiello out of bounds. Aiello counters and gets another takedown with 45 seconds left. Turkey dives in on Jay's legs, who gives up the takedown with short time, but wins 5-3.
Aiello dec. Akturk, 5-3\
---
R16 (79 kg) Jake Marsh, USA vs Ramazan Ishak Sari, TUR
1st period: Sari fakes and snaps Marsh down for an easy get behind and then tacks on four more with two gut wrenches. Another go behind + gut wrench give Sadi the tech in 45 seconds.
Sari tech fall Marsh, 10-0
---
R16 (65 kg): Dom Demas, USA vs Ziraddin Bayramov, AZE
1st period: High c from Bayramov, but Demas matadors him and get behind. He slips a leg in but can't get a turn. another high c for Bayramov. Demas once again tries to matador, but this time Bayramov holds on to the tricep, pulls hard and gets two points as Demas rotates on the top of his head. Another shot from Bayramov, Demas tries more crazy jumping things and Bayramov gets the takedown. Demas answers by looking for trips/a headlock, but that leads to a Bayramov takedown on the edge. 6-2 Bayramov.
2nd period: Demas continues to threaten win inside trips and footsweeps, but hasn't been able to complete one yet. Caution and one is offered on Bayramov, I'm not exactly sure what for, but it's white paddled. 1:30 left and Bayramov finally gets his first passive. 15 seconds later and he goes on the clock. Demas scores on the shot clock. 36 seconds left down by 3. Bayramov really shut it done well in period #2.
Bayramov dec Demas, 6-3
---
Quarterfinal (97 kg): Jay Aiello, USA vs Shamil Imam Gadzhialiev, RUS
1st period: Righty single for Gadzhialiev early, but Aiello defends nicely. Aiello goes on the clock 1:25 inc. Gadzhialiev scores on the shot clock. Beautiful outside step/duck for Aiello gives him a slick takedown and the lead. 2-1 Aiello.
2nd period: Single leg for Russia 15 seconds in. While Russia is trying to elevate, Aiello snaps his leg down and avoids giving up the takedown, but steps out. Gadzhialiev called for passive 1:05 in. Single leg for Gadzhialiev who is trying to come out the back door. Aiello tries to counter but exposes. Gadzhialiev stays on the leg and appears to expose Aiello again, but two white paddles go up. Two more points go on the board for Russia, so Coach Paulson challenges. Officials say they didn't get back to a defensive position, so the 2nd two is waved off. Good challenge. Single leg for Aiello. Gadzhialiev gets to a crotch lock. Aiello wrestles to a stalemate. 45 seconds to go. Sweep single for Aiello and he finishes quickly as Gadzhialiev is gassed. The referee stands them back up with 15 seconds to go. Low single for Russia, but Gadzhialiev doesn't have it in him to finish and Aiello holds on to win!
Aiello dec Gadzhialiev, 4-4
---
Semifinal (97 kg): Jay Aiello, USA vs. Amirali Azarpira, IRI
1st period: Azarpira scores first on a step out to take a 1-0 lead early in the match. Azarpira caught Aiello on his heels and scored a two-point takedown off an ankle pick late in the period.
2nd period: Azarpira scores on a step out followed by a takedown to take a 6-0 lead. Azarrpira picks up another takedown for an 8-0 lead. Aiello attempts a couple of shots late in the period but Azarpira scores another point on a step out for a 9-0 win.
Aiello will wrestle for a bronze medal tomorrow.
Azarpira dec. Aiello, 9-0
---
Bronze Medal Match (72 kg): Kayla Marano, USA vs. Divya Kakran, IND
1st period: Marano scores the first point of the match on a step out to take a 1-0 lead. Marano picked up a second point on activity clock violation but Kakran scored on a counter during a scramble to take a 2-2 lead into the break.
2nd period: Kakran takes Marano down to her back to secure a fall and a bronze medal.
Kakran fall Marano