2021 U23 World Championship
Shilson Grabs Gold: Day 4 U23 Worlds Match Notes
Shilson Grabs Gold: Day 4 U23 Worlds Match Notes
Get in real-time updates from the U23 World Championships as the second group of women get started.
Nov 4, 2021
by JD Rader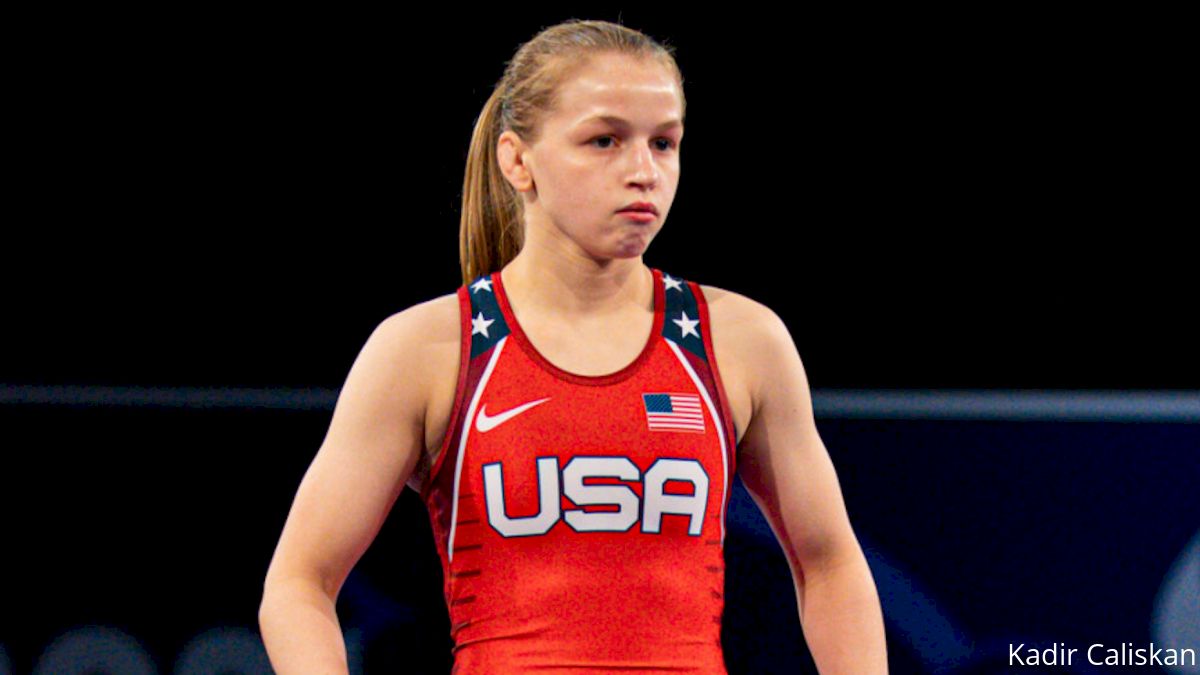 Day four in Belgrade: Alyvia Fiske will be in the morning repechage session and the second half of the women's team (Ronna Heaton, Amanda Martinez, Emma Bruntil, Ashlynn Ortega, Kayla Marano) start their tournament. Later this afternoon Kylie Welker will wrestle for bronze and Emily Shilson for gold. Should be a tremendous day!
If you need to get caught up, here are the previous days' blogs.
Competition begins at 5:30 am Eastern Time with prelims and quarterfinals with semifinals beginning at 11:45 am and medal matches at 1 pm.
SCHEDULE | BRACKETS | MAT ASSIGNMENTS
Up first for Team USA will be Alyvia Fiske.
This morning's session...

1st match on B: Fiske vs. Monika (IND, repechage)
2nd on C: Bruntil vs. Cakmak (TUR)
10th on B: Heaton vs. Makhyaddinova (KAZ)
10th on A: Martinez vs. Bayanova (KAZ)
13th on B: Ortega vs. Alivisa (KEN)
16th on A: Marano vs. TBD (quarters)

— USA Wrestling (@USAWrestling) November 4, 2021
Repechage (68 kg): Alyvia Fiske, USA vs Monika Monika, IND
Alyvia has a noticeable size advantage. Hopefully she can use it.
1st period: Monika on the board first with a double leg. 2-0 at the end of the first. Fiske is getting to a two-on-one, but can't quite turn it into points yet.
2nd period: Fiske shoots a double, but has to switch off to the high c and ends up in crackdown. Monika crotch locks Fiske for two, but Fiske comes out on top for 1. Fiske came close to getting a bar arm and wrist turn, but the official stopped it. High crotch for Fiske with 40 seconds to go. Fiske elevates the leg from crackdown for two and then gets a late bar arm turn for two more! She wins 5-4.
Fiske dec. Monika, 5-4
---
R16 (62 kg): Emma Bruntil, USA vs Yagmur Cakmak, TUR
1st period: Emma looking for two-on-ones and front head offense. Turkey goes on the clock 1:35 in. 1 point on the board for Emma when Cakmak is unable to score. Bruntil gets her first passive with 22 seconds left in the period. After the restart, Emma tries to pull Cakmak down with a two on one and get a push out, but Cakmak pivots and pushes Bruntil out to take the lead on criteria 1-1.
2nd period: Single leg for Emma, she drives Turkey out of bounds and they both land on their sides. Emma gets one on the step out. Snap go behind and Emma has the first takedown of the match. Now Emma gets to front head and switches directions several times until shes able to get behind for another takedown. Two-on-one snap down for Amma and she's up 8-1 now. Turkey clearly tired with 50 seconds to go. Low single for Cakmak. Emma bails and gives up the takedown.
Bruntil dec. Cakmak, 8-3
---
R16 (53 kg): Ronna Heaton, USA vs Ellada Makhyaddinova, KAZ
1st period: KAZ comes out looking for an arm sping, but Heaton steps over, slips her leg in and appears to have two, but it is white paddles. KAZ quickly shoots a single on the restart, but Ronna scrambles out of it. 1:15 in Ronna is called for passive. 30 seconds later, she goes on the clock. Right single for Ronna. She tries to limp arm, Kazakhstan grabs her down and slows her down for a second, but Ronna eventually scores. Ronna looks for a righty guy, but Kazakhstan steps over. 2 was offered, but only 1 for the reversal is confirmed. Lefty single for Kazakstan, but Ronna close shin whizzers until time expires. 2-1 Heaton.
2nd period: Hard club to a shot for KAZ, but does gumby things and steps over for the takedown. KAZ shoots in, but Ronna hips in and puts Makhyaddinova to her back for the fall!
Heaton fall Makhyaddinova
---
R16 (57 kg): Amanda Martinez, USA vs Zeinep Bayanova, KAZ
1st period: Kazakhstan opens with two hard clubs and is warned by the officials. And 1 minute in, Bayanova is called for caution and 1 for hair grabbing. Martinez called for passive at 1:30. Another caution and 1 goes on the board for hair grabbing with 35 seconds left. 2-0 Martinez.
2nd period: Martinez opens up period two nicely with an early takedown. Double leg for Martinez and she drives through for another takedown. Martinez goes back to the double leg and finishes Bayanova off with a gut wrench.
Martinez tech fall Bayanova, 10-0
---
R16 (65 kg): Ashlynn Ortega, USA vs Khadija Jlassi, TUN
1st period: Ortega on the board first with a step out. Nice reattack for Jlassi puts her in the lead 2-1. Another step out makes it 2-2. Wait, side and table went caution and 1. Still 2-2 with Jlassi leading.
2nd: Ortega pressuring in again for another step out, but drops to the leg and gets the takedown. 30 seconds to go and Jlassi still has yet to take a shot. Finally with 15 seconds to go Jlassi starts her sprint, but too little too late. Ortega wins.
Ortega dec Jlassi, 4-2
---
Quarterfinal (62 kg): Emma Bruntil, USA vs Aurora Campagna, ITA
1st period: Single leg for Campagna gives her two 30 seconds in. 1 minute to go and Campagna is called for passive. She responds by immediately getting a takedown off of the restart whistle. Single leg for Italy with short time. She can't finish but gets one on the step out. Emma shoots off of the restart, but Campagna scores on a go-behind with 1 second left in the period. 7-0 Campagna.
2nd period: Single leg for Campagna and then she tacks on a high leg lace to complete the tech fall.
Campagna tech fall Bruntil, 11-0
---
Quarterfinal (53 kg): Ronna Heaton, USA vs Mariia Vynnyk, UKR
1st: 1:30 in and Ronna gets put on the clock. UKR shoots, Ronna tries to crotch lock, but UKR ends up on top and gets two. Looked like Ukraine exposed, but no challenge comes out. Ronna shoots and gets extended. Ukraine comes close to getting behind, but time runs out
2nd period: Ronna shoots but Ukraine pulls her up with double overs and sends her to her back. It's really deep. Ronna finally gets off her back with 1:15 left and comes out on top. Ronna shoots a single, but Vynnyk arm drags and gets behind for the takedown.
Vynnyk dec. Heaton, 6-1
---
Quarterfinal (72 kg): Kayla Marano, USA vs Maria larisa Nitu, ROU
1st period: Marano pressures in for a quick step out. Marano goes back to the two on one and pushes Nitu out again. Two on one snap go behind for Marano makes it 4-0. Marano's able to use the two on one yet again for another step out.
2nd period: Another two on one pull down to go behind for Marano tacks on two more. Nitu dives at Marano's legs and she runs behind for a takedown. 1 last go behind for Marano makes the final score 11-0.
Marano tech fall fall Nitu, 11-0
---
Quarterfinal (57 kg): Amanda Martinez, USA vs Esther Omolayo Kolawole, NGR
1st period: Nigeria pressures in, Martinez looks for a headlock as she goes to the mat, but Kolawole scores. More pressure from Kolawole and she pushes Martinez out after dropping to a single. BIG double for Kolawole. It was honestly a great job by Martinez not exposing while getting put down hard. Kolawole transitions to a leg lace and picks up 4 more.
Kolawole tech fall Martinez, 11-0
---
Quarterfinal (65 kg): Ashlynn Ortega, USA vs Nisha Nisha, IND
1st period: Single leg for India. She comes up and limp arms for the takedown. 1:11 in Ortega is called for passive. Underhook throw-by for Nisha makes it 4-0. Nice far ankle pick for Ortega. India is able to switch and get to a crotch lock and hold on for a stalemate. After review, they give Ortega the takedown! Ortega gets another point on a step out with 24 seconds left. With less than 5 seconds Nisha attempts an arm spin. Ortega defends, but steps out in the process. 5-3 Nisha.
2nd period: Immediate shot for Nisha off the whistle and then she jumps to a cradle and gets the pin.
Nisha fall Ortega
---

Semifinal (72 kg): Kayla Marano, USA vs. Anastasiya Alpyeyeva, UKR
1st period: Marano works from a two-on-one to start out the match but gets caught in the position and was taken to her back for two. Alpyeyeva eventually picked up the fall just over a minute into the match. Marano will wrestle for a bronze medal tomorrow.
Alpyeyeva fall Marano
---
Gold medal finals (50 kg): Emily Shilson, USA vs. Shivani Pawar, IND
1st period: Pawar works from a front headlock to start the match but Shilson powers through and shoots in on a single. Shilson got out of position and gave up a two-point exposure during a scramble. Pawar leads 2-0 after a minute. Shilson hits a headlock and scores four points and has Pawar on her back and picks up the fall for the 50-kg U23 gold medal. Shilson has won a gold medal at every age-level World Championships: Cadet (2018), Junior (2021), and U23 (2021).
Shilson fall Pawar
---
Bronze medal match (68 kg): Alyvia Fiske, USA vs. Oksana Chudyk, UKR
1st period: Chudyck gets put on the activity clock and Fiske scores the first point of the match with a minute remaining in the first period. Fiske scores two points on a double to take a 3-0 lead after the first period.
2nd period: Chudyk scores her first point of the match midway through the second on an activity clock violation on Fiske. Chuckyk leads 3-3 with one minute left after a two-point takedown. Fiske attempts a shot but Chudyk gets in a front headlock position and holds on for a 3-3 win and the bronze medal.
Chudyk dec. Fiske, 3-3
---
Bronze medal match (76 kg): Kylie Welker, USA vs. Genesis Reasco Valdez, ECU
1st period: Valdez attempts a double from space but Welker sprawls easily out and they are still in the neutral position after a minute of action. Welker hits a head to the inside single, whizzers but Welker eventually scores to take a 2-0 lead. Welker tries for a leg lace but is unable to score. Welker counters a shot for four points and secures a fall to take the 76-kg bronze.
Welker fall Valdez