2021 Senior World Championships
World Championships Match Notes: Day 7
World Championships Match Notes: Day 7
All the action from Oslo coming to you in real time, as it happens. It's the 2021 UWW Senior World Championships!
Oct 8, 2021
by Andrew Spey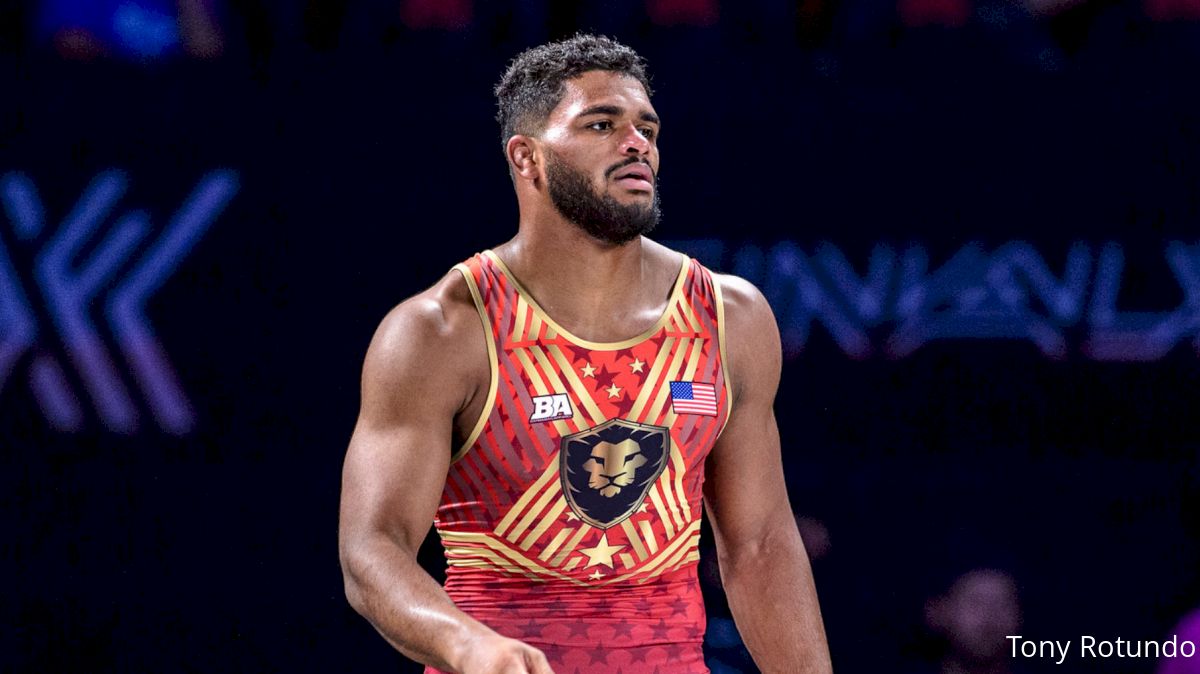 Unlock this article, live events, and more with a subscription!
Get Started
Already a subscriber? Log In
CP didn't like how I ushered in the Greco portion of the tournament in yesterday's live blog but to me, it was a very good sentence, and I'm excited to see more bodies being hucked and domes dropped upon. It's a full day of Greco today in Oslo, Norway!
Here are the mat assignments and bout order for the three Americans who start their tournaments -- Cohlton Schultz at 130, G'Angelo Hancock at 97, and Dalton Roberts at 60kg -- plus Ben Provisor at 82kg in the repechage.
#WrestleOslo Worlds - Greco Day 2

Mat A
Bout 10: Ben Provisor v Torgonyan (ARM) or Szabo (HUN)

Mat B
Bout 8: Cohlton Schultz v Kajaia (GEO)

Mat C
Bout 14: G'Angelo Hancock v Tigci (TUR) or Kessidis (GRE)

Mat D
Bout 11: Dalton Roberts v Gharibyan (ARM)

— USA Wrestling (@USAWrestling) October 8, 2021
Since I mentioned yesterday's blog, now's a good time to link all the previous Oslo blogs in one place.
Day 1 | Day 2 | Day 3 | Day 4 | Day 5 | Day 6
And this is Day 7. Also, these are the brackets.
Gonna be a bit until the USA's first bout, probably an hour or after thirst whistle, which is scheduled for 10:30AM local time.
The Scandinavians are out in full force today. It's not even 11:00AM yet in the Jordal Amfi arena but many of these Nordics have already started their weekend. Noisemakers and flags of Swedish, Danish, and of course, Norwegian variety abound.
Provisor will wrestle Szabo of Hungary in his repechage match. Szabo beat Torgamyan of Armenia. A win in his next match and Ben will wrestle Iran for bronze.
Turkey and Greece are in a brawl for the privilege of wrestling G'Angelo Hancock next at 97 kilos. Turkey went for a lift but ended dup smashing Greece's head on the stage right off the mat and in front of the scorers' table. Luckily it was carpeted and not the concrete arena floor or he'd probably be in the hospital right now. He's okay though, and they wrestle the rest of the match. The Turk wins, 6-0, so it'll be Hancock vs Tigci of Turkey in the round of 16. Not a lot in the way of senior-level medals for Tigci so hopefully Hancock can wrestle his way into the quarters.
130kg Round of 16: Cohlton Schultz, USA vs Iakobi Kajaia, GEO
1st period: Schultz has a serious test ahead of him in his first-ever senior-level world championship match. Kajaia was an Olympic silver medalist just a few months ago in Tokyo. No scores after 100 seconds and Schultz gets put down in par terre, 1 point for Kajaia. The Georgian gets two quick gut wrenches but on the third attempt, Schultz defends and holds Kajaia on his back for two! We go to the break, Kajaia leads 5-2.
2nd period: After a minute of pummeling it's Kajaia who gets put down in par terre and Schultz picks up another point to make it 5-3. No turns and we're back to neutral, 90 seconds to go. 60 seconds. 20. Time's up. Schultz falls to Olympic medalist Kajaia.
Kajaia defeats Schultz, 5-3.
---
Russia is also on Schultz's side of the bracket so Kajaia will have to beat him to male the finals and pull Schultz into the repechage. Certainly possible but no sure thing.
82kg Repechage 2: Ben Provisor, USA vs Laszlo Szabo, HUN
1st period: Privosor starts out as the aggressor but gets a little carried away on an attack and ends up stepping out to concede the first point to Szabo. No other scores after a minute and Provisor gets put in par terre and gives up another point. Good gut defense and they're back to neutral, 2-0 for Szabo. No scores the rest of the period and we go to the break.
2nd period: No scores for the first minute of round 2 and this time Provisor gets a chance on top, and cuts Szabo's lead in half. No turns so we're back to neutral for the final minute. A single point for Ben would give him the lead via criteria. Ben can't get anything going unfortunately and Szabo wins the defensive struggle.
Szabo defats Provisor, 2-1.
---
97kg Round of 16: G'Angelo Hancock, USA vs Ibrahim Tigci, TUR
1st period: Good pummelling for the first 90 seconds. G taking a little more gound so he'll get the first point and Tigci gets put down. Gut wrench for Hancock! Big turn gives him a 3-0 lead. Back to neutral. Good footwork by Hancock to keep circling and stay in the center asTurkey tries to pick up the case. Tigci goes for an armspin, fails, and the let him restart, no harm no foul.
2nd period: G'Angelo takes his 3-0 lead into the second. If he can score a point or two and avoid going into par terre he'll take the match no problem. If not, his gut defense will likely decide the match. Fierce handfighting and Hancock powers Tigci to the ground and gets a takedown! That's what he needed. Just wore Tigci down on the boundary. 5-0, one minute to go. Hancock holding position. Tigci doing very little. Basically giving up, TIgci is leaning into G'Angleo and very little else. Hanock is into the quarterfinals!
Hanock defeats Tigci, 5-0.
---
Team USA needed that. Life has been injected into the tournament! Lets see if Roberts can keep the momentum going! He'll be one of the last competitors to take the mat before we start the quarters.
60kg Round of 16: Dalton Roberts, USA vs Gevorg Gharibyan, ARM
1st period: Armenia hit an armspin about 50 seconds into the bout. Roberts doesn't expose but Gharibyan gets two for the correct through. Arm drags from Gharibyan moves Roberts around and so Roberts goes down in par terre. 3-0 for Armenia. Gharibyan lifts Roberts and throws him for four points. That's a tough one. Another lift but Gharibyan falters and Roberts sits on him for a two-point counter. Roberts trails 7-2 and the rest of the period is wrestled in neutral with no more points being scored.
2nd period: Roberts not backing down, starts moving Gharibyan around the mat. Now Roberts will get an opportunity on top, and another point. Roberts can't muster up a turn and we go back to neutral with the score 7-3 in Armenia's favor. Roberts' opponent needs injury time for his back. I think he needs a backeotomy. Nope, he's okay, action resumes. They go out of bound sin seatbelt-whizzer, looks like Roberts' point but they give it to Gharibyan. No challenge, 8-3 with a minute to go. Roberts' frenzied attacks nets him a single step out with less than a second on the clock. Roberts drops a tough one.
Gharibyan defeats Roberts, 8-4.
---
Hancock will have Milov of Bulgaria in his quarterfinal bout, the third match on mat B. Milov is a fellow Olympian and placed second at the 2018 World Championships.
We need Kajaia of Georgia to beat Azerbaijan at 130kg in the first round of quarterfinals. Kajaia's opponent, Kandelaki, is originally from Georgia as well. He took third at the 2020 Individual World Cup but Kajaia is still very much the favorite. Kajaia handles business and wins 5-1.
Also need Gharibyan to beat Iran to keep Roberts' medal hopes alive. I though Roberts' may have gassed Gharibyan out and 'Metcalfed' him for his quarterfinal bout but he looked sharp, beating Mardani 7-0.
97kg Quarterfinal: G'Angelo Hancock, USA vs Kiril Milov, BUL
1st period: G'Angelo looks big. Could be the hair but I'd say he's got at least a slight size advantage on Milov. His highlight red fluorescent shoes are also way swaggier than the Bulgarian's. Slip throw for Milov. Hancock gets the first point and a shot on top in par terre. Hanock lifts Milov. Low lock around the belly, takes him to the edge and rolls forward. Two for a correct throw. 3-0 lead for Hanock, back to neutral. Milov tries to lat drop, Hanock adjust and covers for two more! Table judge says 2 correct throw for Milov, 1 reversal for Hancock? Chairman wants a conference. It's 2 for Hanock officially. Now Bulgaria challenges. On the replay it looks very much like Hanock's points, and it's confirmed. Challenge lost, 6-0 lead for G'Angleo.
2nd period: Not much happens in the first 90 seconds of second period. Ref wanted to put Hancock down but it was white paddled. 60 seconds to go. Milov running out of time to make his move. Hanock shutting him down from neutral. 30 seconds. 15. And that'll do it! Hancock on to the semifinals and will wrestle for a medal here in Oslo!
Hanock defeats Milov, 6-0.
---
Hanock's opponent will be Alex Szoke of Hungary. He's a Euro age level champ and took fifth at the Tokyo Olympics. A formidable opponent but not unbeatable.
We'll also want to root for Gharibyan of Armenia at 60kg and Kajaia of Georiga at 130kg to win and pull Roberts and Schultz back into the repechage, respectively.
Semis start at 5:00PM local time. No Americans in the finals but they start a 6:00PM if you want to tune in for that. See you in a few hours!
Gharibyan is doing his job against Ciobanu of Moldova so far in the first set of semifinal matches at 60kg. He leads 5-0 with 2 minutes to go. Aaaaaand I jinxed that one. Soon as I hit the 'update' button, Ciobanu goes ham, flipping Charibyan for five and then doing some insane reverse wheelbarrow maneuver, a "sunset flip" according to my fake WWE rasslin friends. Gharibyan falls 9-6 and Roberts is eliminated from the tournament.
97kg Semifinals: G'Angelo Hancock, USA vs Alex Szoke, HUN
1st period: Alex "Kaiser" Szoke imo. Flip a coin as far as who should get the first point from the referee after 80 seconds. They give it to Hancock who gets a turn on top. Lifts up Szoke with a body lock, then drops down and into a gut wrench. Beautiful turn and G'Angelo leads 3-0. And that's how the period ends.
2nd period: Hanock charges out of the gate looking to set the tone. He wants to protect that lead and not get put down in par terre. Szoke weathers the storm and they hit Hancock with passivity. That's just how they do things. Hancock starts to stand up from par terreLooks like he elbows Szoke backward to the mat, then Szoke recovers to stay on top. Referee signals 2 for Hancock, 1 for Szoke but its white paddled by both table judge and chairman. Szoke challenges and loses. That's another big point for Hanock, who now leads 4-1 with 1:45 on the clock. Szoke gets a body lock and drives Hancock out of bounds. Hanock falls to his butt, however they were well out of bounds at that point and just a step out is awarded. One of the sponsor signs is crushed though. G'Angelo gets another passivity call against him. No points (only 2 per match total) but does go in par terre, and Szoke gets a gut wrench for two and the criteria lead. 20 seconds to go. 10. Hanock comes close but can't get the step out and will fall in heartbreaking fashion.
Szoke defeats Hanock on criteria, 4-4.
---
Dang. That let a lot of the air out of the tires. Hanock will wrestle for bronze against the winner of Oehler of Germany and Saveta of Ukraine. He's also guaranteed to finish no worse than fifth.
Pile on some more disappointing news. Kajaia is eliminated in a 2-1 bout with Russia's Gedekhauri, thus eliminating Cohlton Schultz from the tournament.
Team USA has no one in the medal matches that are scheduled to start in 15 minutes. Tomorrow though, the final three Americans take the mat for the first time in Norway. Sam Jones, Peyton Omania and Alan Vera will get things going at 63, 67 & 87 respectively.
Sorry for the typos, see you tomorrow morning in Oslo!