Olympic Games Watch Party
Best Country at 97kg - Russia Levels Above USA
Best Country at 97kg - Russia Levels Above USA
An analysis of the countries that have performed the best at 97kg in men's freestyle since 2000.
Jul 12, 2021
by Jon Kozak
Unlock this article, live events, and more with a subscription!
Get Started
Already a subscriber? Log In
As the Olympic Games approach, we're going through a series of articles looking at what countries are historically the best at each Olympic weight. In this article, we'll look at 97kg by analyzing the results from the World Championships and Olympic Games since 2000.
2000-2009 - Russia With 8 Golds!
Led by Khadzhimurad Gatsalov, Russia won 8 of the 10 gold medals from 2000 to 2009 at 97kg. Along with Gatsalov's 5 gold medals, Sagid Murtazaliev, Giorgi Goshelidze, and Shirvani Muradov all won golds for Russia at 97kg. The various world champs within a decade at one weight class highlights the depth in Russia's men's freestyle system.
Russia had so much depth during this period, Gogshelidze transferred to represent Georgia shortly after his gold in 2001 and won 5 more medals at worlds/Olympics. Thanks to Gogshelidze's transfer and consecutive gold medals from Eldar Kurtanidze in 2002 and 2003, Georgia was clearly the next best at 97kg during the 2000s. The graph below shows the other top countries from 2000-2009. Notably, USA is not listed after only medaling 1 time in the 10 years at the weight (Daniel Cormier's world bronze in 2007).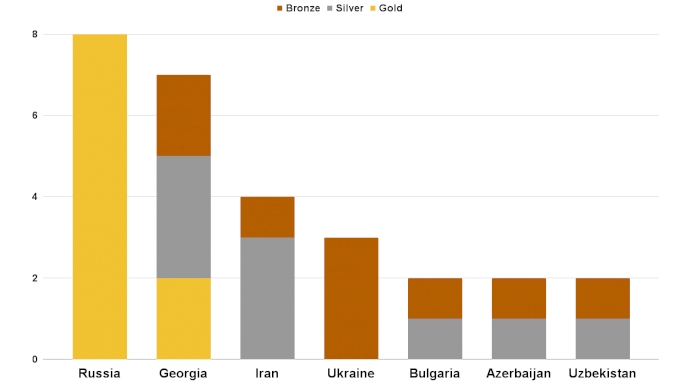 2010-2019 - USA's Rise
Team USA's performance quickly changed at the start of the decade with Jake Varner winning world bronze in 2011 and Olympic gold in 2012. They continued to climb because of Kyle Snyder's unprecedented performance at the weight, medaling each of the last 5 years of the decade (3 golds, 1 silver, 1 bronze). Varner and Snyder combined help USA keep pace with Russia with total medals at 7 and win the overall golds at 97kg from 2010-2019 with 4 golds.
Khetag Gazyumov, Aslanbek Alborov, and Sharif Sharifov together helped put Azerbaijan on top with total medals at 97kg during this decade (8 medals). Gazyumov won 6 medals from 2010-2016 (1 gold, 3 silvers, 2 bronze)! Alborov (bronze in 2017) and Sharifov (silver in 2019) each added 1 medal to close the decade out and give Azerbaijan 8 total medals in 10 years. Coincidentally, all three of those wrestlers also have wins over Kyle Snyder.
Check out all the top countries at 97kg by medals from 2010-2019: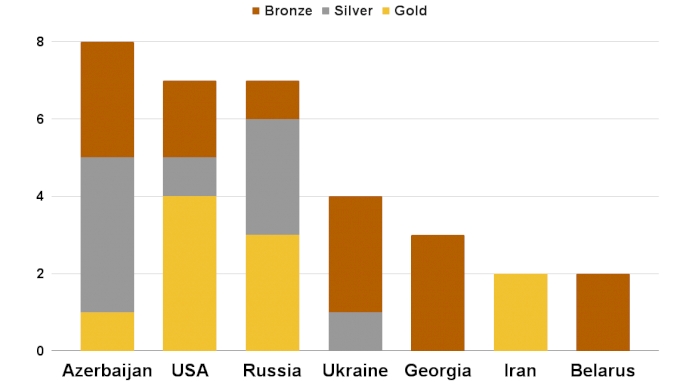 97kg Belongs To Russia Since 2000:
Even with USA and Azerbaijan surging over the last 10 years, Russia continues to outpace the field. This trend seems to have no end in sight with the legendary Abdulrashid Saduleaev winning the last 2 golds at 2018 and 2019 worlds. Should Sadulaev win gold again at the Tokyo Olympics, he'll be the third 97kg wrestler in less than 20 years to win 3 gold medals in a row - Kyle Snyder (2015-2017) and Khadzhimurad Gatsalov (2004-2007).
Georgia and Azerbaijan each brought home 10 medals at 97kg over the past 2 decades. Their performances pace just ahead of Team USA at 8 medals since 2000. And while Team USA is behind in total medals, they are ahead in golds with 4 compared to Georgia (2 golds) and Azerbaijan (1 gold).
Check out the top countries at 97kg since 2000: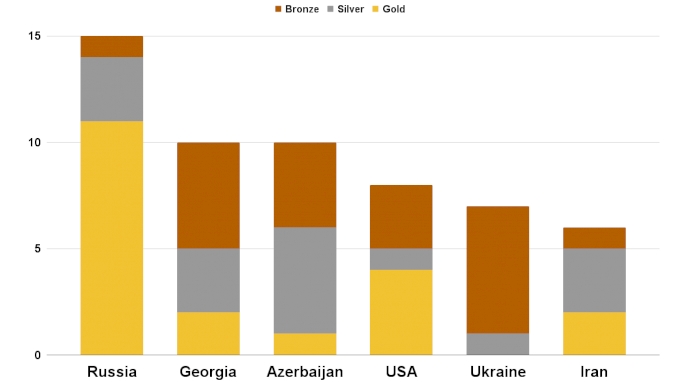 What Does This Mean For Tokyo?
Kyle Snyder and Abdulrashid Sadulaev will look to climb the ladder of all-time greats at 97kg. Surprisingly, Snyder is currently 4th on the list of total medals at 97kg and Sadulaev is 6th since 1990. If Snyder wins gold in Tokyo, he would tie Gatsalov and Gogshelidze for total medals at the weight and remain 1 behind Gatsalov in golds.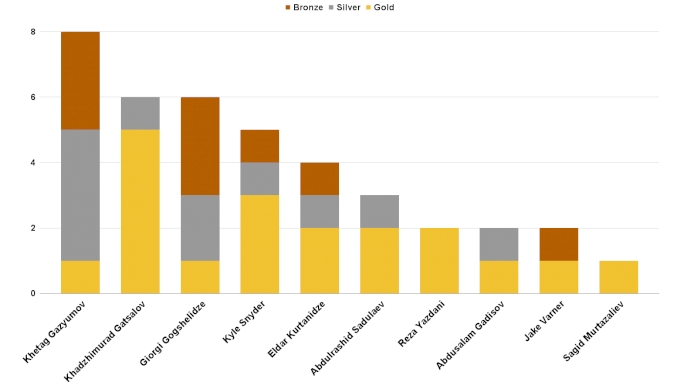 Top 10 97kg Since 2000 - ranked by total golds, then total medals:
Khadzhimurad Gatsalov (RUS) - 5 Golds, 1 Silver
Kyle Snyder (USA) - 3 Golds, 1 Silver, 1 Bronze
Eldar Kurtanidze (GEO) - 2 Golds, 1 Silver, 1 Bronze
Abdulrashid Sadulaev (RUS) - 2 Golds, 1 Silver
Reza Yazdani (IRI) - 2 Golds
Khetag Gazyumov (AZE) - 1 Gold, 4 Silvers, 3 Bronze
Giorgi Gogshelidze (RUS/GEO) - 1 Gold, 2 Silvers, 3 Bronze
Abdusalam Gadisov (RUS) - 1 Gold, 1 Silver
Jake Varner (USA) - 1 Gold, 1 Bronze
Sagid Murtazaliev (RUS) - 1 Gold
Check out a complete preview of this year's 97kg weight class at the Olympics here.
Take a look at our Olympian Rankings at 97kg to see where Snyder ranks based on head to head wins and losses between the 97kg Olympic wrestlers.
*97kg has been a weight at Worlds/Olympics since 2014 and from 1997-2001. The weight changed to 96kg from 2002-2013. For consistency, we referred only to 97kg but used data from 96kg.
Check out the rest of the series of articles on the best country at each weight from 2000-2019: