Olympic Games Watch Party
What Country Dominates 57kg?
What Country Dominates 57kg?
An analysis of the countries that have performed the best at 57kg in men's freestyle.
Jun 21, 2021
by Jon Kozak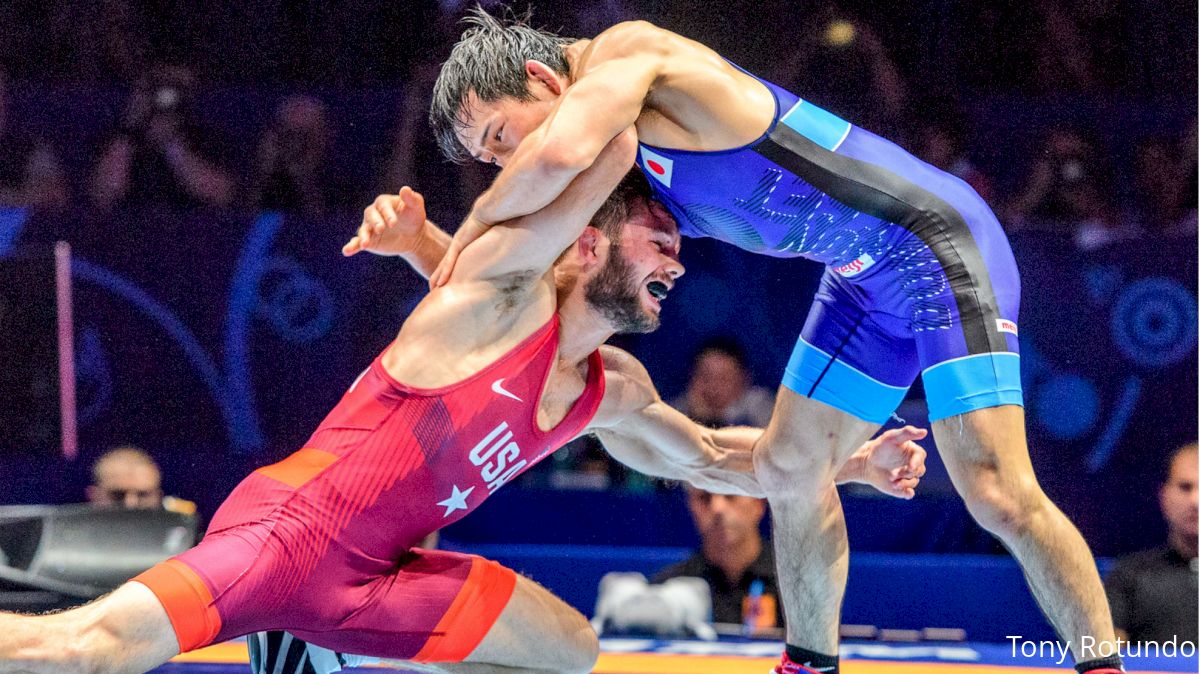 Unlock this article, live events, and more with a subscription!
Get Started
Already a subscriber? Log In
As the Olympic Games approach, we'll start a series of articles looking at which countries are historically the best at each Olympic weight. First, we'll look at the lightest weight, 57kg, by analyzing the results from the World Championships and Olympic Games since 2000.
The Best Country For Light Weights
Russia has been dominant in freestyle wrestling over the last 30 years so it's no surprise they have fared the best of any country at 57kg. Since 2000, Russia has brought home 13 medals at the lightest weight. That number is almost double Japan's second place number of 7. Coincidentally, that second place number of total medals is also the amount of GOLD medals won by Russia in the past 20 years. What might be even more impressive is 5 different competitors for Russia won gold - Zaur Uguev (2018-2019), Viktor Lebedev (2010-2011), Dzhamal Otarsultanov (2012), Besik Kudukhov (2007), and Mavlet Batirov (2004). The next closest country for gold medals at the lightest weight from 2000-2019 were Georgia and North Korea. Both of those countries had 1 representative bring home 2 gold medals each- Vladimir Khinchegashvili (Georgia - 2015 and 2016) and Yang Kyong-il (North Korea - 2009 and 2014). Take a look below at what countries have been the led the way at 57kg from over the past 20 years.
57kg By Country - 2000-2019: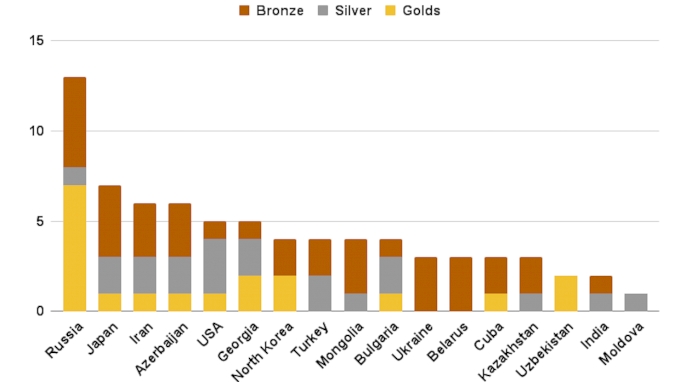 Team USA
While USA is 5th in total medals, they haven't experienced consistent success at 57kg in over a decade. Thomas Gilman's World Silver from the 2017 world championships was the first medal since Henry Cejudo's gold at the the 2008 Olympics. That nine year drought is an illustration of Team USA's struggles at 57kg. However, from 2000-2009, USA was 2nd best country at this weight class. Sammie Henson (2000) and Stephen Abas (2004) took home Olympic silvers and Henson added another world bronze in 2006. Those medals, combined with Cejudo's 2008 Olympic gold, tied USA for 2nd most medals with Azerbaijan from 2000-2009. Take a look at the best countries during those years for light weights.
57kg By Country - 2000-2009: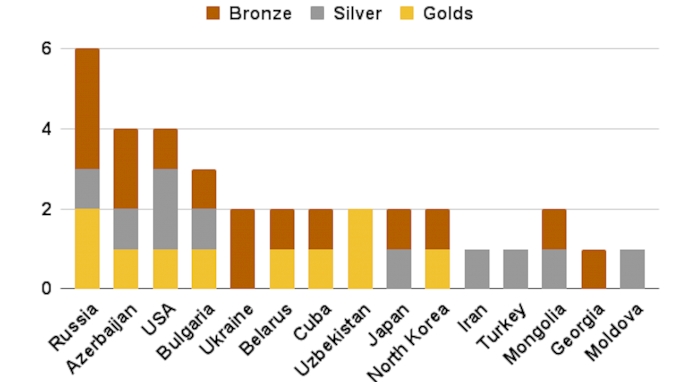 Countries On The Rise
Japan, Georgia, India and Iran are all countries that saw significant improvement when comparing their performances from 2000-2009 to 2010-2019. In the first 10 years, Japan only brought home 2 world/Olympic medals (with zero golds), but in the second 10 years, 4 different representatives brought home 5 medals. Unlike Japan, Georgia and Iran's improvements were from 1 "superstar" performer. The aforementioned Vladimer Khinchegashvili won 4 medals (2 golds, 2 silvers) for Georgia in a 5 year span and Iran's Hassan Rahimi won 5 medals (1 Gold, 1 Silver, 3 Bronze) in 6 years time. Take a look at the top performances by country from 2010-2019 at 57kg.
57kg By Country - 2010-2019: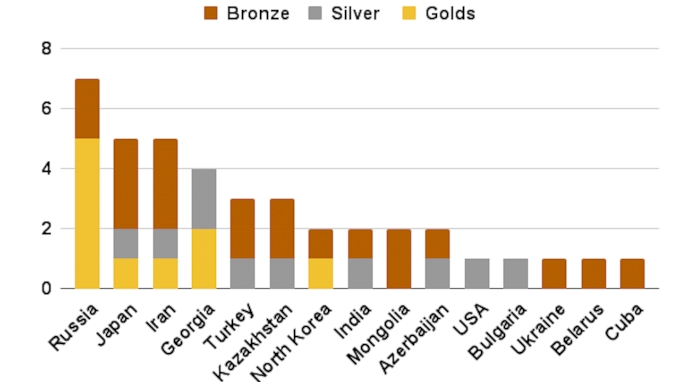 Top 10 57kg Wrestlers Since 2000
One dominant performer can make all the difference for a country. For instance, when we look at 74kg, we know Team USA will be toward the top because of the consistent success of Jordan Burroughs. Below, the top 10 performers at 57kg are listed based on number of medals won at the lightest weight class. The 10 individuals below won 15 of the 20 gold medals and 32 of the 75 total medals from 2000-2019. Team USA did not have an individual make the top 10 in this weight class in the past 20 years.
Top 10 Performers at 57kg
Hassan Rahimi (IRI) - 1 Gold, 1 Silver, 3 Bronze

Vladimer Khinchegashvili (GEO) - 2 Golds, 2 Silvers

Viktor Lebedev (RUS) - 2 Golds, 2 Bronze

Radoslav Velikov (BUL) - 1 Gold, 2 Silver, 1 Bronze

Namig Abdullayev (AZE) - 1 Gold, 1 Silver, 1 Bronze, 1 5th

Besik Kudukhov (RUS) - 1 Gold, 1 Silver, 1 Bronze

Yang Kyong-il (PRK) - 2 Golds, 1 Bronze

Zaur Uguev (RUS) - 2 Golds

Dilshod Mansurov (UZB) 2 Golds, 2 5ths

Yuki Takahashi (JPN) - 1 Gold, 1 Bronze
What Does This Mean For Tokyo?
While these numbers aren't an Olympic preview (you can see a full preview of favorites and medal contenders at 57kg here), they tell the story of 57kg for the last decade. What happens at 57kg in Tokyo will tell us if Russia and Japan will continue to dominate the lowest weight or if new "light-weight powers" will emerge in Uzbekistan, India, Mongolia, or the United States. This Olympics could also be an opportunity for one of Zaur Uguev or Yuki Takahashi to move up the list in one of the best 57kg wrestlers of the last 20 years. Should either win gold in Tokyo, they would move into the top 3-5 best since 2000.
*57kg was the lightest weight from 2014-present. For this article, we referenced the present weight class, 57kg, but used data from past lightest weight classes - 54kg (2000-2001) and 55kg (2003-2013).
Check out the rest of the series of articles on the best country at each weight from 2000-2019: