Olympic Games Watch Party
Best Country At 86kg - Can USA Catch Russia?
Best Country At 86kg - Can USA Catch Russia?
An analysis of the countries that have performed the best at 86kg in men's freestyle since 2000.
Jul 3, 2021
by Jon Kozak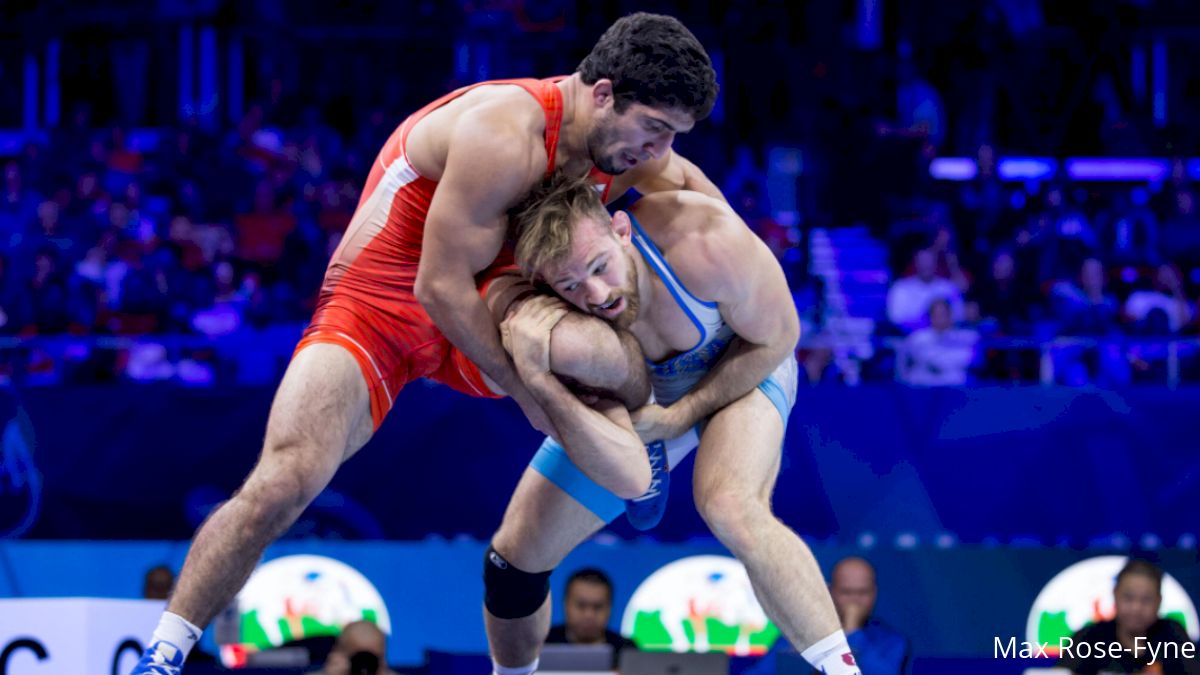 Unlock this article, live events, and more with a subscription!
Get Started
Already a subscriber? Log In
As the Olympic Games approach, we're going through a series of articles looking at what countries are historically the best at each Olympic weight. In this article, we'll look at 86kg by analyzing the results from the World Championships and Olympic Games since 2000.
2000-2009 - Russia...And It's Not Close
Out of the 10 representatives that Russia sent to the World Championships or Olympics, 6 of their 86kg wrestlers won golds and 2 won bronze medals. In those years, Russia was led by Adam Satiev and Sazhid Sazhidov. Satiev won gold in 2000 and 2002 while Sazhidov carried the torch with gold in 2003, bronze in 2004, and gold in 2006.
Team USA tied for second in this decade with Georgia, Uzbekistan, and Cuba. Team USA, however, had 3 different wrestlers bring home medals at 86kg. Brandon Eggum (2002), Cael Sanderson (2003), and Jake Herbert (2009) all won world silver medals. Sanderson, of course, followed up his world silver with Olympic Gold in 2004. Unlike the variety of medalists from Team USA, Cuba's Yoel Romero and Georgia's Revaz Mindorashvili won all the medals for their respective countries.
Take a look below at the top countries at 86kg by medals won from 2000-2009: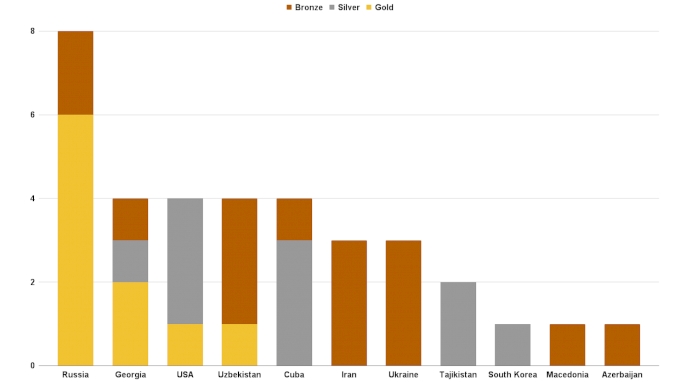 2010-2019 - Iran's Rise
Thanks to Hassan Yazdani's performance over the last 3 years at the World Championships, Iran was able to keep pace with Russia at 86kg. On top of Yazdani's 2 golds and 1 bronze, Iran had bronze medals from Ehsan Lashgari (2012-2013), Mohammad Mohammadian (2014), and Alireza Karimi (2015). With Yazdani continuing at 86kg, and only 26 years old, Iran should continue to find success for years to come.
Despite Yazdani's performances, Abdulrashid Sadulaev's gold medals from 2014-2016 allowed Russia to stay on top at 86kg for this decade. It's worth noting that Russia did not win gold from 2010-2013 or since Sadulaev transitioned up to 97kg. They didn't win medals in 2012, 2013, or 2018 and only took home bronze in 2010, 2011 and 2019.
While Team USA didn't perform as well at 86kg from 2010-2019 compared to 2000-2009, they did end the decade strong. After failing to medal at this weight form 2010-2015, they took home 3 medals in the final 4 years - J'den Cox's bronze in 2016 and 2017 and David Taylor's gold in 2018.
Check out the top teams from 2010-2019: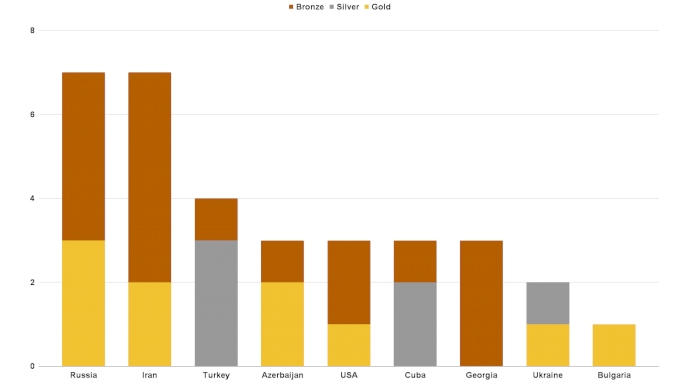 The Last 20 Years - Russia With A Big Lead On Iran And USA
Putting the data together, Russia's dominance in total medals and golds can't be matched. In fact, Russia's 9 gold medals over the last 20 years is more than the next 7 countries combined! Russia had 5 different wrestlers win golds and another 4 who won bronze medals. Depth has been the key to Russia's success. When one of their top wrestlers retires or moves up in weight, the next guy in line steps in and is better than everyone else in the world. See how that depth paid off for Russia below in the medal breakdown at 86kg from 2000-2019: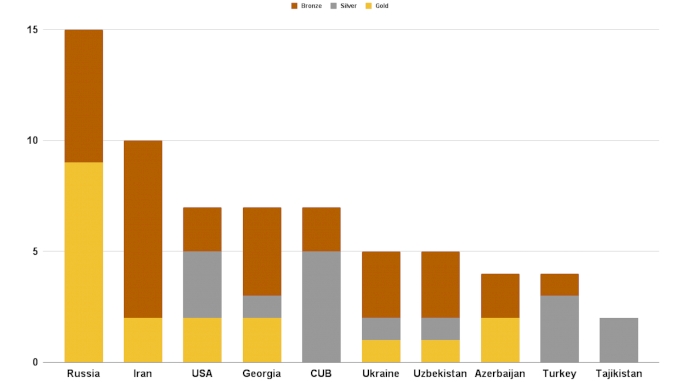 What Does This Mean For Tokyo?
As already mentioned, Team USA is heading in the right direction at 86kg. With medals in 3 out of the last 4 years, and multiple wrestlers ranked in the top 10 in the world, they should continue to medal at worlds/Olympics. David Taylor will look to lead the way this year in Tokyo and is considered the favorited over both Iran's Hassan Yazdani and Russia's Artur Naifonov. Take a look where they measure up in our Olympian Rankings.
Should Taylor win another gold, he'll move himself into 6th place on the list of best 86kg wrestlers since 2000. However, if Hassan Yazdani wins gold he'll move himself above Sadulaev with total medals at the weight and an equal number of golds. Take a look at the current top 10 at 86kg since 2000:
Abdulrashid Sadulaev (RUS) - 3 Golds
Sharif Sharifov (AZE) - 2 Golds, 2 Bronze
Revaz Mindorashvili (GEO) - 2 Golds, 1 Silver
Sazhid Sazhidov (RUS) - 2 Golds, 1 Bronze
Hassan Yazdani (IRI) - 2 Golds, 1 Bronze
Adam Satiev (RUS) - 2 Golds
Ibragim Aldatov (UKR) - 1 Gold, 1 Silver, 1 Bronze
Cael Sanderson (USA) - 1 Gold, 1 Silver
Georgy Ketoev (RUS) - 1 Gold, 1 Bronze
Yoel Romero (CUB) - 3 Silvers, 1 Bronze
Check out a full 86kg preview for this year's Tokyo Olympics here
*86kg has been a weight at Worlds/Olympics since 2014. Since 2000, the weight similar to 86kg has changed 2 times - 85kg from 2000-2001 and 84kg from 2002-2013. For consistency, we referred only to 86kg but used data from the aforementioned weights.