Olympic Games Watch Party
Best Country At 125kg - History Will Be Made In Tokyo
Best Country At 125kg - History Will Be Made In Tokyo
An analysis of the countries that have performed the best at 125kg in men's freestyle since 2000.
Jul 18, 2021
by Jon Kozak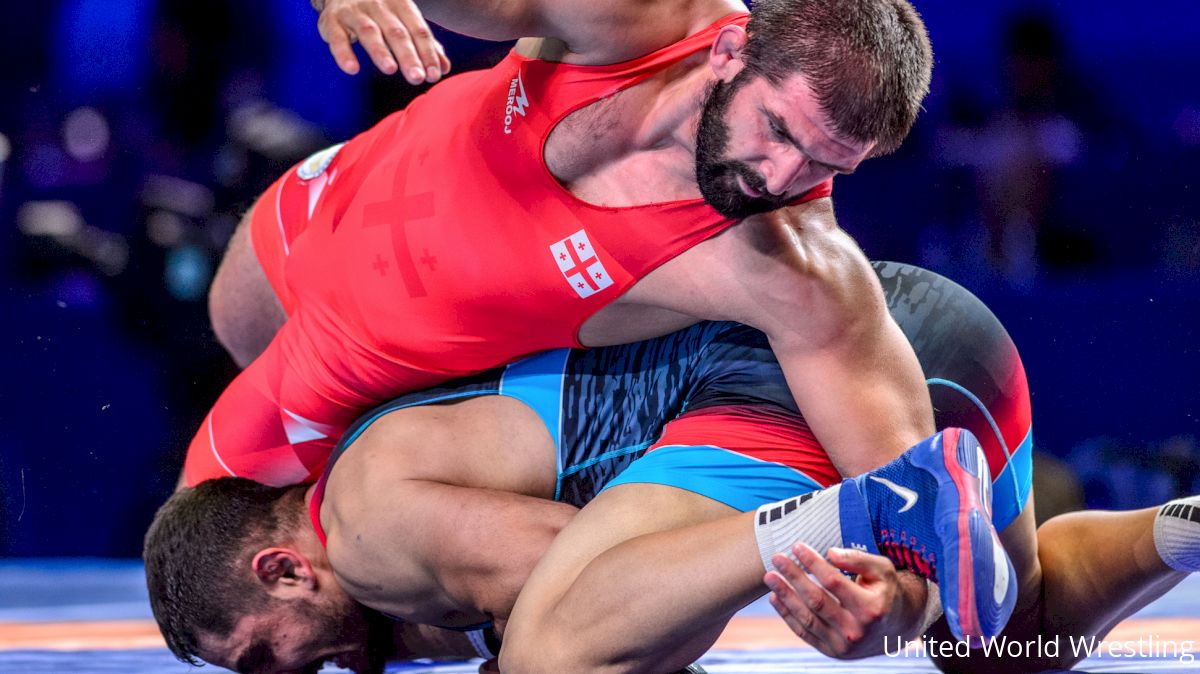 Unlock this article, live events, and more with a subscription!
Get Started
Already a subscriber? Log In
As the Olympic Games approach, we're going through a series of articles looking at what countries are historically the best at each Olympic weight. In this article, we'll look at 125kg by analyzing the results from the World Championships and Olympic Games since 2000.
2000-2009 - Russia On Top With 6 Golds
Russia's domination of the heavyweight division in the 2000s began with David Musulbes winning the first 3 golds of the decade (2000-2002). They closed out the decade in similar fashion by winning the last three golds. Those championships in the final 3 years of the decade came from 2 individuals - Bilyal Makhov (2007 and 2009) and Bakhtiyar Akhmedov (2008).
After Russia, Uzbekistan and Cuba were the next best at heavyweight in this decade. Both were led by the outstanding performance of one wrestler. Uzbekistan's medals came entirely from Artur Taymazov as he brought home 6 medals from 2000-2007. Cuba's Alexis Rodriguez reached the podium 5 times in the same period then handed the torch off to Disney Rodriguez who took bronze in 2008.
Unlike the success of the previous countries mentioned, Team USA only won three medals in the 2000s. Kerry McCoy reached the finals in 2003 but lost to the legendary Taymazov. Then Tolly Thompson and Tervel Dlagnev closed out USA's success with bronze in 2005 and 2009 respectively. The performances from those three earned USA 6th place at this weight in total medals. Take a look at the top countries at heavyweight from 2000-2009: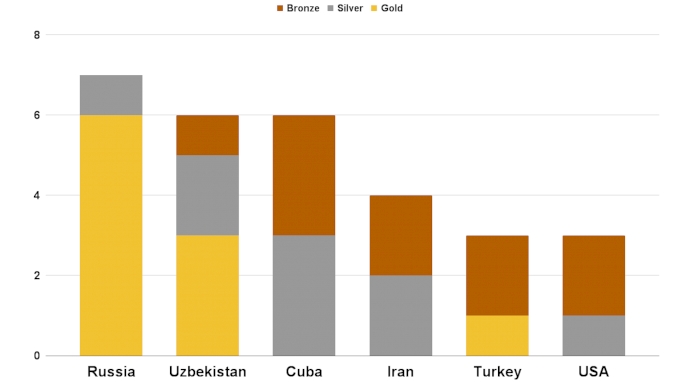 2010-2019 - Georgia And Turkey Take Over
Thanks to the recent performances of Taha Akgul and Geno Petriashvili, Georgia and Turkey were able to dethrone Russia's place at 125kg. Petriashvili has won the last three world championships (2017-2019) at 125kg and has placed bronze three other times (2013, 2015, 2016). Along with those 6 medals, Georgia received two bronze medals to start the decade from Levan Berianidze (2010) and Davit Modzmanashvili (2011). Those eight combined medals put Georgia in first for the decade with 2 total medals above second place Turkey and Russia.
Turkey's six medals came only from Taha Akgul who has medaled 6 of the last 7 years. In that impressive run, Akgul brought home 3 straight gold medals from 2014-2016. Russia's six medals, however, came at the beginning of the decade with Bilyal Makhov and Khadzhimurad Gatsalov. Makhov won gold in 2010 and 2012, silver in 2012, and bronze in 2014. Gatsalov moved up from 96kg and won gold in 2013 and bronze in 2014.
Team USA had similar success from 2010-2019 as they did during the 2000s. However they did win one more medal this decade than the previous one built upon 2 bronzes apiece from Tervel Dlagnev (2012 and 2014) and Nick Gwiazdowski (2017 and 2018). Take a look at the top countries at heavyweight from 2010-2019: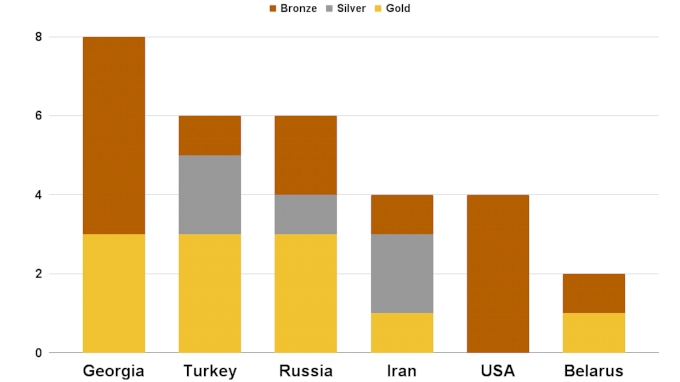 2000-2019 - Russia Down, But Still On Top
Of the Olympic weights, 57kg and 125kg have been the "worst" for Russia since 2000. They've brought home 13 total medals at both of those weights but have more golds at 125kg (9) than 57kg (7). The troubles at 125kg have come over the last 5 years for Russia. They have not medaled since Makhov's bronze in 2015 and have only wrestled for a medal two of the 4 years since Makhov's bronze.
Because most of Turkey and Georgia's success came in the last 10 years, they still trail Russia at 125kg by 4 and 5 medals respectively since 2000. Check out how the rest of the top countries at heavyweight shape up below: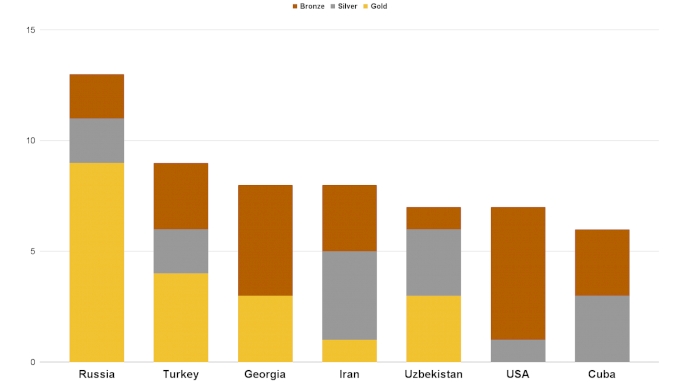 History Can Be Made In Tokyo
Should Taha Akgul win gold in Tokyo, he would move into a tie for most gold medals at 4 with Bilyal Makhov and move beyond him in total medals in the last 20 years. Geno Petriashvili is also looking to make history in becoming the first heavyweight (in men's freestyle) to win 4 consecutive gold medals since the Soviet Union's Soslan Andiyev's 4 consecutive golds from 1975-1978. More history could be made with Gable Steveson. Should the 21 year old Gable win gold, he'd be the youngest American heavyweight to win a world/olympic gold medal of all time!
Take a look below at the top men's freestyle heavyweights in the world since 2000: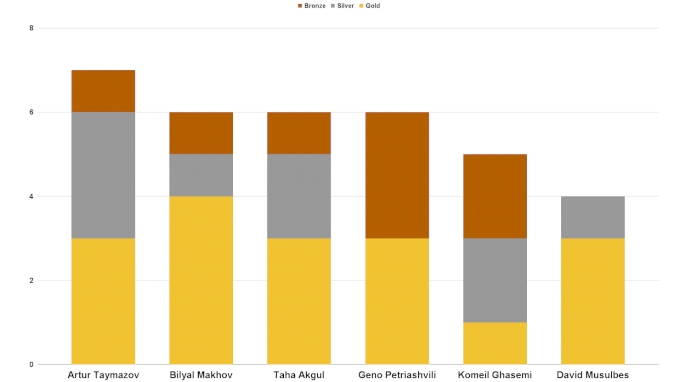 Check out a full preview of this year's 125kg Olympic Field Here
*125kg has been a weight at Worlds/Olympics since 2014. Since 2000, the weight changed from 130kg (2000-2001) to 120kg (2002-2013). For consistency, we referred only to 125kg but used data from the other aforementioned weights.
Check out the rest of the series of articles on the best country at each weight from 2000-2019: