Olympic Games Watch Party
Best Country At 65kg - Russia's Best Weight/USA's Worst
Best Country At 65kg - Russia's Best Weight/USA's Worst
An analysis of the countries that have performed the best at 65kg in men's freestyle since 2000.
Jul 26, 2021
by Jon Kozak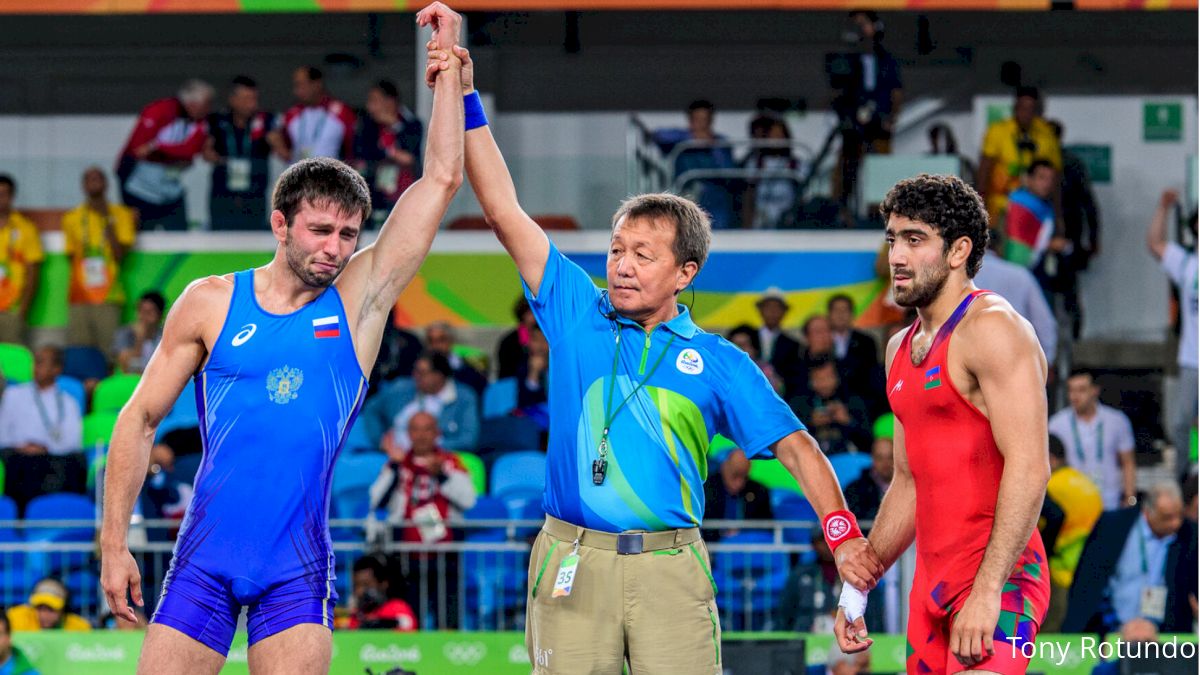 Unlock this article, live events, and more with a subscription!
Get Started
Already a subscriber? Log In
As the Olympic Games approach, we're going through a series of articles looking at which countries are historically the best at each Olympic weight. In this article we'll explore 65kg by analyzing the results from the World Championships and Olympic Games since 2000.
The 2000's - Russia's Consistency The Difference
From 2000-2009, Russia's performance at 65kg was a perfect demonstration of their depth. They brought home 7 world medals (3 golds, 1 silver, 3 bronze) from 6 different wrestlers. Their lone repeat medalist of the decade was 2003 world champion Irbek Farniev. Farniev also won bronze at the 2007 world championships - the same year America's Doug Schwab was the rep for team USA.
Team USA only brought home two medals this decade with the performances of Jamil Kelly (silver in 2004) and Bill Zadick (bronze in 2006). With only 2 medals, team USA finished in 8th place in the total medal count at 65kg from 2000-2009. Take a look at the top countries from 2000-2009 at 65kg: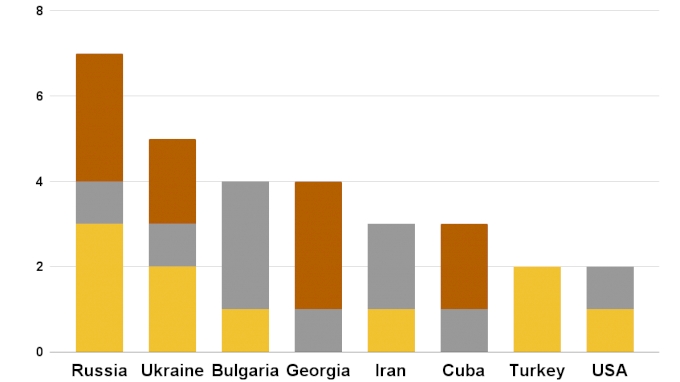 2010-2019 - Russia Surges, USA With Zero Medals
While Russia was dominant from 2000-2009, they performed even better in the next decade. From 2010-2019, Russia won 8 medals (3 golds, 1 silver, 4 bronze) from 6 different wrestlers. On top of that, they closed the decade with 7 straight medals - 3 of them being golds. The best performer of this decade for Russia at 65kg was Soslan Ramonov. He won the 2014 World Championships, followed that with a bronze in 2015 and capped off his run at 65kg with an Olympic gold medal in 2016.
Cuba also came on strong in this decade. They went from only 3 medals in the previous 10 years to 6 medals from 2010-2019. While it's notable that they doubled their medals, it's also notable they never won a gold medal during the decade. In those 6 medals, they only reached the finals once and took home 5 bronze medals in the other podium runs.
Team USA struggled in this decade at 65kg and failed to medal at a worlds or Olympics. In fact, the combined record of the 65kg reps at worlds and Olympics during this time period was only 6-11. The only wrestler to even compete for a medal at 65kg for Team USA was Frank Molinaro at the Olympics in 2016. There, Molinaro lost in the bronze medal match but was inches away from getting the winning takedown on Frank Chamizo.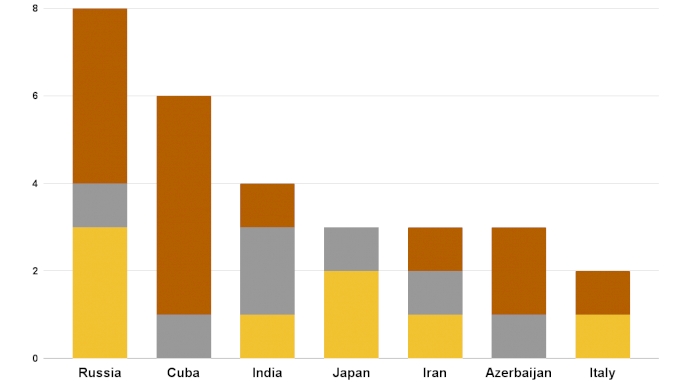 The Last 20 Years - Why Has Team USA Struggled At 65kg?
Based on the examination of the 2000s and 2010s, Russia was clearly the best country in the world at 65kg. They won almost a third of the gold medals and medaled in all but 5 of the worlds/Olympics. Russia was also far in front of the next best country at 65kg. Cuba was second in medals but only had 9 total and zero golds, while 3rd place Iran only had 6 total medals with 2 golds.
65kg has been the "worst" Olympic weight for Team USA in the last 20 years. In 20 years, America has only brought home 2 medals at the weight and hasn't medaled since Bill Zadick's gold in 2006. While the answers aren't clear as to why this is, it appears 65kg has the most parity and depth of any Olympic weight. For instance, when looking at the gold medal winners, there have been 16 different gold medalists at 65kg over the last 20 years. On top of that, of the 4 gold medalists that won twice, only Ramazan Sahin (TUR) won back to back titles (2007-2008).
In addition to the variety of different gold medalists, 65kg also reveals the depth of other countries. 9 countries other than Russia won a gold medal at 65kg from 2000-2019. Compare this to 74kg where only 3 other countries won gold and 97kg where only there was only 4 other countries with gold medalists in the last 20 years. When looking at this comparison one can begin to see how good the rest of the world is at 65kg. Yes, team USA has struggled at 65kg, but it has more to do with how good the competition is rather than Team USA's reps being subpar.
Take a look at the best countries at 65kg since 2000: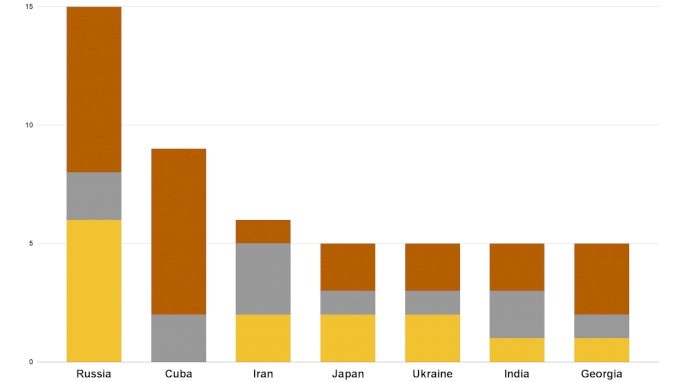 What Does This Mean For Tokyo?
Gadzhimurad Rashidov (RUS) is looking to repeat as the gold medalist at 65kg after winning the 2019 world championships. If he does, Rashidov would be only the second 65kg wrestler to repeat in the last 20 years (first since Ramazan Sahin in 2007-2008). Takuto Otoguro (JPN) is also looking for his second gold medal at the weight and would propel himself into one of the top 5 wrestlers at 65kg if he were to accomplish the feat. You can view a full preview of this year's 65kg Olympic field here.
Top 65kg Wrestlers in the last 20 years:
Soslan Ramonov (RUS) - 2 Golds, 1 Bronze
Elbrus Tedeyev (UKR) - 2 Golds, 1 Bronze
Ramazan Sahin (TUR) - 2 Golds
Mehdi Taghavi (IRI) - 2 Golds
Serafim Barzakov (BUL) - 1 Gold, 3 Silvers
Sushil Kumar (IND) - 1 Gold, 1 Silver, 1 Bronze
Tatsuhiro Yonemitsu (JPN) - 1 Gold, 1 Silver, 1 Bronze
Frank Chamizo (ITA) - 1 Gold, 1 Bronze
Irbek Farniev (RUS) - 1 Gold, 1 Bronze
Geandry Garzon (CUB) - 1 Silver, 3 Bronze
Otar Tushishvili (GEO) - 1 Silver, 3 Bronze
Livan Lopez (CUB) - 1 Silver, 2 Bronze
*65kg has been the world/Olympic weight class from 2014-Present. For this article, we referenced the present weight class, 66kg, but used data from past similar weight classes - 63kg (2000-2001) and 66kg (2002-2013).
Check out the rest of the series of articles on the best country at each weight from 2000-2019: