Olympic Games Watch Party
Best Country At 74kg - USA Vs Russia
Best Country At 74kg - USA Vs Russia
An analysis of the countries that have performed the best at 74kg in men's freestyle since 2000.
Jun 26, 2021
by Jon Kozak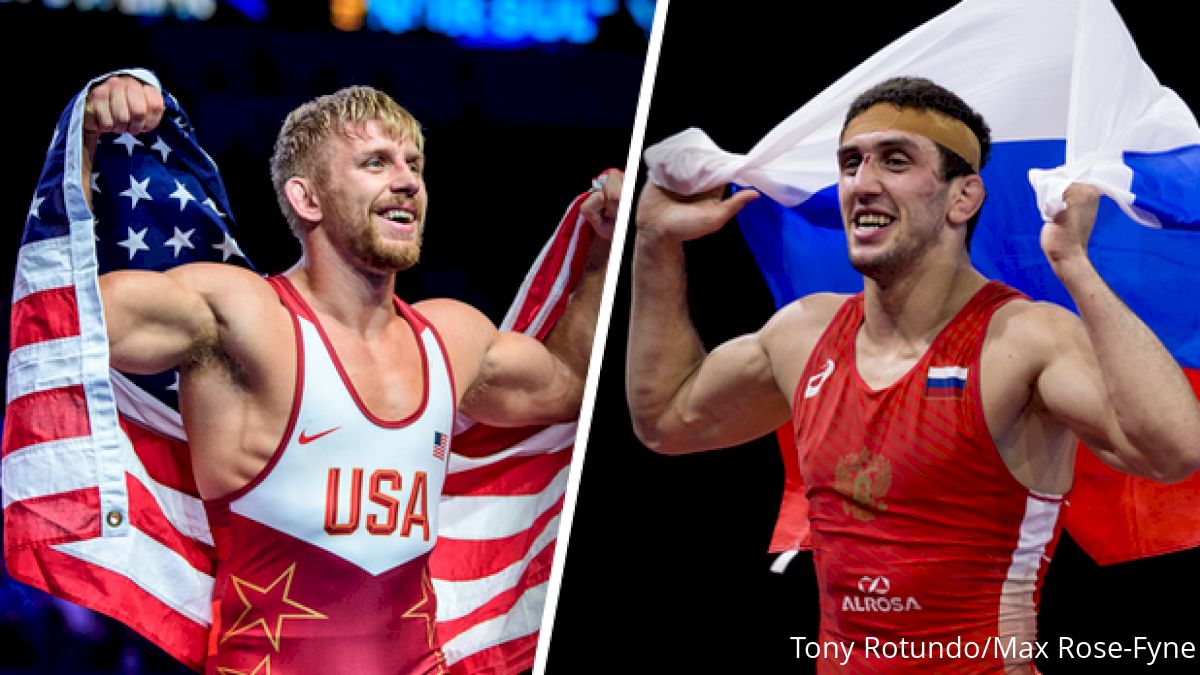 Unlock this article, live events, and more with a subscription!
Get Started
Already a subscriber? Log In
As the Olympic Games approach, we're going through a series of articles looking at what countries are historically the best at each Olympic weight. In this article, we'll look at 74kg by analyzing the results from the World Championships and Olympic Games since 2000.
Take a look at the breakdown of 57kg here.
2000-2009 - Russia Dominates
Thanks to one of the greatest freestyle wrestlers of all time, Buvaisair Satiev, Russia dominated 74kg from 2000-2009. In addition to Satiev's 5 gold medals (2 Olympics and 3 Worlds), Russia also had gold medal performances from Makhach Murtazaliev (2007) and Denis Tsargush (2009) and a silver from Magomed Isagadzhiev (2002). Oddly enough, the years Russia did not medal during this time period, 2000 and 2006, were years the legend Satiev failed to place at the Olympics and Worlds.
While Team USA did not experience the same level of dominance at 74kg as Russia, they still were the second best country during this decade. USA was led by Brandon Slay's gold medal performance at the 2000 Olympics (where he beat Satiev) and bronze medals from Joe Williams (2001 and 2005) and Donny Pritzlaff (2006). Iran and Ukraine were the only other countries to win gold medals during this time period and came in 3rd and 4th respectively.
Take a look at how the medals were divided by country from 2000-2009: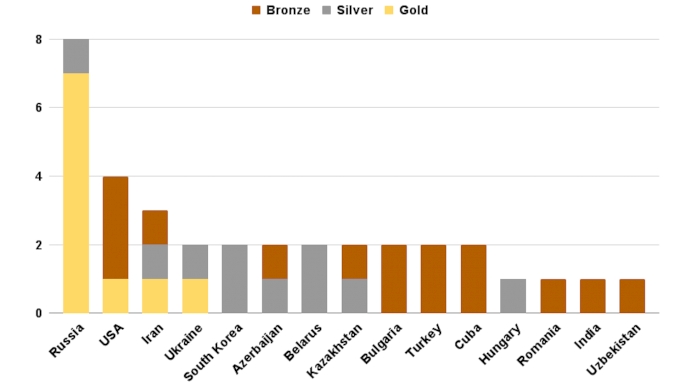 2010-2019 - The Jordan Burroughs Era
Jordan Burroughs took control of the 74kg weight class in 2011 and remained one of the best in the world for the entire decade. Thanks to Burroughs 5 golds (1 Olympic and 4 worlds) and 3 bronze medals, Team USA came away with the best numbers from 2010-2019. Even with Burroughs' dominance, Russia was close behind winning 4 golds, 2 silver and 2 bronze. Denis Tsargush (2010 and 2014) and Zaurbek Sidakov (2018 and 2019) led the way for Russia with 2 golds each at 74kg.
Iran's Hassan Yazdani won Olympic gold in 2016 marking the only year in the decade USA or Russia did not win gold at 74kg. Along with Yazdani's gold, Iran won three straight silver medals to start the decade with Sadegh Goudarzi (2010-2012) and Ezzatolla Akbari (2013).
Check out the top countries that brought home medals at 74kg from 2010-2019.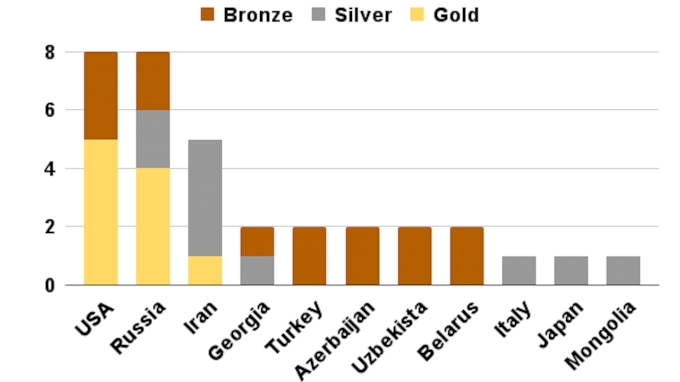 The Last 20 Years - RUSSIA VS USA
Russia and USA have been the best at 74kg since 2000 and it's not close. 17 of the 20 golds were won by Russia or USA at this weight. Also, USA and Russia won a combined 28 medals at 74kg. What's remarkable is they only met in the finals one time in this time period - 2017 when Jordan Burroughs defeated Khetik Tsabolov. However, Russia does hold a winning record over the United States at 74kg since 2000 by a total of 6-5. On top of that, Russia won 11 golds during the time period and 16 total medals compared to USA's 6 golds and 12 total medals.
Check out the top countries medal count at 74kg from 2000-2019: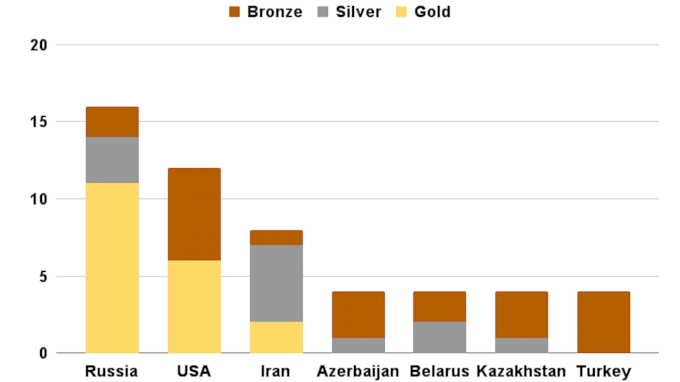 What Does This Mean For Tokyo?
Looking at the history of the best at 74kg, it's no surprise the top two contenders come from Russia and the United States. Kyle Dake will likely have to go through Russia's 2-time defending world champion, Zaurbek Sidakov to attain Olympic glory. However, should Sidakov once again find success and win gold, he will vault himself into top 3 of the best at 74kg over the past 20 years. Take a look at the best 74kg wrestler's since 2000:
Top 10 at 74kg since 2000
Jordan Burroughs (USA) - 5 Golds, 3 Bronze
Buvaisar Satiev (RUS) - 5 Golds
Denis Tsargush (RUS) - 3 Golds, 1 Bronze
Zaurbek Sidakov (RUS) - 2 Golds
Ibragim Aldatov (UKR) - 1 Gold, 1 Silver
Makhach Murtazaliev (RUS) - 1 Gold
Brandon Slay (USA) - 1 Gold
Mehdi Hajizadeh (IRI) - 1 Gold
Sadegh Goudarzi (IRI) - 3 Silvers, 1 Bronze
Aniuar Geduev (RUS) - 1 Silver, 1 Bronze
You can see a full preview of 74kg for this year's Tokyo Olympics here.
*74kg has been a weight at the World/Olympic level from 2002-present. 76kg was a weight at worlds and Olympics in 2000 and 2001. We used the data from 76kg in those 2 years and applied it to 74kg in the data referred to in this article.
Check out the rest of the series of articles on the best country at each weight from 2000-2019: