NCAA
NCAA Week 2 Roundup: Tiger Mania Wrangle Style
NCAA Week 2 Roundup: Tiger Mania Wrangle Style
The biggest stories from the second week of the 2022-2023 college wrestling season.
Nov 14, 2022
by Andrew Spey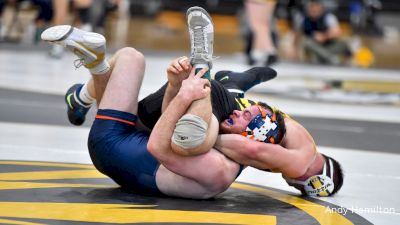 Unlock this video, live events, and more with a subscription!
Get Started
Already a subscriber? Log In
It's the second week of the 2022-23 NCAA season and we've got tiger mania, wrangle-style!
What does all that mean? I'm not really sure. But let's discuss the top news of the D1 wrestling world together and maybe it will all make sense.
Gonna try and start adding in some regular features every week. If the features turn out to be good and popular, I'll keep doing them. If not, forget 'em, they're gone!
Carl's Stone Cold Dual Of The Century Of The Week: Virginia Tech at Ohio State
Caleb Henson Shocks Sasso But Buckeyes Beat Hokies In Columbus
Our first new feature contains a random reference to a late-night cartoon that's been off the air for at least half a decade. Sorry, can't help myself. My roundup, my rules!
The Covelli Center played host to what is rapidly becoming one of the most anticipated early-season duals, as 3,800 fans enjoyed a high-quality competition between non-conference rivals Ohio State and Virginia Tech.
It's the third time in three consecutive years (not including the 2021 covid-interrupted season) that these two power programs wrestled in November.
The Buckeyes proved to be too much for the visiting Hokies last Friday night, taking six of ten bouts to win 18-13.
Despite the loss, there was plenty in which the Hokie faithful could take solace. True freshman Caleb Henson had the upset of the week, beating #2 Sammy Sasso in the opening match of the dual. It's always a good sign for your program when your true frosh are beating NCAA finalists in the first dual meet of their career.
𝐖𝐎𝐊𝐄 𝐔𝐏 𝐅𝐄𝐄𝐋𝐈𝐍𝐆 𝐃𝐀𝐍𝐆𝐄𝐑𝐎𝐔𝐒 😈🦃

Winning takedown in SV for No. 29 Caleb Henson over No. 2 in the country.
The freshman is here. Cold-blooded. #Team100 #Hokies #ALLINALLTHETIME 🦃 pic.twitter.com/9pZa5ibhAU

— Virginia Tech Wrestling (@HokiesWrestling) November 12, 2022
Additionally, Sam Latona narrowly defeated Ohio State's Jesse Mendez just a week after Mendez beat two-time All-American Lucas Byrd at the MSU Open. VT's All-American 133-pounder by way of Alabama beat Mendez 3-2, which will temper Jesse's current lofty ranking of fifth in the nation.
Would you like to know more? Read Bray's live blog!
John Smith Cares Not For Your Projected Lineups
Oklahoma State had their season opener, and head coach John Smith decided to keep everyone on their toes by zagging with his lineup against Lehigh when most careful observers were expecting to see a zig.
Kaden Gfeller was back in the lineup earlier than fans were led to believe he would be, making his 157-pound collegiate debut in his senior season, wrestling Josh Humphreys to a tough 7-6 loss.
All-American Wyatt Sheets was also up a weight class, from 157 to 165, where he defeated NCAA qualifier Brian Meyer 5-0.
It was a solid start for the Cowboys, as they invaded Lehigh's Snake Pit and administered a 25-6 drubbing. The highlight of the dual has to be Victor Voinovich's heroic comeback over Manzona Bryant at 149 pounds. Watch it below and tell me that wasn't an incredible performance!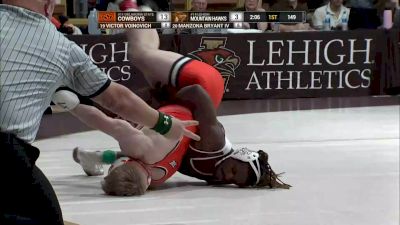 Unlock this video, live events, and more with a subscription!
Get Started
Already a subscriber? Log In
It was also the highest scoring decision of the week. That's a fact!
By the way, Bader was in Bethlehem for this, our EIWA Dual of the Week! Why not click here and check out some more content he and the rest of the team gathered from Lehigh?
The Best Tiger Style Invite EVER
It was also the only Tiger Style Invite in history, so far anyway. With just six D1 schools sending 1 or 2 wrestlers per weight class, it was a small but meaningful tournament, with every match counting towards NCAA tournament qualification. Compact, efficient and entertaining is how I would describe it.
Keegan O'Toole won the unofficial Outstanding Wrestler award, teching and pinning his way to a title. He didn't always look like the best version of O'Toole that we've seen, but he still managed to put his inimitable style on display in every match.
Here from O'Toole after his title-winning victory: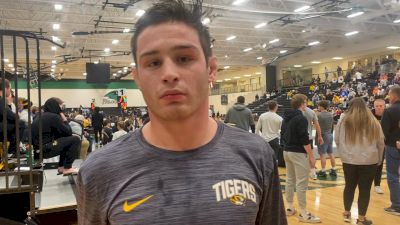 You can find brackets on Trackwrestling here, but more videos, including interviews with all the winners and most of the coaches, are here.
Hopefully, we'll soon have this whole Trackwrestling/FloArena thing figured out and will have everything on one website. Until then, it's two great tastes that taste great together or are at least palatable if you are familiar with how they both work and have a little patience and don't mind doing a little extra button pushing.
The event was in Staley High School in Liberty, Missouri just outside of Kansas City, alma mater of both Rocky and Zach Elam. The facility was jaw-dropping to me but then other people said they've seen high schools with even better facilities so what do I know? Either way, A+ marks from me for both the venue and the people that helped make the event happen.
Mania Was Wrangled In Bethlehem
Just up the round from where Oklahoma State and Lehigh battled it out was another stellar event held in a high school gym. This time it was Journeymen Wrestling's Wranglemania, which attracted top D1 programs from all over the country for a dual meet jamboree.
At this point Wranglemania tickets will be available directly at the door tomorrow. Doors open at 10:15 am! pic.twitter.com/oR9val0EAv

— Journeymen Wrestling (@jmenwrestling) November 12, 2022
Whereas the Tiger Style Invite was in Liberty, Missouri, Wranglemania was in Liberty High School in Bethlehem, Pennsylvania. Just to be clear.
The two headlining competitions were Arizona State vs Rutgers and NC State vs Nebraska. The Sun Devils took out the Scarlet Knights 25-16. Richie Figueroa proved he can step into Brandon Courtney's shoes if need be when he defeated #17 Dylan Shawver. Rutgers' freshman Brian Soldano continues to impress as he defeated #22 Anthony Montalvo via technical fall.
The Wolfpack meanwhile devoured the Cornhuskers 23-10. No major upsets in that box score, but it did feature a top 10 matchup as Nebraska's #3 Peyton Robb solidly defeated #7 Ed Scott 8-2.
And now, between the Tiger Style Invite and Wranglemania, the secret to the Week 2 Roundup's headline is revealed.
Other Rad Duals
Iowa and Penn State wrestled their first duals of the season. Both of those programs are decently popular so I figure they warrant a mention. Penn State overpowered Lock Haven 44-3 while Iowa dismantled California Baptist 42-3 in the first competition of the season for both programs.
No major lineup surprises from either team. Hawkeye fans will have to wait a little longer before they'll get to see Spencer Lee on the mat. Patrick Kennedy got his first varsity start for Iowa while Shayne Van Ness and Alex Facundo got their first start for the Lions. All three won and all three looked very much like the blue-chip recruits that they were!
Other Rad FloWrestling Content
You Demanded, I Listened
I asked, nay, implored you all to tell me how to make this roundup a better experience for you, the reader, and this specific request got by far the most traction on Twitter.
How do you not say anything about Pat Phillips beating Sam Latona…small schools matter too especially more than hs kids wrestling up!! @FandMWrestling

— Tyson Dippery (@SlipNation) November 7, 2022
And so I have listened. I am nothing if not responsive to you, dear readers. Diplomatic even.
Having retired from NCAA Division III athletics myself, I am more than a little sympathetic to the cause of small schools throughout the nation.
So let's check in on Franklin & Marshall, and then make it a weekly habit to showcase an oft-overlooked D1 program in this column.
We'll call that feature, Small School, Big Heart. At least until I think of something better!
F&M was at the Jonathan Kaloust Bearcat Open in Binghamton where they had four top-six placers. The aforementioned Pat Phillips led the team with a runnerup finish at 133-pounds. He was stopped by Cornell's Ethan Fernandez in the finals, as the Big Red, with Vito Arujau sitting out the weekend, flexed some depth at that weight class.
Up next for the Diplomats: The Shorty Hitchcock in Millersville, PA.
So keep telling me how to do my job (no really). Keep demanding and I'll keep listening and then through the process of feedback we enhance the product. A real win-win situation for everyone!
Okay, it's already Week 3 on the east coast, so I better hit the publish button. See you next week, friends!