NCAA
NCAA Week 1 Roundup: We're Back, Baby!
NCAA Week 1 Roundup: We're Back, Baby!
The biggest stories from the first week of the 2022-2023 college wrestling season.
Nov 7, 2022
by Andrew Spey
Unlock this video, live events, and more with a subscription!
Get Started
Already a subscriber? Log In
Wrestling is back! D1 NCAA wrestling that is. How wonderful! Let's round up the top headlines of week 1, shall we?
Not sure why I posed that as a question, I'm going to do it anyway! Also, glad to have you for this year's series of roundup blogs. My goal is to provide you with the best reading experience possible, as such, please do not hesitate to let me know if there is any way I could be doing a better job of that.
Now the headlines!
Iowa State Bludgeons Wisconsin In Jacksonville
The city of Jacksonville played host to 'The Battle in the River City' on Saturday, an event that featured a slew of D1 duals. It was the first NCAA D1 wrestling event in the history of the city. Pretty cool!
Things got off to good start for both Wisconsin and Iowa State, the #9 and #10 dual meet teams in the nation, respectively. Wisconsin defeated Chattanooga and Buffalo while Iowa State dispatched Little Rock and Campbell in their first two rounds of competitions.
It was all Cyclones in the main event, however, as Iowa State's youngsters all showed out in the marquee team matchup of the week. The final score of the biggest dual of the weekend was 26-6 in favor of Iowa State, which saw the Cyclones win key matchups at 125, 133, 141, 149, 165, 197 & 285.
That's a lot of key matchups going Iowa State's way, hence the lopsided score and the colorful verb in the headline.
Particularly impressive for the 'Clones were their true freshmen, Casey Swiderski, who beat #11 Joey Zargo at 141, and Paniro Johnson, who beat #3 Austin Gomez at 149.
There was a battle of true freshmen at 174, though the Badgers got one there as James Rowley defeated Iowa State's MJ Gaitan.
The dual also featured what may have been the marquee individual matchup of week 1 as well, as #4 David Carr got his first big test at 165 pounds against #6 DJ Hamiti. There, it was another victory for Iowa State, as Carr won the takedown battle and solidly beat Hamiti 7-5.
For more physical evidence of this dual meet's brutality, see below:
Well that was a war. Zargo vs Swiderski. pic.twitter.com/uJsptiy1Df

— SEWrestle (@SeWrestle) November 5, 2022
Despite the bludgeoning, I have complete faith that Wisconsin will be absolutely fine. The Badgers have quite a crop of youngsters themselves, and credit is due to the Cyclones for their efforts. I would also hate to be the next opponent on Wisconsin's schedule, which means *checks google* Cornell should prepare for any extra ornery Badger squad on November 19th.
Freshmen, Welcome To The Party
The NCAA D1 wrestling party, that is, a party I was never invited to it. Odds are you probably weren't either. Although maybe you were, in which case, congrats! In any event, last week, quite a few young men arrived at that party, and quite a few of them made big impressions.
The aforementioned Cyclones and Badgers all announced their presence with various degrees of authority, but they weren't the only highly touted campus newbies to make collegiate debuts.
Ohio State's insane recruiting class of 2022 made their impressions at the Michigan State Open, especially Jesse Mendez, who defeated #5 ranked All-American Lucas Byrd of Illinois to win the 133-pound division. You can read more about (and watch more of) Jesse's MSU Open run here.
Additionally, Nic Bouzakis and Luke Geogwon titles in the freshman/sophomore divisions of 133 and 197 pounds, respectively. Geog beat his Buckeye classmate Seth Shumate in the finals, 6-1.
In the Southeast Open in Roanoke, Virginia Tech's true frosh Caleb Henson secured the 149-pound title, besting West Virginia's Sam Hillegas in the finals.
You can watch Henson's finals match here: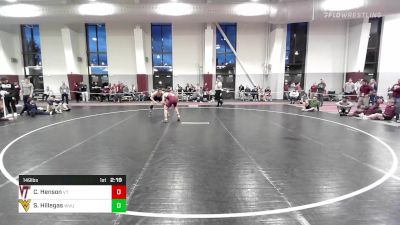 Unlock this video, live events, and more with a subscription!
Get Started
Already a subscriber? Log In
High School Wrestlers Have Also been Welcomed To The Party
These kids aren't even in college yet but they're crashing the party anyway.
Meyer Shapiro, Jax Forrest, Kannon Webster, Luke Lilledahl, Marc-Anthony McGowan, and Cooper Hilton are all names you are going to get to know very soon, so why not get a head start and learn about them now?
We even made it easy for you by putting all of their accomplishments this weekend in a separate article. Click here to read it. It's good. I highly recommend it, and I'm not just saying it because my friend David Bray wrote it. I'd say it anyway, I swear.
The Bison Thunder In Lincoln
Some other duals happened! In one of the more noteworthy ones (and what is this blog for if not for noting worthies), North Dakota State pulled off an upset of #16 Nebraska on the Huskers' home turf in the Devaney Center.
#2 Peyton Robb of Nebraska beat #6 Jared Franek of NDSU 7-4 at 157 pounds in the marquee individual matchup of the dual, but bonus points by Michael Caliendo at 165 and Deanthony Parker at 184 helped put the Bison over the top, as they took the dual by the score of 20-16.
Lehigh Gets A Clutch Performance From Michael Beard
The Mountain Hawks started their regular season with two wins, a 20-13 slugfest over a very motivated Oregon State squad, and a 44-0 blowout of EIWA rival Sacred Heart.
Recent transfer Michael Beard, an All-American from Penn State, shrugged off an early takedown from the Beavers' Tanner Harvey to get the dub at 197 and help secure the win for Lehigh in their Saturday dual.
Watch Beard's Mountain Hawk debut here: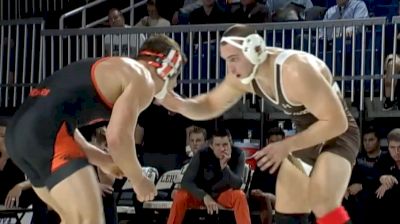 Unlock this video, live events, and more with a subscription!
Get Started
Already a subscriber? Log In
New Jersey Parties At The Princeton Open
Eight of the ten champs at the Princeton Open were from the Garden State's three D1 programs, Princeton, Rutgers, and Rider.
NCAA finalist Pat Glory won his college's early season Open at 125-pounds, but not without having to work for it. The #2 ranked Tiger senior had to go through two of his intra-Garden State rivals from Rutgers, Dean Peterson 6-5 and Dylan Shawver 11-9 in the semis and finals, respectively.
The Rider Broncs crowned two champs, #14 Quinn Kinner at 149 and #15 Ethan Laird at 197. Rutgers' #9 John Poznanski won 184, although he wrestled unattached and will likely utilize his redshirt this season, so expect him to be removed from the rankings going forward.
Overall it was a great day for pumping fists and not pumping gas *classic New Jersey joke*.
TERPS TERPS TERPS TERPS TERPS TERPS
Maryland starts the season 3-0 thanks to victories over American, Duke, and Bloomsburg in a quad they hosted in College Park, Maryland. Now that's what I call turtle power!
My rigorous and unyielding commitment to professional journalistic standards now requires me to disclose my potential bias from being a Terrapin alumnus. As an additional courtesy to you, the reader, from me, your humble blogger, I'd also like to let you know that I'm still not going to not post about Maryland whenever possible. So don't say you weren't warned!
You can check out more painstakingly assembled box scores and results from week 1 here.
Yes, it is good to have D1 college wrestling back. On this, we all agree. How bout we do this again next week? Sounds great, let's do it, see you then!