2022 Southeast Open by Virginia Tech
High School Stars At College Opens On NCAA Week One
High School Stars At College Opens On NCAA Week One
A number of future prospects tested themselves at college opens this weekend. Here's how they did.
Nov 6, 2022
by David Bray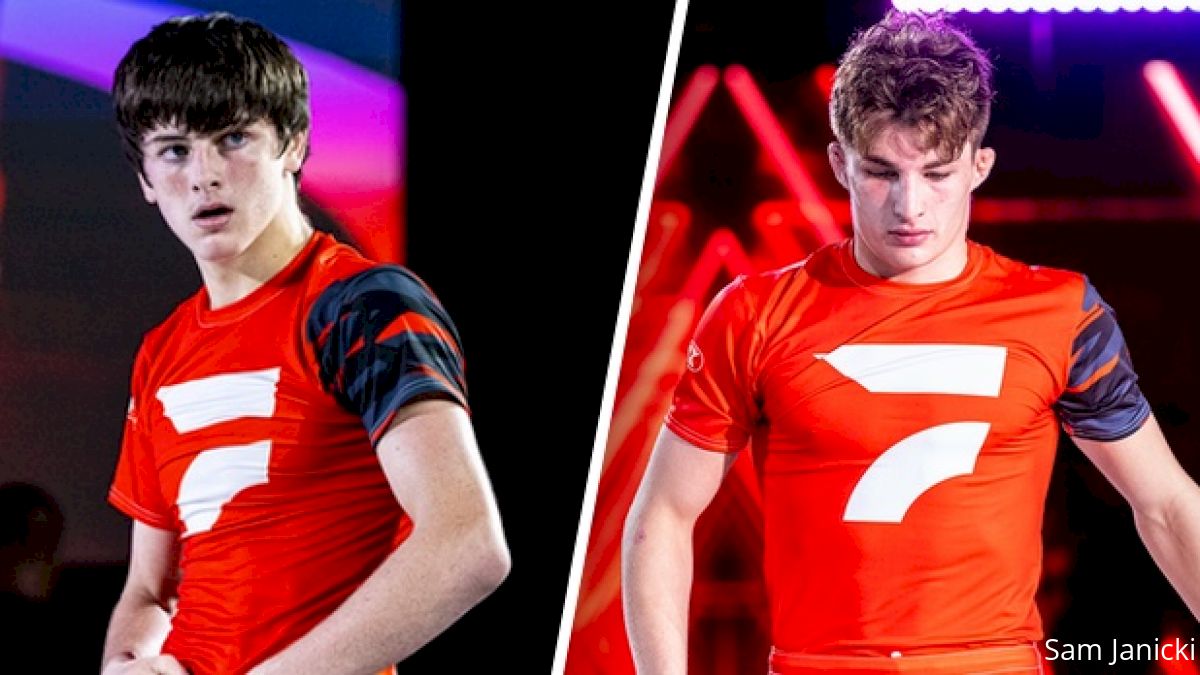 On opening weekend of NCAA wrestling, we've seen a number of the nation's top high school wrestlers test themselves against college wrestling talent. Here's how they did.
Sunday, November 6
#1 (152) Meyer Shapiro - 1st @ Clarion Open
Meyer Shapiro elected to spend his senior year of high school in Ithaca to train with the Spartan Combat RTC in preparation for his college debut next season. Today he showed that he's already capable of competing at a high level against D1 wrestlers. Shapiro notched tech falls against Pitt's Ty Cymmerman, Clarion's Brady Worthing, and Blake Saito and earned a major against Clarion's Kyle Schickel. He finished the day with a first-period fall over Pitt's Tyler Badgett, the tournament's #3 seed.
Meyer Shapiro's first period fall in the Clarion Open finals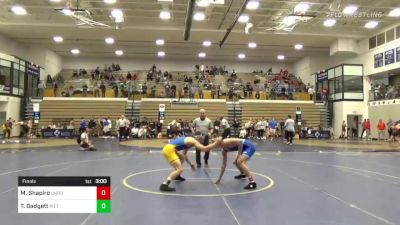 Unlock this video, live events, and more with a subscription!
Get Started
Already a subscriber? Log In
#1 (120) Jax Forrest - 3rd @ Clarion Open
Bishop McCort freshman Jax Forrest went 5-1 on the day to finish third. He pinned Edinboro's Aiden Lewis, Navy's Zach Espalin, and Gardner-Webb's Drew West and earned a tech over Edinboro's Eamonn Jimenez. Forrest fell to Purdue's #10 Matt Ramos, and even though Ramos dominated Forrest by tech, the match had some high-level exchanges worth checking out.
Jax Forrest's semifinal bout against #10 Matt Ramos of Purdue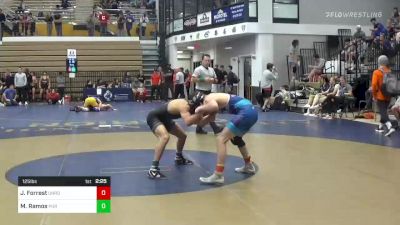 Unlock this video, live events, and more with a subscription!
Get Started
Already a subscriber? Log In
#11 (170) Simon Ruiz - 1st @ Princeton Open
Delbarton, New Jersey's Simon Ruiz entered the Princeton Open at 165 lbs and came away with the title. Along the way, he beat Navy's Dakota Morris, Rutgers' Luke Gayer, Lehigh's Luca Frinzi, and Rider's Hunter Mays. His most impressive victory was a 12-1 major decision over Luca Frinzi who was an NCAA qualifier in 2021.
#2 (112) Alex Szkotnicki - 1st @ Princeton Open
In the women's division of the Princeton Open, Calvert Hall, Maryland's Alex Szkotnicki won a tough field at 116 lbs. She beat Princeton's Chloe Ayres and Ava Rose along with Rider's Riley Lerner and unattached Calli Gilchrist. All of Szkotnicki's victories came by fall or tech.
#9 (122) Savannah Witt - 1st @ Princeton Open
Savannah Witt made it two weights in a row with a high school champ at the Princeton Open. She was 3-0 on the day with victories over Annika Lindberg of Emmanuel College, Zoe Pasetsky of MIT, and Katrina Kling of the NYCRTC.
#6 (122) Haylie Jaffe - 3rd @ Princeton Open
Kennett, Pennsylvania's Haylie Jaffe notched four victories at the Princeton Open and secured a third-place finish. Her victories came over Olivia Deming, Talia Robles, Melinda Modisette, and Madison Matta. Her lone loss was against eventual champion Paige Wehrmeister of Presbyterian.
#7 (152) Genevieve An - 3rd @ Princeton Open
Georgia native Genevieve An finished third in the 155 bracket at the Princeton Open. Along the way, she took out Limestone wrestlers Shelsy Renous and Amalina Latu, Rider's Emma Matera, and Lock Haven's Jessica Johnson. Her lone loss came against NYCRTC's Maya Letona.
Saturday, November 5
#2 (132) Kannon Webster - 1st @ Maryville, 141 lbs
Illinois commit Kannon Webster got a solid slate of college opponents at the Maryville Open. After dispatching Quincy's Mar-Trece Smith by fall in the quarterfinals, Webster took out NCAA qualifier Cayden Rooks of Indiana 3-0 in the semis. He nearly majored Maryville's Taylor Jokerst in the finals but settled for an 11-4 decision.
Webster's victory over NCAA qualifier Cayden Rooks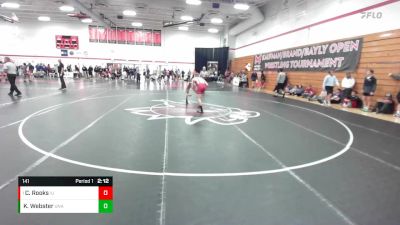 Unlock this video, live events, and more with a subscription!
Get Started
Already a subscriber? Log In
#2 (120) Luke Lilledahl - 3rd @ Maryville, 125 lbs
Two-time Super 32 champ and u17 World champ Luke Lilledahl tested the waters at 125 lbs at the Maryville Open. He teched Lindenwood's Ben Lindley and majored Little Rock's Reid Nelson before falling in a tight 6-5 decision to Indiana's Jacob Moran in the semis. Lilledahl took out Lindley for the second time in the consolation semifinals as well as SIUE's Davian Guanajuato in the third-place bout to finish with bronze.
#9 (113) Cooper Hilton - 6th @ Southeast Open, 125 lbs
Just a sophomore, Baylor, Tennessee's Cooper Hilton decided to throw his hat in the ring at the Southeast Open. He finished 6th with a 3-2 record on the day. Hilton beat Newberry's Josman Gamez, F&M's Jack Bruce, and Virginia's Patrick McCormick, a two-time NCAA qualifier. Hilton's losses came to Virginia Tech's Eddie Ventresca and Virginia's Joe Haynes.
#3 (126) Marc-Anthony McGowan - 2-2 @ Southeast Open, 133 lbs
Blair Academy's Marc-Anthony McGowan was originally registered at 125 lbs but decided to move up to 133 lbs instead. He started the day with a tough loss to Columbia's Angelo Rini, the eventual 4th place finisher, but collected wins over Virginia's Erik Roggie and Campbell's Logan Heil on the back side of the bracket. McGowan ultimately fell to All-American Sam Latona to finish 2-2 on the day.
Shayla Gallegos - 6th @ Maverick Open
Denver Colorado native Shayla Gallegos went to the Maverick Open to watch her sister Marissa, a junior at Colorado Mesa, but after some last-minute encouragement from the team, she decided to compete. She finished 6th with a 3-3 record. Her victories came against Jade Morales of Santa Ana, Cordey Mallo of Colorado Mesa, and Kacey Schafer of Chadron State.