2022 Tiger Style Invite
5 Freshmen Who Made A Statement During NCAA Week 2
5 Freshmen Who Made A Statement During NCAA Week 2
The NCAA season has already had its share of twists and turns. On week 2, these five freshmen announced their presence as real post-season factors.
Nov 14, 2022
by David Bray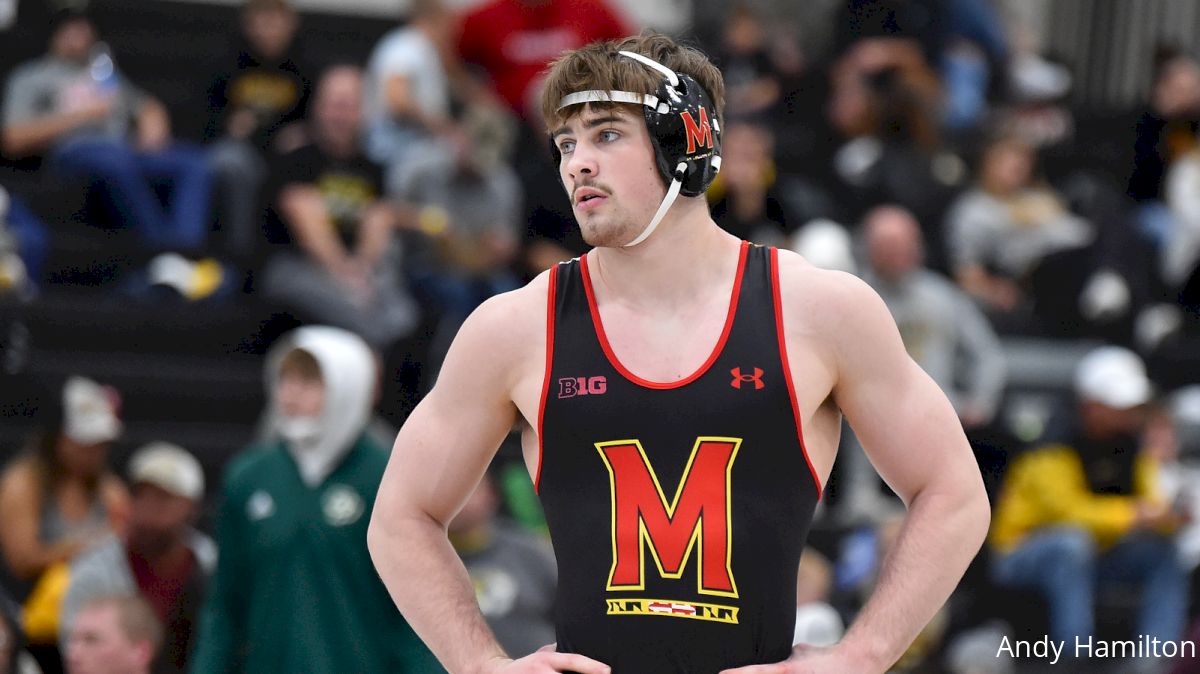 In week one of NCAA wrestling, freshman Jesse Mendez stole the first-year spotlight when he knocked off 2x All-American Lucas Byrd in the MSU Open finals. This week, Mendez took a tough loss to All-American Sam Latona, but several other freshmen announced themselves as major players with impressive victories. Here are the five that jumped off the page.
149 lbs - Caleb Henson, Virginia Tech
As the #7 recruit in the class of 2022, success was always in the forecast for Caleb Henson, but not many people outside the Virginia Tech program would have predicted a sudden-victory upset for the true freshman against NCAA finalist Sammy Sasso in just the second week of Henson's college career. That's exactly what we got on Friday night, and now the nation is on notice any time Henson comes to town.
𝐖𝐎𝐊𝐄 𝐔𝐏 𝐅𝐄𝐄𝐋𝐈𝐍𝐆 𝐃𝐀𝐍𝐆𝐄𝐑𝐎𝐔𝐒 😈🦃

Winning takedown in SV for No. 29 Caleb Henson over No. 2 in the country.
The freshman is here. Cold-blooded. #Team100 #Hokies #ALLINALLTHETIME 🦃 pic.twitter.com/9pZa5ibhAU

— Virginia Tech Wrestling (@HokiesWrestling) November 12, 2022
Maryland redshirt freshman Jaxon Smith announced himself as a legitimate difference-maker on the freestyle scene this summer by qualifying for the Junior World Team, but his All-American prospects in folk style remained to be seen. That changed on Saturday when Smith not only upset but pinned #8, Zac Braunagel, in the semifinals of the Tiger Style Invitational. He also drew first blood against #5 Bernie Truax of Cal Poly but was unable to hold on for the victory in the finals.
Jaxon Smith's victory over #8 Zac Braunagel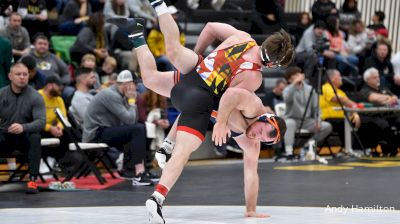 Unlock this video, live events, and more with a subscription!
Get Started
Already a subscriber? Log In
Oklahoma State redshirt freshman Victor Voinovich got his dual meet debut this Saturday against both Lehigh and Bucknell. He was 2-0 on the weekend, but that outcome seemed unlikely in the opening stages of his bout with Manzona Bryant. The match began with a big feet-to-back exchange for Bryant, and early on, Voinovich trailed 8-0. The Ohio native chipped away at that deficit and wound up securing takedowns at the end of regulation and in overtime to pull off the 15-13 upset in perhaps the most exciting match of the weekend
Victor Voinovich's comeback victory over HM Manzona Bryant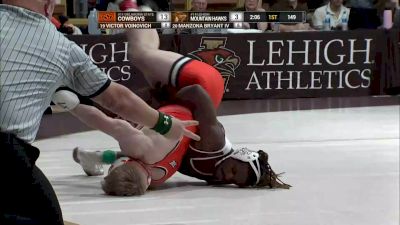 Unlock this video, live events, and more with a subscription!
Get Started
Already a subscriber? Log In
True freshman Brian Soldano had big shoes to fill in the Rutgers lineup with All-American John Poznanski in redshirt, but the #8 recruit in the class of 2022 appears to be up for the challenge. In three duals this weekend, Soldano was 3-0 with a major, an tech, and a fall. His major came against #18 Will Feldkamp of Clarion, and his tech came against #22 Anthony Montalvo of Arizona State. Soldano isn't messing around.
141 lbs - Tom Crook, Virginia Tech
A year ago, a Tom Crook win over Nic Bouzakis, while both were seniors in high school, would have been unthinkable. For one, Bouzakis wrestled his senior year at 132 lbs while Crook was 145 lbs, but the bigger difference was how each was perceived as a recruit. Bouzakis was the top man in his weight class while Crook finished the year at #18. Bouzakis was the #4 recruit in the class of 2022; Crook was #69. Since that time, Crook has made serious gains, and his 18-14 victory over Bouzakis is just one piece of evidence to support that fact.