2022-23 NCAA 285-Pound Preseason Preview: Big Shoes To Fill
2022-23 NCAA 285-Pound Preseason Preview: Big Shoes To Fill
Prepare for the upcoming NCAA D1 wrestling season with our 285-pound preview.
Sep 4, 2022
by Andrew Spey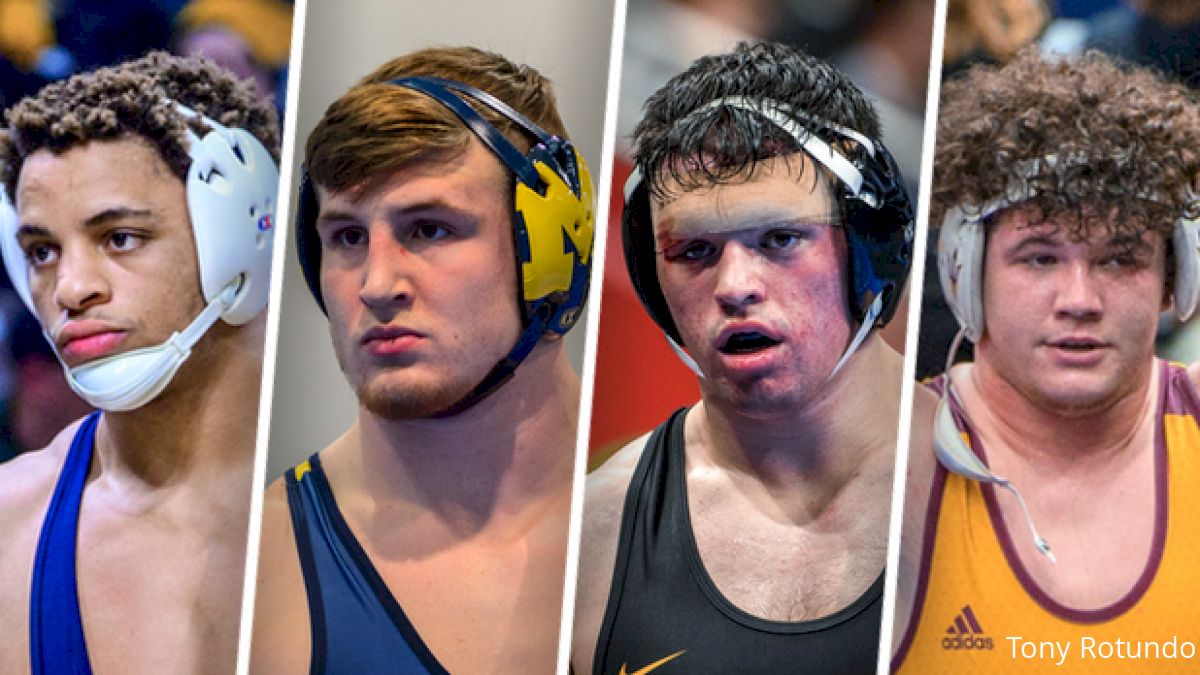 The largest of all the weight classes; the most powerful and gargantuan of all the collegiate divisions; the giants, the titans, brobdingnagians. And yet all will weigh no more than ten percent less than the average NFL lineman.
Makes you think.
Preseason Previews: 125 | 133 | 141 | 149 | 157 | 165 | 174 | 184 | 197 | 285
Yet what makes a champion heavyweight wrestler is so much more than numbers on a scale. For an example, look no further than Gable Steveson, a champion of the U17, U20, Olympic, and NCAA variety, all while comfortably tipping the scales at dozens of pounds under the maximum.
Plodding, oversized, galoots these are not. Nay, these are not your grandpa's dancing walruses. These are elite technicians who have mastered the art of wrestling while also consuming a relentless diet of 8,000 calories a day.
Though few wrestling fans may claim to favor watching 285-pounders over any other division, none could (nor, at the very least, should) question the skills and dedication collegiate heavies put on display at the NCAA D1 level.
Healed
Yaraslau Slavikouski, Harvard
We lead off our preview with a Belarussian native. Yaraslau (or Jaroslav, if you're spelling his name in Czechia) is technically in the transfer portal but is coming back to Harvard for one more year. After the season he'll graduate and then pursue a grad degree somewhere he can use his last year of eligibility as Ivy League rules will not allow him to continue at Harvard.
We've only gotten the equivalent of one collegiate season out of Slavikouski. He went 30-8 in 2020, finishing as runner-up in the EIWA and receiving the #10 seed in the canceled 2020 NCAA tournament. Forced to sit out the 2020-21 season with the rest of the Ivy League athletes, Slavikouski next wrestled at the 2021 CKLV, beating two All-Americans before suffering a season-ending injury in the finals. Fingers-crossed that we finally get to see a complete season from this talented heavy.
Departed
Gable Steveson, Minnesota
Jordan Wood, Lehigh
Matt Stencel, Central Michigan
Christian Lance, Nebraska
Nathan Traxler, Virginia Tech
Gary Traub, Oregon State
For fear of burying the lead even further, we should discuss the approximately 265-pound elephant in the room, specifically, the possibility that said elephant that goes by the name of Gable Steveson will un-retire from collegiate wrestling and take advantage of his remaining season of eligibility at the University of Minnesota.
Yes, he left his shoes on the mat. Yes, he signed a contract with WWE. But also he has eligibility left? And why not run it back for an opportunity to wrestle on ESPN in prime time? And for what it's worth, Gable has also teased us with another Olympic run.
Unfortunately, if you're looking for a scoop, you won't find one in this blog. I'm hoping he returns like the rest of you. Guess we'll find out together!
Whether we witness the return of Gable or not, the heavyweight division graduated an impressive crop of competitors, including not one, but two FIVE-TIME conference champions in Jordan 5-Wood and Matt 5tencel.
2022 All-American Christain Lance and five-time NCAA qualifier Nathan Traxler also depart the weight class, as well as the incomparable Gas Tank Gary.
Favorites
Gable Steveson, Minnesota
Cohlton Schultz, Arizona State
Greg Kerkvliet, Penn State
Mason Parris, Michigan
Anthony Cassioppi, Iowa
What to do for an encore when you're already won everything you can win in the sport of wrestling? Well, almost everything. If Gable returns to the NCAA, he'll be favored to run the table and win his third title. Gable has only two losses in his four years of college wrestling, both coming in his true freshman campaign, to Anthony Cassar in the Big Ten championship and the NCAA semifinals.
Watch Steveson when he's second consecutive NCAA title in Detroit: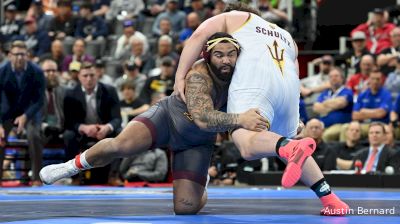 Unlock this video, live events, and more with a subscription!
Get Started
Already a subscriber? Log In
Looking for their first NCAA title is a quartet of contenders that are a combined 0-13 against Steveson.
All four have cases to be made that they are the favorites should Steveson not return. Schultz has his best season yet, making the finals and notching a win over Mason Parris, as well as executing one of the most electric takedown-counters in the history of the NCAA semifinal overtime period.
Watch highlights from that match, including THE highlight: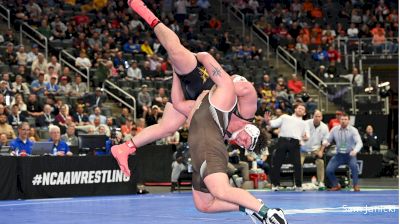 Unlock this video, live events, and more with a subscription!
Get Started
Already a subscriber? Log In
The aforementioned Parris is entering his fifth season as a starter and has All-Americaned twice. He's been a consistent winner for the Wolverines, with 5 of his nine losses over the last three seasons coming at the hands of Gable Steveson. It should also be noted that Parris has a redshirt available.
Kerkvliet is also a two-time All-American with three more years of eligibility who probably has yet to wrestle a fully healthy season, which is terrifying considering what he's been able to accomplish while competing hurt.
Watch Kerk over Parris from Detroit: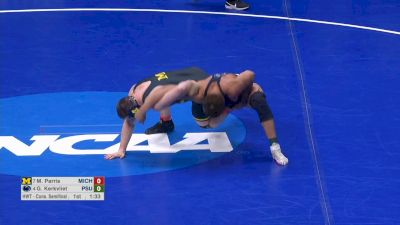 Unlock this video, live events, and more with a subscription!
Get Started
Already a subscriber? Log In
Finally, discount Tony Cassioppi at your own peril. He's 3-0 lifetime vs Kerkvliet and 2-0 vs Schultz, although he's also 0-3 vs Parris, which also wherein lies Parris's strongest claim to being a favorite.
Watch Cass over Schultz from 2021: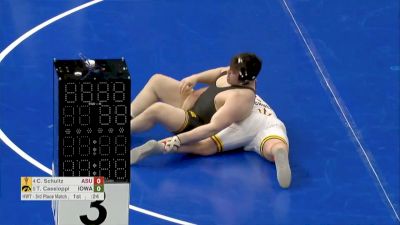 Unlock this video, live events, and more with a subscription!
Get Started
Already a subscriber? Log In
Whoever ultimately prevails in this weight class may depend on which wrestler's best version of themselves shows up.
Contenders
Yaraslau Slavikouski, Harvard
Lucas Davison, Northwestern
Trent Hillger, Wisconsin
Tate Orndorff, Ohio State
Zach Elam, Missouri
Lewis Fernandes, Cornell
Wyatt Hendrickson, Air Force
One of the great joys of a fresh NCAA wrestling season is getting to see who has a break-out season, and there is a slew of worthies who might catapult to the top of the heavyweight heap this year.
We've already discussed Slavikouski's potential. Wisconsin vet Trent 'Thor' Hillger has already made the podium twice and qualified for the NCAA in four previous instances. Lucas Davison arguably broke out last season, when he All-Americaned at 285 after wrestling the previous three seasons at 197. He's yet to beat any of the favorites listed earlier, however.
Orndorff has also made the podium before, finishing eighth in 2021 but finishing one match away from the top eight in 2022.
Zach Elam has two bloodround finishes to go with a round of 16 tournament exit in his three trips to the big dance. Fernandes was one match away from becoming Cornell's first heavyweight All-American in history (a shocking but true fact), and Hendrickson was a bloodrounder in 2021 before going 2-2 in 2022, though he also entered the tournament with an undefeated record.
Watch Fernandes and Hendrickson in the finals of the 2022 Southern Scuffle:
Unlock this video, live events, and more with a subscription!
Get Started
Already a subscriber? Log In
That's just a mere sampling of the much longer list of heavies who could find themselves placing at the NCAA Championship in Tulsa.
Landmines
Hunter Catka, Virginia Tech
Brandon Metz, North Dakota State
Sam Schuyler, Iowa State
These wrestlers don't yet have the track record to warrant inclusion as contenders but still represent challenges no one will take lightly when their names are penciled in opposite them in a bracket. As with the other lists, it is not exhaustive, and your mileage may vary.
Catka qualified for the 2021 NCAA tournament before redshirting while Stanford transfer Nathan Traxler anchored the Hokie lineup for a spell. Hunter's brother Ryan Catka will be the starter for Navy, and is a landmine in his own right.
Metz and Schuyler are both savvy veterans who have qualified for a total of five NCAA tournaments between them.
True Freshmen
Nick Feldman, Ohio State
Chase Horne, NC State
Harley Andrews, Nebraska
It's a near certainty that these three blue chip true frosh start the year redshirting, especially with the new rule that will allow them to compete in up to five varsity competitions without burning their shirt. That said, all three were in the top 36 of the Class of 2022 Big Board.
Granted, Horne was #35 and Andrews was #36, but Feldman was #1, which is, you know, the best number you can be ranked! In any event, all three (plus others) are names to familiarize yourself with for this upcoming season.
Spredictions
1) Steveson 2) Kerkvliet 3) Schultz 4) Cassioppi 5) Parris 6) Davison 7) Orndorff 8) Fernandes
The only prediction I'm feeling confident on here is Steveson, and I'm not very confident he'll return this season, so take these for what they're worth. And if I'm wrong and these picks inspired an athlete to prove me wrong, well that's even better than being right!