Unlock this article, live events, and more with a subscription!
Get Started
Already a subscriber? Log In
A few weeks ago I asked my Twitter followers how they would put together an all-time great college dual team with the current weights using athletes from their home states. The responses were great and really got me curious. So, I did the research and have now putting together the best possible team for some of the top states, including some formidable back-up teams.
Previous States: Pennsylvania, California, Oklahoma, Iowa, New Jersey, Ohio, New York, Michigan, Minnesota, Wisconsin, Indiana
Now to the land of barbecue, blues, and Busch.
125: Sammie Henson, 1991-94
Hometown: St. Charles
College: Missouri/Clemson
NCAA Finishes: 5, 1, 1 (118)
Yes, Sammie Henson only competed 118 in college, however, I believe his resume, along with his notorious strength and skill, would allow him to compete just fine at 125 lbs. He is "The Bull" after all. Henson started his career at Missouri where he was the Big Eight champion and finished fifth at NCAAs. After his freshman season, The Bull transferred to Clemson and never lost a match, going 71-0 in his final two seasons. His biggest NCAA wins came over Chad Zaputil, Lou Rosselli, and Eric Akin.
After college Henson won a World gold medal in 1998, Olympic silver in 2000, and World bronze in 2006.
Watch Sammie Henson relive his World bronze match on a recent episode of the Bader Show below.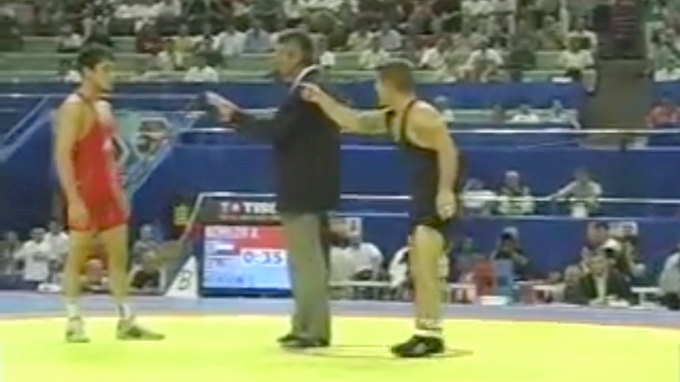 Unlock this video, live events, and more with a subscription!
Get Started
Already a subscriber? Log In
125 Backups
Tony Purler - 2X AA and 1993 NCAA champion for Nebraska
Alan Waters - 2013 and 2015 AA for Missouri
Ryan Mango - 2011 and 2012 AA for Stanford
Bobbe Lowe - 2003 and 2005 AA for Minnesota
Tim Harris - 1993 and 1995 AA for Minnesota
---
133 Starter: Cody Brewer, 2013-16
Hometown: Kansas City
College: Oklahoma
NCAA Finishes: 7, 8, 1, 3 (133)
The run Cody Brewer went on at the 2015 NCAA tournament is ridiculous: pin over Dominick Malone, 9-1 over Johnni DiJulius, 14-5 over George DiCamillo, 15-3 over Chris Dardanes, 11-8 over Cory Clark. In Brewer's final two seasons at Oklahoma, he went 47-4 with two losses to Nahshon Garrett, and one loss to Earl Hall that he later avenged four times.
Watch Cody Brewer win the 2015 NCAA title below.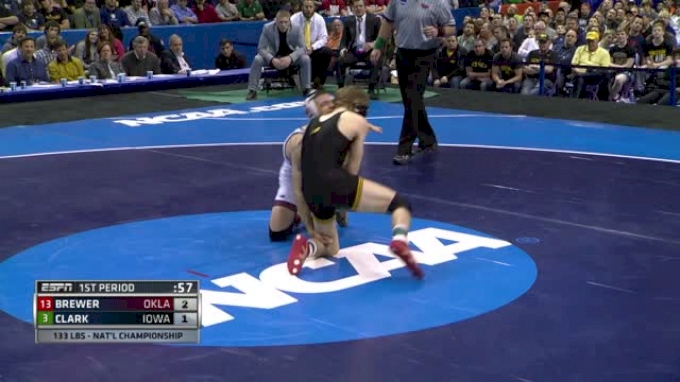 Unlock this video, live events, and more with a subscription!
Get Started
Already a subscriber? Log In
133 Backups
Scott Schatzman - 3X AA for Northwestern in the late 90s
John Erneste - 2019 AA for Missouri
---
141 Starter: Jaydin Eireman, 2017-
Hometown: Columbia
College: Missouri
NCAA Finishes: 5, 4, 3 (141)
Just three non-redshirted years into his college career, Jaydin Eierman is already a three-time All-American. Placing fifth, fourth, and third, he has increased his NCAA placement each year so far. He has collegiate wins over Dean Heil, Anthony Ashnault, Joey McKenna, Nick Lee, Dom Demas, Matt Kolodzick, Kaden Gfellar, Mitch McKee, George DiCamillo, Kyle Schoop, and Ian Parker.
In addition to his success in folkstyle, Eierman was a senior national team member in 2018 and U23 world team member in 2019.
Watch Jaydin Eierman pin Dean Heil below.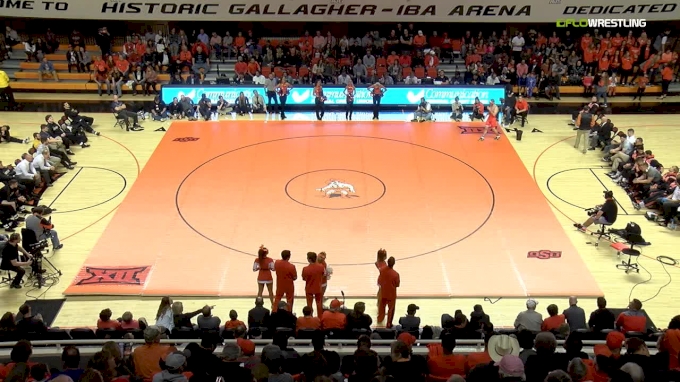 141 Backups
Zack Bailey - 2X AA for Oklahoma in the early 2010s
Kenny Liddell - 2X AA for Missouri in the 90s
---
149 Starter: Drake Houdashelt, 2012-15
Hometown: O'Fallon
College: Missouri
NCAA Finishes: NQ (157), 6, 5, 1 (149)
For being a four-time conference and fone-time NCAA champion, Drake Houdashelt doesn't get the credit he deserves. His career record at Missouri was 134-23 with 39 majors, 21 techs, and 18 pins for a total of 78 bonus-point victories. His senior season he went 37-1 with the lone loss coming to Josh Kindig, whom he had previously beat three times in his career, once by major. He also has victories over Dave Habat, Brandon Sorenson, Hunter Stieber, Eric Grajales, Nick Dardanes.
Watch Drake Houdashelt win the 2015 149 lbs NCAA title below.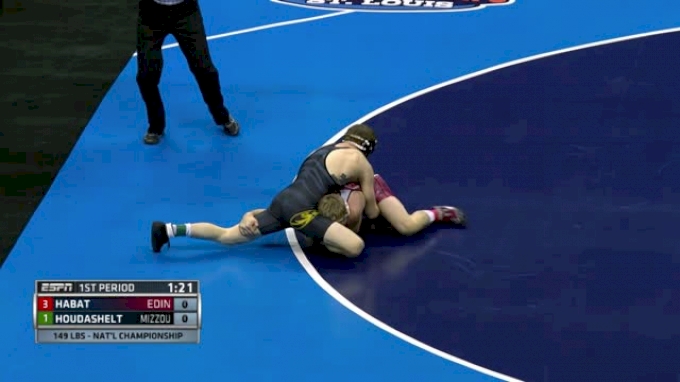 Unlock this video, live events, and more with a subscription!
Get Started
Already a subscriber? Log In
149 Backup
Brock Mauller - 2019 AA for Missouri
Grant Leeth - 2018 AA for Missouri
Wes Roper - 1982 AA for Missouri
---
157 Starter: Michael Chandler, 2006-09
Hometown: High Ridge
College: Missouri
NCAA Finishes: R12, NQ, R12, 5 (157)
Michael Chandler started as a walk-on at Missouri and ended his career as one of the most successful wrestlers on the team during his time there. A four-year starter, he was a four-time national qualifier, earned 100 career wins, 2009 All-American, and was twice a Big 12 runner-up. In 2008 Chandler lost in the Big 12 finals to Cyler Sanderson 6-5, and in 2009 Chandler lost to Jordan Burroughs 6-4.
157 Backup
Kenny Burleson - 2004 AA for Missouri
Jim Prendergrast - 1993 AA for Missouri State
Greg Warren - 1991 AA for Missouri
---
165 Starter: Shaon Fry, 1991-94
Hometown: Oak Grove
Collee: Missouri
NCAA Finishes: NQ (167), NQ (158), 2, 3 (167)
Missouri's first two-time Big 8 champion and first NCAA finalist, Shaon Fry was inducted into the Missouri Hall of Fame in 1999. Fry had a career record of 127-36, and as a senior went 38-3. Fry defeated Trent Flack and Dave Hart en route to making the 1993 NCAA finals.
165 Backups
Tyron Woodley - 2X AA for Missouri in the mid-2000s
Kevin Stanley - 2001 AA for Indiana
---
174: Daniel Lewis, 2016-19
Hometown: Blue Springs
College: Missouri
NCAA Finishes: 4, 6 (165), 4, 4 (165)
Joining Ben Askren and J'den Cox, Daniel Lewis is one of only three four-time All-Americans in Missouri's history. Lewis also won four MAC titles and was named the MAC Most Outstanding Wrestler in 2018. A pinner, 53 of Lewis' 118 career wins came by fall (44.9%), good for second-most in Missouri history. He took home the 2019 Gorarrian Award for recording the most falls at the NCAA Championships. The biggest pin and win of his career came over two-time NCAA champion Zahid Valencia. Along with Mark Hall, Lewis is the only person to beat Valencia in college. The Blue Springs' native overall NCAA record was 118-17.
174 Backup
Jim Stanec - 2001 AA for Cornell
---
184 Starter: Scott Barker, 2002-05
Hometown: Oakville
College: Missouri/Oregon
NCAA Finishes: 6 (197), 2 (184), NQ (197)
After Shaon Fry, Scott Barker was the University of Missouri's second national finalist. Although Barker did defeat Oklahoma State's 3X NCAA champion Jake Rosholt 9-1 in the Big 12 finals, he lost to him in the NCAA finals that year. After his third year at Missouri, Barker transferred to Oregon where he earned the four seed, but was upset at NCAAs.
184 Backup
Louis Caputo - 2X AA for Harvard in the late 2000s
---
197 Starter: J'den Cox, 2014-17
Hometown: Columbia
College: Missouri
NCAA Finishes: 1, 5, 1, 1 (197)
J'den Cox is one of the few wrestlers who have ever won an Olympic medal and then came back to compete in college. After winning his second NCAA title, J'den beat Clayton Foster, Jake Herbert, Keith Gavin, and Kyle Dake to make the 2016 Olympic Team. He then qualified the weight for the US in Mongolia, and then took bronze despite an odd match where he was unaware he was losing on criteria in the semifinals.
After taking Olympic bronze, J'den returned to go a perfect 28-0 his senior season. He went 61-1 his final two years of college with the lone loss being a disqualification. His overall record was 136-5. The only two losses J'den was not able to avenge (due to lack of opportunity) were to Kyle Snyder and Kyven Gadson.
Watch J'den Cox defeat Morgan McIntosh in the 2016 NCAA finals below.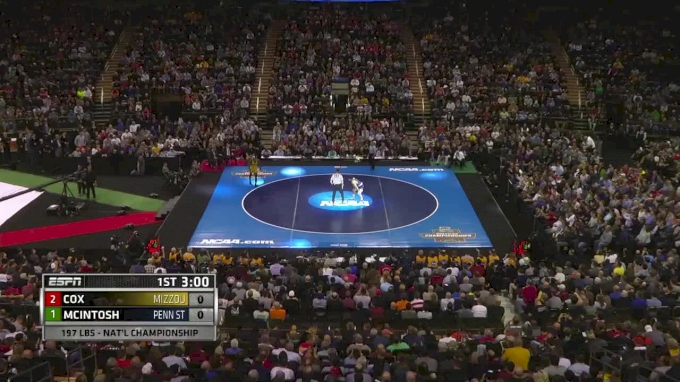 Unlock this video, live events, and more with a subscription!
Get Started
Already a subscriber? Log In
197 Backup
Alex Clemson - 2007 AA for Edinboro at 184
---
285 Starter: Mark Ellis, 2007-10
Hometown: Peculiar
College: Missouri
NCAA Finishes: NQ, R12, 1, 6 (285)
The only heavyweight champion in Mizzou history, Mark Ellis compiled a 90-39 career record, with one-third of those wins by pin. Ellis' 2003 NCAA championship bracket included Zac Rey, David Zabriskie, Konrad Dudziak, Jared Rosholt, Jermail Porter, and Jarod Trice among others.
Watch Mark Ellis defeat Jared Rosholt below.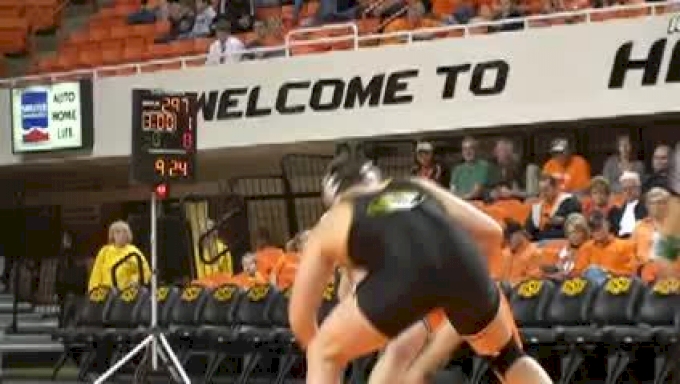 285 Backups
Dom Bradley - 2X AA for Missouri in the early 2010s
Ed Prendergast - 2008 AA for Navy
---
There you have it, the greatest Missouri D1 lineup of all-time.
| | | | | |
| --- | --- | --- | --- | --- |
| Weight | Name | Years Active | Hometown | College |
| 125 | Sammie Henson | 1991-94 | St. Charles | Missouri/Clemson |
| 133 | Cody Brewer | 2013-16 | Kansas City | Oklahoma |
| 141 | Jaydin Eierman | 2017- | Columbia | Missouri |
| 149 | Drake Houdashelt | 2012-15 | O'Fallon | Missouri |
| 157 | Michael Chandler | 2006-09 | High Ridge | Missouri |
| 165 | Shaon Fry | 1991-94 | Oak Grove | Missouri |
| 174 | Daniel Lewis | 2016-19 | Blue Springs | Missouri |
| 184 | Scott Barker | 2002-05 | Oakville | Missouri/Oregon |
| 197 | J'den Cox | 2014-17 | Columbia | Missouri |
| 285 | Mark Ellis | 2007-10 | Peculiar | Missouri |