Creating The Best Wisconsin D1 Lineup Of All Time
Creating The Best Wisconsin D1 Lineup Of All Time
Multiple Hodge Trophy winners headline Wisconsin's all-time DI team.
May 8, 2020
by JD Rader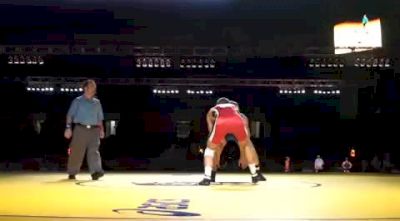 Unlock this article, live events, and more with a subscription!
Get Started
Already a subscriber? Log In
A few weeks ago I asked my Twitter followers how they would put together an all-time great college dual team with the current weights using athletes from their home states. The responses were great and really got me curious. So, I did the research and have now putting together the best possible team for some of the top states, including some formidable back-up teams.
Previous States: Pennsylvania, California, Oklahoma, Iowa, New Jersey, Ohio, New York, Michigan, Minnesota
Now, on Wisconsin!
125 Starter: Eric Jetton, 1995-98
Hometown: La Crosse
College: Wisconsin
NCAA Finishes: NQ, 3, 3, 2 (126)
I debated whether to start Eric Jetton or Jack Reinwand, but because Jetton has a better career winning percentage (.865), more wins, and faced harder competition, I went with Jetton. That stiff competition Jetton ran into was Olympian Sanshiro Abe, who defeated him his sophomore year, and Eric Guerrero, who defeated him both his junior and senior years. Jetton did have at least one victory over Guerrero in his career, however. Although he was never a national champion, Jetton was still a two-time Big Ten champion.
125 Backup
Jack Reinwand - 2X AA and 1976 NCAA champion for Wisconsin
---
133 Starter: Kevin Black, 1999-2003
Hometown: River Falls
College: Wisconsin
NCAA Finishes: NQ (125), R12, 4, DNQ (133)
A Wisconsin high school wrestling legend, Black stayed home when he chose to wrestle for Barry Davis and Wisconsin. At Wisconsin Black earned All-American status his junior year when he placed fourth, outplacing eventual champions Zach Roberson and Cliff Moore. His senior season was unfortunately cut short due to injury.
133 Backup
Bill James - 1971 AA for Army West Point
---
141 Starter: Rick Lawinger, 1972-74
Hometown: Mineral Point
College: Wisconsin
NCAA Finishes: R8, 2 (150), 1 (142)
In 1974 Rick Lawinger became the University of Wisconsin's first national champion when he defeated Steve Randall of Oklahoma State 8-2. This capped off a career that included a 130-17-1 record with a 39-1 record his senior year, two finals appearances, and two Big Ten championships. The summer between his two NCAA finals appearances, Lawinger won a University World bronze medal in Moscow.
141 Backup
Jason Mester - 2X AA for Central Michigan in the early 2000s
---
149 Starter: Andy Rein, 1977-80
Hometown: Stoughton
College: Wisconsin
NCAA Finishes: 2, 6 (142), 1 (150)
Before he was the head coach at Wisconsin, Andy Rein was a standout wrestler there. The Stoughton native compiled a career record of 119-13-1 including a 40-0 mark as a senior. In addition to being an NCAA champion, Rein was a two-time Big Ten champion and three-time Midlands champion. Months after winning his NCAA title, he made the Olympic team, but the US boycotted the Olympics. However, in 1984 Rein won a silver medal at the Los Angeles Games.
149 Backup
Travis Shufelt - 2004 AA for Nebraska
Tyler Turner - 2007 AA for Wisconsin
---
157 Starter: Craig Henning, 2005-08
Hometown: Chippewa Falls
College: Wisconsin
NCAA Finishes: NQ (149), 8, 2, DNQ (157)
While Craig Henning's Badger career ended on a sour note, he still put up a career record of 105-29 and was a two-time All-American. After a junior season where he defeated Mike Poeta in the Big Ten championship, beat James Strouse in the NCAA semifinals, and lost a close match to senior Trent Paulson in the NCAA finals, Henning was preseason ranked #1 his senior year. However, Henning was upset by Nicholas Bertucci at Big Tens and failed to qualify for the national tournament.
Watch Craig Henning pin Andrew Flanagan below.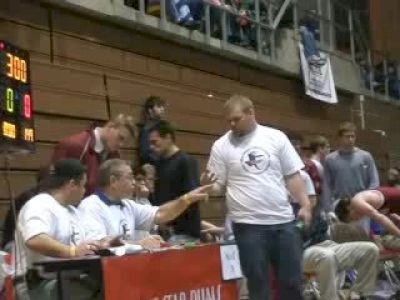 157 Backup
Mark Scmitz - 2X AA and 1984 NCAA finalist for Wisconsin
---
165 Starter: Alex Dieringer, 2013-16
Hometown: Port Washington
College: Oklahoma State
NCAA Finishes: 3, 1 (157), 1, 1 (165)
Alex Dieringer went an absurd 133-4 while at Oklahoma State, including 66-0 his last two seasons. Three of those four losses came to Derek St. John. In Ringer's senior season when he won the Hodge, he pinned 36% of his opponents, had an 81.8% bonus rate, and a 4.76 dominance score. Nobody even came close to beating him his last two seasons. He really is an all-time great.
Watch Alex Dieringer defeat Isaac Jordan for his third NCAA title below.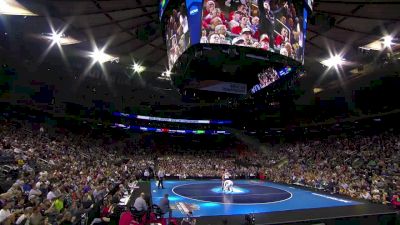 Unlock this video, live events, and more with a subscription!
Get Started
Already a subscriber? Log In
165 Backup
Pat Christenson - 1976 NCAA champion for Wisconsin
Steven Monk - 2014 NCAA All-American for North Dakota State
---
174 Starter: Ben Askren, 2004-07
Hometown: Hartland
College: Missouri
NCAA Finishes: 2, 2, 1, 1 (174)
Back-to-back greats here for Wisconsin. Similar to Dieringer, Askren only lost to two opponents in college and finished his career with back-to-back undefeated seasons. With a total of 91 pins in 153 matches, Askren currently sits at third all-time in NCAA pins. In his junior and senior seasons he won the Hodge, and Nomad ranked them #5 and #3 all-time Hodge seasons. In the NCAA finals his junior year, he defeated future Hodge Trophy winner and World silver medalist, Jake Herbert 14-2. That is ridiculous. It was eventual champion Keith Gavin that Askren handled with ease 8-2 in the finals his senior year.
Watch Ben Askren: The Funk trailer below.
174 Backups
Matt Pell - 2X AA for Missouri in the mid-2000s
---
184 Starter: Ben Peterson, 1970-72
Hometown: Cumberland
College: Iowa State
NCAA Finishes: 4, 1, 1 (190)
Once again, Ben Peterson is a wrestler who won every match his final two collegiate seasons. Over his three year career at Iowa State Cumberland native went 74-4, for a winning percentage of .948, with almost a third of his wins coming by pin. Just months after his college career was over, Peterson won a gold medal at the 1972 Olympics. He also won silver in '76 and made the team in '80 but was denied the opportunity at a medal due to the US boycott.
184 Backups
Max Askren - 3X AA and 2010 NCAA champion for Missouri
Tyler Baier - 2005 NCAA finalist for Cornell
---
197 Starter: Tim Hartung, 1996-99
Hometown: Durand
College: Minnesota
NCAA Finishes: NQ (177), 3, 1 (190), 1 (197)
I feel like people forget just how good Tim Hartung was. Back-to-back titles, 36-1 as a junior, 39-0 as a senior, beat Lee Fullhart at NCAAs both championship years, 1999 Big Ten Wrestler of the Year, and 48 career pins. Not too shabby.
197 Backups
Trevor Brandvold - 2010 and 2011 AA for Wisconsin
Dallas Herbst - 2008 AA for Wisconsin
Chris Vike - 1999 AA for Central Michigan
---
285 Starter: Cole Konrad, 2004-07
Hometown: Freedom
College: Minnesota
NCAA Finishes: 4, 2, 1, 1 (285)
In a storied history of good heavies at the University of Minnesota, Konrad is up there with the best of them. He went 155-13 with two undefeated seasons, finished on a 75-match win streak, beat legend Steve Mocco in the finals Mocco's senior year, recorded 50 pins, and won the Pan Am Championships in 2005 while still in college.
We couldn't forget about Cole Konrad for our #ThrowbackTakedown! One of the best heavyweight wrestlers of all-time captures his first in this four overtime thriller in 2006! #GopherTough pic.twitter.com/C336DaFCl1

— Minnesota Wrestling (@GopherWrestling) June 21, 2018
285 Backups
Dale Lewis - 2X NCAA champion for Oklahoma in the 60s
Garrett Lowney - 2X AA for Minnesota in the early 2000s
---
There you have it, the greatest Wisconsin D1 lineup of all-time.
| | | | | |
| --- | --- | --- | --- | --- |
| Weight | Name | Years Active | Hometown | College |
| 125 | Eric Jetton | 1995-98 | La Crosse | Wisconsin |
| 133 | Kevin Black | 1999-2003 | River Falls | Wisconsin |
| 141 | Rick Lawinger | 1972-74 | Mineral Point | Wisconsin |
| 149 | Andy Rein | 1977-80 | Stoughton | Wisconsin |
| 157 | Craig Henning | 2005-08 | Chippewa Falls | Wisconsin |
| 165 | Alex Dieringer | 2013-16 | Port Washington | Oklahoma State |
| 174 | Ben Askren | 2004-07 | Hartland | Missouri |
| 184 | Ben Peterson | 1970-72 | Cumberland | Iowa State |
| 197 | Tim Hartung | 1996-99 | Durand | Minnesota |
| 285 | Cole Konrad | 2004-07 | Freedom | Minnesota |