Creating The Best New Jersey D1 Lineup Of All Time
Creating The Best New Jersey D1 Lineup Of All Time
With multiple time NCAA champions at almost every weight and World and Olympic medalist not in the starting lineup, you know New Jersey is going to be good.
Apr 19, 2020
by JD Rader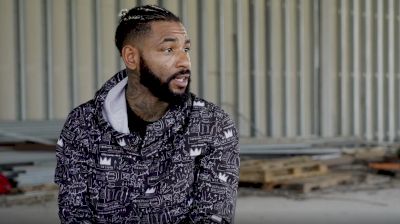 Unlock this video, live events, and more with a subscription!
Get Started
Already a subscriber? Log In
Unlock this article, live events, and more with a subscription!
Get Started
Already a subscriber? Log In
A few weeks ago I asked my Twitter followers how they would put together an all-time great college dual team with the current weights using athletes from their home states. The responses were great and really got me curious. So, I did the research and have now put together the best possible team for the top 16 states including some formidable back-up teams.
Across the next handful of days/weeks, we will unveil these teams before pitting them against each other in a national duals format type competition.
Previous States: Pennsylvania, California, Oklahoma, Iowa
Now to New Jersey, where they have liberty, prosperity, and really good wrestling.
125 Starter: Gene Mills, 1977-81
Hometown: Pompton Lakes
College: Syracuse
NCAA Finishes: 3, 4, 1, 1 (118)
Gene Mills didn't get the nickname "Mean Gene, The Pinning Machine" for no reason. Mills holds the unofficial record for most career pins in the NCAA with 107. His overall career record while at Syracuse was 144-5-1. That's a pin rate of over 70 percent, which is absolutely mind-blowing.
In 1980 after his junior season, Mills took a redshirt year and made the Olympic Team. But he was denied the chance to win a medal when the US boycotted the Olympics. However, he did go undefeated at the 1980 World Cup, pinned two Olympic medallists and a two-time world gold medallist at the 1980 World Super Championship en route to a gold medal, and was declared the Outstanding Wrestler at the prestigious 1980 Tblisi Championship after pinning each of his opponents. Then he came back to NCAA competition, going undefeated and winning the national tournament.
The only issue with Gene Mills is size. He wrestled at 118 in college and 114 for international. However, I think his quickness, toughness, and pinning technique makes up for it.
125 Backup: Joe Dubuque, 2003-06
Hometown: Bloomfield
College: Indiana
NCAA Finishes: 8, 1, 1 (125)
If there is anyone who might be able to take advantage of the small size of Mills, it would be Joe Dubuque who was a massive 125-pounder. The current associate head coach of the Princeton Tigers went 114-18 in college with 20 pins of his own. He missed the Big Ten and NCAA tournaments his freshman year due to injury.
125 Honorable Mention
Mike Caruso - 3X NCAA champion for Lehigh in the 60s
Sebastian Rivera - 2018 & 2019 AA for Northwestern
---
133 Starter: Darryl Burley, 1979-83
Hometown: Pemberton
College: Lehigh
NCAA Finishes: 1, 2, 2 (134), 1 (142)
After winning NCAAs over Iowa State's Mike Land his true freshman year, Burley lost to Olympic gold medalist Randy Lewis in the finals and then was upset by Jim Gibbons in the finals his junior year. He then moved up to 142 where he once again won an NCAA title. Burley's career record was an astonishing 94-5-1 with 33 pins.
133 Backup: Nick Suriano, 2017-
Hometown: Paramus
College: Penn State/Rutgers
NCAA Finishes: NQ, 2, 1
I might take some flack for this one, and maybe rightfully so seeing as how I'm too young to truly appreciate Matt Valenti and never got the chance to watch Mike Frick, but I don't care. Nick Suriano is so good.
While wrestling for Penn State his true freshman year, Suriano's only non-injury default loss was to Thomas Gilman, 3-2, inside Carver-Hawkeye. Suriano's only loss his sophomore year? Spencer Lee in the NCAA finals, where he didn't get turned. And while he did lose three times his junior year, he avenged all of those losses.
Who knows what would have happened his freshman year if he didn't break his ankle. We do know that he beat Darian Cruz 7-0 that year. Other college wins include Daton Fix, Steven Micic, Luke Pletcher, Ethan Lizak, Austin Desanto, and Sebastian Rivera. Don't forget how much hype the 133 lbs bracket had around it last year. Oh, and then after last season he went and beat World bronze medalist Joe Colon. And he still has college eligibility.
Watch Nick Suriano beat Joe Colon at Beat the Streets below.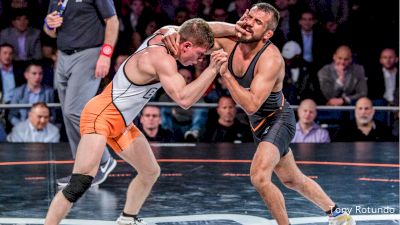 Unlock this video, live events, and more with a subscription!
Get Started
Already a subscriber? Log In
133 Honorable Mention
Mike Frick - 3X AA and 2X NCAA champ for Lehigh in the 70s
Matt Valenti - 3X AA and 2X NCAA champ for Penn in the 2000s
*This was the hardest weight class to pick. All four of these wrestlers have valid reasons as to why they should be ahead of the others and I would not argue with you if you disagree with me.*
---
141 Starter: Kellan Russel, 2008-12
Hometown: High Bridge
College: Michigan
NCAA finishes: R12, 7, 1, 1 (141)
After competing his first two years at Michigan and then redshirting, Kellen Russel would go 71-1, bringing his career record to 134-12. While Russell didn't always blow his opponents away, he was incredibly good at winning. He defeated Montell Marion in the finals sudden victory his junior year and Boris Novachkov his senior year. A four-time Big Ten champion, Russell was good early and then became unbeatable late in his career.
Watch Kellen Russell beat J Jaggers at CKLV as a true freshman below.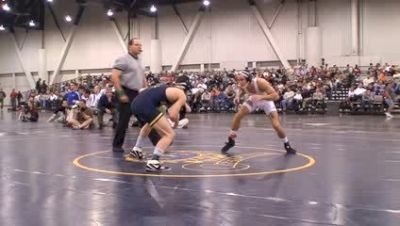 141 Backup: Joey McKenna, 2016-19
Hometown: Towaco
College: Stanford/Ohio State
NCAA Finishes: 3, R12, 3, 2 (141)
Joey McKenna never lost more than three matches in a season, and he's one controversial call away from beating Yianni Diakomihalis and being a national champion. McKenna is probably the only wrestler able to say he's a two-time Pac 12 champion and two-time Big Ten champion. McKenna was also dominant in freestyle while in college. He won the 2018 US Open over Logan Stieber, Jaydin Eierman, Nick Dardanes, and Jayson Ness. He also won a U23 World bronze in 2017.
141 Honorable Mention
Anthony Ashnault - 4X AA and 2019 NCAA champ (at 149) for Rutgers
---
149 Starter: Darrion Caldwell, 2007-11
Hometown: Rahway
College: NC State
NCAA Finishes: R12 (141), 5, 1, NQ (149)
I'll go ahead and say it: When healthy and in his prime, Darrion Caldwell was one of the best NCAA wrestlers of all time. Everyone talks about the great Zain vs Metcalf debate for best 149-pounder of all-time, but we saw a prime Metcalf vs a prime Caldwell, and Caldwell won 11-6. Not only did he beat Metcalf, but he also went 38-1 (lone loss was injury default) on the season and was awarded OW of the tournament. Look through the 2009 brackets (HERE) and realize who he won this award over.
Unfortunately, the latter part of Calwell's career was plagued by injuries. He was forced to redshirt the season after beating Metcalf and still his shoulder couldn't hold up. This deprived us of one of the best "what if" matches of all time, Caldwell vs Dake. Caldwell believes he would have pinned Dake. I'm not saying that would happen, but Caldwell could high flyer, spladle, and headlock pretty much anybody. Or how about the time he pinned Lance Palmer in a butcher?!
After his senior season came to a disappointing finish when he was forced to injury default of the national tournament, his career record was 109-13 with 58 pins.
Watch Darrion Caldwell talk about how he knew he was going to headlock Brent Metcalf below.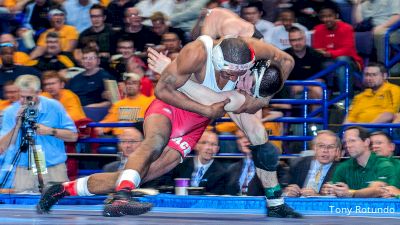 Unlock this video, live events, and more with a subscription!
Get Started
Already a subscriber? Log In
149 Backup: Zack Esposito, 2003-06
Hometown: Three Bridges
College: Oklahoma State
NCAA Finishes: R12 (141), 2, 1, 3 (149)
I debated who to put in this position for a while. Zack Esposito, Frank Molinaro, and Anthony Ashnault all have valid arguments, and really you can't go wrong with any one of them. However, because of the offensive diversity and tough top game of Espo, I decided to go with the Cowboy.
The Three Bridges native went 120-12 with 25 pins during his time in Stillwater. If it wasn't for a healthy freshman Dustin Schlatter in a match where Espo threw himself to his back, he would be a two-time champion. Oh, and what actually might have actually won the spot for him are his sick wakeboard skills.
149 Honorable Mention
Frank Molinaro - 4X AA and 2012 NCAA champ for Penn State
Anthony Ashnault - 4X AA and 2019 NCAA champ for Rutgers
---
157 Starter: Jordan Burroughs, 2007-11
Hometown: Winslow Township
College: Nebraska
NCAA Finishes: NQ, 3 (149), 1 (157), 1 (165)
The King. After going just 16-13 his freshman year, he took third at the hardest weight class in NCAA history, placing above Josh Churella, Darrion Caldwell, JP O'Connor, Dustin Schlatter, and Lance Palmer. After losing to Brent Metcalf in the semis his that year, he would never lose another college match. At nationals his junior year he went tech, pin, major of Cyler Sanderson, major over Gregor Gillespie, 5-1 over Mike Poeta. Then for good measure went up to 165 his senior year where he won the Hodge by going 36-0 with six pins, 14 techs, nine majors, and just three decisions.
Watch Jordan Burroughs beat Josh Churella at 157 lbs at the 2007 CKLV.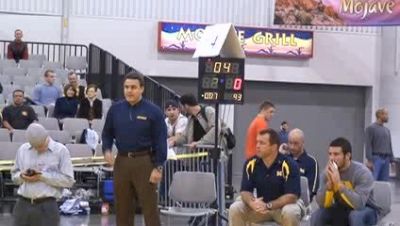 157 Backup: James Green, 2011-15
Hometown: Willingboro
College: Nebraska
NCAA Finishes: 7, 7, 3, 3 (157)
Without redshirting, James Green went 129-22 and was a four-time AA while wrestling a Big Ten schedule. His junior year, Greezy fell victim to a Dylan Ness gator bacon in the quarterfinals. His senior year, he was denied an NCAA title when he ran into savage freshman IMar and lost 3-2.
To further prove what level James Green was wrestling at during his final two years of college, he won a University World silver medal in '14 and Senior World bronze six months after finishing his college career.
157 Honorable Mention
Brett Matter - 2X AA and 2000 NCAA champ for Penn
Jude Skove - 1986 NCAA champ for Ohio State
Dan Vallimont - 2X AA and 2010 NCAA finalist for Penn State
---
165 Starter: Donny Pritzlaff, 1998-2001
Hometown: Lyndhurst
College: Wisconsin
NCAA Finishes: 6 (150), 5, 1, 1 (165)
Donny Pritzlaff was a two-time NCAA champion, three-time Big Ten Conference champion, and four-time All-American at Wisconsin. He beat Iowa State's Joe Heskett both times in finals. He had a career record of 135-15, including a 43-1 mark as a senior, for a winning percentage of .894.
165 Backup: Mekhi Lewis, 2019-
Hometown: Bound Brook
College: Virginia Tech
NCAA Finishes: 1, ?, ?, ?
Mekhi Lewis has only completed one non-redshirted college season, but I'm ready to put him in the all-time NJ Team. After redshirting and winning a Junior World gold medal, Mekhi went 28-2 en route to a national title his freshman year. Here's what Mekhi did at the 2019 NCAA Championships: pin, 4-1 over Cael McCormick, 3-1 over Alex Marinelli, 5-2 over Evan Wick, 7-1 over Vincenzo Joseph. That's ridiculous. And we still get three more years of him.
Watch Mekhi Lewis beat Vincenzo Joseph in the national finals below.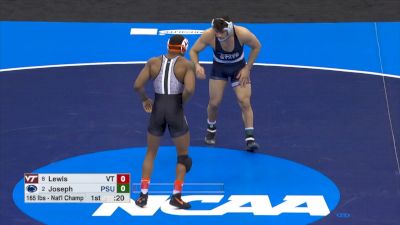 Unlock this video, live events, and more with a subscription!
Get Started
Already a subscriber? Log In
165 Honorable Mention
Taylor Walsh - 2015 NCAA finalist for Indiana
---
174 Starter: Chris Campbell, 1974-77
Hometown: Westfield
College: Iowa
NCAA Finishes: NQ, 2, 1, 1 (177)
While wrestling for the University of Iowa, Chris Campbell was a three-time All-American and a two-time NCAA champion. His career record of 122-6-3 (.943 winning percentage) ranks seventh on Iowa's all-time career winning percentage list. Immediately after his senior year, Campbell made the 1977 World Team.
174 Backup: Glenn Pritzlaff, 1995-99
Hometown: Middletown
College: Penn state
NCAA Finishes: NQ (158), NQ, 7 (167), 1 (174)
After four attempts, Glenn Pritzlaff finally won his national championship, beating Otto Olson of Michigan 10-4 in the finals. Pritzlaff boasts a career record of 106-29 with six pins, two tech falls, and 28 major decisions.
174 Honorable Mention
Maurice Worthy - 2001 NCAA finalist for Army
Jordan Kutler - 2018 & 2019 AA for Lehigh
---
184 Starter: Myles Martin, 2016-19
Hometown: Penns Grove
College: Ohio State
NCAA Finishes: 1 (174), 5, 2, 3 (184)
In 2016 Myles Martin defeated Bo Nickal and became just the 15th true freshman to win a national championship in NCAA history. He would never make it back to the top of the podium, but was still so good. He was 2-0, with a major and a 13-6 decision, over Max Dean, who defeated him at NCAAs that season for his only loss. He posted a career record of 119-19 with over a 50-percent bonus rate.
184 Backup: Tom Tanis, 1999-2002
Hometown: Oak Ridge
College: Rutgers
NCAA Finishes: NQ, 4 (184)
A four-year letter winner for the Scarlet Knights, Tom Tanis compiled a career record of 98-31. In addition to being an All-American, he was a 2001 EIWA champion, upending Rob Rohn of Lehigh to win the title. He is the last Rutgers wrestler to win an EIWA championship and one of only 10 in school history.
184 Honorable Mention
Doug Umbenhauer - 2009 AA for Rider
---
197 Starter: Damian Hahn, 2001-04
Hometown: Lakewood
College: Minnesota
NCAA Finishes: 5, 5 (184), 1, 1 (197)
After being considered one of the best New Jersey high school wrestlers of all time, Damion Hahn went on to accomplish great things at Minnesota. He compiled a career record of 118-21, including 53-4 his final two seasons en route to two NCAA titles. In those two years at the NCAA Championships, Hahn outplaced JD Bergman, Muhammad Lawal, Justin Ruiz, Jon Trenge, Ryan Fulsaas, and Ryan Bader among others.
197 Backup: Hudson Taylor, 2007-10
Hometown: Pennington
College: Maryland
NCAA Finishes: R12, 3, 3, 4 (197)
Hudson Taylor used leg riding and turns as a big man to become one of the best NCAA pinners of all-time. Eighty-seven of his 165 career wins came by pin, which is good enough for fifth in the NCAA record books. He is also super good at magic!
Watch Hudson Taylor defeat Chad Beatty below.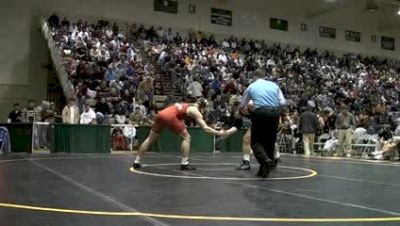 197 Honorable Mention
Kurt Backes - 2X AA and 2007 NCAA finalist for Iowa State
Bryan Stout - 4X AA for Clarion in the 90s
---
285 Starter: Steve Mocco, 2002-06
Hometown: North Bergen
College: Iowa/Oklahoma State
NCAA Finishes: 2, 1, 1, 2 (285)
Steve Mocco was one of the most feared wrestlers of all time. He was an absolute bully. In the finals his true freshman at Iowa, he lost to Tommy Rowlands in the tiebreakers. His sophomore year he got his revenge over Rowlands and beat Kevin Hoy in the finals 8-3. After taking a redshirt year and transferring to Oklahoma State, Mocco went 37-0 his junior year and 27-3 his senior year, losing to Cole Konrad in the tiebreakers in the finals his senior year. All-in-all Mocco put together a career record of 137-6 with 56 falls. If that wasn't enough to convince you, he also foot swept FloWrestling's own Andrew Spey to death back in the day!
Watch the Mocco trailer below.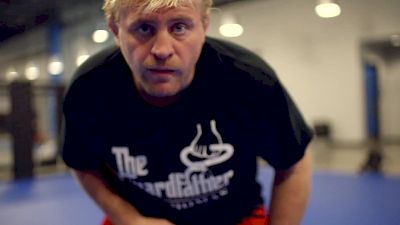 285 Backup: Bruce Baumgartner, 1970-82
Hometown: Haledon
College: Indiana State
NCAA Finishes: 2, 2, 1 (UNL)
Freestyle and Senior level circuit, Bruce B is without a question the heavyweight GOAT, but college and folkstyle, I have to give the nod to Mocco. Still, Baumgartner was a beast in college. He posted a career record of 134-12 with 73 pins. His sophomore year Baumgartner lost to Howard Harris in the finals. His junior year his only loss of the season was to the great Lou Banach, and then his senior season Baumgartner went 44-0 and beat Steve Williams 4-2 in the finals.
285 Honorable Mention
Anthony Cassar - 2019 NCAA champion for Penn State
David Zabriskie - 3X AA and 2010 NCAA champ for Iowa State
Zach Rey - 3X AA and 2011 NCAA champ for Lehigh
Bill Hyman - 1985 NCAA champ for Temple
---
There you have it, the greatest New Jersey D1 lineup of all-time.
| | | | | |
| --- | --- | --- | --- | --- |
| Weight | Name | Years Active | Hometown | College |
| 125 | Gene Mills | 1977-81 | Pompton Lakes | Syracuse |
| 133 | Darryl Burley | 1979-83 | Pemberton | Lehigh |
| 141 | Kellen Russell | 2008-12 | High Bridge | Iowa State |
| 149 | Darrion Caldwell | 2007-11 | Rahway | NC State |
| 157 | Jordan Burroughs | 2007-11 | Winslow Township | Nebraska |
| 165 | Donny Pritzlaff | 1998-2001 | Lyndhurst | Wisconsin |
| 174 | Chris Campbell | 1974-77 | Westfield | Iowa |
| 184 | Myles Martin | 2016-19 | Penns Grove | Ohio State |
| 197 | Damian Hauhn | 2001-04 | Lakewood | Minnesota |
| 285 | Steve Mocco | 2002-06 | North Bergen | Iowa/Oklahoma State |