Creating The Best Indiana D1 Lineup Of All Time
Creating The Best Indiana D1 Lineup Of All Time
An Olympic medalist and multiple World Team members headline a very freestyle-savvy Indiana all-time D1 team.
May 15, 2020
by JD Rader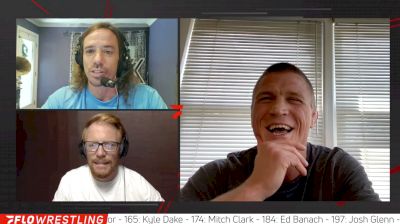 Unlock this video, live events, and more with a subscription!
Get Started
Already a subscriber? Log In
Unlock this article, live events, and more with a subscription!
Get Started
Already a subscriber? Log In
A few weeks ago I asked my Twitter followers how they would put together an all-time great college dual team with the current weights using athletes from their home states. The responses were great and really got me curious. So, I did the research and have now putting together the best possible team for some of the top states, including some formidable back-up teams.
Previous States: Pennsylvania, California, Oklahoma, Iowa, New Jersey, Ohio, New York, Michigan, Minnesota, Wisconsin
Now, to the crossroads of America!
125: Angel Escobedo, 2007-10
Hometown: Griffith
College: Indiana
NCAA Finishes: 4, 1, 5, 3 (125)
You can't talk about Indiana wrestling without talking about Angel Escobedo. Now the head coach of the Hoosiers, Escobedo was a four-time All-American for them in the late 2000s. His lone NCAA title came off the heels of a 34-1 season. He defeated Brandon Precin and Charlie Falck before defeating future Hodge Trophy winner Jayson Ness 10-3 in the finals.
Escobedo's junior year was hampered by a nagging shoulder injury, which led to a 26-5 record and fifth-place finish. After having shoulder surgery in the offseason, Escobedo returned and went undefeated in the regular season. However, after defeating Anthony Robles in the quarters, Escobedo was upended by Andrew Long. He came back in the consolations to defeat Zach Sanders and Troy Nickerson for third.
Escobedo's college record was 137-14 with seven losses coming his freshman season and five coming in that injury-hampered junior season. The Griffith native would go on to be a force on the international scene immediately after college, taking fifth at the 2013 World Championships.
Watch Angel Escobedo defeat Brandon Precin for the 2007 Midlands title below.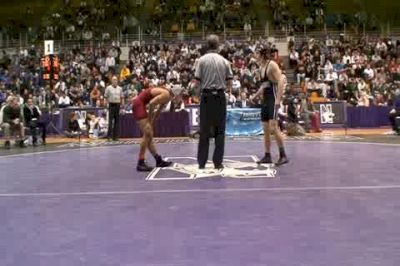 125 Backups
Leroy Vega - 3X AA for Minnesota in the late 90s/early 2000s
Kelvin Jackson - 1995 118 lbs NCAA champion for Michigan State
---
133: Stevan Micic, 2017-
Hometown: Cedar Lake
College: Michigan
NCAA Finishes: 4, 2, 3 (133), ?
With one year of eligibility left (although he is quite old) Stevan Micic is already a three-time All-American and NCAA finalist. He has wins over Nick Suriano, Luke Pletcher, Austin Desanto, Sebastian Rivera, and Kaid Brock. He only has two losses that didn't come to a national champion, one of which (Zane Richards) he avenged later that season. His collegiate record is 93-14 with 20 tech falls and 35 major decisions.
What's more impressive, however, is what the Serbian Sickle has been able to do on the international scene while still in college. Last summer Micic was able to make the World quarterfinals before falling to fifth. In 2015, he won a Junior World bronze medal.
Watch Stevan Micic defeat Austin Desanto at the 2018 NCAA tournament below.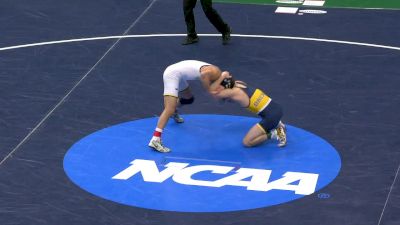 Unlock this video, live events, and more with a subscription!
Get Started
Already a subscriber? Log In
133 Backup
Alan Grammer - 2X AA for SIU Edwardsville in the 80s
---
141: Reece Humphrey, 2006-10
Hometown: Indianapolis
College: Ohio State
NCAA Finishes: NQ, R12, 2 (133), 3 (141)
They don't call Reece Humphrey "Highlight Humphrey" for nothing. Reece was dangerous from any position and wasn't afraid to lock up some under/over hooks and toss anyone on their head. He even won a University Greco-Roman title in 2009. Humphrey's biggest victory of his career came when he handed Kyle Dake the first loss of his career, 4-2. However, Dake would eventually avenge that loss in the tiebreakers in the 2010 NCAA semifinals.
Humphrey also had a successful freestyle career. The Indianapolis native won a University World silver medal while still in college and would go on to make three Senior World Teams. He also defeated Russian Nationals and Yarygin champion Aleksandr Bogomoev just one year out of college in 2011.
141 Backups
Nick Lee - 2X AA for Penn State with 1 more year of eligibility
Chad Red - 2X AA for Nebraska with 1 more year of eligibility
---
149 Starter: Jason Tsirtsis, 2014-18
Hometown: Crown Point
College: Northwestern/Arizona State
NCAA Finishes: 1, 3, NQ, 7 (149)
Jason Tsirtsis had an incredibly interesting wrestling career. It makes much more sense when you find out everything that happened to him during his first few years at Northwestern. He goes into depth on everything during his wall talk with Bader, which you can (and I highly recommend you do) watch HERE.
Simply looking at his wrestling, however, Tsirtsis was famously the master of barely squeaking by in matches. His true freshman year he won the NCAA title by going 4-1, 4-3, TB1 2-1, TB1 2-1, SV 3-1. However, he did this to Kendrick Maple, Drake Houdashelt, and Josh Kindig. Not bad. Tsirtsis made the NCAA semis again as a sophomore, but fell to David Habat 3-2. However, he did come back for third over Brandon Sorensen. After struggling through his junior year and transferring to Arizona State, he won FloWrestling's 2018 Comeback Wrestling of the Year when he got back on the NCAA podium.
Watch Jason Tsirtsis win his NCAA title with some behind the scenes footage below.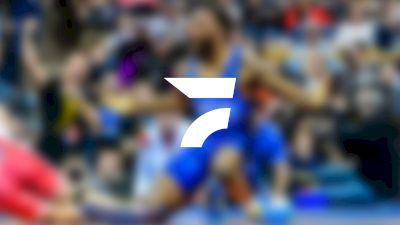 Unlock this video, live events, and more with a subscription!
Get Started
Already a subscriber? Log In
149 Backups
Matt Coughlin - 2007 AA for Indiana
Bill Maldanodo - 2002 AA for Iowa State
---
157 Starter: Dave Lilovich, 1983-86
Hometown: LaPorte
College: Purdue
NCAA Finishes: NQ, 4, 7 (158)
After only wrestling six matches his freshman year, Lilovich would go on to put up 106 wins the next three years. Forty-five of those 106 wins came by fall. His final two seasons were his best. He reached the podium twice and had a winning percentage of .784. A 2009 The Times of Northwest Indiana article had this quote from Dave's brother, Joe.
"It was that tough farm-boy attitude. It was like a street brawl out there and you didn't want to lose." —Joe Lilovich on he and his brother's wrestling.
157 Backup
Eric Douglas - 1998 AA for Purdue
---
165 Starter: Andrew Howe, 2009-14
Hometown: Cedar Lake
College: Wisconsin/Oklahoma
NCAA Finishes: 2, 1, 3 (165), 2 (174)
Andrew Howe was an absolute force to be reckoned with in college. Finishing 2, 1, 3, 2 for a total golf score of eight is incredibly low for a four-time AA. It was Howe's hand fighting and positioning that made him such a good wrestler.
Here are some of the wrestlers on Andrew Howe's NCAA hitlist: Chris Perry, Jon Reader, Tyler Caldwell, Logan Storley, Robert Kokesh, Moza Fay, Dan Vallimont, Ryan Morningstar, and Nick Marable. What's just as, if not more, impressive, is what Howe did on the senior level while still in college. He won the 2010 US Open, made the finals of the 2010 and 2011 World Team Trials as well as the 2012 Olympic Trials, and took fourth at the 2009 and 2013 World Team Trials. His hit list at these events included: David Taylor, Trent Paulson, Travis Paulson, Nick Marable, Moza Fay, and Ryan Morningstar. Oh, and he won a 2009 Junior World bronze medal and in 2011 beat Kyle Dake to make the University World Team. All of this while still in college.
Watch Andrew Howe beat Kyle Dake at 2011 University Nationals below.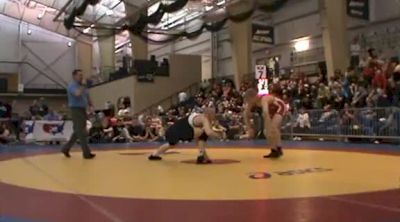 165 Backup
Brad Traviolia - 1990 NCAA finalist for Northwestern
---
174 Starter: Richard Voliva, 1933-34
Hometown: Bloomington
College: Indiana
NCAA Finishes: 2, 1 (175)
From Richar Voliva's EIWA Hall of Fame page, as a junior at 175, Dick lost only to Iowa State's two-time NCAA champion Bob Hess, before enjoying an unbeaten senior season. His college record was 48-4 and he wrestled for the 1932 Hoosier national title team, the Big Ten's first. From 1932 on, Voliva placed 2,3,1 at National AAUs. The title came in 1936, the same year he became an Olympic silver medalist in Berlin.
174 Backups
Chris Traicoff - 1936 NCAA champion for Indiana
Dylan Lydy - 3X NCAA qualifier for Purdue from 2017-2020
---
184 Starter: Bud Palmer, 1976-79
Hometown: Muncie
College: Iowa
NCAA Finishes: 3, NQ (190), 2 (177)
Bud Palmer was part of the legendary Dan Gable Iowa teams of the late '70s. Palmer and his famous foot sweep won two Big Ten titles and made the NCAA finals in 1979. However, in extremely un-Gable-like fashion, Palmer was disqualified for stalling in the finals against Mark Lieberman. Palmer was allegedly poked in the eye at the beginning of the match.
184 Backup
Ben Wissel - 4X qualifier and 2X AA for Purdue in the mid-2000s
---
197 Starter - Charles McDaniel, 1935-38
Hometown: Bloomington
College: Indiana
NCAA Finishes: 1 (UNL), 2 (191), 1 (UNL)
A three-time Indiana state champion and four-time state finalist from Bloomington South, Charles McDaniel stayed home and went to Indiana, one of the top wrestling universities of the 1930s. One of the first multiple-time heavyweight champions in NCAA history, McDaniel won the unlimited weight class while only weighing in at about 190 lbs.
197 Backups
Mark Whitehead - 1989 NCAA finalist for Northwestern
Keith Davison - 2X AA for Wisconsin in the 90s
---
285 Starter: Greg Wagner, 2003-06
Hometown: Fort Wayne
College: Michigan
NCAA Finishes: R12, 6, 4, 3 (285)
The closer for the Wolverines in the mid-2000s, Wagner was a 2001 Indiana state champion from Fort Wayne Snider. Unfortunately for Wagner he overlapped with some great heavyweights during this time such as Cole Konrad, Steve Mocco, and Tommy Rowlands. After dropping his 2006 NCAA semifinal match to Mocco 2-1, Wagner came back to get third over Cain Velasquez by a score of 9-1.
Our last great Wolverine heavyweight from the Hoosier State, Greg Wagner. Awfully excited for the next one! #GoBlue pic.twitter.com/s99SPOmKsM

— Michigan Wrestling (@umichwrestling) October 25, 2017
285 Backups
Tony Vaughn - 1994 AA for Purdue
Adam Chalfant - 2014 AA for Indiana
---
There you have it, the greatest Indiana D1 lineup of all-time.
| | | | | |
| --- | --- | --- | --- | --- |
| Weight | Name | Years Active | Hometown | College |
| 125 | Angle Escobedo | 2007-10 | Griffith | Indiana |
| 133 | Stevan Micic | 2017- | Cedar Lake | Michigan |
| 141 | Reece Humphrey | 2006-10 | Indianapolis | Ohio State |
| 149 | Jason Tsirtsis | 2014-18 | Crown Point | Northwestern/Arizona State |
| 157 | Dave Lilovich | 1983-86 | LaPorte | Purdue |
| 165 | Andrew Howe | 2009-14 | Cedar Lake | Wisconsin/Oklahoma |
| 174 | Richard Voliva | 1933-34 | Bloomington | Indiana |
| 184 | Bud Palmer | 1976-79 | Muncie | Iowa |
| 197 | Charles McDaniel | 1935-38 | Bloomington | Indiana |
| 285 | Greg Wagner | 2003-06 | Fort Wayne | Michigan |