2020 Matteo Pellicone | UWW Ranking Series
57kg Matteo Pellicone UWW Ranking Series Preview
57kg Matteo Pellicone UWW Ranking Series Preview
Previewing the field at 57kg for the Matteo Pellicone Ranking Series event in Rome, Italy, featuring Daton Fix, Thomas Gilman, Stevan Micic, and Joe Colon.
Jan 10, 2020
by Wrestling Nomad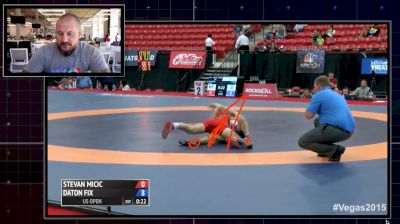 Unlock this video, live events, and more with a subscription!
Get Started
Already a subscriber? Log In
Unlock this article, live events, and more with a subscription!
Get Started
Already a subscriber? Log In
The 2020 freestyle season has arrived, and everything now becomes practice for this summer's Olympic Games. Our first stop on the Trek to Tokyo is the Matteo Pellicone Ranking Series event in Rome, Italy.
Watch the Matteo Pellicone LIVE on Flo
January. 15-18 | 4:30 AM Eastern
At 57kg, America is sending its most recent world teamer as well as two other world medalists. The eight other entries from foreign countries present a stiff test for the Red, White, and Blue, so let's first get you up to speed with the field and some of their accomplishments.
Weight Class Previews: 65kg | 74kg | 86kg
Team USA
#11 Daton Fix (2017 JR World Champ)
Thomas Gilman (2017 World Silver)
Joseph Colon (2018 World Bronze)
International Entries
#3 Ravi Kumar, IND (2019 World Bronze)
#13 Stevan Micic, SRB (2019 Euro Games Silver)
Andrii Yatsenko, UKR (2017 World Bronze)
Wanhao Zou, CHN (2018 U23 World Bronze)
Minghu Liu, CHN (2018 U23 World Bronze)
Givi Davidovi, ITA (2019 Yasar Dogu Champ)
Taras Markovych, UKR (2019 Ukrainian Memorial Champ)
Pedro Jesus Mejias Rodriguez, VEN (2015 Pan Am Games Bronze)
---
Commentary: The small field brings with it a high likelihood that the three wrestlers from the United States cross paths, not to mention the possibility of hitting Stevan Micic. There are three athletes registered who appear in our 57kg international rankings.
Although Daton Fix has a ton of international experience, he has only wrestled once at an event that wasn't a world or Pan Am championship. Meanwhile in 2019 alone Thomas Gilman competed at the Yarygin, Dan Kolov, Intercontinental Cup and Alans. Joe Colon will be making his return to 57kg for the first time since the Dave Schultz in February of 2017, when it was still a day before weigh-in.
Fix is a world-class re-attacker and is excellent in par terre. He relies a lot on overhooks and head positioning, which oftentimes can lead to an inside trip for four points. A left leg lead, Daton should be able to beat everyone in this bracket, with only Kumar and Micic (along with Gilman) presenting real challenges for him.
Aside from Fix, there are four other athletes in this field who wrestled in the 57kg bracket at the world championships in September, plus China's 61kg rep. Ravi Kumar (IND) has now won medals at the Junior, Senior, and U23 world championships. The young Indian star averaged nearly nine points a match in Kazakhstan and should be able to put up similar numbers this coming weekend.
Back at Junior worlds in 2015, Kumar beat Micic in a phenomenal 12-8 match, with Kumar ultimately making the finals and Micic finishing in bronze for Team USA. Micic has obviously since transferred to Serbia, where most of his losses have come on the second day of tournaments. That won't be an issue here, as the tournament starts and ends on Saturday the 18th.
Yatsenko (UKR) should factor heavily into the European Olympic Qualifier. The Ukrainian lost to Daton in the 2016 Junior bronze match and to Gilman a year later in the first round at worlds. He was your U23 Euro champ this past year, but will be pushed by Taras Markovych, who beat him at the Ukrainian memorial in May and has represented their country four different times at age-level world championships.
I mentioned Gilman competing three times in Russia last year, and had also gone to the Spanish Grand Prix, Clubs Cup, Pan Ams and Yasar Dogu before that. Sometimes we see Americans falter overseas not because of their wrestling but for off the mat things because they are in a new and challenging environment affecting their weight cut, warmup, body clock, etc. That shouldn't be the case for Gilman, a veteran with a ton of overseas experience.
Aside from Yatsenko and Fix, Gilman also has wins over Markovych, Davidovi, and Mejias Rodriguez. The Hawkeye WC star beat Markovych 6-6 on criteria in the 2018 Yasar Dogu semis, a tournament Gilman would go on to win. In his second appearance at worlds, Gilman opened with a 6-3 victory over Davidovi in Budapest. Gilman's only appearance at Pan Ams was in May of 2018, when he beat the Venezuelan 11-4 for bronze.
Davidovi, originally a Georgian, has been competing for Italy since 2016, appearing in the world championships the past three years for them, plus two European championships and last year's Euro Games. Although a bit undersized, he's still taken a Yasar Dogu title, made finals appearances in Poland and Paris, and won bronzes at Sassari and the Kolov.
This is the second time through the Olympic qualification process for Mejias Rodriguez, though he's probably on the outside looking in of the two spots available in Canada in March. He won a Pan Am Games bronze in 2015, but this is his first time competing outside of the Pan Am region since the Grand Prix of Paris four years ago.
Joe Colon is now an assistant at Fresno State, where he is training with the Valley RTC. He has something to prove this year after becoming the first men's freestyler to lose a world team spot the year after winning a medal and being granted a bye to the finals. Colon competed three times in the first four months of 2019, so hopefully his coaching duties grant him the opportunity to do so once again.
Watch Mike Mal's Deep Dive On 57kg In Rome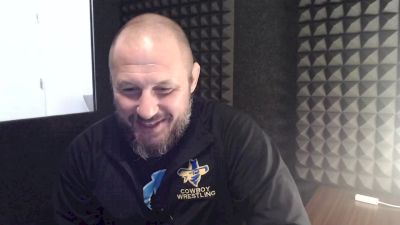 Unlock this video, live events, and more with a subscription!
Get Started
Already a subscriber? Log In
We close out this preview with a pair of U23 world medalists from China. Wanhao Zou beat Jack Mueller for bronze in 2018, and Minghu Liu fell to Sean Fausz in the quarters that same year up at 61kg before rebounding for bronze. Aside from an Asian silver this past year for Liu, neither has any other major tournament placements, but are looking for seeding separation for their continental Olympic qualifier in March.
This bracket will be wrestled in its entirety on Saturday, January 18. Wrestling begins at 4:30 AM Eastern Time, with finals slated for 2 PM Eastern that same day. We will post bracket reactions once those become available, as well as a further breakdown coming soon on all of the Americans at 57kg.