2020 Matteo Pellicone | UWW Ranking Series
65kg Matteo Pellicone UWW Ranking Series Preview
65kg Matteo Pellicone UWW Ranking Series Preview
The 65kg bracket at the Matteo Pellicone UWW Ranking Series tournament is loaded. Check out this preview of some of the 65kg action we could see in Rome.
Jan 9, 2020
by David Bray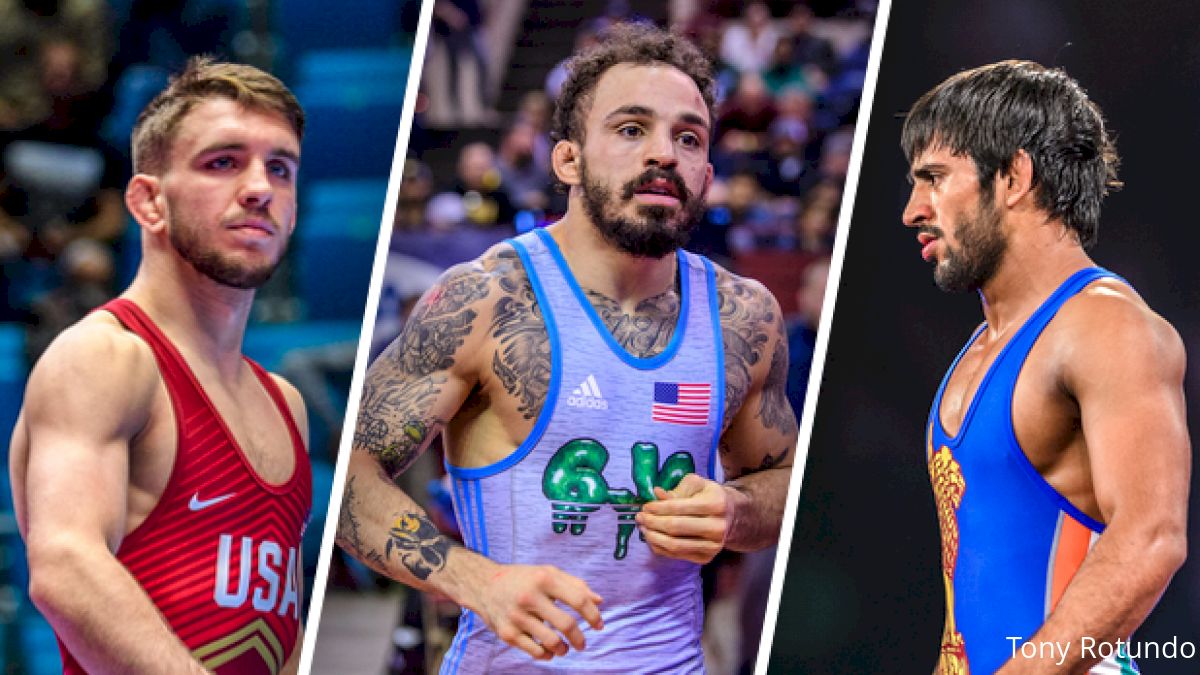 Unlock this article, live events, and more with a subscription!
Get Started
Already a subscriber? Log In
The 65kg bracket at the Matteo Pellicone UWW Ranking Series tournament should give us a clearer picture of team USA's depth chart as well as a glimpse at some of the toughest guys in the world who could help make up the 2020 Olympic bracket.
Watch the Matteo Pellicone LIVE on FloWrestling
January. 15-18 | 4:30 AM Eastern
Three tough Americans and three Senior World medalists headline the field at 65kg. Here's a complete list of who's registered for the Matteo Pellicone, their world ranking, and select accomplishments:
Team USA
#18 Zain RETHERFORD, USA (Cadet World Gold 2012)
#19 Jordan OLIVER, USA (Junior World Bronze 2009)
Joseph MCKENNA, USA (Junior World Silver 2014, U23 World Bronze 2017)
International Field
#4 Bajrang BAJRANG, IND (World Bronze 2019, World Silver 2018)
#8 Behnam EHSANPOOR, IRI (World Bronze 2019)
Agustin DESTRIBATS, ARG (Pan Am Bronze 2019)
Shaohua YUAN, CHN (Asian Bronze 2019)
Zhenguang TIAN, CHN (World Military Bronze 2016, 2014, 2008)
Abdellatif MANSOUR, ITA (European Games 9th 2019)
Jose RODRIGUEZ, PUR
Selahattin KILICSALLAYAN, TUR (University World Gold 2014, Junior World Gold 2013)
Selim KOZAN, TUR (Junior World Silver 2016)
Vasyl SHUPTAR, UKR (World Bronze 2015)
Gor OGANNESYAN, UKR (European Games Bronze 2019)
Erik ARUSHANIAN, UKR (Junior World Gold 2019)
---
Commentary: While team USA doesn't have a World or Olympic medal at this weight since current coach Bill Zadick's World gold in 2006, this remains one of the deepest weights for the United States. The three Americans headed to Rome are all accomplished.
Zain Retherford was the U.S. rep at the 2019 World Championships where he dropped a 9-10 opening-round match to #14 Alejandro Valdes Tobier of Cuba. Retherford, who's ranked #18 in the world, has proven that he can compete with the best on the planet. In January of last year, he held a lead until late in the match against World Champion and top-ranked Gadzhimurad Rashidov of Russia.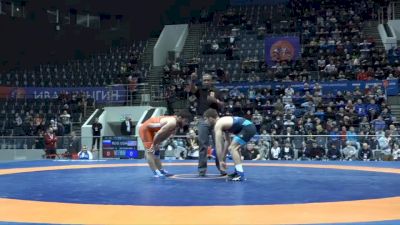 Unlock this video, live events, and more with a subscription!
Get Started
Already a subscriber? Log In
One of the favorites to win this weight class is another American, #19 Jordan Oliver, who has looked outstanding in domestic competition this fall. Oliver qualified for the US Olympic Trials when he won the Bill Farrell in November and looked even more impressive when he went 5-for-5, didn't give up a point, and had five technical superiority wins at the 2019 Senior Nationals. Oliver looks better than ever domestically, and while Retherford was the U.S. rep last year, Oliver has a lot of momentum heading into this event.
The third American in this weight is Joey McKenna, Oliver's Senior Nationals finals opponent. McKenna recently registered a major win when he beat Yianni Diakomihalis with a last-second takedown in the Senior Nationals semis. He is qualified for the Olympic Trials and has been competing on the senior level for several years.
India's #4 Bajrang Punia has won medals at the last two world championships and is the highest-ranked wrestler in this field. He's the favorite to win this weight class in Rome and regularly wins matches with his relentless pace and constant leg-attacks.
Bajrang and Oliver met last spring at the Dan Kolov tournament in Bulgaria. Oliver went out to a 3-0 lead in that match, but Bajrang tied it by the midway point. It was all Bajrang in the second period as he went on to win 12-3 over Oliver. The version of Oliver we saw in March appeared to be a fraction as good as the version we've seen in recent months. This potential rematch will be telling in terms of how Oliver has progressed in the last 10 months.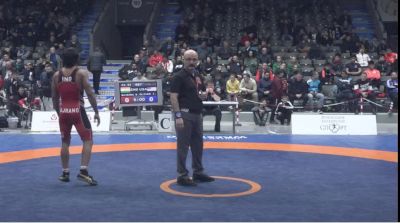 Unlock this video, live events, and more with a subscription!
Get Started
Already a subscriber? Log In
Behnam Ehsanpoor of Iran was a World bronze medalist at 61kg last year but has moved up to 65kg for the Olympic year and holds the #8 spot in the world rankings. Ehsanpoor has limited results at 65kg, but he has been a major player at 61kg for years. U.S. wrestling fans will remember his wild semifinal with Logan Stieber at the 2016 World Championships. If you haven't seen it, it's worth a watch.
Vasyl Shuptar of Ukraine also has a Senior level world medal, winning bronze in 2015. He and Gor Ogannesyan have battled back and forth for the Ukrainian world team spot during the last quad, and both will be in the mix in Rome. A third Ukrainian, Erik Arushanian, has registered impressive age-level results and will also be in this bracket.
In addition to the headliners mentioned above, this bracket will also include half a dozen more solid 65kg competitors who will make this weight one of the best of the entire tournament. This weight will be contested on the final day of the tournament, Saturday, January 18.