2020 Matteo Pellicone | UWW Ranking Series
Matteo Pellicone Rome Ranking Series Entry List
Matteo Pellicone Rome Ranking Series Entry List
Kyle Snyder, Kyle Dake and Frank headline a monster list of entries for the UWW Rome Ranking Series.
Jan 6, 2020
by Andrew Spey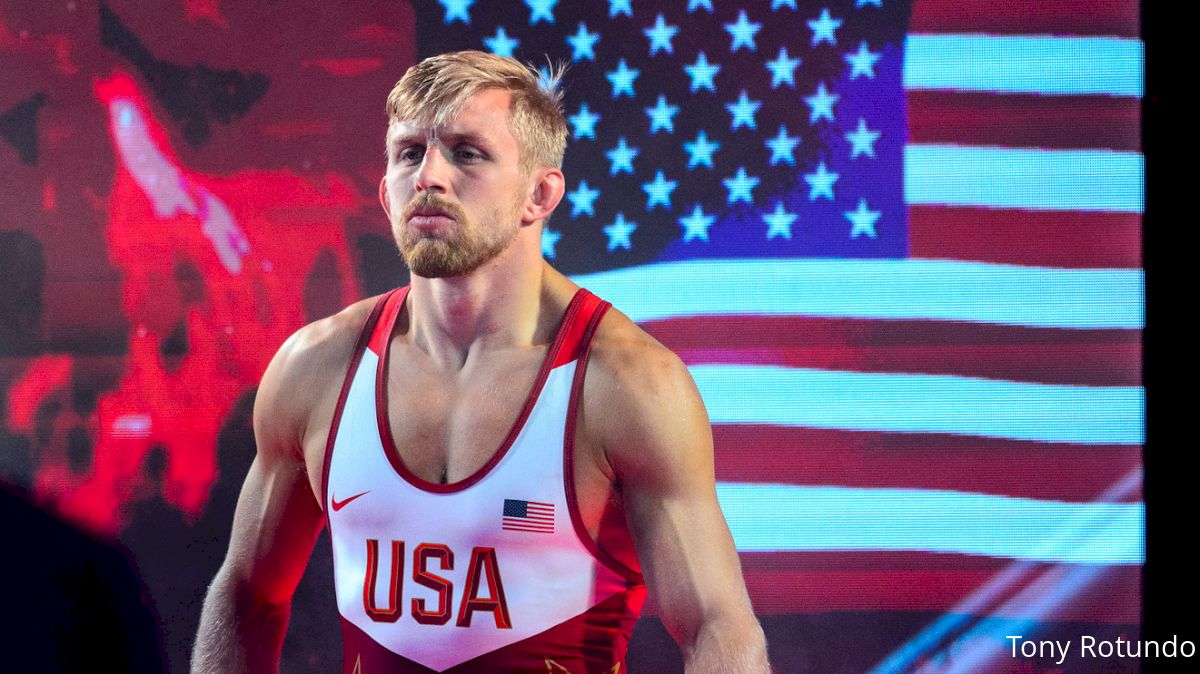 Who's going to the first of two UWW rankings series this Olympic season? We've got the entry lists in all three styles.
While non-Olympic weights will be contested at this event, a world championship for non-Olympic weight classes has not been scheduled and it unknown if one will be held.
Men's Freestyle
57 Kilograms
| | | | |
| --- | --- | --- | --- |
| Name | Country | Rank | World/Olympic Medals |
| Kumar RAVI | IND | 3 | Bronze 2019 |
| Daton FIX | USA | 11 | |
| Stevan MICIC | SRB | 13 | |
| Joseph COLON | USA | | Bronze 2018 |
| Thomas GILMAN | USA | | Silver 2017 |
| Givi DAVIDOVI | ITA | | |
| Andrii YATSENKO | UKR | | |
| Taras MARKOVYCH | UKR | | |
| Wanhao ZOU | CHN | | |
| Minghu LIU | CHN | | |
| Pedro MEJIAS | VEN | | |
61 Kilograms
| | |
| --- | --- |
| Name | Country |
| Zhandos ISMAILOV | KAZ |
65 Kilograms
| | | | |
| --- | --- | --- | --- |
| Name | Country | Rank | World/Olympic Medals |
| Bajrang BAJRANG | IND | 4 | Bronze 2019, Silver 2018 |
| Behnam EHSANPOOR | IRI | 8 | Bronze 2019 |
| Zain RETHERFORD | USA | 18 | |
| Jordan OLIVER | USA | 19 | |
| Joseph MCKENNA | USA | | |
| Vasyl SHUPTAR | UKR | | Bronze 2015 |
| Selahattin KILICSALLAYAN | TUR | | |
| Gor OGANNESYAN | UKR | | |
| Agustin DESTRIBATS | ARG | | |
| Shaohua YUAN | CHN | | |
| Zhenguang TIAN | CHN | | |
| Abdellatif MANSOUR | ITA | | |
| Jose RODRIGUEZ | PUR | | |
| Selim KOZAN | TUR | | |
| Erik ARUSHANIAN | UKR | | |
70 Kilograms
No entries
74 Kilograms
| | | | |
| --- | --- | --- | --- |
| Name | Country | Rank | World/Olympic Medals |
| Kyle DAKE | USA | 3 | Gold 2019, Gold 2018 |
| Frank CHAMIZO | ITA | 4 | Silver 2019, Gold 2017, Bronze 2016, Gold 2015, Bronze 2010 |
| Soner DEMIRTAS | TUR | 9 | Bronze 2017, Bronze 2016 |
| Yones EMAMI | IRI | | Bronze 2019 |
| Franklin GOMEZ | PUR | | Silver 2011 |
| James GREEN | USA | | Silver 2017, Bronze 2015 |
| Logan MASSA | USA | | |
| Murad KURAMAGOMEDOV | HUN | | |
| Mitchell FINESILVER | ISR | | |
| Jasmit PHULKA | CAN | | |
| Adanabasier ADANABASIER | CHN | | |
| Yin LUO | CHN | | |
| Jitender JITENDER | IND | | |
| Gianluca TALAMO | ITA | | |
| Sheng Yu LI | TPE | | |
| Fazli ERYILMAZ | TUR | | |
| Enes USLU | TUR | | |
| Vasyl MYKHAILOV | UKR | | |
| Denys PAVLOV | UKR | | |
79 Kilograms
| | |
| --- | --- |
| Name | Country |
| Salvatore DIANA | ITA |
| Carmelo LUMIA | ITA |
| Akhmedkhan TEMBOTOV | RUS |
86 Kilograms
| | | | |
| --- | --- | --- | --- |
| Name | Country | Rank | World/Olympic Medals |
| Myles AMINE | SMR | 9 | |
| Alexander DIERINGER | USA | 11 | |
| Deepak PUNIA | IND | 16 | Silver 2019 |
| Rashid KURBANOV | UZB | | Bronze 2013 |
| Fatih ERDIN | TUR | | Silver 2018 |
| James DOWNEY III | USA | | |
| Zahid VALENCIA | USA | | |
| Pedro CEBALLOS | VEN | | |
| Ethan RAMOS | PUR | | |
| Akhmedkhan TEMBOTOV | RUS | | |
| Osman GOCEN | TUR | | |
| Illia ARCHAIA | UKR | | |
| Oleksii DOMANYTSKYI | UKR | | |
92 Kilograms
| | |
| --- | --- |
| Name | Country |
| William RAFFI | ITA |
97 Kilograms
| | | | |
| --- | --- | --- | --- |
| Name | Country | Rank | World/Olympic Medals |
| Kyle SNYDER | USA | 2 | Bronze 2019, Silver 2018, Gold 2017, Gold 2016, Gold 2015 |
| Mohammadhossein MOHAMMADIAN | IRI | 6 | Bronze 2014 |
| Aliaksandr HUSHTYN | BLR | 9 | |
| Bo NICKAL | USA | 13 | |
| Valerii ANDRIITSEV | UKR | | Bronze 2014 |
| Pavel OLEJNYIK | HUN | | Bronze 2015, Bronze 2013 |
| Abraham CONYEDO | ITA | | Bronze 2018 |
| Ibrahim BOLUKBASI | TUR | | |
| Murazi MCHEDLIDZE | UKR | | |
| Hayden ZILLMER | USA | | |
| Jose DIAZ | VEN | | |
| Fatih YASARLI | TUR | | |
| Jordan STEEN | CAN | | |
| Chaoqiang YANG | CHN | | |
| Georg STARK | GER | | |
| Erik THIELE | GER | | |
| Gennadij CUDINOVIC | GER | | |
| Ravi RAVI | IND | | |
| Evan RAMOS | PUR | | |
125 Kilograms
| | | | |
| --- | --- | --- | --- |
| Name | Country | Rank | World/Olympic Medals |
| Amir ZARE | IRI | 6 | |
| Oleksandr KHOTSIANIVSKYI | UKR | 7 | Bronze 2019 |
| Daniel LIGETI | HUN | 9 | |
| Bilial MAKHOV | RUS | | Bronze 2015, Bronze 2015, Bronze 2014, Bronze 2012, Silver 2011, Gold 2010, Gold 2009, Gold 2007 |
| Gable STEVESON | USA | | |
| Anthony NELSON | USA | | |
| Amarveer DHESI | CAN | | |
| Er SONGBU | CHN | | |
| Nick MATUHIN | GER | | |
| Charles MERRILL | PUR | | |
| Luis VIVENES | VEN | | |
---
Women's Freestyle
50 Kilograms
| | | |
| --- | --- | --- |
| Name | Country | World/Olympic Medals |
| Kseniya STANKEVICH | BLR | |
| Viyaleta REBIKAVA | BLR | |
| Kamila BARBOSA | BRA | |
| Jessica MACDONALD | CAN | Gold 2012 |
| Yanan SUN | CHN | Bronze 2016, Gold 2012 |
| Nada MOHAMED | EGY | |
| Ana Maria TORRES | ESP | |
| Oihane VALLEZ | ESP | |
| Julie Martine SABATIE | FRA | |
| Tabatha GRUNEWALD | FRA | |
| Emilia VUC | ROU | Silver 2019, Silver 2017 |
| Veronika GURSKAYA | RUS | |
| Milana DADASHEVA | RUS | |
| Oksana LIVACH | UKR | Bronze 2018 |
| Sarah Ann HILDEBRANDT | USA | Silver 2018 |
| Whitney CONDER | USA | |
| Victoria Lacey ANTHONY | USA | |
53 Kilograms
| | | |
| --- | --- | --- |
| Name | Country | World/Olympic Medals |
| Samantha Leigh STEWART | CAN | |
| Qianyu PANG | CHN | Bronze 2019, Bronze 2018 |
| Lannuan LUO | CHN | |
| Luisa Elizabeth VALVERDE | ECU | |
| Aintzane GORRIA GONI | ESP | |
| Marina RUEDA FLORES | ESP | |
| Nina HEMMER | GER | |
| Annika WENDLE | GER | |
| Mercedesz DENES | HUN | |
| Vinesh VINESH | IND | Bronze 2019 |
| Pinki PINKI | IND | |
| Emanuela LIUZZI | ITA | |
| Carmen DI DIO | ITA | |
| Ekaterina POLESHCHUK | RUS | Bronze 2019 |
| Natalia MALYSHEVA | RUS | |
| Yuliia KHAVALDZHY | UKR | Bronze 2008 |
| Katherine SHAI | USA | |
| Areana VILLAESCUSA | USA | |
| Betzabeth ARGUELLO | VEN | |
55 Kilograms
| | | |
| --- | --- | --- |
| Name | Country | World/Olympic Medals |
| Vanesa KALADZINSKAYA | BLR | Gold 2017, Gold 2014 |
| Stalvira ORSHUSH | RUS | |
| Solomiia VYNNYK | UKR | |
| Iryna HUSYAK | UKR | |
57 Kilograms
| | | |
| --- | --- | --- |
| Name | Country | World/Olympic Medals |
| Giullia RODRIGUES | BRA | |
| Linda MORAIS | CAN | Gold 2019 |
| Ningning RONG | CHN | Silver 2019, Gold 2018 |
| Lissette ANTES | ECU | |
| Eman EBRAHIM | EGY | |
| Graciela SANCHEZ | ESP | |
| Elena Heike BRUGGER | GER | |
| Sandra PARUSZEWSKI | GER | |
| Laura MERTENS | GER | |
| Ramona GALAMBOS | HUN | |
| Emese BARKA | HUN | Bronze 2018, Bronze 2016, Bronze 2013 |
| Pooja DHANDA | IND | Bronze 2018 |
| Arianna CARIERI | ITA | |
| Francesca INDELICATO | ITA | |
| Grace Jacob BULLEN | NOR | |
| Marina SIMONYAN | RUS | |
| Iryna CHYKHRADZE | UKR | Bronze 2014 |
| Alina AKOBIIA | UKR | |
| Allison RAGAN | USA | Silver 2018 |
| Jenna BURKERT | USA | |
| Betzabeth SARCO | VEN | |
59 Kilograms
| | |
| --- | --- |
| Name | Country |
| Krystsina SAZYKINA | BLR |
| Andrea GRASRUCK | GER |
| Anhelina LYSAK | UKR |
62 Kilograms
| | | |
| --- | --- | --- |
| Veranika IVANOVA | BLR | |
| Lais NUNES | BRA | |
| Michelle FAZZARI | CAN | Bronze 2017 |
| Xiaojuan LUO | CHN | |
| Jia LONG | CHN | |
| Maria BAEZ | ESP | |
| Lydia PEREZ | ESP | |
| Luisa NIEMESCH | GER | |
| Marianna SASTIN | HUN | Gold 2013, Silver 2011, Bronze 2009, Silver 2005 |
| Sakshi MALIK | IND | Bronze 2016 |
| Aurora CAMPAGNA | ITA | |
| Elena ESPOSITO | ITA | |
| Sara DA COL | ITA | |
| Aisuluu TYNYBEKOVA | KGZ | Gold 2019 |
| Liubov OVCHAROVA | RUS | Silver 2019 |
| Inna TRAZHUKOVA | RUS | Gold 2019 |
| Yuliia TKACH | UKR | Bronze 2018, Silver 2017, Bronze 2015, Gold 2014 |
| Iryna KOLIADENKO | UKR | |
| Macey KILTY | USA | |
| Mallory VELTE | USA | Bronze 2018 |
| Kayla MIRACLE | USA | |
| Nathaly GRIMAN | VEN | |
65 Kilograms
| | | |
| --- | --- | --- |
| Name | Country | World/Olympic Medals |
| Petra Maarit OLLI | FIN | Gold 2018, Silver 2015 |
| Gabriella SLEISZ | HUN | |
| Hsin Ping PAI | TPE | |
| Oksana KUKHTA HERHEL | UKR | |
68 Kilograms
| | | |
| --- | --- | --- |
| Name | Country | World/Olympic Medals |
| Luz Clara VAZQUEZ | ARG | |
| Yauheniya ANDREICHYKAVA | BLR | |
| Maryia MAMASHUK | BLR | Silver 2016 |
| Danielle LAPPAGE | CAN | Silver 2018 |
| Feng ZHOU | CHN | Bronze 2018, Silver 2015 |
| Xiaoqian WANG | CHN | Bronze 2019 |
| Koumba LARROQUE | FRA | Silver 2018, Bronze 2017 |
| Anna Carmen SCHELL | GER | Bronze 2019 |
| Dalma CANEVA | ITA | |
| Anastasija GRIGORJEVA | LAT | Bronze 2017, Bronze 2014 |
| Anastasiia BRATCHIKOVA | RUS | |
| Alla CHERKASOVA | UKR | Gold 2018, Bronze 2010 |
| Alina STADNIK | UKR | Silver 2019, Gold 2013 |
| Victoria FRANCIS | USA | |
| Tamyra MENSAH-STOCK | USA | Gold 2019, Bronze 2018 |
| Maria Jose ACOSTA | VEN | |
72 Kilograms
| | |
| --- | --- |
| Name | Country |
| Nadine WEINAUGE | GER |
| Maria SELMAIER | GER |
76 Kilograms
| | | |
| --- | --- | --- |
| Name | Country | World/Olympic Medals |
| Martina KUENZ | AUT | Bronze 2018 |
| Kseniya DZIBUK | BLR | |
| Vasilisa MARZALIUK | BLR | Silver 2017, Bronze 2015, Bronze 2012, Bronze 2011 |
| Aline DA SILVA | BRA | |
| Erica WIEBE | CAN | Bronze 2018, Gold 2016 |
| Qian ZHOU | CHN | Silver 2015, Bronze 2014 |
| Paliha PALIHA | CHN | Bronze 2019, 2X Gold U23 |
| Genesis REASCO | ECU | |
| Samar HAMZA | EGY | |
| Epp MAE | EST | Bronze 2019, Bronze 2015 |
| Aline ROTTER-FOCKEN | GER | Bronze 2019, Silver 2017, Bronze 2015, Gold 2014 |
| Francy RAEDELT | GER | |
| Zsanett NEMETH | HUN | |
| Kiran KIRAN | IND | |
| Enrica RINALDI | ITA | |
| Eleni PJOLLAJ | ITA | |
| Aiperi MEDET KYZY | KGZ | |
| Natalia VOROBIEVA | RUS | Gold 2019, Silver 2016, Gold 2015, Bronze 2014, Silver 2013, Gold 2012 |
| Ekaterina BUKINA | RUS | Bronze 2016, Silver 2011, Bronze 2010 |
| Hui Tsz CHANG | TPE | Bronze 2019 U23 |
| Alla BELINSKA | UKR | |
| Adeline GRAY | USA | Gold 2019, Gold 2018, Gold 2015, Gold 2014, Bronze 2013, Gold 2012, Bronze 2011 |
| Andrimar LAZARO | VEN | |
---
Greco-Roman
55 Kilograms
| | |
| --- | --- |
| Name | Country |
| Dogus AYAZCI | TUR |
| Serif KILIC | TUR |
| Andrii SEMENCHUK | UKR |
| Max NOWRY | USA |
60 Kilograms
| | | |
| --- | --- | --- |
| Name | Country | World/Olympic Medals |
| Sailike WALIHAN | CHN | Bronze 2018 |
| Erbatu TUO | CHN | |
| Haithem MAHMOUD | EGY | |
| Erik TORBA | HUN | |
| Manish MANISH | IND | |
| Sachin RANA | IND | |
| Giovanni FRENI | ITA | |
| Jacopo SANDRON | ITA | |
| Kerem KAMAL | TUR | Gold 2019 JR |
| Ahmet UYAR | TUR | |
| Ihor KUROCHKIN | UKR | |
| Ildar HAFIZOV | USA | |
| Islomjon BAKHRAMOV | UZB | |
| Firuz TUKHTAEV | UZB | |
63 Kilograms
| | | |
| --- | --- | --- |
| Name | Country | World/Olympic Medals |
| Andres MONTANO | ECU | |
| Christopher KRAEMER | GER | |
| Stig-Andre BERGE | NOR | Bronze 2012 |
| Jui Chi HUANG | TPE | |
| Dmytro TSYMBALIUK | UKR | |
67 Kilograms
| | | |
| --- | --- | --- |
| Name | Country | World/Olympic Medals |
| Joilson DE BRITO | BRA | |
| Qiye TIAN | CHN | |
| Gaoquan ZHANG | CHN | |
| Mohamed ELSAYED | EGY | Bronze 2019 |
| Abouhalima ABOUHALIMA | EGY | |
| Ashu ASHU | IND | |
| Ignazio SANFILIPPO | ITA | |
| Ruben MARVICE | ITA | |
| Xavier JOHNSON | USA | |
| Jamel JOHNSON | USA | |
| Calvin GERMINARO | USA | |
| Mirzobek RAKHMATOV | UZB | |
| Makhmud BAKHSHILLOEV | UZB | |
| Anthon PALENCIA | VEN | |
72 Kilograms
| | | |
| --- | --- | --- |
| Name | Country | World/Olympic Medals |
| Cengiz ARSLAN | TUR | |
| Selcuk CAN | TUR | |
| Parviz NASIBOV | UKR | |
| Maksym YEVTUSHENKO | UKR | |
| Raymond BUNKER | USA | |
| Aram VARDANYAN | UZB | Silver 2019 |
77 Kilograms
| | | |
| --- | --- | --- |
| Name | Country | World/Olympic Medals |
| Angelo MARQUES | BRA | |
| Bin YANG | CHN | |
| Ridong ZHANG | CHN | |
| Wael ABDELRAHMAN | EGY | |
| Luca DARIOZZI | ITA | |
| Sajan SAJAN | IND | |
| Matteo MAFFEZZOLI | ITA | |
| Fatih CENGIZ | TUR | |
| Yunus Emre BASAR | TUR | |
| Emrah KUS | TUR | Silver 2018, Bronze 2013 |
| Patrick Harrison SMITH | USA | |
| Kamal Ameer BEY | USA | |
| Ravaughn PERKINS | USA | |
| Nurbek KHASHIMBEKOV | UZB | |
| Wuileixis RIVAS | VEN | |
82 Kilograms
| | | |
| --- | --- | --- |
| Name | Country | World/Olympic Medals |
| Roland SCHWARZ | GER | |
| Florian NEUMAIER | GER | |
| Pascal EISELE | GER | Bronze 2017 |
| Zotlan LEVAI | HUN | |
| Singh GURPREET | IND | |
| Bing Hong LIN | TPE | |
| Burhan AKBUDAK | TUR | |
| Salih AYDIN | TUR | |
| Dmytro GARDUBEI | UKR | |
| John Walter STEFANOWICZ JR | USA | |
| Jalgasbay BERDIMURATOV | UZB | Bronze 2019 |
87 Kilograms
| | | |
| --- | --- | --- |
| Name | Country | World/Olympic Medals |
| Ronisson BRANDAO | BRA | |
| Junjie NA | CHN | |
| Mohamed METWALLY | EGY | |
| Viktor LORINCZ | HUN | Silver 2019, Bronze 2014, Bronze 2013 |
| Fabio PARISI | ITA | |
| Mirco MINGUZZI | ITA | |
| Simone FIDELBO | ITA | |
| Dogan GOKTAS | TUR | |
| Josef RAU | USA | |
| Luis AVENDANO | VEN | |
97 Kilograms
| | | |
| --- | --- | --- |
| Name | Country | World/Olympic Medals |
| Yan LIU | CHN | |
| Yanan CHEN | CHN | |
| Noureldin HASSAN | EGY | |
| Matti KUOSMANEN | FIN | |
| Arvi SAVOLAINEN | FIN | |
| Mélonin NOUMONVI | FRA | Gold 2014, Silver 2009 |
| Ramsin AZIZSIR | GER | |
| Jan ZIRN | GER | |
| Kevin MEJIA | HON | |
| Hardeep HARDEEP | IND | |
| Luca SVAICARI | ITA | |
| Felix BALDAUF | NOR | |
| Suleyman DEMIRCI | TUR | |
| Semen NOVIKOV | UKR | |
| Daniel MILLER | USA | |
| G'Angelo HANCOCK | USA | |
| Muhammadali SHAMSIDDINOV | UZB | |
| Jahongir TURDIEV | UZB | |
| Temur MAMAJANOV | UZB | |
| Luillys PEREZ | VEN | |
130 Kilograms
| | | |
| --- | --- | --- |
| Name | Country | World/Olympic Medals |
| Lingzhe MENG | CHN | |
| Di XIAO | CHN | |
| Abdellatif MOHAMED | EGY | |
| Tuomas LAHTI | FIN | |
| Konsta MAEENPAEAE | FIN | |
| Naveen NAVEEN | IND | |
| Luca GODINO | ITA | |
| Samuele VARICELLI | ITA | |
| Oskar MARVIK | NOR | |
| Osman YILDIRIM | TUR | |
| Vladyslav VORONYI | UKR | |
| Adam COON | USA | Silver 2018 |
| Jacob MITCHELL | USA | |
| Muminjon ABDULLAEV | UZB | |
| Moises PEREZ | VEN | |