Create a free account to unlock this article!
Get Started
Already a subscriber? Log In
Thanks to an extremely friendly and generous university professor, we can now harness the power of computers and use math to simulate the NCAA tournament 10,000 times.
We've simulated the team race for the NCAA Championships based on our rankings a few times in the past. You can read more about how we do it and see the results of the exercise using preseason rankings from way back in September 2017 here.
And now we're going to do it again, but this time using the seeds from the 2018 NCAA Tournament in Cleveland, which you can find on the brackets on FloArena.
NCAA Draw Analysis: Penn State | Ohio State | Missouri | Michigan | NC State | Iowa
We'll know soon enough who the actual winner is, and this simulation will have precisely zero effect on the outcome of this week's tournament. However, that doesn't have to stop us from indulging in a little pre-NCAA first-whistle speculation with the help of WresleTron CompuBot 6000.
Below are the results of the simulation using the seeds from the 2018 NCAA Championships brackets: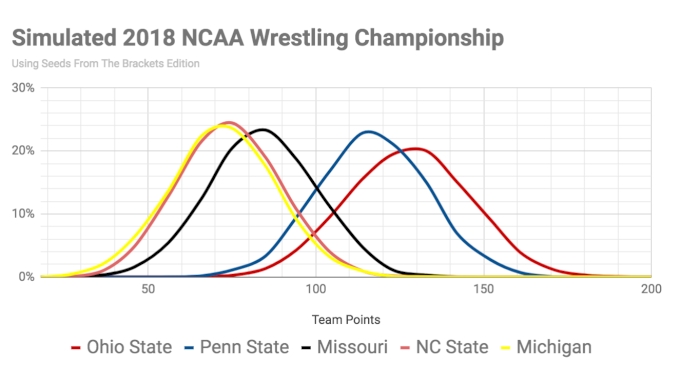 According to our simulation, Ohio State scores 150 points or more around 10 percent of the time, whereas Penn State scores over 150 or more about 4 percent of the time. That may seem like an obscene amount of points, but according to Dan Lobdell's analysis, that may be what it takes to win this historically tough tournament.
But there are more than two teams with a chance to win a title. The Buckeyes and Nittany Lions may be getting most of the attention, but Missouri, NC State, and Michigan all have significant chances of scoring the most points at the Quicken Loans Arena.
Our simulator can also tell us the average score these teams will earn at the championships. The top 10 teams and their average simulated scores are below.
| | | |
| --- | --- | --- |
| RANK | SCHOOL | AVG SCORE |
| 1 | Ohio State | 123 |
| 2 | Penn State | 112 |
| 3 | Missouri | 79 |
| 4 | NC State | 70 |
| 5 | Michigan | 68 |
| 6 | Lehigh | 64 |
| 7 | Iowa | 61 |
| 8 | OK State | 58 |
| 9 | Arizona State | 54 |
| 10 | Virginia Tech | 50 |
So is this what the NCAA scoreboard will definitely look like by the end of Saturday? Of course not! I mean, I suppose it's a possibility, but the 330 student-athletes who came to win a championship aren't going to do it by running a computer program. They're going to do it on the mat! And we get to see it all go down over the next three glorious days!