2023 NCAA Championships Watch Party
2023 NCAA Wrestling National Championship Qualifiers By The Numbers
2023 NCAA Wrestling National Championship Qualifiers By The Numbers
Tables, graphs, maps and more! All pertaining to the 330 qualifiers for the 2023 NCAA Wrestling National Championships in Tulsa, Oklahoma!
Mar 10, 2023
by Andrew Spey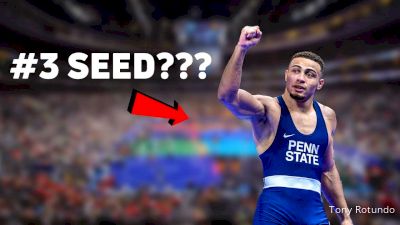 The 2023 NCAA Championships in Tulsa, Oklahoma is just days away, which gives us just enough time to do a thorough deep dive into the 330 D1 wrestlers who qualified for the big dance.
But before we get into that, here are links to more NCAA content provided by my illustrious colleagues.
Brackets & Schedule | Full Bracket Breakdown | Iowa Brax Reax | Penn State Brax Reax | Questionable Seeds | Qualifiers By Team & Conference
We can start this analysis with everyone's favorite: National Qualifiers by Hometown. I found hometowns by looking up every qualifier's bio page on their wrestling team's website.
This is not including the three international wrestlers who qualified for the NCAAs: Iowa State's Yonger Bastida (Trinidad, Cuba), North Carolina's Lachlan McNeil (Toronto, Canada), and Harvard's Yaraslau Slavikouski (Rechitsa, Belarus).
There are also other perfectly valid methods for determining what state an NCAA wrestler is from, but we're sticking with bio pages for this analysis. I also don't have data on qualifiers by high school (or clubs) and it's doubtful I'll acquire it between now and NCAAs, though if some kind and generous reader has it and wants to send it my way I would be eternally grateful!
Anyhow, here's a heat map of qualifiers by state.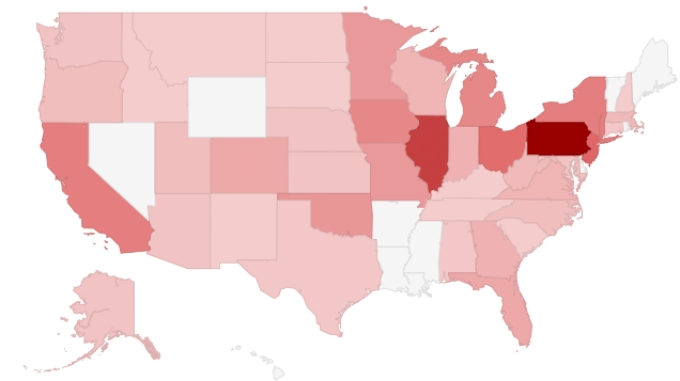 No qualifiers from Nevada, Wyoming, Arkansas, Louisiana, Mississippi, Delaware, Vermont, Rhode Island or Maine this year.
We can also look at heat maps using a couple of different functions available on the free version of the online mapping software I found through Google about eight years ago.
There's the classic heat map.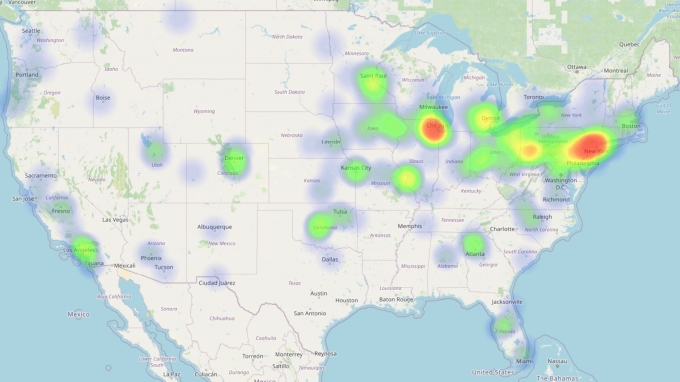 Very nifty. And apologies to Evan Bockman, Levi Hopkins and Caleb Hopkins. I had to crop out Alaska to get the map to look pretty, otherwise the greater Anchorage metropolis would have a small green blob over it!
We can also create a map of all the hometowns marked with pins, a fitting marker for a wrestling map.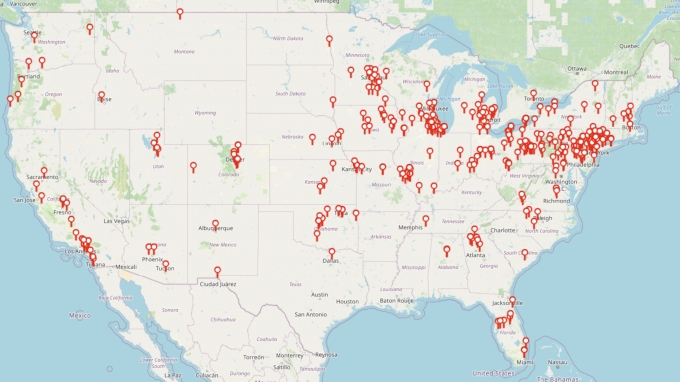 Here's a map I've decided to call the 'chicken pox' map.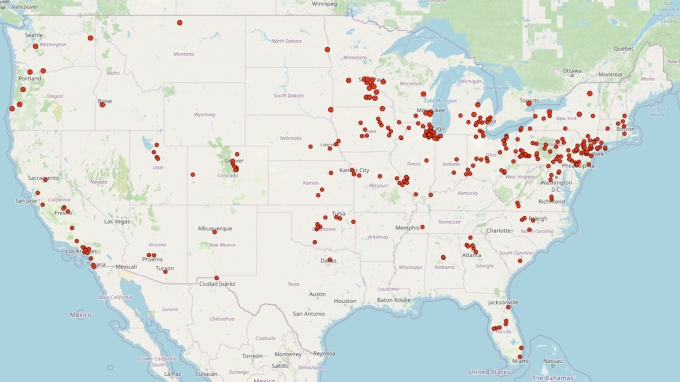 Finally, I was going to try and compile a list of qualifiers by metro area but it was taking too long, so I clustered the pins and was able to create the following map, which gives us a pretty good idea of the cities with the most qualifiers.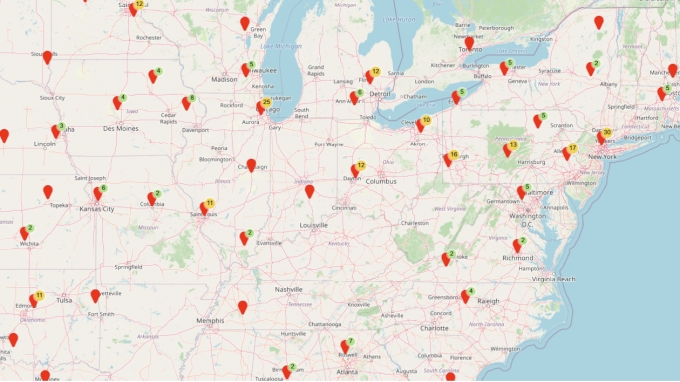 I had to zoom in to get the clusters to approximate cities and then crop out a big chunk of the western and southern parts of the continental USA. There's a decent cluster around Denver and Los Angeles and a smaller cluster around Salt Lake City that didn't survive the cropping.
Anyway, New York City produced the most 2023 NCAA qualifiers, followed by Chicago. Philadelphia, Pittsburgh, Cleveland, Detroit and St Louis are also all bona fide wrestling 'hot beds'.
You can quibble with some of the hometowns and whether or not they should be included in one particular metro area or another (and by all means, quibble away!) but this is how it shakes out, more or less, every year I've been doing this, so close to a decade. NYC and Chicago lead the pack with most other midwestern cities and maybe LA or Denver being not far behind.
The next most requested topic after NQs by state is NQs by state per capita. Here we express that topic in the number of qualifiers per million inhabitants of the state as per the 2022 census estimates.
You can probably guess which measure wrestling fans in Pennsylvania prefer and which is more popular among Iowans. Justification for which measurement is more appropriate also usually lines up along similar geography.
Moving on, I think we can all recognize that knowing how all the states compare to each other in 2023 is all well and good, but what if we want to compare each state to their historical averages? I think that's also good idea and so that's what I did. Below is a table of all the states that qualified wrestlers, then the average number of qualifiers from 2003 to 2012, then the average qualifiers from 2013 to 2022, followed by 2023's qualifiers.
Despite leading all states in qualifiers, Pennsylvania is have a relatively down year. Illinois, in contrast, is having an excellent year for NCAA qualifiers. Iowa and especially Oklahoma are also above historical norms.
A made a line graph of qualifiers over time for the top 5 states for 2023 but I didn't like the way it turned out so I'm not going to do anymore. Here's the one I did do though.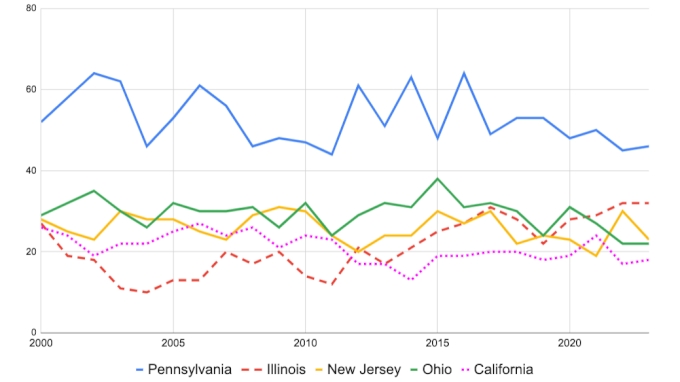 Some very mild trends but mostly looks like some very established ranges and year-to-year variations that very much look like random noise.
Okay, what else? Think I'll just start firing off random facts I found while poring over the qualifiers.
There are eleven former NCAA champs in the 2023 brackets who've earned a combined 18 titles: Spencer Lee (3), Yianni Diakomihalis (3), Carter Starocci (2), Aaron Brooks (2), Roman Bravo-Young (2), Austin O'Connor, David Carr, Keegan O'Toole, Max Dean, Mekhi Lewis, and Shane Griffith.
Two wrestlers (Lee and Diakomhihalis) could win their fourth NCAA title in one day (which has never been done). Spencer Lee was also the #1 seed at the 2020 tournament fwiw.
Dean and Griffith are national champs and both received #9 seeds.
There are three former champs in the 165 bracket: David Carr (1 seed), Keegan O'Toole (2 seed), and Shane Griffith (9 seed).
There are two champs in the 174 bracket: Carter Starocci (1 seed), and Mekhi Lewis (3 seed).
There are 70 former All-Americans (not counting 2020 NWCA AAs) in the brackets who earned a total of 114 AA honors (numbers are approximate, I could be missing something here or there).
There are more returning All-Americans (9) in the 165lb bracket than any other weight class. A bunch of other weights have 8 returning AAs.
133 has the most number of AA honors represented in the 2023 bracket, with 16 (from 8 wrestlers).
Eight wrestlers are attempting to become four-time All-Americans: Yiani Diakomihalis, Spencer Lee, Roman Bravo-Young, Mikey Labriola, Max Dean, Jacob Warner, Daton Fix, and Austin O'Connor.
Trent Hidlay and Sammy Sasso have had surprisingly similar careers so far. They both qualified for their first NCAA in 2020, then finished 2nd and 5th in their next two NCAA tournaments. They both now have #2 seeds in their respective brackets.
19 wrestlers have qualified for their fifth NCAA Championships. Stupid covid created all sorts of weird situations with eligibility and I'm mostly going to avoid mentioning them.
Eight wrestlers will compete in their fourth NCAA Championships having not yet reached All-American status: Zach Elam, Tate Samuelson, Micky Phillippi, Max Murin, Matt Finesilver, Jarrett Jacques, Cam Caffey, and AJ Nevills.
Micky Phillippi and Max Murin are both four-time NCAA qualifiers and three-time bloodrounders. Let's hope they can pull a George DiCamillo and make the NCAA finals, or at least the podium, in their final championship tournament, after falling one match short of All-American status three other times.
51 freshmen have qualified for the 2023 NCAAs. 85 wrestlers in total qualified for their first-ever NCAAs. 16 of them are seniors (I think, but who knows with eligibility these days).
Nine freshmen are seeded in the top eight: Levi Haines (2), Caleb Henson (4), Paniro Johnson (5), Daniel Cardenas (6), Stevo Poulin (6), Vince Cornella (7), Michael Caliendo (7), Owen Trephan (7), Aaron Nagao (8), and Silas Allred (8). All are ranked by Flo in the top 12. Freshman Lachlan McNeil is ranked #7 but seeded #10. No other freshmen are ranked in the top 8.
Over the last 22 NCAA tournaments, an average of 9 freshmen have earned All-American honors each year. Looking pretty on-trend in 2023!
The top five states with seeds in the top 8 (and thus projected to All-American) are Pennsylvania (14), Illinois (7), California (6), New York (5), and Colorado (5). NJ, Minnesota and Ohio have four each.
Pennsylvania has three #1 seeds. WI, OH, NY, NM, IN, IL and AZ have one each.
The Big Ten has five #1 and 26 top 8 seeds.
The Big 12 has two #1 seeds and 18 top 8 seeds.
The ACC has two #1 seeds and 14 top 8 seeds.
The EIWA has one #1 seed and 11 top 8 seeds.
The Pac-12 has eight top 8 seeds, the MAC has two top 8 seeds, and the SoCon has one top 8 seed.
The Big Ten has four top 8 seeds at 174, the most of any conference in any weight.
The national qualifiers per team ratios of each conference are as follows: Big Ten 7.0; Big 12 5.9; ACC 5.8; Pac-12 3.8; EIWA 3.2; MAC 2.1; SoCon 1.9.
Here's a fun notable from the great Andy Hamilton.
Three returning AAs at 165 are double-digit seeds: #10 Carson Kharchla, #11 Cameron Amine and #14 Peyton Hall. Possible second-round bouts: #6 Patrick Kennedy vs. Amine and #3 Dean Hamiti vs. Hall.

— Andy Hamilton (@Andy_Hamilton) March 9, 2023
And here's another!
Wyatt Hendrickson is the highest-seeded Air Force wrestler in 20 years. The last #2 seed for the Falcons was heavyweight Kevin Hoy, who finished as the runner-up to Steve Mocco in 2003. https://t.co/ra3RD3xcvf

— Andy Hamilton (@Andy_Hamilton) March 9, 2023
Okay that's all for now. Tweet at me if you think of something that should be included in this blog and if I agree I'll post it here.
Finally, here's all the data I'm working with. Holler if you see anything that needs correcting!
Apologies if this is an illegible mess. Here's a link to a google sheet that should be easier to read.