2023 NCAA Championships Watch Party
2023 NCAA Wrestling Bracket Breakdown
2023 NCAA Wrestling Bracket Breakdown
A bracket breakdown for each team at the 2023 NCAA Wrestling Tournament.
Mar 9, 2023
by Jon Kozak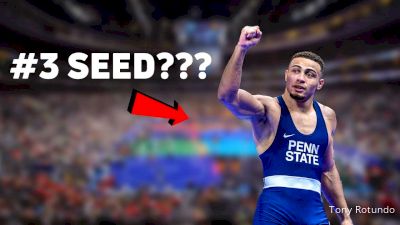 The brackets are out for the 2023 NCAA Tournament! Because everyone loves breaking down all the draws, we decided to evaluate all of the draws for the top 10 teams based on seeds at the NCAA Tournament. Check out the below article to see those projected team scores and a quick breakdown of each team's draws.
2023 NCAA Wrestling Championships Brackets
Top 10 Team Scores Based On Seeds
Penn State - 97
Iowa - 74.5
Cornell - 68.5
Nebraska - 62.5
NC State - 59.5
Missouri - 55
Virginia Tech - 51
Iowa State - 49
Ohio State - 39.5
Arizona State - 38
Penn State - A Mixed Bag
RBY, Carter Starocci, and Greg Kerkvliet all received great draws and are big favorites to make the finals. However, Max Dean, Beau Bartlett, Shayne Van Ness, Levi Haines, and yes even Aaron Brooks have their work cut out for them.
Dean will likely have Allred (who just beat him in the Big 10 finals) in the second round! Bartlett will likely meet returning All-American Cole Matthews in the quarters. Shayne Van Ness will need to get by #5 Paniro Johnson and #4 Caleb Henson to make the semis. Levi Haines should meet the always dangerous Bryce Andonian in the quarters. And Aaron Brooks is poised for another match at NCAAs against Trent Hidlay in the semis. Nittany Lion fans will remember their ultra-competitive 2021 NCAA finals match and their overtime match from last year's semi-final. Obviously, Penn State is still the BIG favorite and has proven to perform their best every year at NCAAs, but they certainly have their work cut out for them in Tulsa.
Hear from Levi Haines after his Big 10 championship: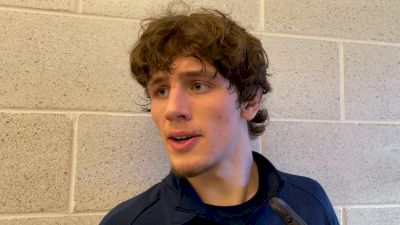 Check out an even more in depth breakdown of Penn State's draws here.
Iowa - Tough Early Matches For Hawkeyes
The story for Iowa wrestlers are the tough early-round matches the Hawkeyes will have at most weights (aside from Spencer Lee and Real Woods). #23 seed Brody Teske will be a big underdog against two-time All-American Lucas Byrd in the first round. Cobe Siebrecht will wrestle Model round one (who he beat 3-2) and then face former #1 Peyton Robb in the second round (who beat Siebrecht 7-2).
As the #11 seed Nelson Brands will see #6 Ethan Smith in the second round. Abe Assad received the #12 seed and will see returning All-American Marcus Coleman in the second round. At 197, Jacob Warner will have Cam Caffey in round one only to see Rocky Elam in the second round!
At 149, Max Murin caught a slight break after two-time All-American Jonathan Millner was forced to pull out of the tournament due to injury. Murin would have likely had a match with Millner in the second round - Millner notably defeated Murin at last year's NCAAs, 8-1. Now, 2021 All-American Jaden Abas moves into the #9 seed as Murin's potential second-round opponent. Abas has had an up-and-down year but does hold a win over Murin - back at the 2021 NCAA tournament in the round of 12 where Abas won in tiebreakers - 2-1.
While Patrick Kennedy and Tony Cassioppi are the favorites to make the quarters, they'll also be in some dogfights. Kennedy will likely have a rematch of his Big 10 semifinal with Cam Amine in the second round while Tony Cassioppi will likely have returning NCAA finalist Cohlton Schultz in the quarters with #1 Mason Parris in the semis.
Hear from Real Woods after winning a Big 10 title: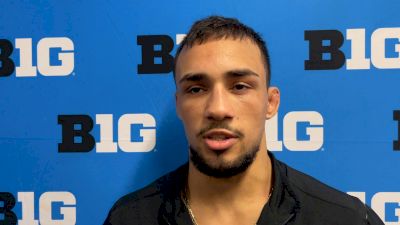 Check out an even more in-depth breakdown of Iowa's draws here.
Cornell - Big Red, Big Variance
Cornell vaulted up to #3 in our team rankings based on the performance of Julian Ramirez and Jacob Cardenas at EIWAs. Yianni Diakomihalis seems like a lock to make the finals and Vito is set up nicely to reach the semis against Daton Fix. However, their 68.5 projected team points are likely closer to their ceiling rather than their floor based on some of the draws for the lower-seeded wrestlers.
Brett Ungar, Vince Cornella, and Jacob Cardenas will all have battles from the first round on and will need to wrestle their best to find the podium. Ungar received the #15 seed and will have Ryan Miller in round 1 only to meet #2 Pat Glory in round 2. Cornella got the #7 seed but has a potential rematch with #10 Lachlan McNeil in round 2 - McNeil notably defeated Cornella in December, 4-0. Though Cardenas beat #5 seed Michael Beard, Cardenas got the #10 seed and will see Big 12 runner-up Tanner Sloan in round 2. Sloan is a hammer on top with wins on the season over the likes of Luke Surber, Owen Pentz, and Silas Allred (X2). If Cardenas can get by Sloan, he'll then see #2 seed and 2X All-American Bernie Truax in the quarters.
Then there's #4 seed Julian Ramirez who notched his second win of the season over NCAA runner-up Quincy Monday in the EIWA finals. Ramirez will likely have Monday again in the quarters Friday morning at NCAAs for a spot in the semis. If Ramirez can take out Monday for a third-straight time, Cornell will be put in a great spot to earn a team trophy.
Ramirez's win over Monday in the EIWA finals: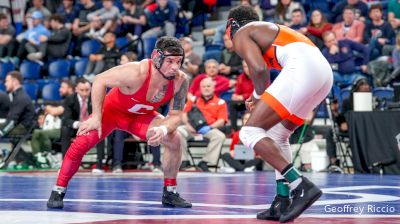 Unlock this video, live events, and more with a subscription!
Get Started
Already a subscriber? Log In
Nebraska - A Trophy On The Way
Can Nebraska do it? Are they poised for their first team trophy since the 2007-08 season? After examining their draws, the Corn Huskers should feel pretty confident heading into Tulsa. Liam Cronin earned the #3 seed and will have Antonio Lorenzo then likely Noah Surtin and the winner of Patrick McKee vs Stevo Poulin to make the semis. At 141, Brock Hardy got the #4 seed and will likely see Ryan Jack in the quarters and then Real Woods in the semis. Hardy has split with Jack on the year and has 2 razor-thin losses to Real Woods. A run to the finals isn't out of the question for Hardy.
Hardy's win over Jack at the 2022 CKLV:
At 184, Lenny Pinto may have got the #13 seed but who is his second-round opponent? #4 seed Trey Munoz who Pinto defeated at the CKLV this year. At 197, Silas Allred will see Max Dean in the second round who he just impressively defeated in the Big 10 finals. And at 157, Peyton Robb is a title contender at the #3 seed and will be a big favorite to make the semis where he'll likely have a rematch with #2 seed Levi Haines or #7 seed Bryce Andonian.
Pinto's win over Munoz from the 2022 CKLV: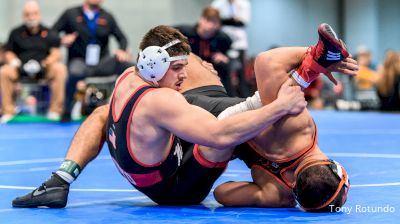 Unlock this video, live events, and more with a subscription!
Get Started
Already a subscriber? Log In
NC State - 6AAs For The Wolfpack?
If NC State wrestles to seed, the Wolfpack will put 6 different wrestlers on the podium! Check out the seeds for their guys in Tulsa:
125 - #20 Jarrett Trombley
133 - #5 Kai Orine
141 - #5 Ryan Jack
149 - #16 Jackson Arrington
157- #8 Ed Scott
174 - #22 Alex Faison
184 - #2 Trent Hidlay
197 - #6 Isaac Trumble
285 - #7 Owen Trephan
Kai Orine is coming off a fantastic ACC tournament where he came away the champ with wins over Micky Phillippi and Sam Latona. Orine will likely wrestle All-American #12 Chris Cannon in the second round. Because of his performance at ACCs, Orine should be considered a favorite but that match will absolutely be in the balance. Ryan Jack is in a great spot to reach the quarters and will likely wrestle Brock Hardy in the quarters. The two have split matches on the year with Hardy winning the most recent bout at CKLV in December.
Kai Orine talks about his incredible performance at the ACC tournament: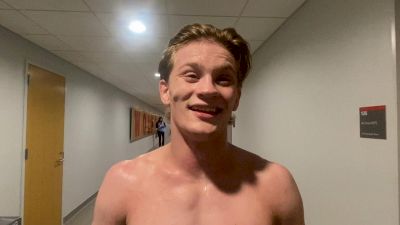 Ed Scott will likely wrestle returning All-American Will Lewan in the second round before seeing #1 seed Austin O'Connor in the quarters. Scott was beating Lewan 10-0 at the CKLV before Lewan injury defaulted. O'Connor and Scott have wrestled 3 times in their college career with O'Connor holding the series lead at 2 matches to 1.
The good news for Trent Hidlay - he should cruise to the semis. The bad news for Trent Hidlay - he'll likely wrestle 2-time NCAA champion Aaron Brooks there. Their potential meeting in the semis would mark the third consecutive year Hidlay and Brooks have met at NCAAs. Brooks defeated Hidlay each of the past two years in very close matches (3-2 in the 2021 NCAA finals and 6-4 in OT in the 2022 NCAA semis).
Hear from Hidlay after winning the ACC tournament last week: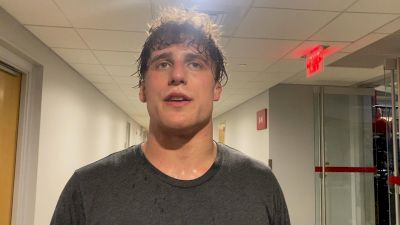 Isaac Trumble at the #6 seed has a tough road but so does everyone at 197 pounds. Trumble's path to the semis will like go through #3 seed Rocky Elam. However, that's not the worst news in the world as Trumble is 1-0 in his career against Elam - Trumble defeated Elam 5-3 last season.
On top of the above wrestlers seeded to All-American, Trombley, Arrington, and Faison have great potential to bust up their respective brackets.
Missouri - Tigers Will Need To Claw Their Way To The Podium
Outside of Keegan O'Toole, Missouri didn't receive any favors with their draws at NCAAs. #6 seed Brock Mauller will likely wrestle Penn's Doug Zapf in the second round. Prior to EIWA's Zapf had been ranked in the top 10 all year and is a legitimate All-American contender. #3 seed Rocky Elam will likely have a match with returning NCAA runner-up Jacob Warner in the second round and then see Isaac Trumble (who has a win over Rocky last season) in the quarters. Not the smoothest path to the semis for Elam.
Though Missouri got all 10 guys to NCAAs, only 5 are seeded to All-American. Allan Hart got the #8 seed and Peyton Mocco got the #7 seed but Noah Surtin (#14 seed), Connor Brown (#26 seed), Jarrett Jacques (#17 seed), Colton Hawks (#22 seed), and Zach Elam (#10 seed) are all projected to finish off of the podium. The Tigers will need at least one of those guys to outperform their seed if they hope to bring home a team trophy.
Hear from Rocky Elam after his Big 12 title: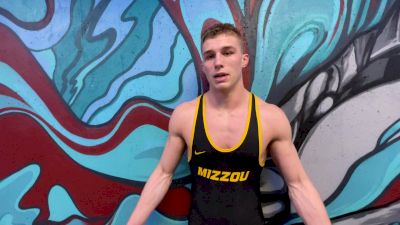 Iowa State - Some Brutal Early Draws
Iowa State had climbed all the way up to #3 as a team earlier in the season but are now projected to finish 8th based on seeds. David Carr as the #1 seed looks like a lock to make the finals but there aren't any other "sure things" in the Cyclones lineup. Paniro Johnson and Marcus Coleman are the next highest seeds at #5. Paniro should be a big favorite in his opening-round match against Jarod Verkleeren. However, Paniro will then likely wrestle Penn State's Shayne Van Ness. The two wrestled back in December where Paniro won a tight, 3-2 bout - definitely not a "gimme" for Johnson in the second round.
Marcus Coleman will likely wrestle Iowa's Abe Assad in the second round and then have a potential match with either Lenny Pinto or Trey Munoz in the quarters. Though Coleman beat Munoz in the round of 12 last season, Munoz took out Coleman in December this year.
Sam Schuyler got the #9 seed for the Cyclones but will have a tough match with returning All-American and formerly #4 ranked wrestler Lucas Davison in the second round. Davison notably defeated Schuyler at last year's NCAA tournament, 4-0.
Younger Bastida, who looked like a title contender entering the year but received the #13 seed based on his 6th place finish at Big 12s. On top of that, Bastida has Utah Valley's Evan Bockman in the first round - who just beat Bastida at the Big 12 tournament!
Paniro Johnson believes he can win an NCAA title: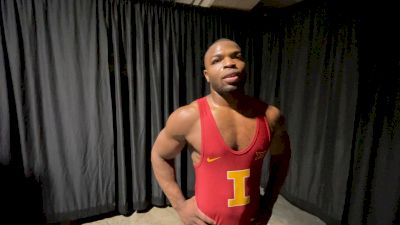 Virginia Tech - Need To Pull The Upsets
Sam Latona (#6 seed), Caleb Henson (#4 seed), Bryce Andonian (#7 seed), Mekhi Lewis (#3 seed), and Hunter Bolen (#7 seed) are all projected to reach the podium for the Hokies in Tulsa. However, their other 5 qualifiers are all projected to finish in the round of 24 or the round of 16. That means if Virginia Tech hopes to bring home a team trophy, they'll need some of those lower-seeded wrestlers to pull off some upsets on the front side or make a deep consolation run.
#27 seed Eddie Ventresca and #21 seed Andy Smith feel like the best bets to blow up their respective brackets. Ventresca has #6 seed Stevo Poulin in the first round. Although Poulin won the Big 12 tournament last week, he also lost to Kase Mauger (who didn't qualify), #21 seed Jore Volk, and #29 seed Nico Provo this year. Andy Smith proved how dangerous he can be with wins over #6 seed Isaac Trumble and #7 seed Tanner Sloan this year. Smith's opening-round match against Zac Braunagel is certainly a winnable one for the Hokies.
Hear from Mekhi Lewis after winning an ACC title last week: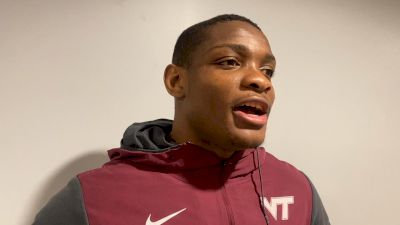 Ohio State - Narrow Path To A Trophy
Ohio State has only 3 wrestlers seeded in the top 8 - #2 Sammy Sasso, #6 Ethan Smith, and #6 Kaleb Romero. #13 Jesse Mendez, #17 Dylan D'Emilio, #10 Carson Kharchla, and #16 Tate Orndorff have all been ranked in the top 10 this year and it wouldn't be a shock if one of them made the podium. However, they all have challenging competitors in their way. Mendez should wrestle Michael McGee in the second round, Dylan D'Emilio will have #1 seed Real Woods in the second round, and Tate Orndorff has #1 ranked Mason Parris in round 2. Carson Kharchla has the most "winnable" round 2 match of those 4 against Michael Caliendo but would then see defending national champ Keegan O'Toole in the quarters.
It's also worth mentioning that Gavin Hoffman is the #26 seed and we shouldn't forget how he reached the semi-finals last year out of the #20 spot. The Buckeyes might need Hoffman to pull off some magic again at this year's NCAAs if they hope to bring home a trophy.
Hear from Sammy Sasso after his Big 10 title: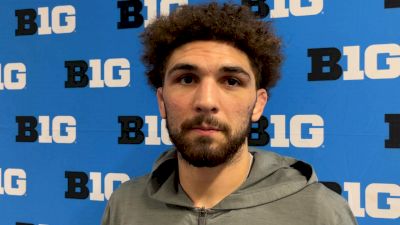 Arizona State - Sun Devils Need Points From Everyone
With only 5 wrestlers qualified, Arizona State's path to a team trophy seems unlikely. However, the Sun Devils have some big point-scoring potential in the wrestlers they are sending to Tulsa. 2021 NCAA runner-up Brandon Courtney also finished runner-up at the PAC-12 tournament where he lost to Brandon Kaylor. For that performance, Courtney received the #10 seed but will have a shot at revenge against Kaylor in the second round. #4 seed Michael McGee looks poised to make the semi-finals but will have to take out either #5 Kai Orine or #12 Dylan Ragusin in the quarters. McGee notably defeated Ragusin in a wild quarter-final last year to earn AA honors.
#3 seed Kyle Parco and #5 seed Cohlton Schultz also look poised to score big points for the Sun Devils. Parco is a big favorite to reach the semi-finals where he would most likely wrestle Sammy Sasso. Schultz should have a potential match with Tony Cassioppi in the quarters before wrestling top-seeded Mason Parris. Schultz has two losses to Tony Cassioppi in college (4-1 and 5-0 at 2021 NCAAs) but notably defeated Mason Parris in last year's quarter-finals, 6-5.
Schultz's win over Parris at the 2022 NCAA Tournament: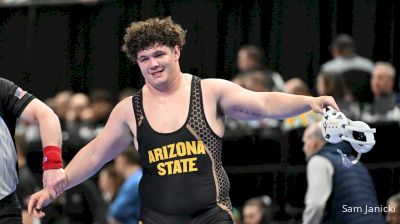 Unlock this video, live events, and more with a subscription!
Get Started
Already a subscriber? Log In