2023 NCAA Championships Watch Party
Penn State NCAA Wrestling Bracket Reactions
Penn State NCAA Wrestling Bracket Reactions
The 2023 NCAA Wrestling Championships are upon us! Check out Penn State's draws for the NCAA Wrestling Tournament.
Mar 9, 2023
by David Bray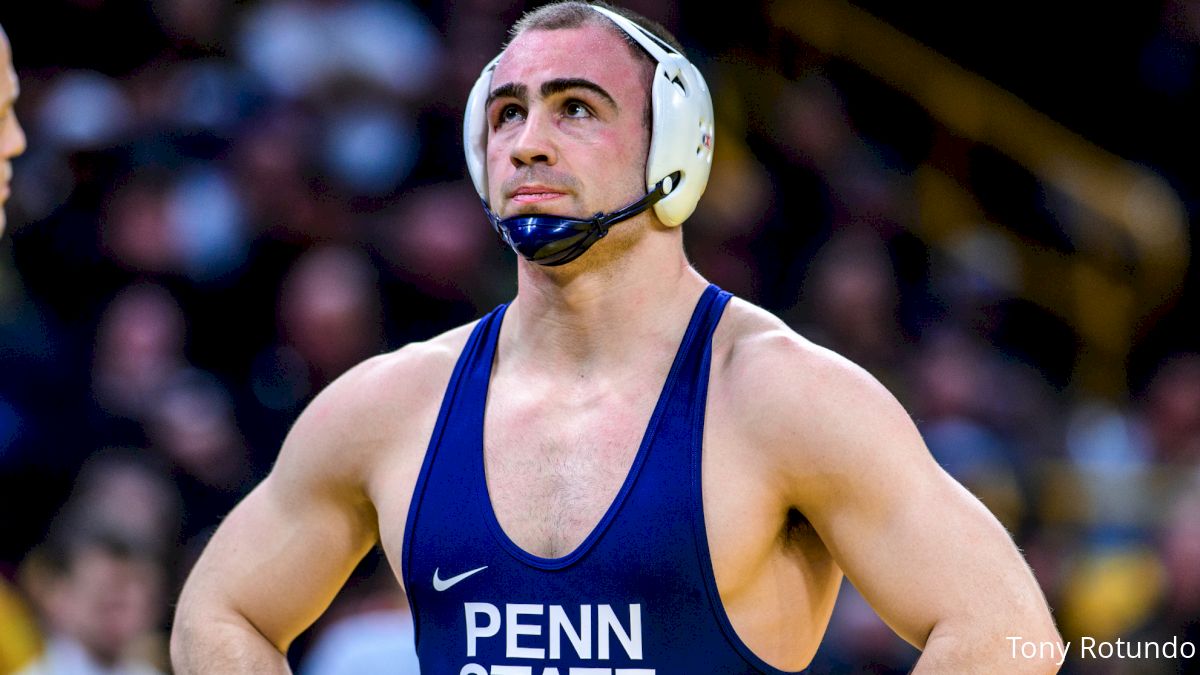 The Penn State Wrestling program has won nine NCAA team championships since Cael Sanderson took over the program in the 2009-2010 season, and they're the favorites to win their tenth in the Cael Sanderson era this year. More on Penn State's ascendence under Coach Sanderson is available here, but for now, all eyes are on this year's NCAA brackets.
Complete NCAA Brackets
Full NCAA brackets are available here.
Penn State's NCAA Tournament Draws
RBY is looking for his third NCAA title in a row. His dominance over the past three seasons suggests he'll be a significant favorite to make the finals on the top side of the bracket. He'll see either McGwire Midkiff of NDSU or Jack Maida of American in his opening bout followed by Rutgers' Joe Heilmann or UNI's Kyle Biscoglia in round two.
Bravo-Young's quarterfinal bout will likely be against either #8 seed Aaron Nagao of Minnesota or #9 seed Micky Phillippi of Pitt. RBY is 1-0 against both opponents. He defeated Phillippi 4-3 at the 2019 NCAAs to earn his first All-American honor and defeated Nagao 5-2 just last week in the Big Ten finals. Notably, Nagao did ride RBY for the entire third period.
Roman's semifinal opponent is seeded to be either 2x All-American #4 seed Michael McGee of Arizona State or ACC champ #5 seed Kai Orine of NC State. RBY has yet to face Orine but beat McGee 6-2 in a dual in December last season.
Most wrestling fans expect #2 seed Daton Fix of Oklahoma State to emerge from the bottom half of the bracket although #3 seed Vito Arujau of Cornell is certainly formidable. RBY is 2-0 against Fix in their college careers, and both previous meetings came in the NCAA finals. Roman won a 4-2 overtime bout in 2021 and a 3-2 decision a year ago.
RBY: Straight Outta Tucson tells the fascinating story of RBY's upbringing and how he used wrestling excellence to overcome adversity.
Bartlett's second trip to the NCAA Championships begins against Shannon Hanna. Should he defeat the Campbell Cammel, he'll see either SDSU All-American Clay Carlson or Lehigh's Malyke Hines.
Based on the seeds, Bartlett could expect to see Pitt's #3 seeded Cole Matthews, the highest returning All-American at this weight. This would be the first collegiate meeting between the two. While Bartlett isn't seeded to win that match, it's possible, and could set up a semifinal with #2 seed Andrew Alirez. The Northern Colorado star is undefeated on the season with a 74% bonus rate.
If Bartlett drops his quarterfinal to the #3 seed, Matthews, his most likely round of 12 opponents according to seeds would be the loser of the second-round match between #8 seed Allan Hart and #9 seed Mosha Schwartz who, like Matthews, are unfamiliar opponents for Beau. PSU's 141-pounder has several paths to All-American Honors, and while none of them are easy, he's certainly capable.
Redshirt freshman Shayne Van Ness starts his tournament with a familiar opponent in CMU's Johnny Lovett. Van Ness won their first meeting by 5-3 decision and they're second by fall. The road gets tougher in the second round as another highly touted freshman, Caleb Henson of Virginia Tech, is expected to be his opponent. Coming out of high school, Van Ness probably would have been the favorite here, but Henson's excellence this season has earned him the #4 seed.
If Van Ness gets past Henson, he could see another tough freshman in Iowa State's #5 seed Paniro Johnson. These two met at the Collegiate Duals in a match Johnson won 3-2. The semifinal opponent for the survivor is almost certain to be 3x NCAA champ Yianni Diakomihalis.
If Shayne falls to Henson, his road to All-American honors is seeded to include #12 seed Doug Zapf of Penn followed by #7 seed Yahya Thomas of Northwestern. Should he fall to Johnson, he would be seeded to see either #10 seed Jaden Abas of Stanford or #15 seed Austin Gomez of Wisconsin. Van Ness will need to overcome the odds to reach the podium this season.
True freshman Haines set himself up nicely by winning Big 10s. He'll be heavily favored in the first round against Lock Haven's Ashton Eyler and against Wyoming's Jacob Wright or Indiana's Derek Gilcher in the second round.
Haines' potential quarterfinal against VT's Bryce Andonian is one of the most interesting potential quarterfinals of the tournament stylistically. Andonian's wild, high-flying style presents challenges for many opponents, but he's yet to face Haines in competition. Circle that match as a high-priority to watch. If Haines wrestles to seed, he'll have #2 seed Peyton Robb in the semis in a rematch of the Big Ten finals. Austin O'Connor is the top seed at this weight.
Freshman Facundo is the favorite against a tough Holden Heller of Pitt in the first round but would be an underdog against #4 seed Julian Ramirez of Cornell in the second round. Ramirez has put together a nice season that's included two victories over NCAA finalist Quincy Monday. Should Facundo survive his Ramirez match, he would be seeded to see the #5 seeded Monday in the quarterfinals followed by top-seeded NCAA champ David Carr in the finals.
If Facundo does lose to Ramirez, his path on the backside could include NIU's Izzak Olejnik followed by #7 seed Michael Caliendo of NDSU. If he beats Ramirez but loses to Monday, he would be seeded to see either Carson Kharchla or Justin McCoy in the bloodround.
While Carter Starocci will be the favorite to win his third straight NCAA title, he could have some interesting matches along the way. He could see familiar foe Donnell Washington in round two. Washington beat Starocci in Starocci's freshman season, but Starocci put up bonus points on Washington this year.
Starocci is seeded to see either Bailee O'Reilly of Minnesota or Edmond Ruth of Illinois in the quarterfinals followed by #4 seed Chris Foca or #5 seed Dustin Plott of Oklahoma State in the semis. He's yet to see Plott but has two victories over Foca. When they met in 2020, Starocci won 10-3, but their 2022 rematch was a one-point decision.
The top two seeds on the bottom side of the bracket are Mikey Labriola of Nebraska, Starocci's Big Ten Finals opponent, and Mekhi Lewis of Virginia Tech, his 2022 NCAA finals opponent.
It feels strange to see 2x NCAA champ Aaron Brooks seeded third, but he, Keckeisen, Hidlay, and Munoz all have one loss. Brooks' tournament begins with Chattanooga's Matthew Waddell. He would then see Jacob Nolan or Will Feldkamp. His quarterfinal is seeded to be Kaleb Romero of Ohio State who he majored at NCAAs last year and at Big Tens this year.
Should Brooks survive all that, he'd be seeded to wrestle NC State's Trent Hidlay who he's battled in close matches at the last two NCAA Championships. Brooks won a 3-2 decision in 2021 and a 6-4 sudden-victory bout a year ago. The top seed at 184 lbs is UNI's Parker Keckeisen who Brooks has defeated many times throughout his NCAA and high school career.
197 lbs - Max Dean, #9 Seed
2022 NCAA champ Max Dean is sitting at the #9 seed with a tough path through the bracket. After a match with Campbell's Levi Hopkins, he's seeded to see Nebraka's Silas Allred who beat him in the Big Ten finals. If Dean can crack the Allred code, he could see top-seeded Nino Bonaccorsi who he defeated 6-0 in the 2019 NCAA Championships at 184 lbs. Since that time, Bonaccorsi has reached an NCAA final.
If Dean is still battling on the front side after the quarters, he'll be seeded to face either Ethan Laird or Michael Beard in the semifinals. Both opponents beat Dean earlier this season.
If Dean falls in the second round to Allred, he would, according to seeds, need to navigate NDSU's Owen Pentz and then NC State's Isaac Trumble. Dean has yet to face either opponent. If he falls in the quarterfinals to Bonaccorsi, he would be seeded to wrestle either Jaxon Smith or Jacob Warner in the bloodround.
Penn State's heavyweight has a favorable spot in the brackets. He will be heavily favored in the first two rounds then is seeded to see either Yaraslau Slavikouski or Trent Hillger in the quarterfinals. He hasn't faced Slavikouski but is 2-0 over Hillger.
In the semifinals, Kerkvliet is seeded to wrestle an unfamiliar opponent in #2 seed Wyatt Hendrickson. The Air Force big man is a pinning machine, but Kerkvliet is probably the favorite in that match. If he wins in the semifinals, he could see Michigan's Mason Parris for the 7th time in their college careers. They are 3-3 against one another with Parris winning their two meetings this season by 3-1 decision in the dual and by 5-3 sudden victory decision in the Big Ten finals.
For access to FloWrestling's exclusive content including match highlights from the NCAA Championships, subscribe now.