2023 NCAA Championships Watch Party
Iowa NCAA Wrestling Bracket Reactions
Iowa NCAA Wrestling Bracket Reactions
The brackets are out for the 2023 NCAA Wrestling Championships. Check out Iowa's draws for the NCAA Wrestling Tournament in Tulsa.
Mar 9, 2023
by Andy Hamilton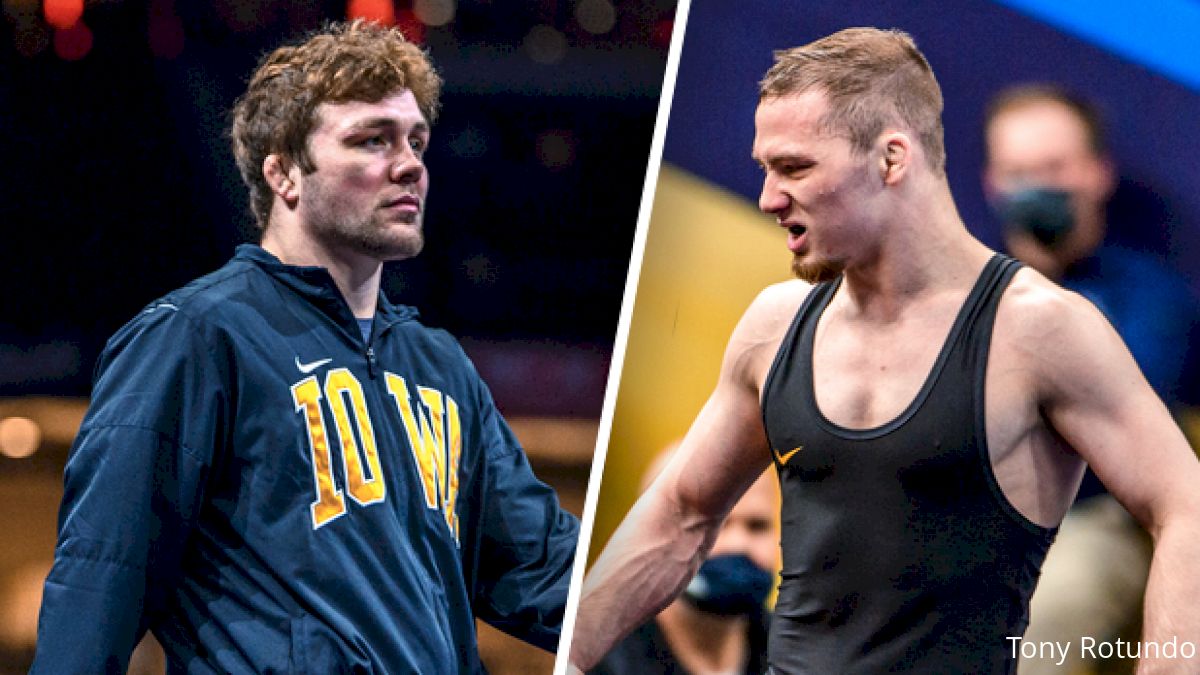 Second-ranked Iowa stayed in the title fight until midway through the final round at the Big Ten Championships before Penn State pulled away and claimed the crown.
The Hawkeyes scored 134.5 points at the conference tournament and claimed 10 automatic qualifying spots for the NCAA Wrestling Championships — a strong showing but not enough to take down a mighty Penn State squad with four returning NCAA champions.
But the NCAA Championships are a different animal. A bigger animal. And for Iowa to remain in the title race deep into the tournament, the Hawkeyes are going to have to reach another level and likely get some help from other teams as well.
Check out the full NCAA brackets.
Here's a look at the bracket path for each of the 10 Hawkeyes headed to Tulsa:
125 pounds — #1 seed Spencer Lee
Spencer Lee takes aim at a fourth NCAA title in a bracket that includes 11 wrestlers he's faced at one point in his career, none of whom have stayed within five points or fewer against him. The Iowa senior is 17-0 this season with 15 bonus-point victories. For his career, he's 95-5 with an 81-percent bonus rate.
Five wrestlers in the bracket are in the 19-percent category, avoiding bonus points against Lee at one point — Princeton's second-seeded Patrick Glory (a 12-6 loss at the Midlands in 2018), Nebraska's third-seeded Liam Cronin (an 8-2 loss last weekend in the Big Ten finals), #10 seed Brandon Courtney of Arizona State (a 7-0 loss in the 2021 NCAA finals), #11 Patrick McKee of Minnesota (a 7-1 loss earlier this season) and #16 Jack Medley (an 8-1 loss during the 2020 season). It's worth mentioning that Lee has also registered wins by pin or technical fall in college against everyone in that group except Courtney.
Medley is the only one of that bunch who's on the top side of the bracket in Tulsa with Lee. They could collide in Thursday night's second round. Lee dusted Medley 17-0 last weekend during the Big Ten quarterfinals.
There's a possibility that Lee's path to the finals could include three Big Ten opponents with the potential for bouts against Wisconsin's Eric Barnett in the quarterfinals and Purdue's Matt Ramos in the semis. Ramos raced out to an early 8-1 lead against Lee in January when he tossed the Hawkeye to his back before Lee rallied back and scored a fall later in the period.
133 pounds — #24 seed Brody Teske
Teske is making his third trip to the NCAA Wrestling Championships and first as a Hawkeye after qualifying twice at 125 pounds for Northern Iowa. He went 2-2 in his previous two shots at the national tournament.
This time around, he's the #24 seed at 133. Teske takes a 9-4 record into Tulsa after knee issues limited his availability early in the season. He opens the tournament against Pittsburgh's Micky Phillippi, a five-time NCAA qualifier who reached the Round of 12 each of the past two years. If Teske can get past Phillippi, there's a second-round bout waiting against either Big Ten runner-up Aaron Nagao of Minnesota or Oklahoma's Wyatt Henson, who transferred from Iowa after last season.
A loss to Phillippi, though, would bounce Teske into the consolations, where he'd run into the Nagao-Henson loser at the onset of a challenging path to the podium.
141 pounds — #1 seed Real Woods
Woods seized the #1 seed at 141 after following up an undefeated regular season with a Big Ten title. The Stanford transfer was superb in all three positions during his three seasons with the Cardinal, but the top position has become a major weapon for the returning All-American this season. Woods has been ultra-aggressive early, often racing out to big leads thanks to quick takedowns followed by tilts.
He'll open the tournament against the winner of the preliminary round bout between Maryland's Kal Miller and Bloomsburg's Josh Mason. After that, he could get Ohio State's Dylan D'Emilio or Navy's Josh Koderhandt.
If he takes care of business on Thursday, a Big 12 opponent could be waiting for Woods in Friday's quarterfinal round. Oklahoma's Mosha Schwartz, Iowa State's Casey Swiderski and Missouri's Allan Hart are all part of Woods' quarter bracket.
If Woods can navigate his way to the semis, there's a potential for a Big Ten championship rematch with Nebraska's Brock Hardy, the #4 seed. They've met twice this season with Woods winning 6-4 in January and 2-1 in the Big Ten finals.
149 pounds — #8 seed Max Murin
Murin is trying to punch through to the podium for the first time in his final tournament with the Hawkeyes. He's a five-time NCAA qualifier who reached the Round of 12 in each of his previous three trips to the tournament. Reaching the medal stand this time around will be easy task for the senior.
Murin opens the tournament against Edinboro's Ryan Burgos. An opening-round win sets him up for a battle Thursday night against either #9 seed Jonathan Millner of Appalachian State or #24 seed Victor Voinovich of Oklahoma State. Millner defeated Murin 8-1 in the blood round last year in Detroit, while Voinovich tested Murin in Iowa City last month before the Hawkeye prevailed 4-3.
If Murin can punch through to the quarters, he'll likely run into the guy who bounced him to the backside last year — three-time NCAA champion Yianni Diakomihalis of Cornell.
157 pounds — #14 seed Cobe Siebrecht
The Hawkeyes entered the season with a vacancy to fill at 157 pounds after the graduation of four-year starter Kaleb Young. Siebrecht grabbed hold of the job early in the season and didn't let go, posting wins along the way against All-Americans Brayton Lee and Will Lewan.
A seventh-place finish at the Big Ten Championships likely dropped him down a few notches in the seedings for the national tournament.
There's no easy path as a #14 seed and that's certainly the case for Siebrecht. He opens the tournament against Wisconsin's Garrett Model. Siebrecht prevailed 3-2 when they clashed in January. If Siebrecht can get past Model again, he'd likely run into third-seeded Peyton Robb of Nebraska in Thursday night's second round. Robb controlled things in January when he downed Siebrecht 7-2.
165 pounds — #6 seed Patrick Kennedy
Kennedy is stepping into perhaps the tournament's deepest bracket in his first trip to the NCAA Wrestling Tournament. The weight boasts three NCAA champs, another returning finalist and three returning All-Americans who are seeded 10th or lower — #10 Carson Kharchla of Ohio State, #11 Cameron Amine of Michigan and #14 Peyton Hall of West Virginia.
So it's no surprise that Kennedy has drawn a less than favorable bracket path. He opens the tournament against Appalachian State's Will Formato, who handed Kennedy a 6-4 overtime loss last season at the Southern Scuffle.
A win there could set Kennedy up for a second-round battle against Amine, a rematch of the Big Ten semifinal that Kennedy won 3-2 on a late takedown. The winner there could collide with a returning All-American — Hall or #3 seed Dean Hamiti of Wisconsin. Hamiti beat Kennedy 4-3 in January and 9-6 in the Big Ten finals.
If everything in the bracket plays out the way it's seeded and Kennedy falls in the quarters, he'd square off against Griffith in the blood round.
174 pounds — #11 seed Nelson Brands
Brands is 10-6 this season and nearly all of his matches have been up for grabs after six minutes. His only bonus-point win came on Dec. 4 against Iowa State's M.J. Gaitan. Since then, he's registered wins against #5 seed Dustin Plott of Oklahoma State and #9 Edmond Ruth of Illinois and he's been no easy out for two-time NCAA champ Carter Starocci of Penn State, who beat Brands 2-1 or Nebraska's #2 Mike Labriola, who beat Brands 3-2 and 5-2, the latter of which the Husker sealed on a takedown in the closing seconds.
The point is, Brands figures to be in a lot of close matches in Tulsa, and a lot of outcomes are on the table for his bracket path.
He opens with North Carolina State's Alex Faison and could run into Ohio State's sixth-seeded Ethan Smith in the second round. Brands has no history with the Buckeye. If he can get past Smith, Brands would likely run into two-time NCAA finalist and 2019 champ Mekhi Lewis of Virginia Tech.
If Brands gets knocked into the consolations on Day 1, there's the possibility of a blood round battle against a familiar Big Ten foe — Ruth or Minnesota's Bailee O'Reilly.
184 pounds — #12 seed Abe Assad
Assad seemed to be positioned for a top 10 seed until he placed seventh at the Big Ten Championships, but he's not in a bad spot as the #12 seed. He opens the tournament against Buffalo's Giuseppe Hoose. Assad registered a 22-7 technical fall — his highest-scoring output of the season — when they met in November.
An opening-round win would likely set Assad up with a Thursday night battle against Iowa State's Marcus Coleman. The fifth-seeded Cyclone won their December meeting 3-2 on a takedown in the final minute, but Assad put himself in position to score multiple times during the match.
If he can reach the quarterfinals, Assad might run into #4 seed Trey Munoz of Oregon State. If he gets tripped up on Thursday night, Assad's path to the podium could a blood round battle with someone such as #7 Hunter Bolen of Virginia Tech or #10 Travis Wittlake of Oklahoma State.
197 pounds — #14 seed Jacob Warner
The margins are small in a deep 197-pound bracket and perhaps no competitor in the bracket illustrates that more than Warner. The returning NCAA finalist is 16-6 this season and his losses have come by a combined 10 points. Yet he's headed back to the national tournament as the #14 seed.
Don't rule out another run by the Iowa 197-pounder in Tulsa, though he's facing a rigorous bracket path. Warner opens the tournament against Michigan State's Cam Caffey. Warner has won all four of their meetings in college, but they've been competitive and Warner won the last one 3-2 at the Big Ten Championships.
A win there likely sets Warner up with a second-round battle against Missouri's Rocky Elam. They wrestled in November at the NWCA All-Star Classic, where Elam prevailed 8-6 in overtime.
285 pounds — #4 seed Tony Cassioppi
Cassioppi has been a model of consistency during his career with the Hawkeyes and that's held true this year. He enters the NCAA Championships with a 73-13. Eleven of those losses have come against Big Ten titans Gable Steveson, Mason Parris and Greg Kerkvliet.
It was a virtual certainty that Cassioppi would land on the same side of the bracket as one of his Big Ten rivals. He landed up top with Parris.
There's some work that needs to be done to get there first. Cassioppi opens the tournament against Maryland's Jaron Smith. A win there sets him up with a Thursday night meeting against Northern Iowa's Tyrell Gordon or Oklahoma State's Konner Doucet. Cassioppi has never faced Gordon, but he defeated Doucet 4-0 in February.
If he can get back to the quarterfinals, there's the potential for a showdown against returning national finalist Cohlton Schultz of Arizona State. They battled twice at the 2021 NCAA Championships, where Cassioppi prevailed 4-1 and 5-0.
A win there could set the stage for another showdown with Parris, who won a 9-7 decision when they wrestled in February.
For access to FloWrestling's exclusive content including match highlights from the NCAA Championships, subscribe now.